Legazpi City and Tabaco, Albay, the Philippines
November 21 – 25, 2015
Pardon the pun, but the (Bicol express) way to the heart was through the stomach. We never imagined our trip to southern Luzon would take a delectable turn. My sojourning squad found that it was viand, not only volcano, that put Bicol on the map.
Ground zero of this eruption of flavors was at the house of our hostess with the mostest, Frances. Half an hour after touchdown, we had our first taste of Bicolano cuisine and hospitality – hot and home-cooked.
Fiery
The lunch spread, a lava flow through my taste buds (but probably spicy-lite to Honey Bear, our Korean squad member), included Bicol express and pinangat, two of the region's signature food, both spicy and coconut milk-based. The difference? The former had pork cuts lathered with chili; the latter was a vegetarian delight with gabi bundled by strips of coconut leaves. Untied, it was called laing, a more familiar name for non-Bicolanos.
It was said pinangat would cause itchy throat had it been prepared reluctantly. By that standard, my host passed the sincerity test!
Fresh
Legazpi, a city for foodies, did not lack in must-try restaurants. Day 1 dinner was at the breezy, seaside Zoe's Kitchen overlooking Albay Gulf, pitch black at night.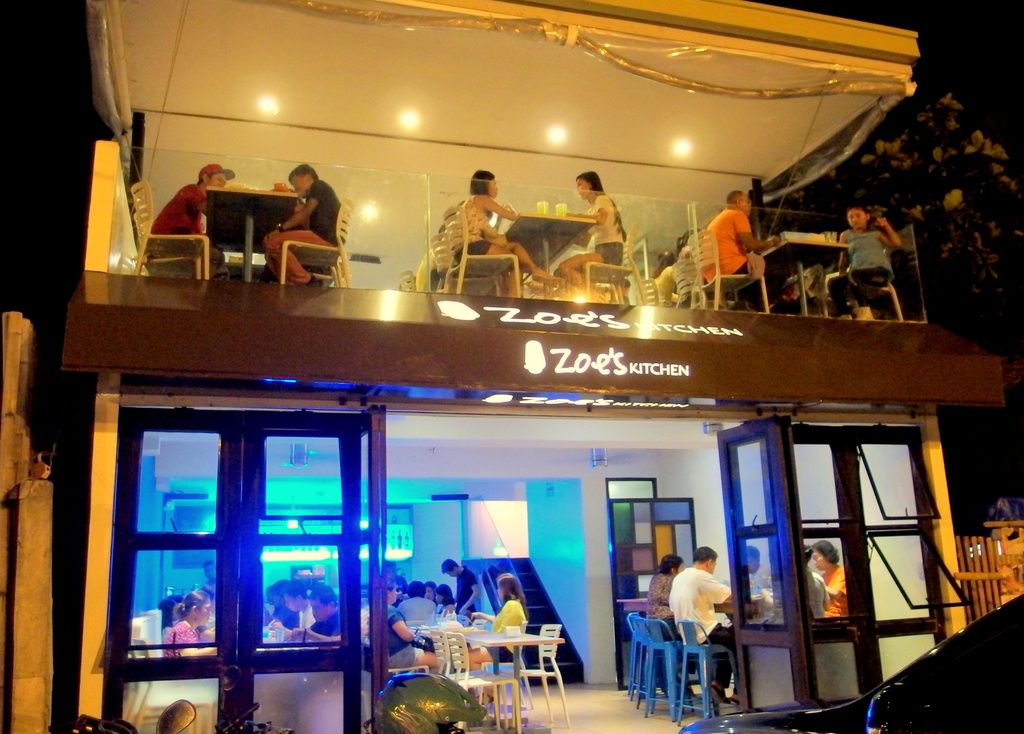 We could only hear, smell, and taste the sea. Half of Albay's coastline faced the Pacific, the fresh bounty of which could be had anywhere in the city. In Zoe's, seafood dishes were tender and tasty. Case in point: baked scallops that melted in our mouths.
Refreshing
Seafood aside, Bicol soil was made fertile for tropical crops by its famous volcano. On a road trip to Mayon Volcano, we went on sugary energy from plus-size pieces of sweet and crispy maruya (banana fritter), care of roadside vendors. We could see where the fruit had come from. Field and forest alternated as sights throughout the drive.
Driving down the volcano called for some cooling down at downtown Tabaco, home of the cheesiest halo-halo. DjC Halo-Halo served it topped with a mountain of cheese shavings in the shape of Mayon Volcano. How apropos!
Fusion
Day 2 dinner was at a house repurposed as a homey cafe, Small Talk Cafe, specializing on fusion food. Menu items included pasta with a dash of the region's signature spicy coconut milk.
Pili and basil pasta, pinangat pasta, and Bicol express pasta – all Italian-looking but decidedly Bicolano-tasting. We ordered all three and lined them up for a taste test. Yay to pinangat pasta for its spicy creaminess, nay to pili pasta only because I never went nuts for pili nut.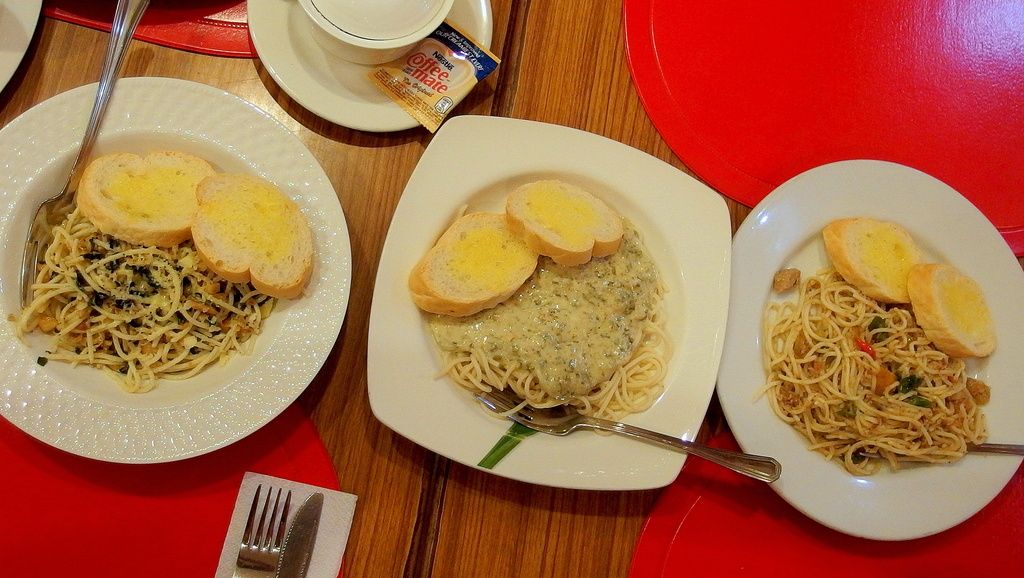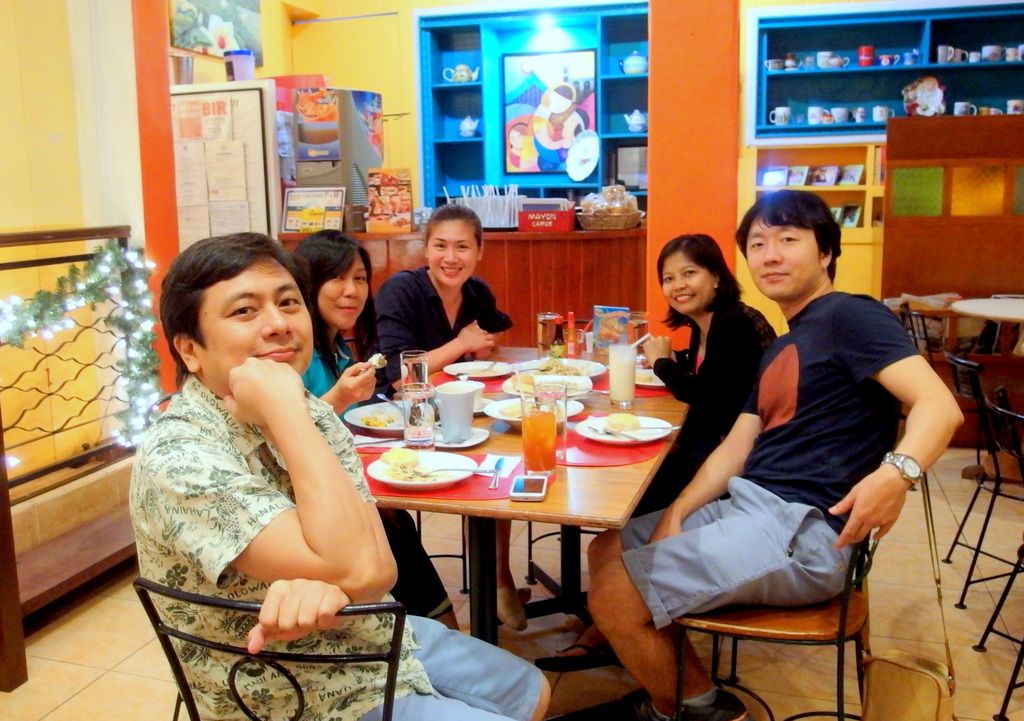 The main event was laing pizza which had to be tasted to be believed. It turned out to be just cheese pizza with a less-than-generous sprinkling of gabi leaves. The fusion of flavors could've worked well if the leaves were spread evenly.
Familiar
A few days on, we took a rest from all things fiery and fusion. Sibid-Sibid Restaurant, offered more familiar fare, like crunchy fried shrimps, which we downed with coconut juice straight from the fruit.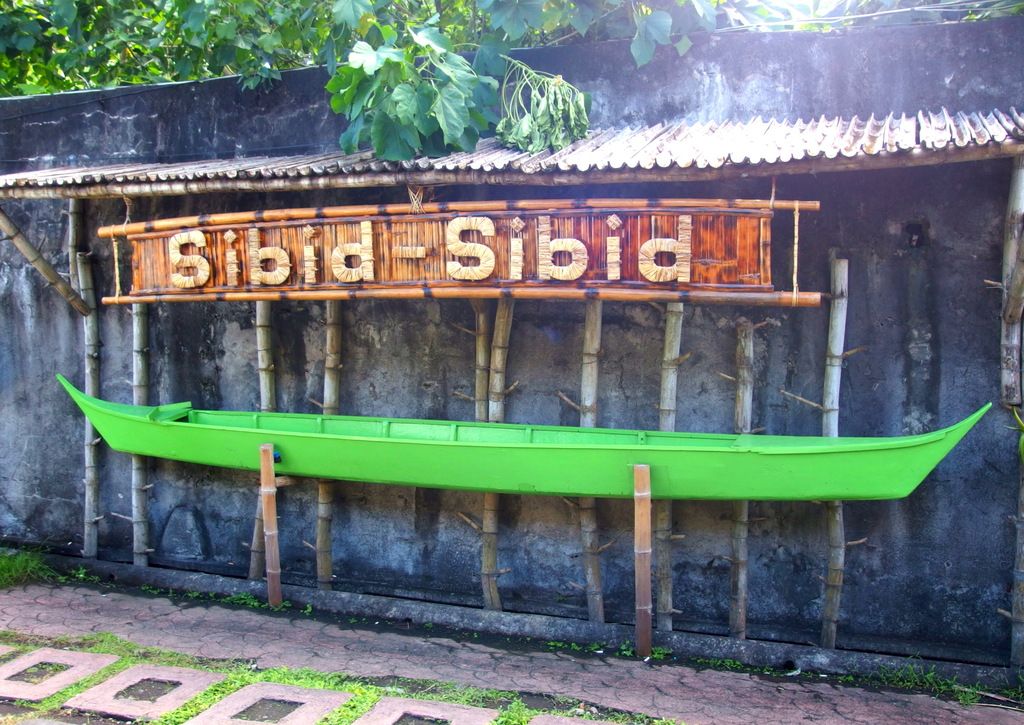 The resto's unremarkable location aside, the interiors – bamboo and wooden walls and furnishings – were as much a come-on as the food.
Friendly
Not only was the food memorable in Legazpi. Our servers were unforgettably friendly too. At American-themed Bigg's Diner in Embarcadero de Legazpi, the city's newest shopping and dining center, the staff served banter along with all-day breakfast.
All-American icons were drawn on the placemat. It was a fun guessing game while waiting for our orders. My contribution: Top left, Queen of Pop Madonna. I let my squad do the rest.
The all-male crew doubled as a bedimpled boyband to serenade my squad's Momma Bear on her birthday. All were as perky as their coffee that got us up and going every morning, but only one unanimously won the Mr. Congeniality Award – (drum roll) – Romnick, the ever-smiling server.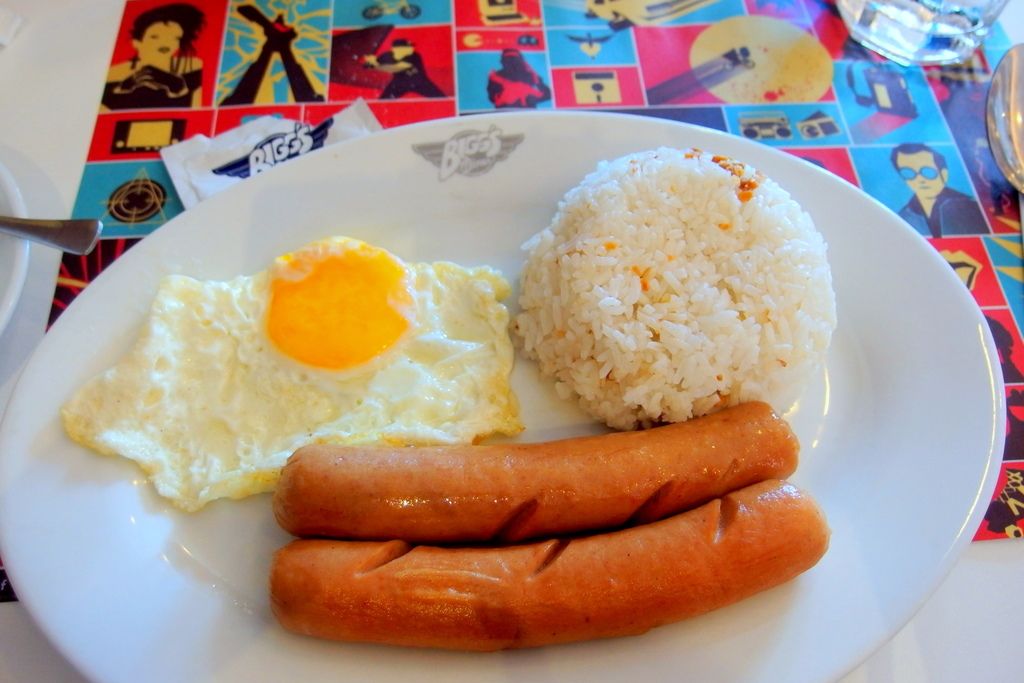 Frozen Fire
The star of this food trip was the famous sili (chili) ice cream. The restaurant that first served it, 1st Colonial Grill, used siling labuyo (cayenne pepper) to give it a uniquely Bicolano kick. We couldn't wait to try it for dessert. It was the first order of our first day in Legazpi City.
The special ice cream came in three degrees of hotness: Level 1 was a tickle, Level 2 a pinch. I went for Level 3, a kick of spicy cold. How was it? It was HOT, all-caps hot.
Frances
The last word on this trip – our hostess with the mostest. She took time to drive and dine us. Thanks to Frances and family for making our trip to Bicol as wonderfully tasty as it could ever be.
She even kept the bear I gave her more than a decade ago. So sweet and hot, like sili ice cream, this Frances – now an honorary bear in our Bear Squad!