Xingping and Yangshuo County, Guilin, China
September 4, 2017
Blessed are they who mourn, for they shall be comforted.

Matthew 5:4
Grief got me to Guilin. My trip was a pilgrimage of sorts in the hope of tracing Mom's footsteps in southern China back in 2002. I could not join her in that trip then. There would not be a second chance. Mom went home to heaven in 2015.
On Facebook, my sister posted a throwback album of her Guilin trip with Mom. In her words:
Mom did not have a long bucket list. But this one was shortlisted in the short list after she read Amy Tan's Joy Luck Club. The descriptions of war-torn Guilin piqued her imagination and curiosity. So off we went on a three-city adventure to China: Shanghai, Beijing, Guilin.

This (album) is lovingly dedicated to my little brother who was with us in Shanghai (where he lived at that time) and Beijing but had to miss Guilin because of work. Mom's spirit will be with you when you cruise the Li River next week.

Loida Mayo
To correct my sister, though, it was not the ravages of war that intrigued Mom. We first glimpsed Guilin in the movie adaptation of The Joy Luck Club in the early 90s. A single scene – that of a procession of Chinese families escaping the war, bent with all the possessions they could carry on their backs – so captured Mom's heart. The director's backdrop use of the ominously teeth-like peaks to evoke dread and uncertainty had the opposite effect on Mom. She saw compelling natural beauty instead.
And so the location became an item in our bucket list. A decade on, she would walk the same picturesque path. And sail on the same meandering river.
In my case, it was a profound loss that took me to Guilin. The most logical jump-off point to see it through Mom's eyes was in Li River itself, a graceful river that carved its winding way around spires of rock.
I had my former student and forever friend, Quinn Shu, to guide me. In the quaint village of Xingping, we hired a motorized (read: noisy) pipe raft to take us for a half-hour cruise along the most scenic stretch of the river that cut along the famous Nine Horses Fresco Hill. Bill Clinton was known to have pointed out all nine during his visit. Without a professional guide though, we could not identify one horse, not even the mountain that contained them.
The paved wharf where a fleet of pipe rafts was berthed doubled as a viewing deck. Quinn practically demanded, quite excitedly too, that I took a photo of the riverside landscape. But not until I produced 20 RMB. I was aghast. Photos for a fee, seriously? Only when he held up the creased money before my camera did it dawn on me. Our view exactly matched the illustration right on the money, literally and otherwise! Reality, in this case, was larger than life.
The view likewise made an impression on Mom. After their own river cruise, she instructed my sister to save a 20 RMB banknote for her.
Yet another facet of this river fascinated Mom – cormorant fishing. Fishermen here traditionally used river birds, cormorants, in catching fish. From their rafts, the birds were deployed underwater to snap up fish with their long beaks. With necks tied and unable to swallow, they would then deposit the fish onto the boat. At the end of the day, the cormorants would get their share of the day's catch.
I had not quite decided if such use of wildlife sat well with me, but the practice was mainly done for tourism these days.
This memory lane did not start and end in the waters. I had kept a photo of Mom standing on a bridge with the river and peaks she so loved behind her. Her smile betrayed the sweet success of seeing her dream come true. Quinn and I set out to find the exact spot in the photo. Since we arrived, Quinn had asked local people we encountered – drivers, vendors, receptionists. He showed them the photo if only to establish the general location.
What did I expect to find there? What could fill the void of my loss? Somehow, I was compelled to stand on the same spot. As my desperation grew, so did his determination. It became our holy grail.
Propelled by faith (mine) and fortitude (Quinn's), our search led us to Yangshuo, along Binjiang Road riverside promenade. The key was the inscription on the bridge parapet. Quinn found similar writings on one end. He proudly announced we were closely approaching ground zero. We picked up speed. My feet raced with the beating of my heart, running to the far end of the promenade as we based our perspective on the photo's mountain view.
Eureka! The faded inscription Fei Pu Qiao – its red paint had completely come off – confirmed it. I was standing where Mom once stood admiring the landscape of her dreams. I had an acute feeling of her spirit. Then, the dam broke. The void I had carried in my heart gushed out in a deluge. Ultimately, she wasn't there.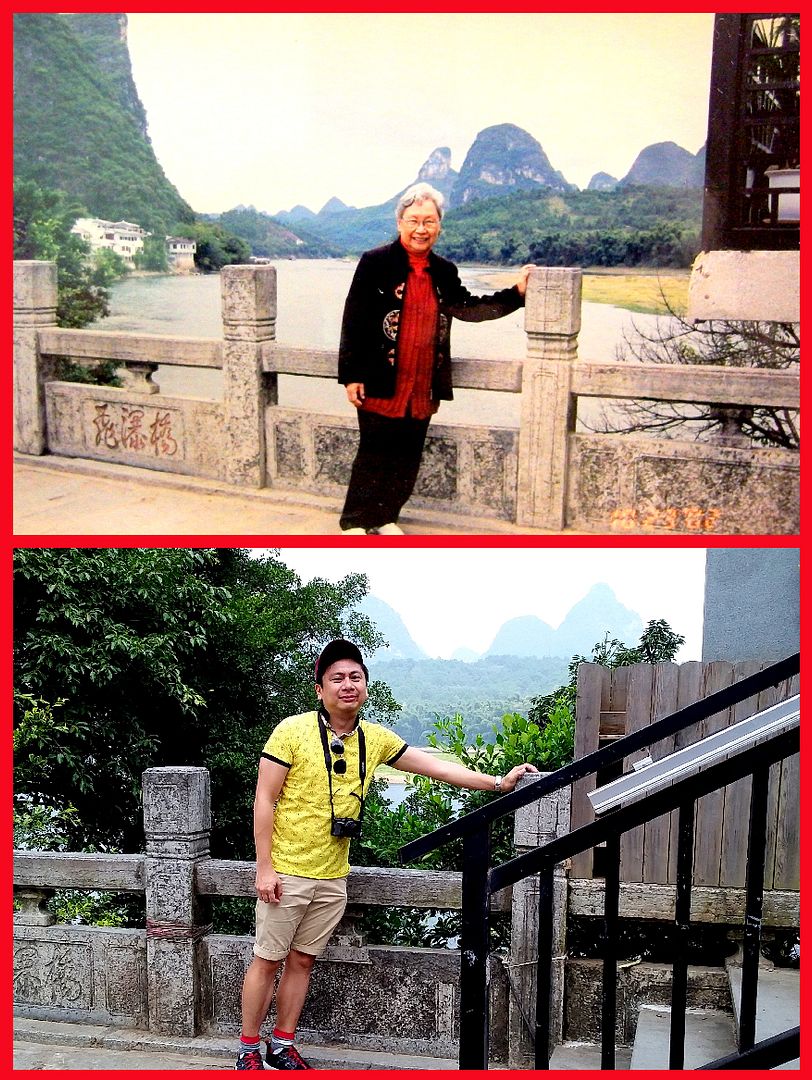 Quinn awkwardly patted my heaving back. Embarrassed, most likely. It was a crowded tourist area, after all. He translated the inscription as "fly waterfall bridge." The view was concealed by a full-grown tree, only peeking through in Mom's photo. Beside it stood a newly-built restaurant deck on which photo ops could now be had. The place had changed since Mom stood on it, but the "fly waterfall bridge" was still there. I was flying and falling at the same time. Fifteen years folded back, bridging Mom's trip with mine.