Taipei, Taiwan
October 31 – November 2, 2018
Friendship didn't always have to be linear. Frances, J9, and I had not been in the same room for 18 years after losing touch during pre-soc med era. A chance meeting and a surprise phone call a few months prior reconnected us, which called for a special reunion – at the airport! It was the first time we were together again since 2001. I suggested we travel to a neighboring country we all had not visited. Consensus leaned in favor of Taiwan, a perfect venue for our get-together: near, affordable, and largely unfamiliar to all of us.
We picked up where we left off, which was laughing at ourselves. It came in handy even as we were fumbling with our accommodation's front door passcode at past midnight, thanks to our red eye. The well-lit apartment lobby was as deserted as the dark sidewalk.
In the absence of any staff, we were left to our devices at Shihlin Service Apartment. The situation was unfolding as an Agoda tragedy until a bit of snooping around led Frances to a list of instructions that came with our room cards. This DIY check-in truly put the DIY in our trip.
My room only had the basics – a bed and TV, my own toilet and shower, Wi-Fi, fresh towels daily, coffee and hot water. For the price it was enough. The apartment was a few turns from Shilin Night Market, the largest one in Taipei. My girlfriends, of course, chose it for their shopping convenience. Not that I minded.
Coming from a country of malls, I found Shilin District a quaint downtown with neon shop signs jutting out of aging low-rise buildings. It had that 70s vibe mostly gone in modern cities. Food stalls lined the streets, pervading the district with hunger-inducing aroma spoiled by the famous delicacy – stinky tofu.
A few hours of sleep later, the car service we had hired online was ringing us up. But just our luck, or the lack thereof, our middle-aged driver could speak not a word of English. None of us spoke Chinese. Good thing we all spoke Google.
We started the tour at the top. We drove up Xiaoyoukeng, a post-volcanic geological area within Taipei. Thick fog enveloped the zigzagging mountain road up to the tourist center. Apparently, autumn was not the best time to visit. It was cold and wet. The mountain's famed features – fumaroles, hot springs, and "landslide terrain" – were all but invisible. We could only see white from arm's length. We had to abort mission and left as quickly as we came, laughing at this epic fail.
The lowland blessed us with fairer weather. It was a walk in the park, literally, at Shilin Presidential Garden. Our driver could only muster the name Chiang Kai-shek. I assumed he was the president the garden belonged to. In fact, it was his and wife Soong Mei-ling's residence turned into a botanical park and museum. The girls got their 'Gram groove back striking model poses at manicured lawns, on tree-lined footpaths, and among floral accents.
We skipped the museum as we spent an inordinate amount of time smelling the orchids at a greenhouse painted with Chinese designs and posing under the paperbark trees at the gardens.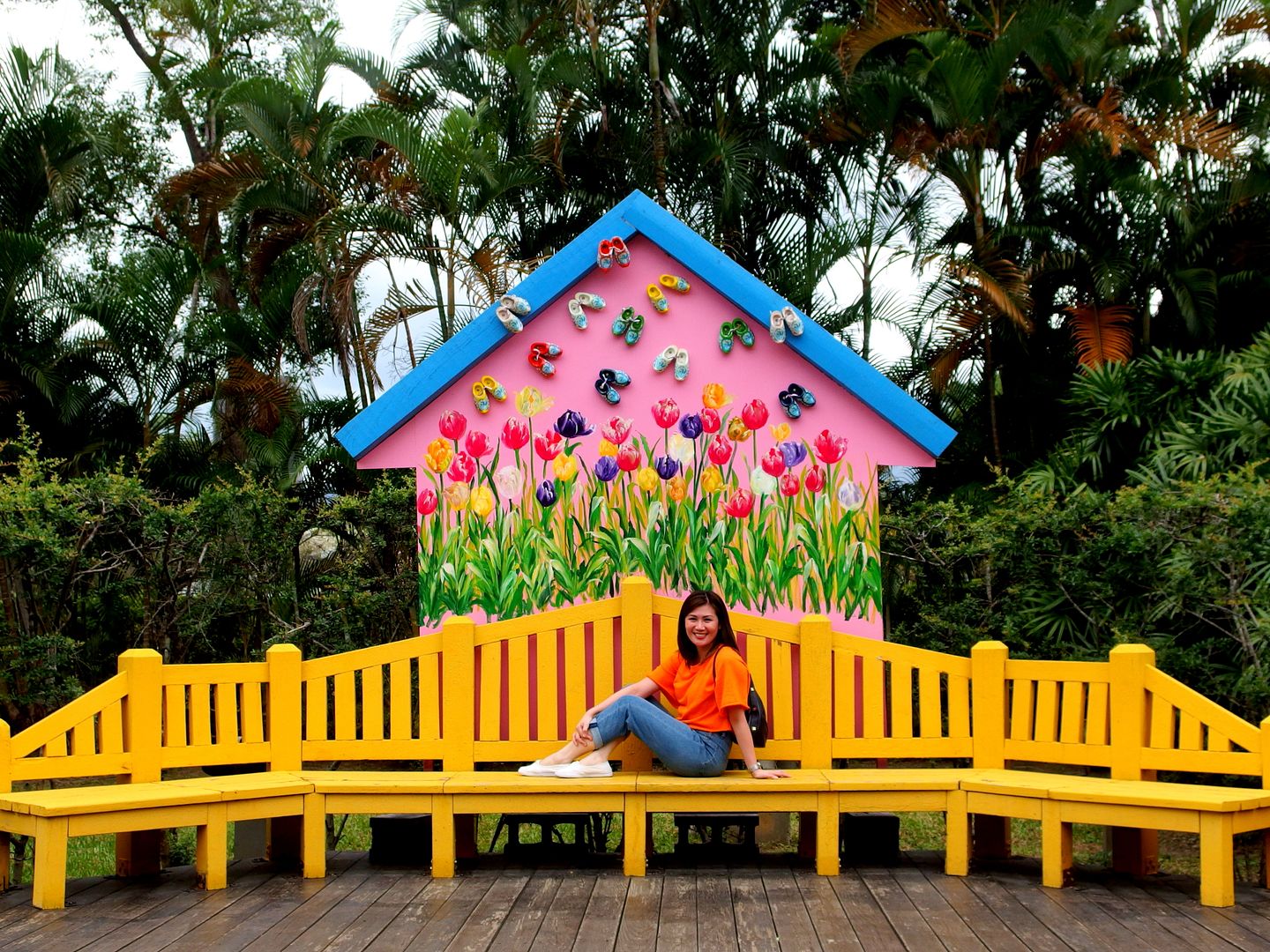 After a veggie-heavy lunch at some random Chinese restaurant, we were back on our historical tour without the benefit of a guide. At our next stop, I asked Frances where we were; she was clueless, only transfixed by the handsome, immobile guard at the gate of the National Revolutionary Martyrs' Shrine. J9 was similarly smitten by a marching one during the changing of the guards.
While my girlfriends were crushing on military personnel, I was pondering history. Unlike in the People's Republic, historical sights in Taiwan were no more than a hundred years old. This shrine was just as old as I was. It honored Kuomintang or nationalist (read: anti-commies) soldiers killed during the Chinese Civil War.
The visit was a history lesson through art and a cure to my ignorance of Taiwanese history. I had never heard of the Guangzhou Uprising and the Battle of Shanghai until I laid eyes on metal embossed wall art depicting the aforementioned events. Or perhaps it slipped my mind; I had seen The Soong Sisters, one of my mother's favorite movies, after all. But my youth focused on the Hollywoodized love story, not the historical context I had finally become mature enough for.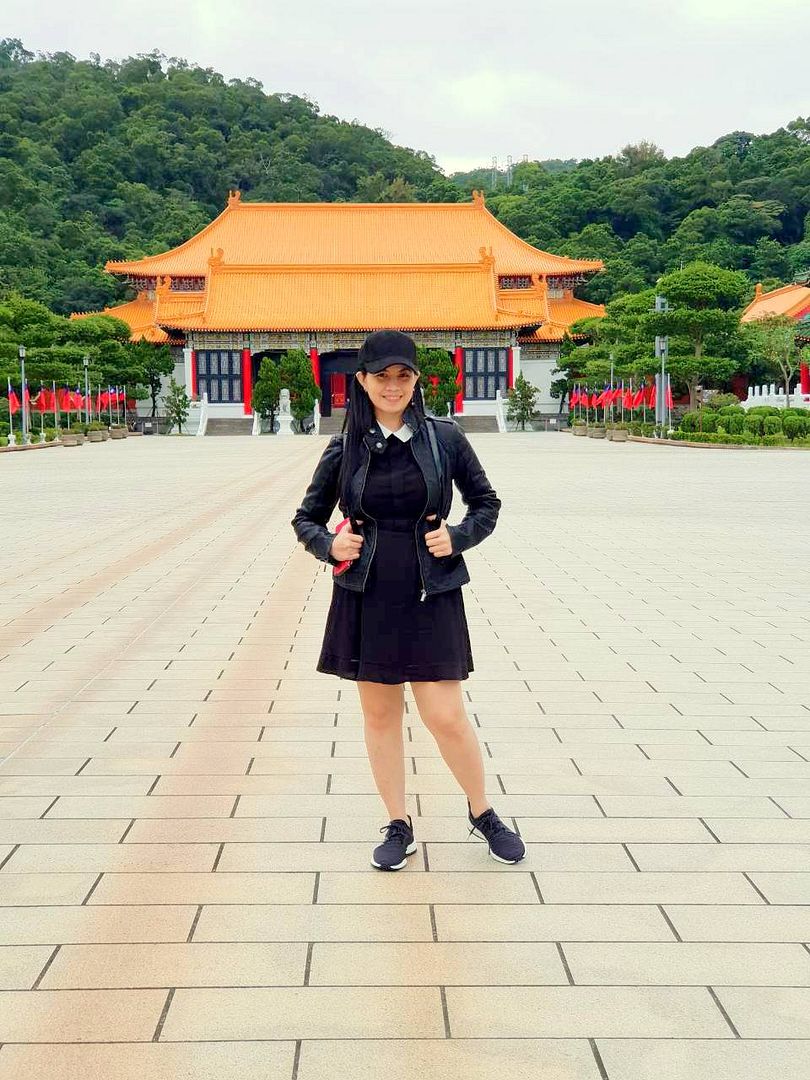 The ornate and colorful architecture was a testament to Taiwan's shared cultural traditions with China. The divide was only ideological, mostly unseen to a short-term visitor. The hourly changing of the guards was a sight to behold, though, for the precision march, the collective grunts, the show of arms. A small crowd formed two parallel lines flanking the ceremonial march of active-duty soldiers protecting the memory of martyrs and preserving the republic.
It was befitting after this point that we would go to "see" the Generalissimo himself. Again, I asked the girls, "You do know Chiang Kai-shek, right?" To which one of them replied, "The school?" I almost tripped. A college in Manila was named after him.
The Chiang Kai-shek Memorial Hall, that imposing white marble structure at the opposite end of Liberty Square, was built in his honor and memory after his death in the mid-70s. It was Taipei's Tian'anmen Square in terms of grandeur and national significance.
The walk from the elaborately traditional main gate to the hall was long enough to merit a bathroom break. Gathering clouds and intensifying drizzle compelled us to run up the 89 steps, representing Chiang's age at death, to the main hall. Dominating it was Chiang's larger-than-life bronze statue that evoked the Lincoln Memorial, although I had never been to DC. The statue depicted Chiang sitting on his throne flanked by Taiwanese flags and with a backdrop of Chinese inscriptions.
The dome overhead fit in the blue sky with a white sun of the Taiwanese flag. With the Chinese-ness all over, the symbolism – blue for liberty and white for democracy – made the memorial hall uniquely Taiwanese. Like the milk tea we were slurping as we made the long walk across Liberty Square.
Our tour of Taipei's three historical sights proved to be the perfect reunion. The places and history were unfamiliar yet not overwhelming. The girls got their 'Gram game, I got my history nerd swag and, somehow, it all worked out seamlessly. Distances between stops were long enough for us to recover from the walking, laughing, learning, and vlogging. And our interrupted friendship proved that 18 years of separation did not really happen.