Mandalay / Bagan / Yangon, Myanmar
May 28 – June 2, 2018
I was ready for my close-up. My friend Jo summoned me out to the courtyard at Ananta Bagan for my facial sesh with the hotel staff who came bearing a whetstone dish called kyauk pyin on which she proceeded to grind the bark off a chunk of wood. The resulting powder mixed with a bit of water produced a yellow paste – Myanmar make-up called thanaka – which she applied on my cheeks, nose, chin, and forehead with quick finger strokes.
What initially appeared as facial smudges on both women and men was impossible to miss in Myanmar. A few turned it into art. A girl at Magandhayon Monastery sported an intricate leaf and flower design. The thanaka patterns practically begged for a photo op. Of course, it was her pay-for-photo gig.
The beige paste turned out to be an organic sunscreen and antiseptic ointment derived from tree bark. This beauty and facial hygiene regimen may be one of Myanmar's oldest traditions dating back to the first century B.C.
Half an hour after application, I could feel my skin contract as the astringent dried up on my cheeks and forehead. If I ever had Botox treatment, it might have felt this way. I wondered what art the girl drew on my face. Only when I took a selfie did I see how far removed it was from that girl in the monastery. Mine was akin to a light-colored, crusty war paint. If that were art, it would be abstract.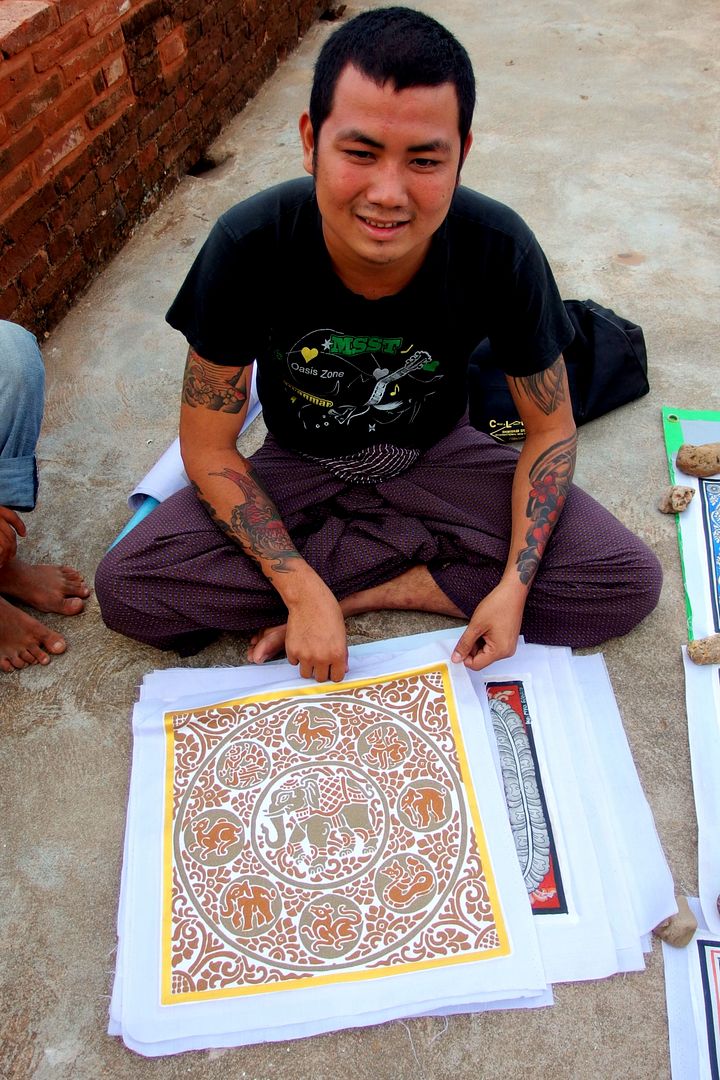 A trip to Mani Sithu Market in Bagan revealed piles upon piles of hand-size thanaka logs for sale. Small wonder it was popular. Retail looked like wholesale in quantity. The logs must come from some of the trees that had sheltered me from the merciless Myanmar sun in the plains of Bagan. At least, even after two millennia of this practice, these trees had not been cut down to extinction.
Thanaka was just as ubiquitous in Myanmar as longyi, pronounced "long-gee," a kind of wraparound garment about two meters long knotted in place at the waist. Worn by both genders, it looked similar to a sarong except for its cylindrical shape. Prior to my trip, my Myanmar students gifted me with one. That longyi came full circle as I brought it with me. Where else would it be considered the most proper attire than in its homeland?
Before I could debut my longyi in public, Jo should have her own too. We had dropped in at a longyi store in Mandalay on our first day. The colorful display proved to be its undoing. Jo was overwhelmed by the choices in color and design and was under no pressure to buy too soon in our trip.
The place to be was at Shwe Sin Tai Silk House in Amarapura township in Mandalay. It was a workshop where longyi was made by hand and sold across the street.
Pairs of teenage girls on wooden workbenches sewed with quick masterful strokes intricate designs they followed from hanging drawings. Far from being in a sweatshop, the girls appeared cheerful; one worked while singing. She carried on with the song even as I trained my selfie video on her. The lone male, sturdy and well-built, worked the larger loom. The coordinated movement of his arms and legs was a dance of pushing and crossing that magically wove thread to cloth – the fruit of the loom – before our eyes.
At last, Jo and I finally matched our his and hers longyi. Mine sported geometric shapes, was monochromatic and made of cotton, a fabric associated with daily wear. Hers flaunted fluid lines inspired by the waters of the Irrawaddy, was brightly colored and made of silk, the more formal and ceremonial choice.
We decided that the perfect place to wear our longyi was at the magnificent Shwedagon Pagoda in Yangon. But not before I got lessons on how to put it on from the friendly and helpful concierge of Yama Hotel and Rooftop Bar. He taught me the three-step method of overlapping it around my waist and tucking it in front, right on my crown jewels. Just like that, it was a wrap!
For our top, we simply paired our longyi with the shirt we had on our backs. Most locals did the same: modern top and traditional bottoms. Pun not intended.
At first, I walked gingerly as a woman in a gown would. But then I could not help running with it – literally. The front knot never got undone despite all that movement.
It was rather telling that both thanaka and longyi were not as ubiquitous in Yangon, the country's most modern city, as they were in Mandalay and Bagan. Urbanites mostly worked indoors; there was no need for sunscreen. They also moved more briskly, catching public transportation or striding down the busy sidewalk; a long skirt could slow them down.
Yet, there was hope for cultural heritage living on in an increasingly globalized world when young people willingly practiced the customs of their elders and models on billboards still wore the national costume. Tradition had not become obsolete.