Bagan, Myanmar
May 30 – 31, 2018
It certainly wasn't "only just Bagan," a pun I sang to the tune of the Carpenters' We've Only Just Begun. "Only" and "just" didn't apply to Bagan, the historic heart of Myanmar. The numbers alone were staggering: Old Bagan had a long history going back more than 1,000 years and spanned an area of 104 square kilometers dotted by 2,217 extant Buddhist temples from the 11th century to the 15th century. Whew, taking those figures in was overwhelming enough, how much more doing a temple run in this vast, arid valley?
Bagan, also spelled as Pagan, was founded on the banks of the Irrawaddy in the 9th century as the capital of the similarly-named kingdom. Their culture flourished, evidenced by the construction boom of over 10,000 temples, for 250 years until it disintegrated in the hands of the Mongols. Kublai Khan, for some reason, wasn't keen on occupying the land; he merely kept it under his control. This hands-off approach, perhaps, saved the remaining temples from total ruin.
My friend Jo and I paid for our entrance tickets to Bagan Archaeological Zone in a roadside kiosk and embarked on what could only be described as our most ambitious temple run thus far. Given the expanse we had to cover under the oppressive sun in such a limited time, I quickly perished the thought of biking through sandy roads. For comfort and speed, we opted for chauffeured car rental to maximize our short visit.
But first, we checked off the following: (1) tickets kept handy to present at temple entrances, (2) sandals (in my case, wooden clogs) for easy removal as temples could only be entered barefoot, (3) antiseptic solution to clean our feet with, (4) sunscreen, hat, umbrella for maximum skin protection, and (5) bottled water to combat dehydration.
And finally, our Bagan Temple Run began:
Taung Guni Temple (c. 1190 CE)
The sun was still up when we returned to Bagan from a day tour at Mount Popa. We decided the best time to begin our temple run was at sundown. Parking around the Guni temples was packed, indicative of the site's popularity for sunset spotting. True enough, as we emerged from the dark, steep, claustrophobic passageway, a sizable crowd of mostly white tourists had already occupied the unguarded edges of the west terrace. Only our sense of caution set us back while Caucasians dangled their legs from the ledge.
There was every indication that we would not get any Zen moment in this sunset show. We had to jockey with fellow tourists for a front row view all while hawkers left no one in peace without a sale or two. My penchant for engaging with local people only fueled their pushy salesmanship. In the end, what I got was a rather anemic sunset upstaged by voluminous rain clouds and unremarkable souvenirs I had relented to buy.
One down at sundown.
Myauk Guni Temple (c. 1241 CE)
The next day we found the Guni grounds abandoned by the previous evening's crowd. We finally got our Zen moment. Myauk Guni, the larger twin of Taung Guni, rose majestically from the plains. Receding terraces culminated on top with a rounded and pointed stupa that conjured up Kremlin architecture. Save for the Buddha images, the interior was hollow with faded frescoes as opposed to the elaborate bas-relief on the external walls. Belatedly, I learned it was remarkably the sole temple in our run that was built by a queen.
Queen Pwasaw wielded her considerable influence as much as her impulsive, immature king allowed. She was known in history as popular, powerful, witty, and beautiful. Perhaps I was unconsciously tapping into her energy when I launched into a musical interlude by belting out Madonna's Ray of Light which reverberated through the empty corridors. The Queen Dowager deserved to be serenaded with a song by the Queen of Pop.
Sulamani Temple (c. 1181 CE)
A red carpet (actually beige) had been laid out from the gate to the front entrance of Sulamani Temple, known as Bagan's "crowning jewel" by virtue of its heavenly namesake, home to Buddha's crowning glory that he cut when he first became an ascetic. The only crown we could see was an unsightly green tent on top protecting ongoing repairs of the damage caused by the devastating earthquake of 2016.
Sulamani did not look as elaborate on the outside as Myauk Guni, but it certainly had more interior design. The brickwork and glazed carvings were considered some of the finest in Bagan. What struck me were the faded frescoes of the reclining Buddha and strange figures on the interior walls said to be painted more than 500 years after the temple was built.
Sulamani was not only a product of its time but also of succeeding dynasties. A history professor we bumped into at the hallway could've been the best resource person to ask about the history and art of Sulamani; alas, he was already on his way out.
Dhammayangyi (c. 1170 CE)
Dhammayangyi approached the size, shape, and scope of Egyptian pyramids the closest among all of Bagan temples. Even the gate archway was a grand affair. The temple's massive structure was supported by walling in inner spaces. Precision-cut bricks were packed so tightly that they formed a seemingly singular solid wall.
The perfect fit was legendary that not even a fine needle could pierce between bricks. I didn't have a needle handy to confirm it. The only solid proof was that this building technique spared the temple from destructive earthquakes regularly rocking Bagan through the centuries.
Though touted as the largest temple in Bagan, the Dhammayangyi was said to be built on the blood of its builders. History had it that the reigning king performed the needle test on the brickwork and killed the masons who failed it. He was a textbook case of murderous ambition. He killed his father and elder brother to get the throne and his Hindu queen for practicing her religion.
Perhaps that explained the ominous vibes coming over me the entire time I explored its dark and dank corridors and chambers that I never felt in other temples. Or more likely, it was just the persistence of a teenage tout hawking his sand paintings. I made him work for it by quizzing him about the history and art of his workplace.
Thatbyinnyu Phaya (c. 1144 CE)
From the largest to the tallest. Standing at 201 feet high, Thatbyinnyu Phaya towered over all temples and other monuments in Bagan. It might as well because its name meant the Omniscience of the Buddha.
The Buddhist way to get high was through enlightenment. Fair enough, although I could not blame it on enlightenment when I sat (not lotus position, though, as my slim fit denim shorts were too tight) on an empty niche and chanted Madonna's Sanskrit song Shanti/Ashtangi. I was just high on adrenaline.
Thatbyinnyu stood out not so much for its height as for its paleness. Temples were almost all burnt brown; it was a sight for sore eyes to see a terraced temple of white sandstone, though tatty with dark blotches. A brick wall, now a heap of bricks, used to fence it in.
Inside, natural light and an occasional soft breeze filled the hallways, a stark contrast to Dhammanyangyi's claustrophobic darkness. We circumambulated the temple, stopping at each chamber housing golden Buddhas. Artwork hung on the walls and, in one chamber, a bowl of fruit was laid on the altar. We saw more local people worshiping here than in previous temples. In fact, we were the only tourists at that time.
Ananda Phaya (c. 1091 CE)
We saved the best for last. It was said that one had not visited Bagan without visiting Ananda. It may not be the largest and the tallest, but it was unique in its artistic scope and cultural significance. The other temples seemed sparse compared to the richness of art and design in Ananda. It was a fitting grand finale to this temple run, partly so that it would not outshine the rest.
Although the oldest among the temples we visited, Ananda looked the newest, having been completely restored from considerable damage caused by the 1975 earthquake. The gleaming spire was gilded only in 1990 in celebration of the temple's 900th anniversary. Did that make sense from a heritage conservation standpoint? On the other hand, how many buildings in the world had survived for 900 years?
There was an even mix of local worshipers and foreign visitors here. Also, mid-afternoon, apparently, was siesta time for workers who were undertaking the temple's regular whitewashing. They napped at any random space they could find. We would look into niches and be surprised to find, not reclining Buddhas, but reposing bodies. All these local people, walking or sleeping, imbued a real-life element to the experience unlike a museum visit.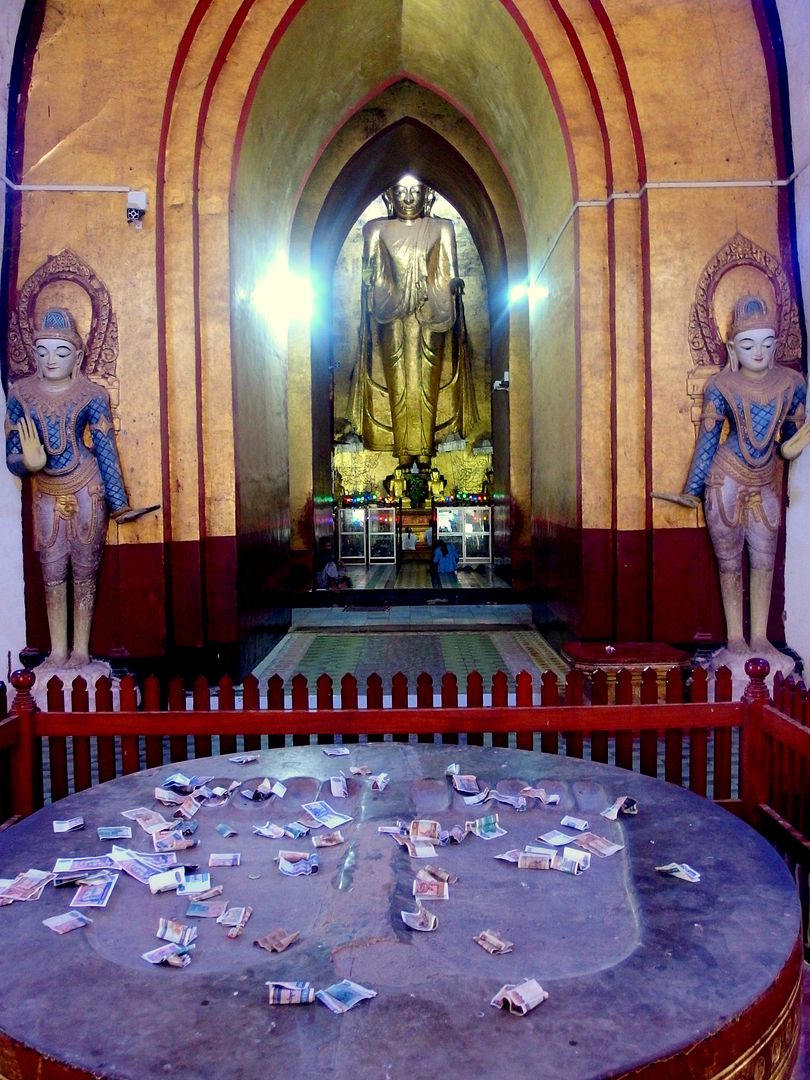 Structurally, Ananda was similar to Thatbyinnyu in terms of natural ventilation and lighting. The towering Buddha images, one for each of the four halls, were illuminated by skylights allowing fresh air to circulate and sunlight to shine even in the inner high-ceiling devotional halls. Huge latticed teak doors also ensured aeration.
These designs were not merely aesthetic. The king then intended for the temple to be a cool and refreshing refuge, not only a spiritual oasis, in this sun-baked valley. The fact was not lost on me as I literally ran into the temple upon our arrival to escape the scorching heat. After almost a thousand years, it still served its original purpose.
The external design of the temple was as richly intricate as the interior. Glazed plaques and plaster moldings representing the life of Buddha and mythological beings decorated the entrances and terraces. The architectural style of Ananda was clearly far removed from all the other temples. Having been built at the turn of the 12th century, the temple was considered to be the finest extant masterpiece of one of the earliest cultures in Myanmar.
But every success story had its hidden dark side. Legend had it that the king killed off the temple architects after its construction to ensure that the designs would not be copied elsewhere, an extreme version of copyright protection.
The Buddha image facing the donation box was said to change expressions depending on one's distance from it. Buddha looked sad at closer proximity and happy farther away.
In a nutshell, such was my experience in our two-day Bagan temple run. I had expected to get a bad case of temple burnout because I thought, "you've seen one, you've seen all." But Bagan proved me wrong. Each temple had its own personality and appearance. Every temple was a unique experience and a distinct memory. As they would say in Bagan:
Massiveness that is DHAMMAYAN,
Loftiness that is THATBYINNYU,
Grace that is ANANDA.
And those were just the last three temples we visited.
*****
This post is dedicated to my friend Melds who was supposed to join me in this temple run. She passed away on this day itself – May 31, 2018.