Yangon, Myanmar
June 1, 2018
My own sojourn in Rangoon was countable by hours, so I may be forgiven when I pranced with impatience at the bottom of the staircase….

Rudyard Kipling
The words of Kipling could not ring any truer. Given less than 48 hours in the city, I only had this day to visit the spectacular Shwedagon Pagoda, and I could not find my Myanmar friend, Justin, at our appointed meeting place at the foot of the southern staircase. I did prance, scooting from the guarded gate to a few flights up the stairs.
I was antsy for good reason. Both Shwedagon and Justin were the highlight of my quick stop at Yangon. The fact that there were TWO southern entrances – one with elevators for tourists, the other with the grand covered staircase – escaped me. I had unwittingly chosen the non-touristy way, which I would have preferred anyway.
Justin wrongly assumed I would be among fellow foreigners. That was not my style. I found a sense of solidarity with Myanmar people as my bare feet communed with the footprints of local pilgrims on the polished staircase.
At the top of Singuttara Hill where the golden pagoda perched on, Justin texted once again to say he was presently waiting by an ancient bell. A thought bubble – "Here we go again" – came over me. True enough, there were TWO such bells in the pagoda grounds.
The local man I had asked for directions followed me as I checked the bell shrines for Justin. It was soon apparent that he expected more than gratitude for his efforts. Within a minute, he morphed from accommodating to angry, accosting me for financial compensation. Justin appeared in time to deter the harasser. Statistically speaking, I should not expect interactions with local people to always end on a positive note.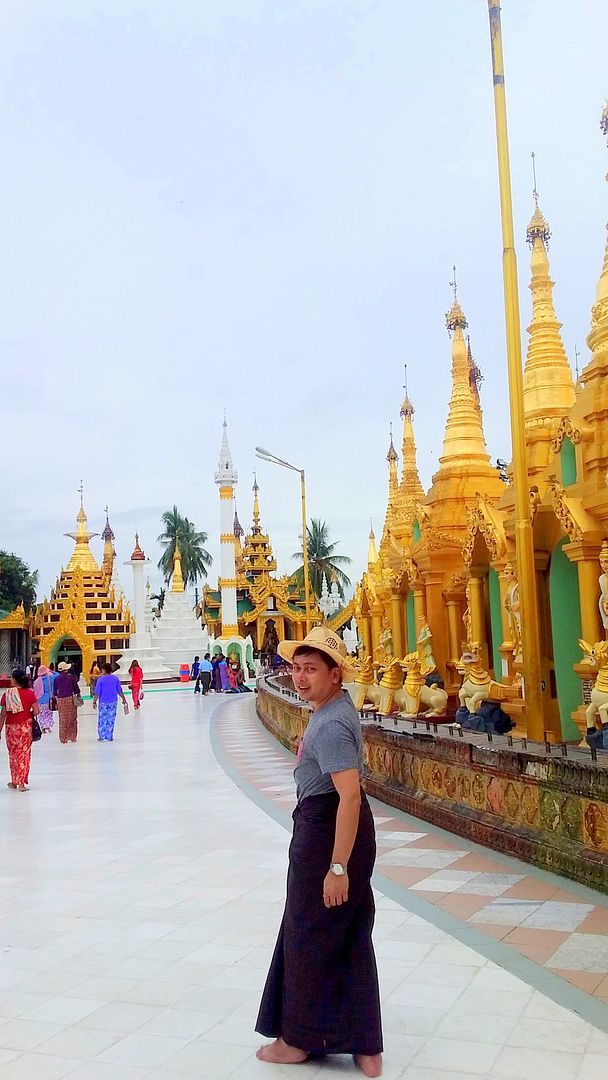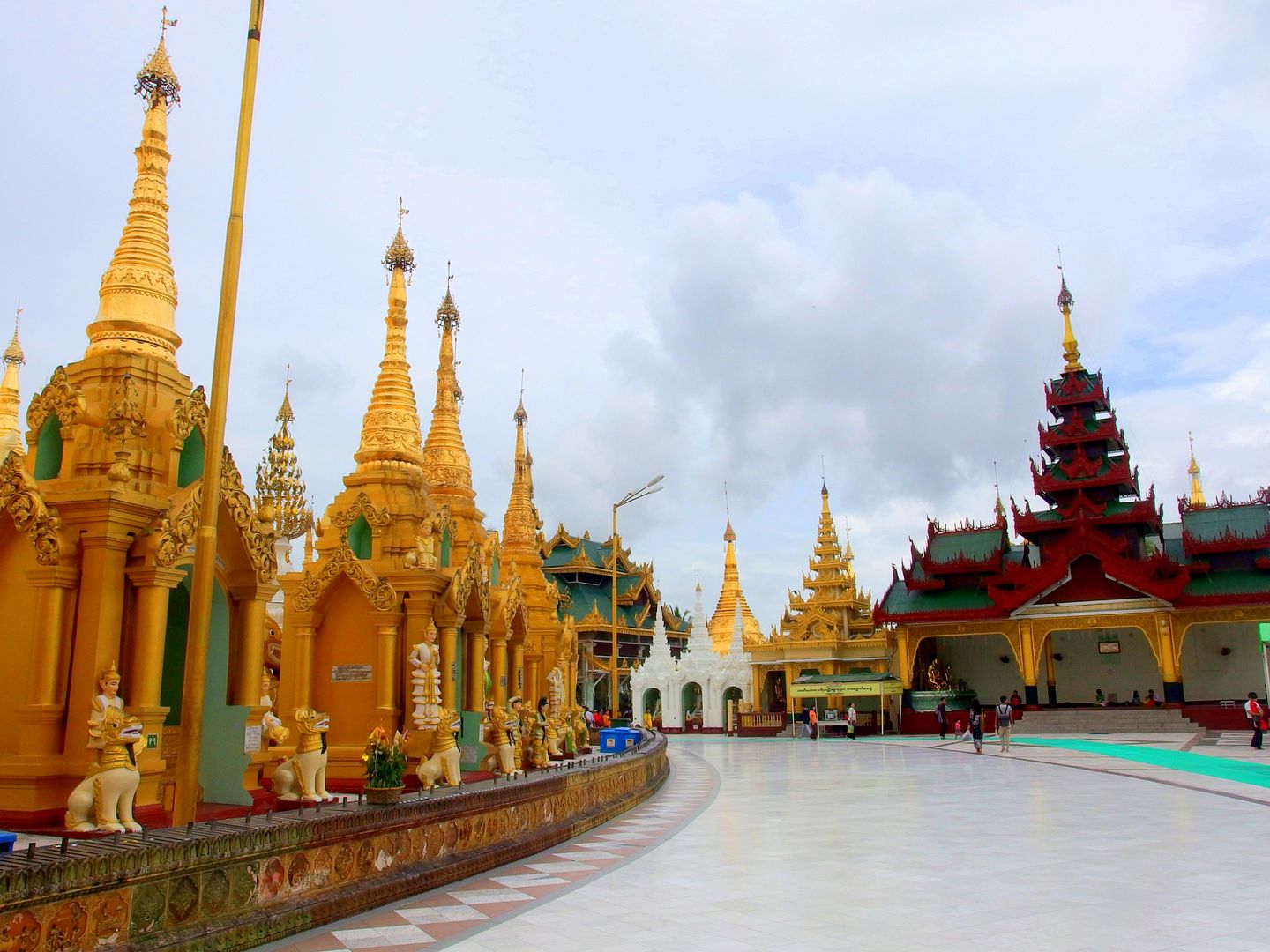 Justin helped me wrap the cylindrical cloth called longyi he had given me back in Manila over my shorts. Barefoot and partly dressed in traditional wear, I deserved to walk on the white tiles around the pagoda. For an outdoor passageway receiving heavy foot traffic daily, it was incredibly spic and span. I was finally in the zone.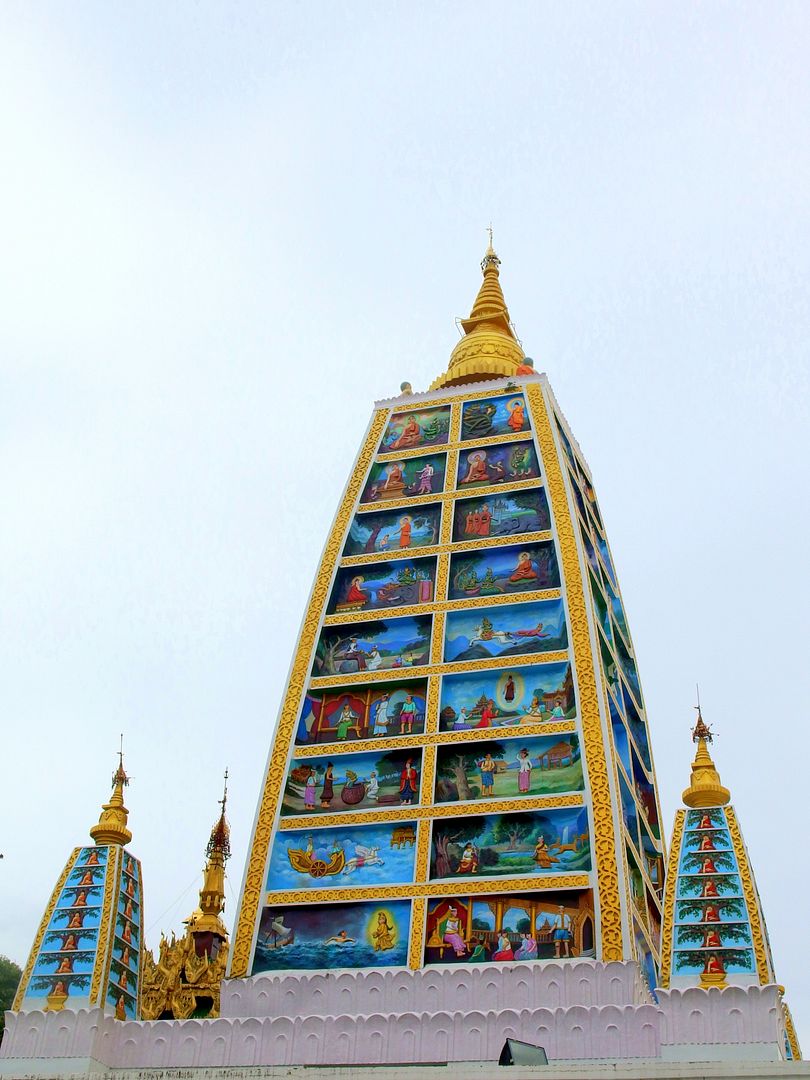 But appetizer first before the main course. Something familiar caught my eye – the replica of Maha Bodhi Paya, a fairly recent addition to the complex in the 1950s, recognizable for the colorful vignettes of Buddha's life painted on its tower panels. I had not been to India, but the pagoda's distinct silhouette against the sky was its own recall.
We tiptoed into ornate pavilions and smaller shrines around the main pagoda, careful not to get in the way of devotees in various degrees of prayerful stances – standing, kneeling, prostrating – perhaps based on the gravity of their supplication, of monks in pink robes stopping mid-procession to perform a ritual, of women offering flowers to their ancestors-turned-deities. Unlike many religious sites the world over, Shwedagon functioned as a place of worship rather than as a tourist spot with religious significance.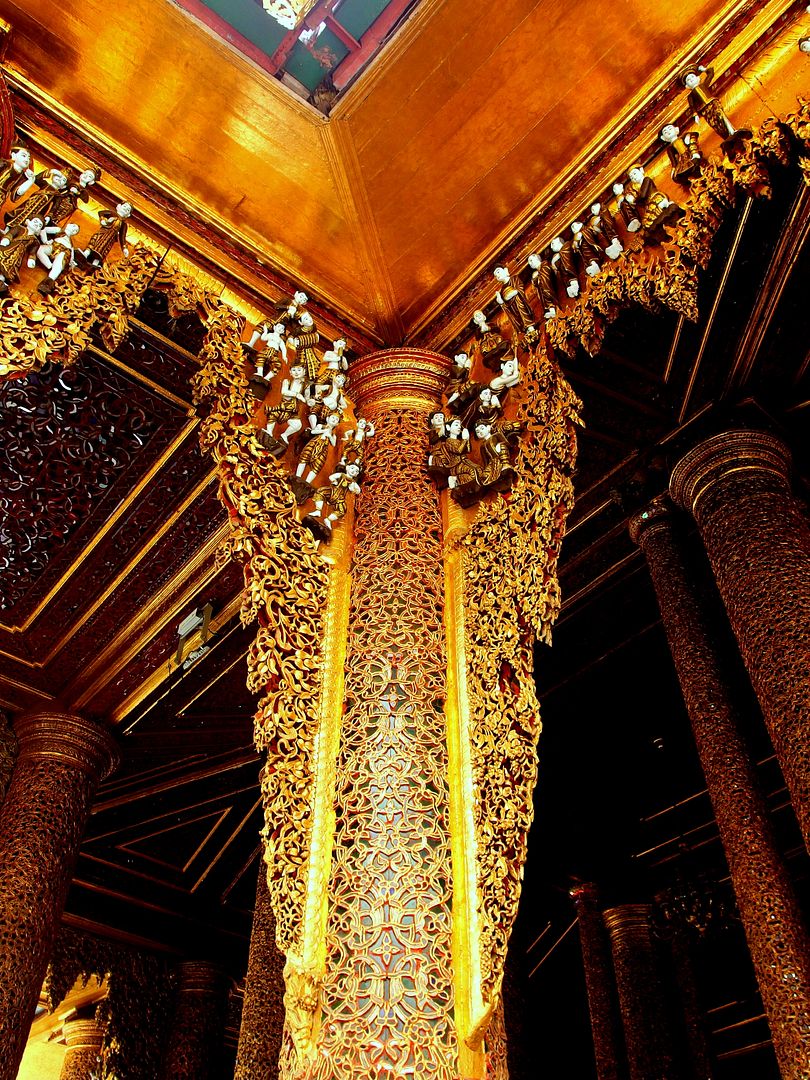 But then, the mother lode of all things Buddhist simply dwarfed everything around it. I swore the word magnificent was coined to describe the monumental Shwedagon Pagoda. Five hundred kilos worth of gold plates covering all of the pagoda's 99 meters gleamed like a second sun at midday. The top was said to be adorned by a 70-plus-carat diamond. Only a drone could confirm the claim, but considering all that gold, it was not much of a stretch to believe. Clearly, it was for the gods to see, not for mere human eyes.
Other gems – rubies, sapphire, and more unmentioned – formed part of the pagoda. But they were all skin to the bricks of which the Shwedagon was made. Still, it left to the imagination where all these precious stones came from. Donors, both royal and commoner, had contributed gold and jewels to this pagoda since about 2,500 years ago. They put their wealth where their faith was. Had it even been ethical to keep mind-boggling wealth – reportedly worth $1.4 million in 2017 – in a religious site as people went hungry in this developing country? Only their descendants could truly answer such question.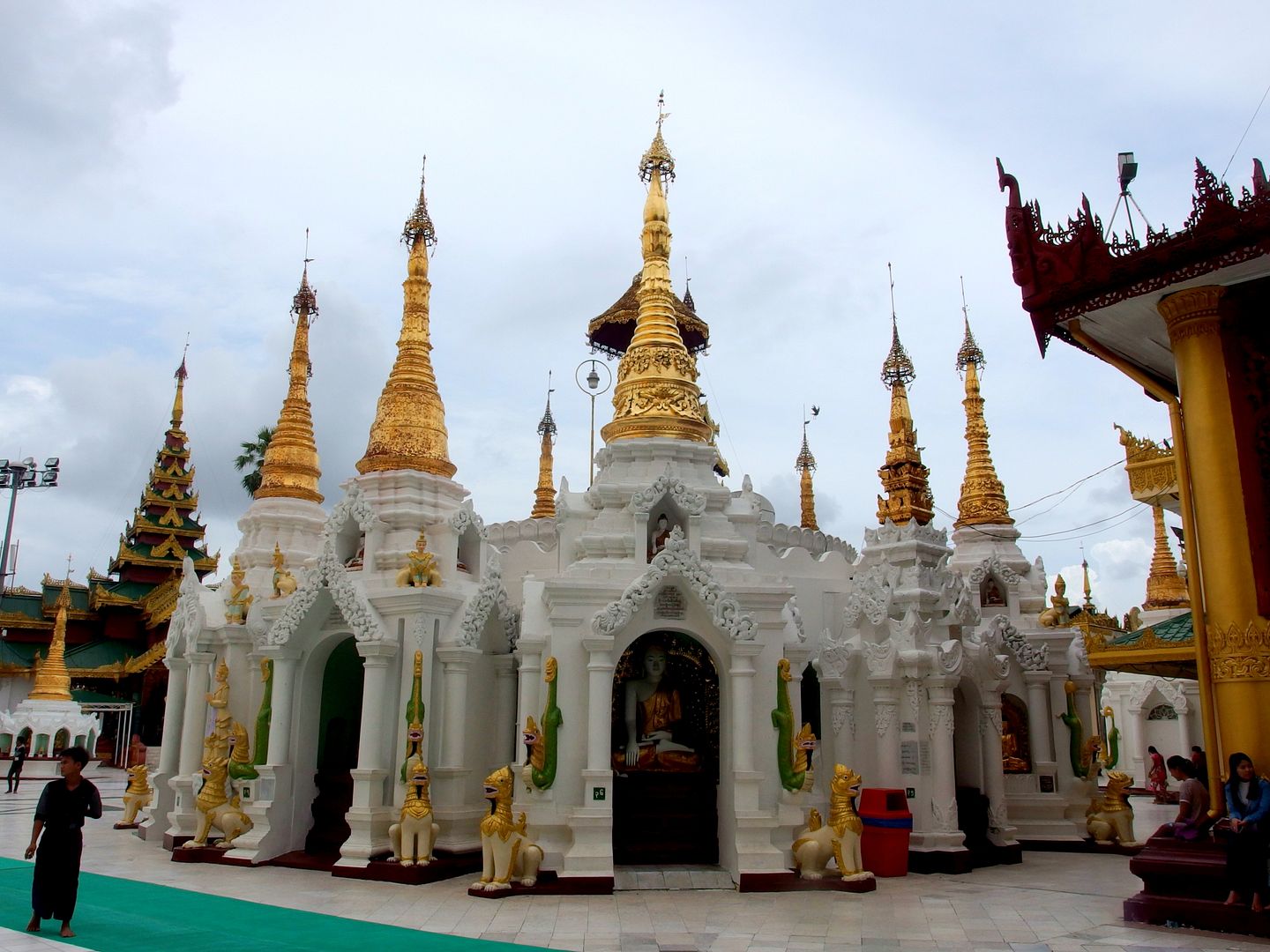 What engendered generosity of such scale? The pagoda was said to have been built to enshrine Buddha's hair. I had to let that sink in. Minute strands of hair merited a massive monument. They would be contained within the hollow pagoda, but I had doubts if anyone in the past millennium had actually seen it. One thing clear as day, though, was that Shwedagon Pagoda had stood as Myanmar's singular contribution to world heritage with its eye-popping art and architecture, gems and geometry for centuries.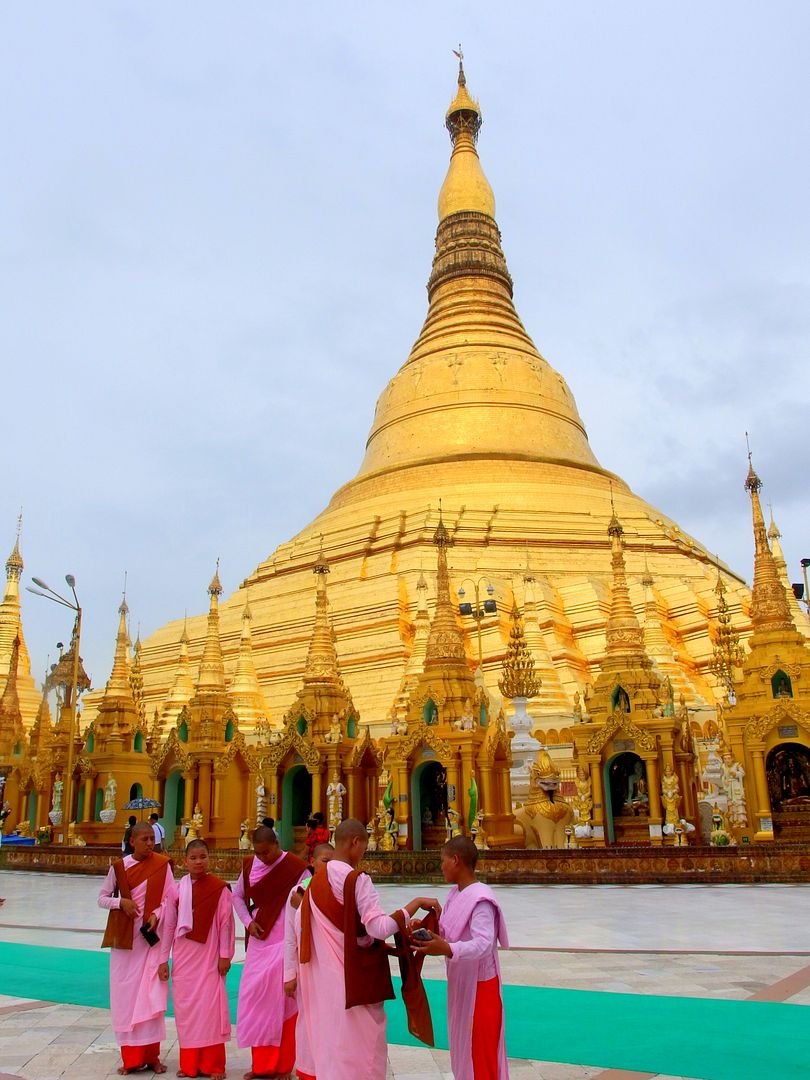 I noticed that the base of the pagoda was surrounded by small altars called planetary shrines. People gathered around them in solemn silence to offer flowers and splash water on the Buddha contained therein. Justin explained that each shrine represented the days of the week. People prayed on a particular shrine of the day of their birth. Superstition aside, I promptly searched the shrine for Thursday, my birth day, for a photo op. Later, I discovered the Obamas had done the same during their state visit to Myanmar in 2014.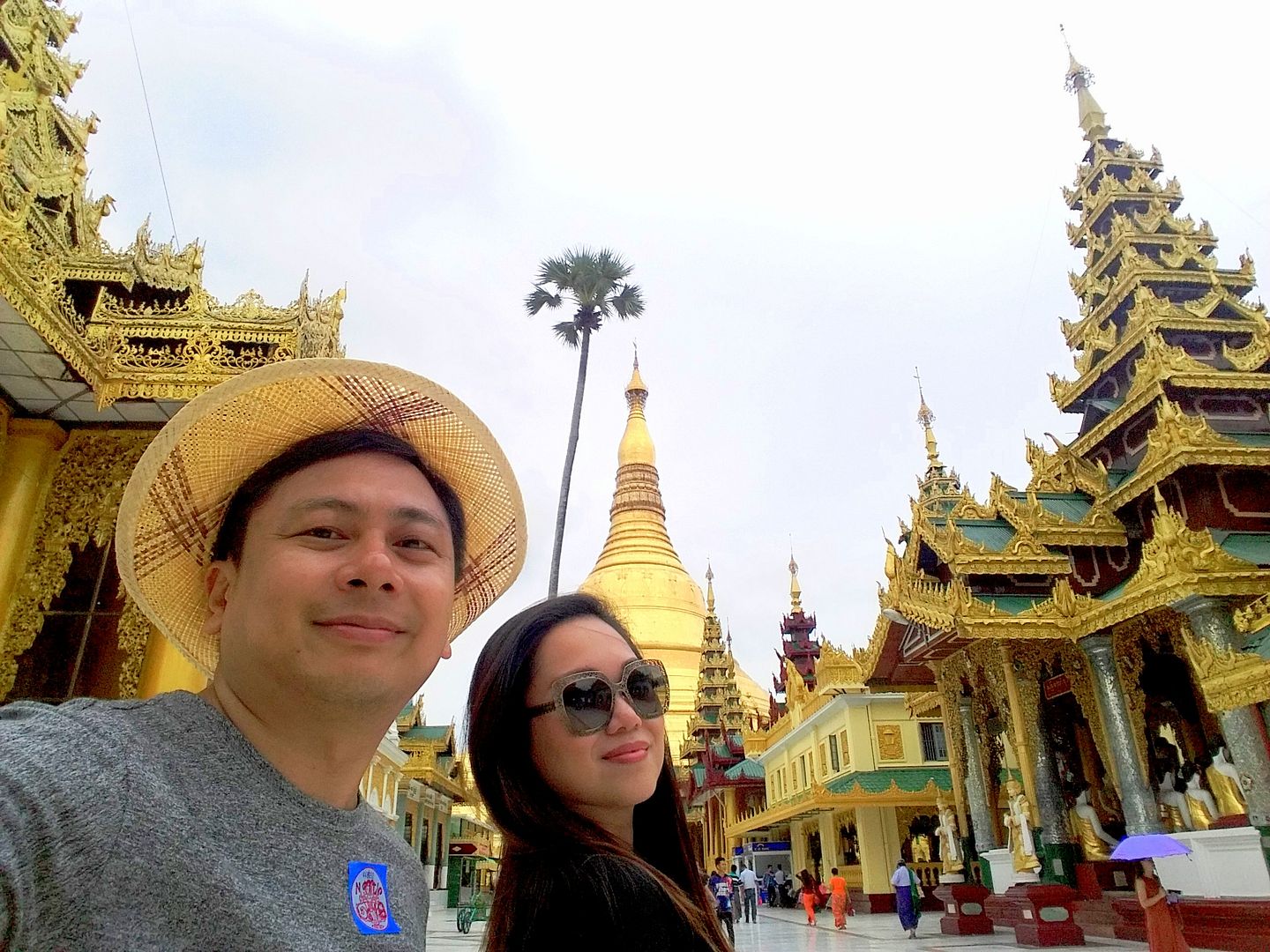 I was certain I had barely scratched the golden surface of Shwedagon Pagoda. Justin, a Catholic brother, could only explain so much. But as with everything so magnificent and mysterious, it was all there was to it. Kipling continued,
…I could not at once secure a full, complete, and accurate idea of everything that was to be seen. The meaning of the guardian tigers, the inwardness of the main pagoda, and the countless little ones, was hidden from me.
He concluded,
Everything was incomprehensible to me, and there was none to explain.
I seconded that.