Den Haag, the Netherlands / Le Puy-Sainte-Reparade, Bouches-du-Rhône, France / Casablanca and Tangier, Morocco
June 10 / 15 / 19, 2019
More than 3,000 kilometers from Amsterdam to Marrakesh. That was how much distance I covered in my epic trip to celebrate my 50th birthday and the 10th anniversary of my blog and alter ego – TTT (The Transcendental Tourist).
Three countries and 15 cities by land. That was how intimately I was acquainted with my itinerary as I traversed almost the entire stretch through railway and highway, but mostly on foot – save for one flight across the Mediterranean.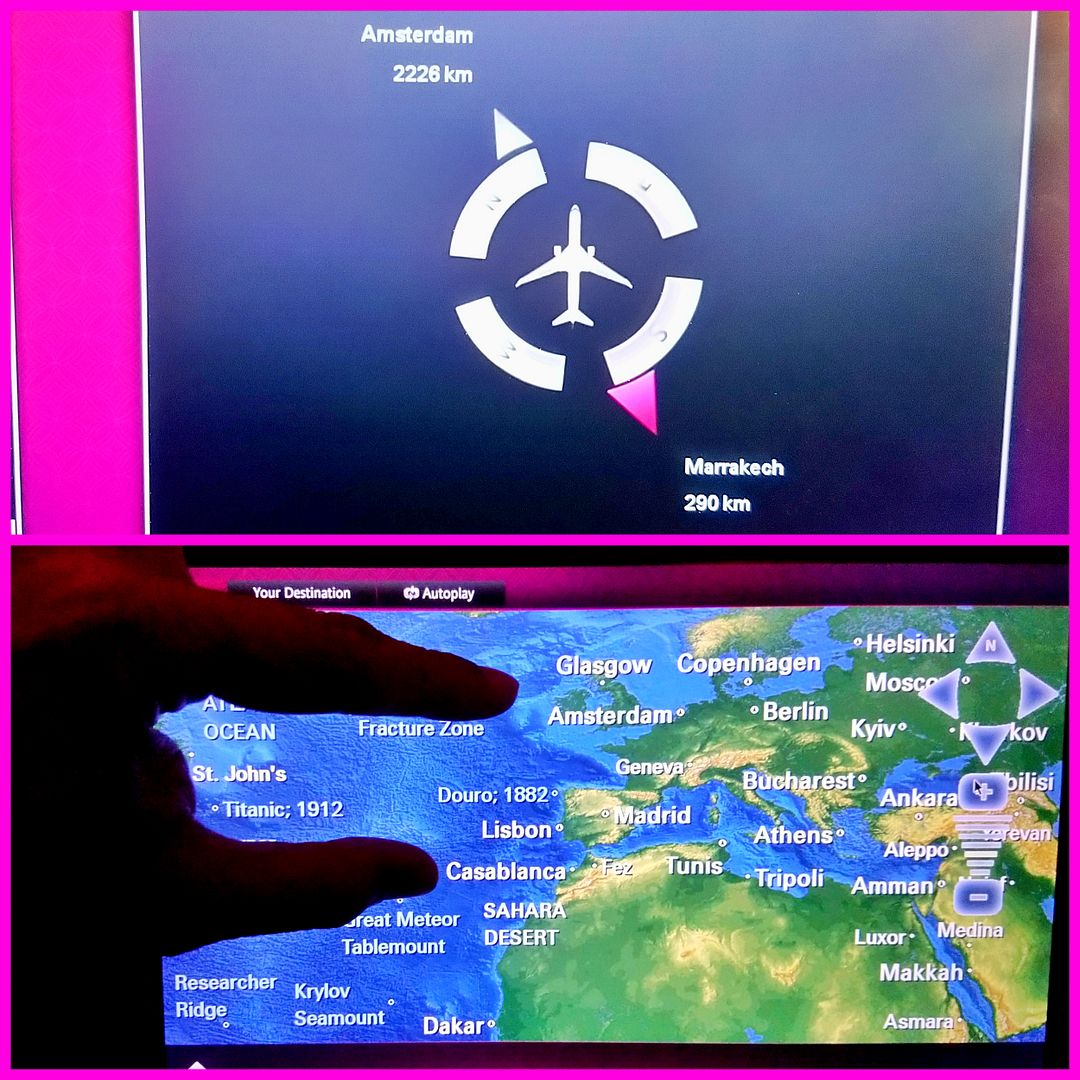 Twenty-five days on the road. That was how much time it took for the longest journey I had taken since my childhood's three-month North American trip with my mother.
Five family members to share this epic experience with. Each had their leg of the journey. Friends of the family also hosted us in one country. Foreign lands did not feel so strange when traveled with family and friends.
Finally, this trip was my response to the clarion call of Madame X, my muse of the moment:
Ven conmigo, let's take a trip!

Madonna Ciccone / Juan Luis Londoño / Mirwais Ahmadzai / Edgar Barrera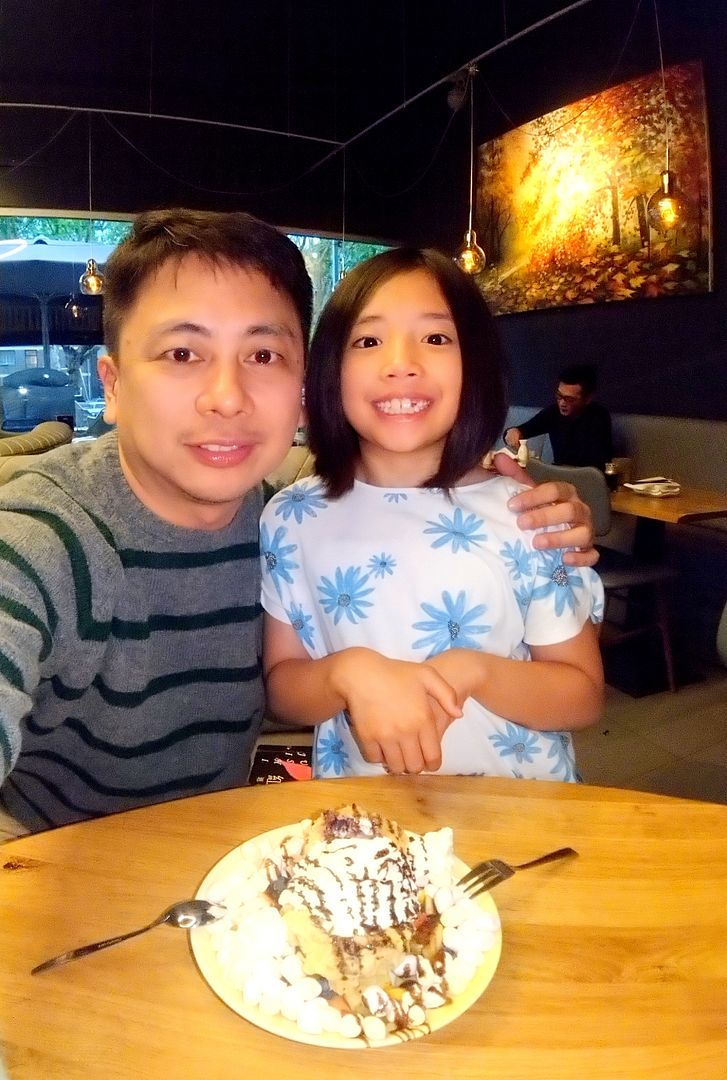 Turning the big five-O deserved no less than a first. I marked this milestone with my debut in Europe and Africa. None of the countries visited figured in my original itinerary. At 50, my life still sneaked up on me. I couldn't make this up, or even plan it. I just went for it.
My first surprise came at my first stop. Post-dinner at Momiji Sushi, our hosts' favorite restaurant in downtown Den Haag: The wait staff came out bearing a plate of dessert topped by a sparkling candle. I joined in the rousing singing for the mystery celebrator…who turned out to be me. I was genuinely shocked; my birthday was still two weeks away, after all.
Dank je, our hostess with the mostest, Ms. O, for the surprise!
I took a trip, it set me free. Forgave myself for being me…
Another country, another surprise: On a road trip around Provence, my favorite brother-in-law found online just the place to celebrate milestones in, though mine was a couple of days ahead. Google Map led us within a vast vineyard to a countryside estate that realized the South of France of my imagination. Château de Fonscolombe, once an 18th-century manor now repurposed into a hotel, stood grandly in the sprawling, well-manicured grounds fenced in by a row of cypress.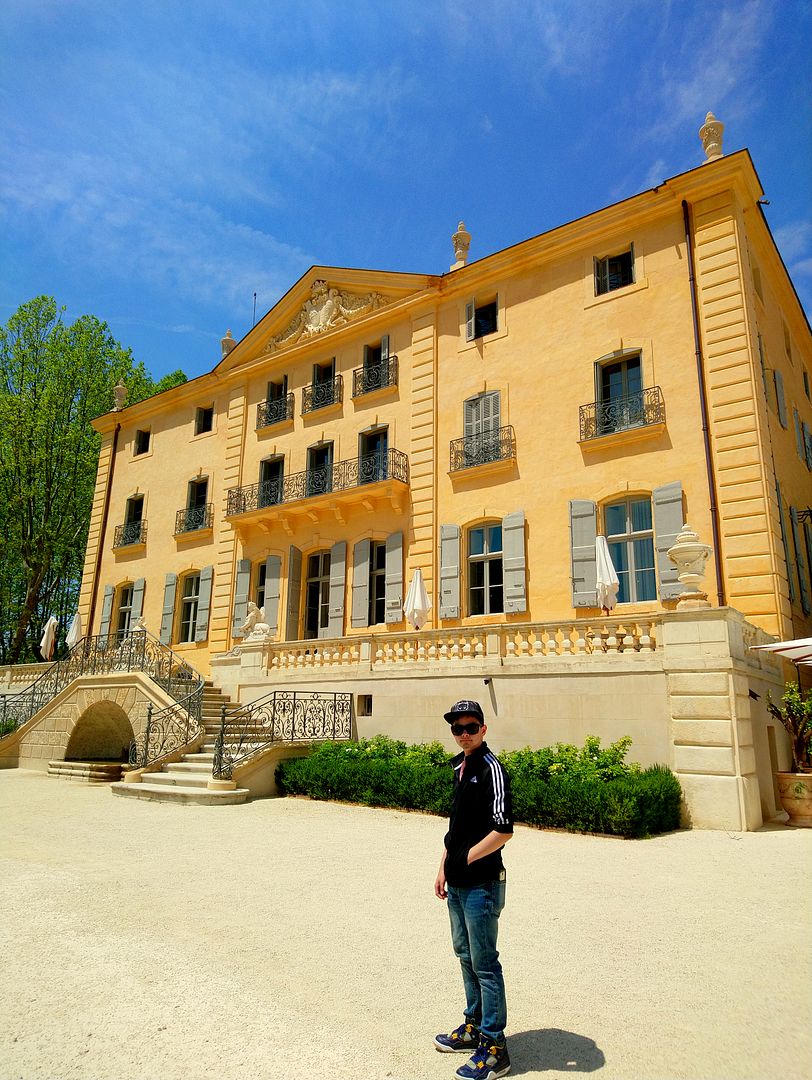 Without any reservation, we were lucky to get a table at l'Orangerie, the hotel's dining terrace overlooking the front lawn accented by a small sculpture fountain. Annie, our personable Taiwanese server with an impeccable British accent, serenaded me with the birthday song in Chinese.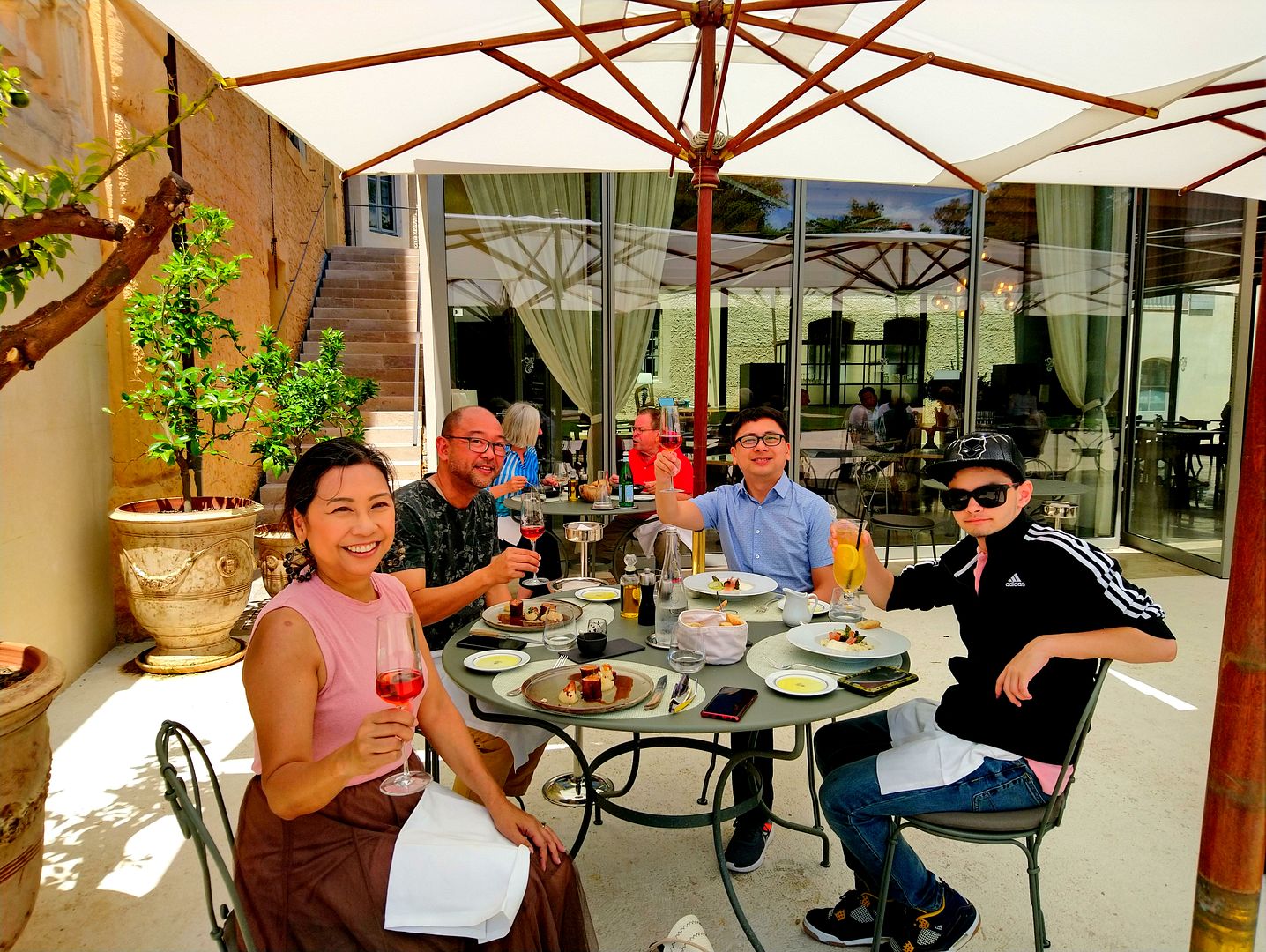 We toasted my impending anniversaire by clicking glasses of champagne rosé, also the title of an obscure song by Madame X. My risotto lunch came in French-style plating and serving. Though the restaurant had not been so rated, it was the closest I could have with my Michelin-star-loving sister and brother-in-law. I made an exception for Provençal poshness, rather out of character for me and, perhaps, my teenage nephew too.
Merci beaucoup for the château feels to complete my Provence experience.
Allowed myself to be naive, to be someone I've never been….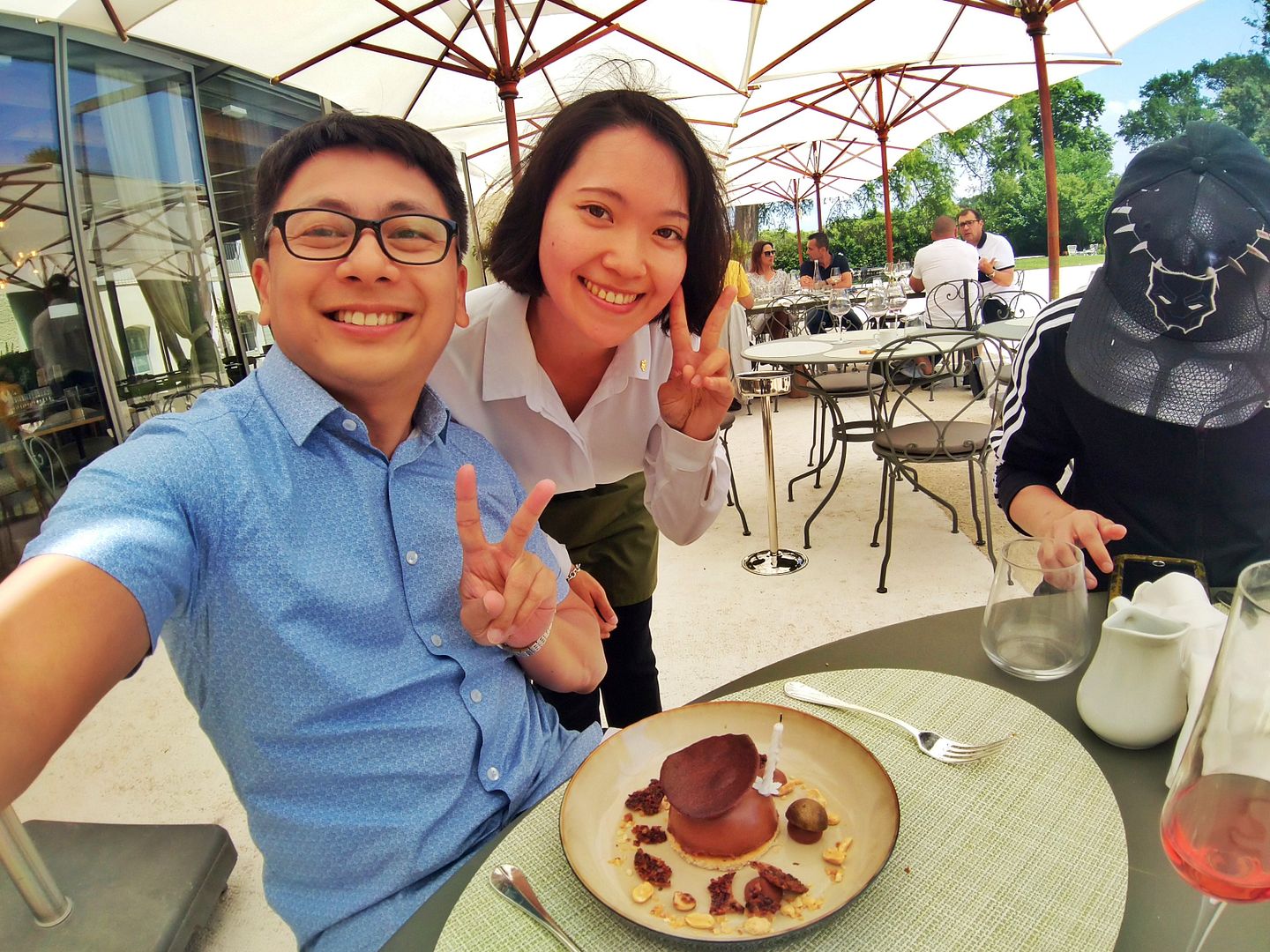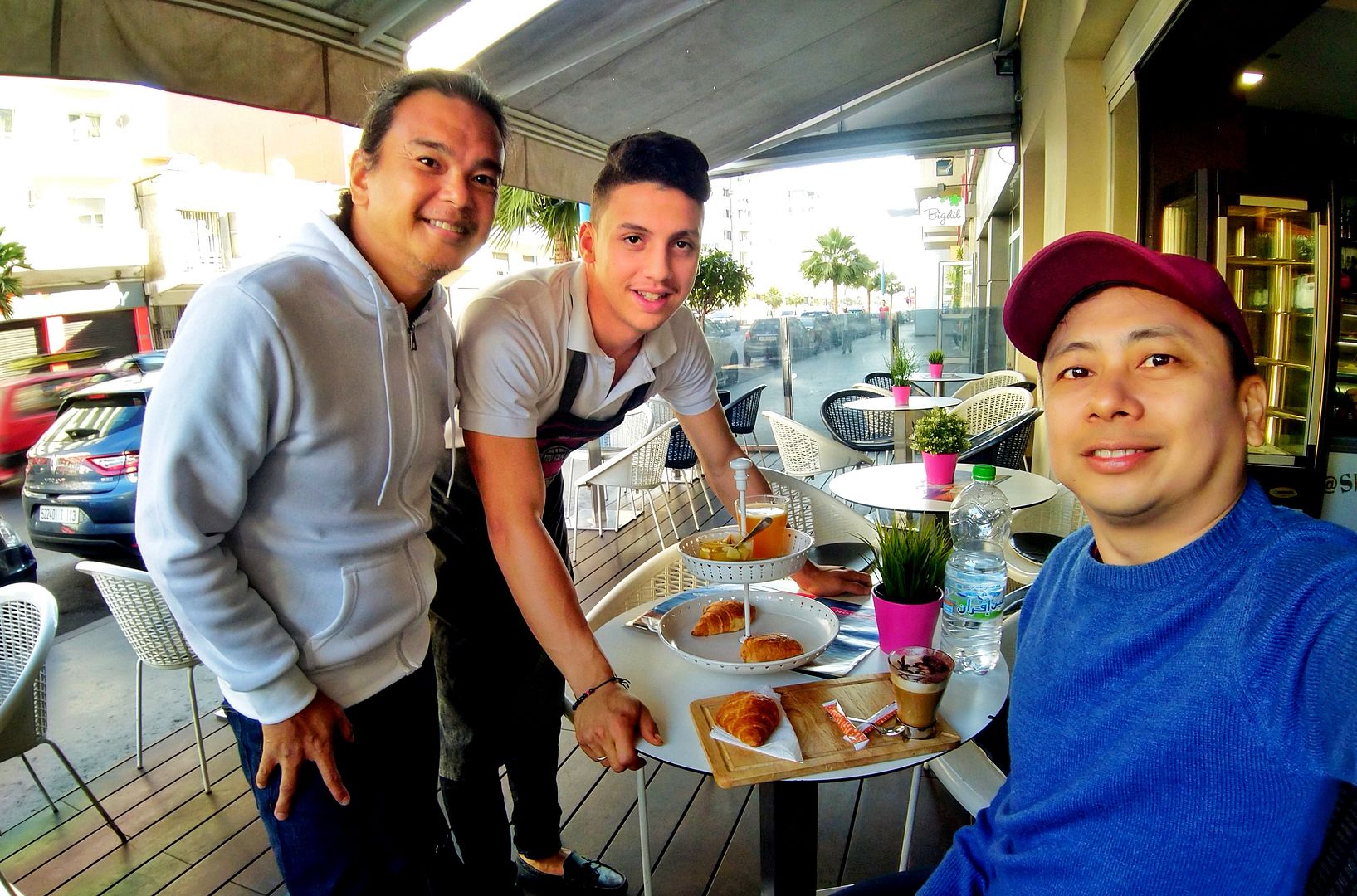 Finally, D-day fell on my and my soon-to-be fellow golden boy Ki's trip from Casablanca to Tangier. But first, we had my birthday brekkie, comfortably continental served on a tea stand, at Venezia Ice, a popular restaurant chain in Morocco. The lone server, a dead ringer for a Filipino actor, pumped his fist on his chest and pointed at me when we left, perhaps to extend his birthday wishes.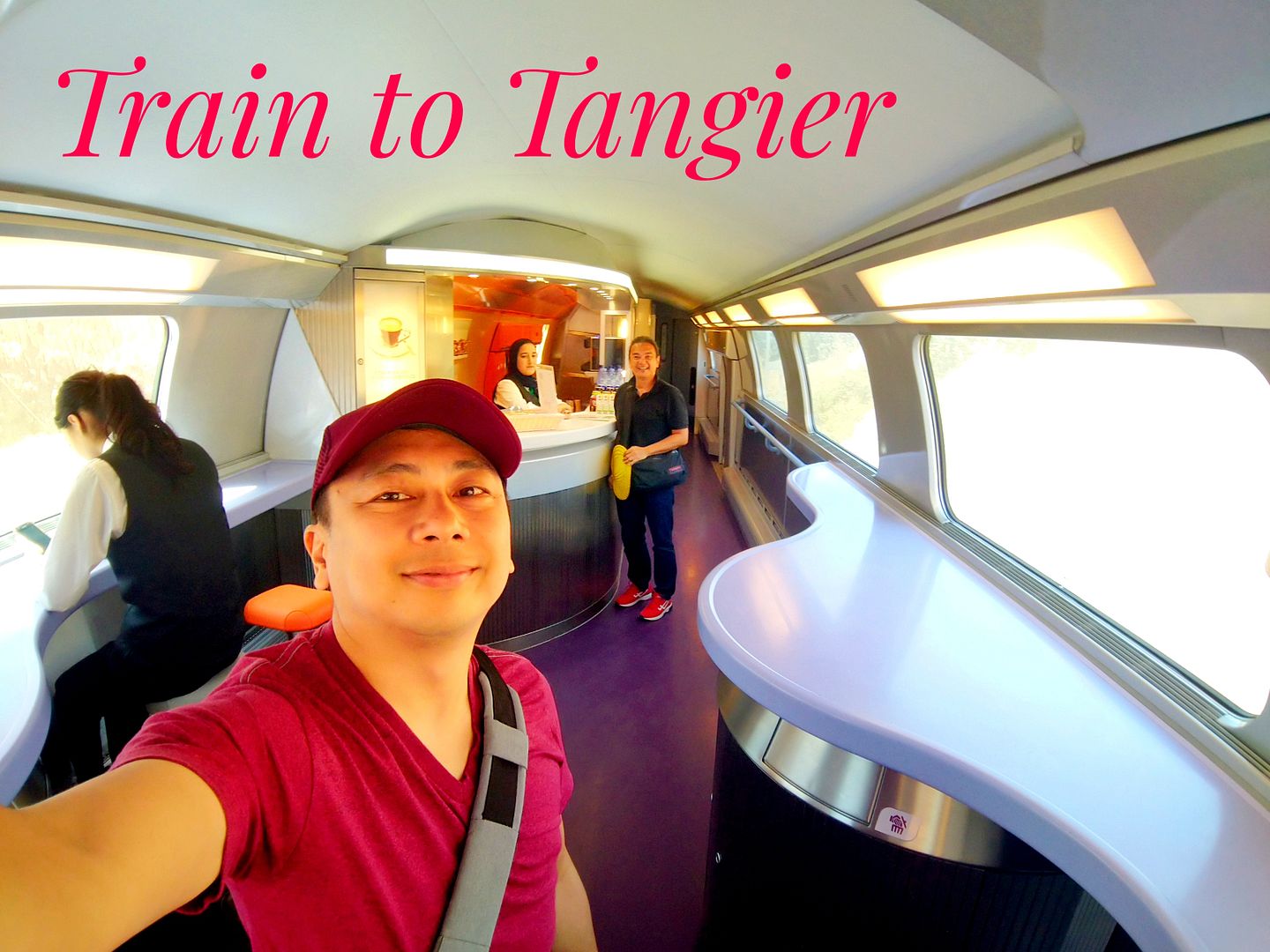 Aboard Al-Boraq high-speed train, we checked out the dining carriage and, in the spirit of former Spanish Morocco, toasted my birthday in traditional p'arriba, p'abajo, pa'l centro, pa'dentro and bumped our cans of Pepsi.
Superstition had it that whatever you were doing on your birthday, you would continue doing so for the rest of the year. Never a believer, I nonetheless wished to be blessed with more travels. "I'm moving fast, can you follow my track? I'm moving fast, and I like it like that," as an older musing of Madame X went.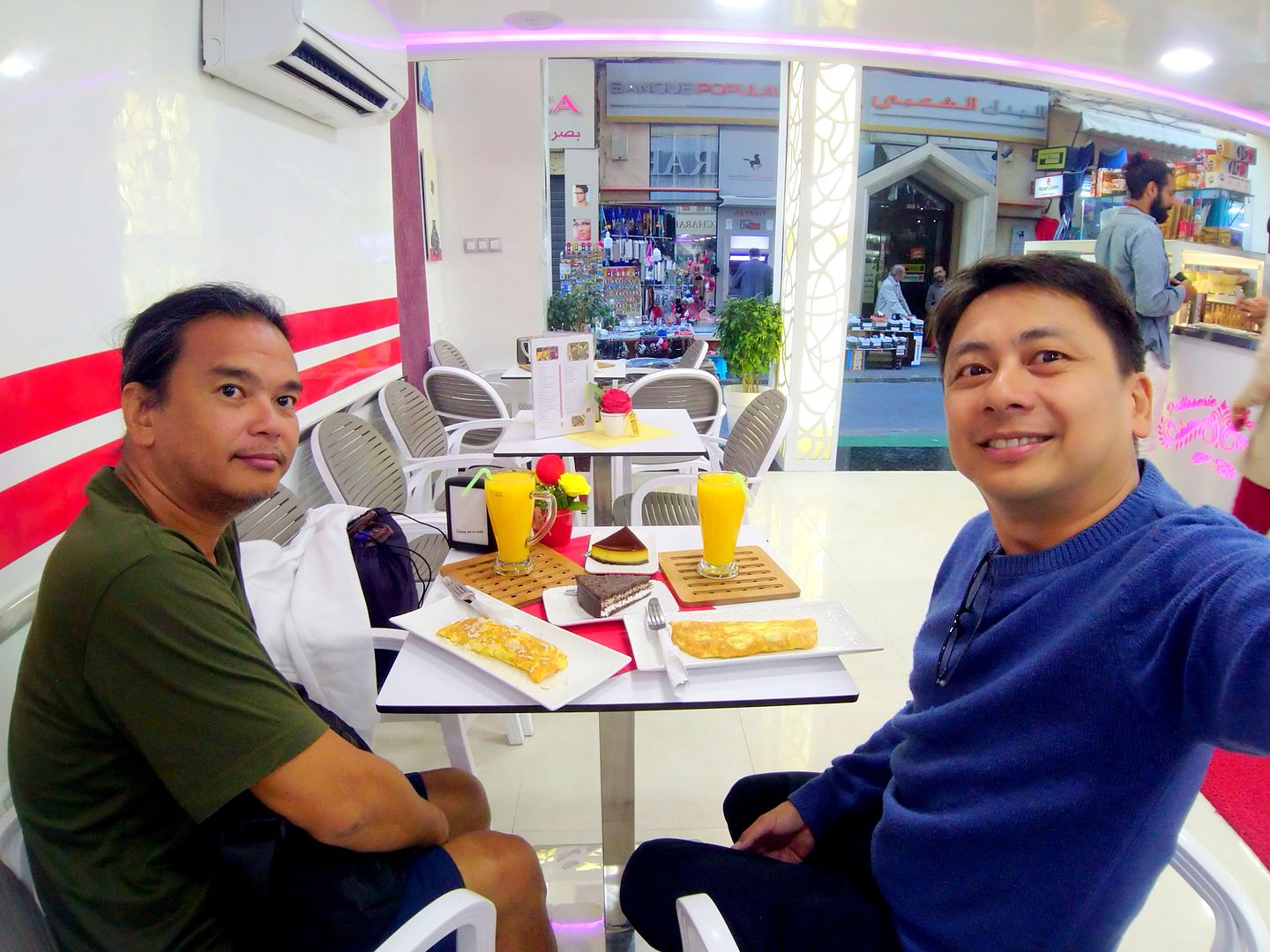 Thanks to Morocco's spanking new fast train, we arrived in Tangier well before dark, which, at this time of year, fell at around 9. The sun was still out as we had my birthday dinner at Charaf, a patisserie and boulangerie in Tangier's ancienne medina. We opted for light fare, omelette au fromage made of my favorite ingredients, and heaped calories with cake specialties.
I didn't know how to say the restaurant name (French or Arabic?), but I imagined "Charaf" to sound close to the Tagalog word for delicious – sarap.
Shukran Ki for exploring a whole new world with me.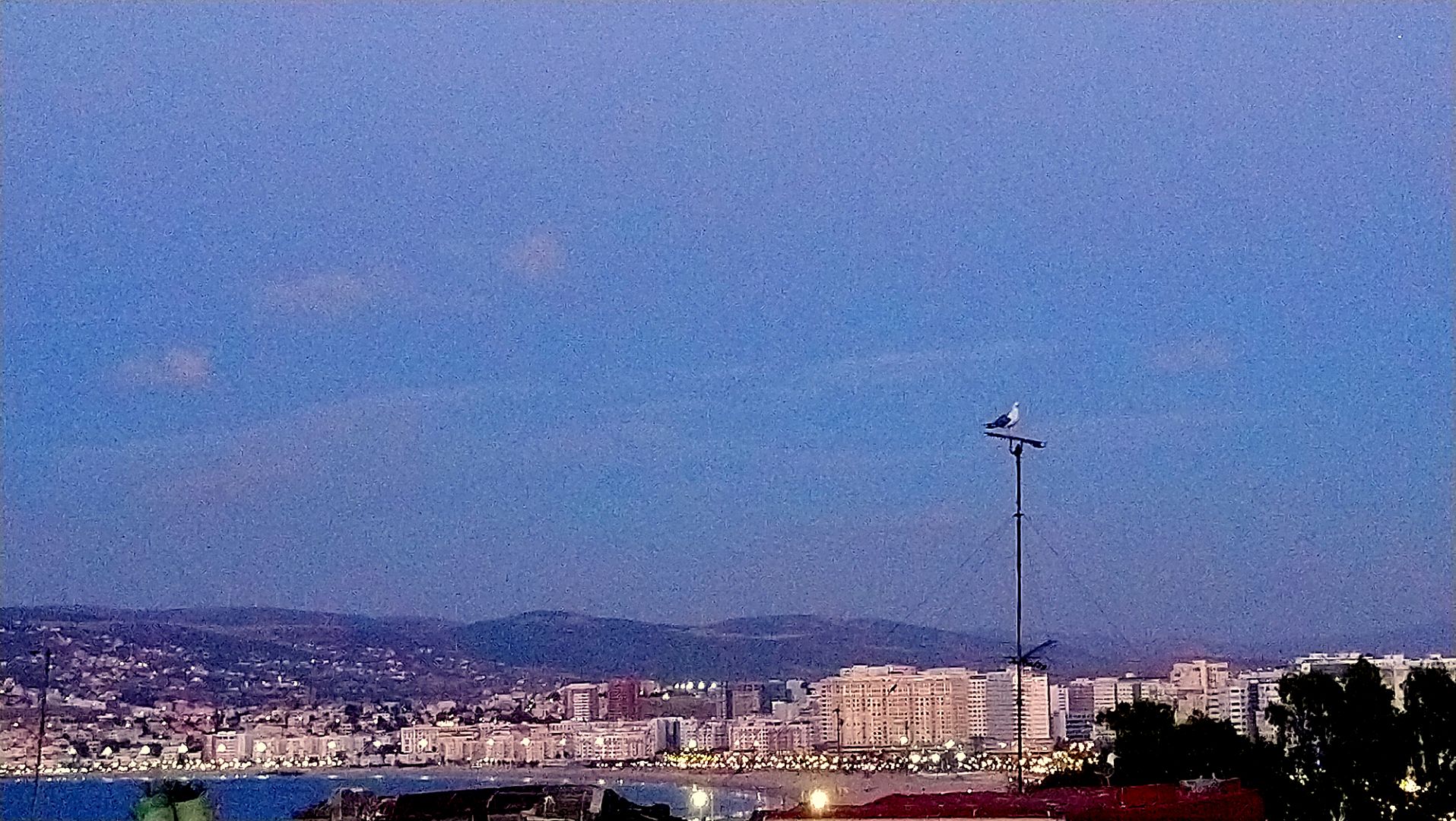 Back at our medina house, Bayt Alice, Ki and I sprinted up to the roof deck to catch the sunset. Alas, the sun itself was hidden from view, but its fading light gleamed on the medina's stucco walls and the ripples on the Strait of Gibraltar beyond. The twilight sparkled before it faded to black, so should life.
So what was turning 50 like? It was thanking God for the gentle glow of the first golden hour of my golden years, articulated by Madame X with poetic truth:
The sun was caressing my skin. Another me could now begin….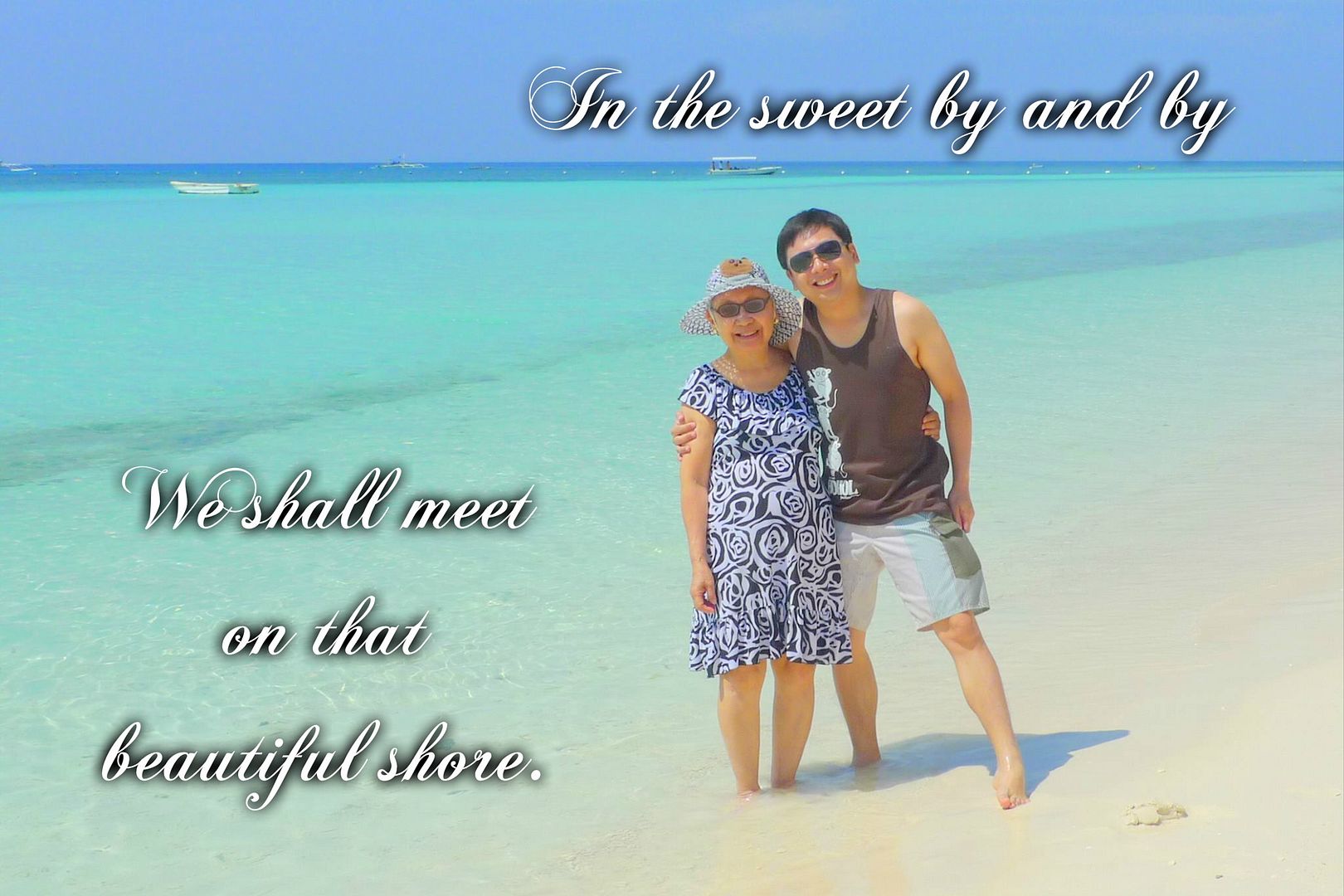 The video of the song that inspired this post contained this prayer that put into words the ineffable gratitude in my heart:
Thank God…for the spirit of my mother who is always protecting me.