Paris, France
June 12, 2019
Female energy – girl power, as my favorite band of all time proclaimed – pervaded my visit to the Louvre Museum. Although the artworks I saw were created by men, their female subjects exuded different facets of the fairer sex. Among thousands of pieces in the world's largest art museum, ultimately, these women depicted in sculpture and painting left a lasting impression on me.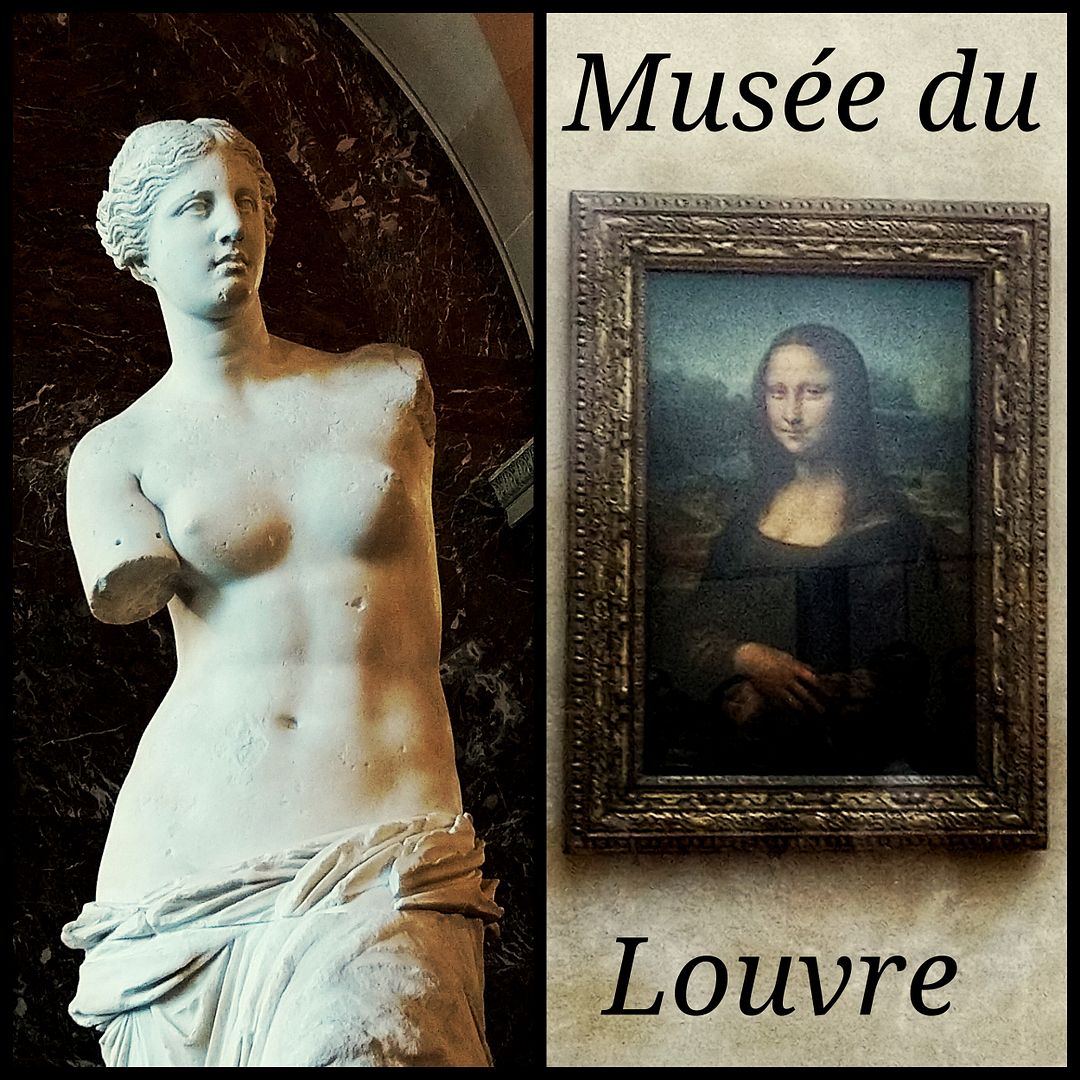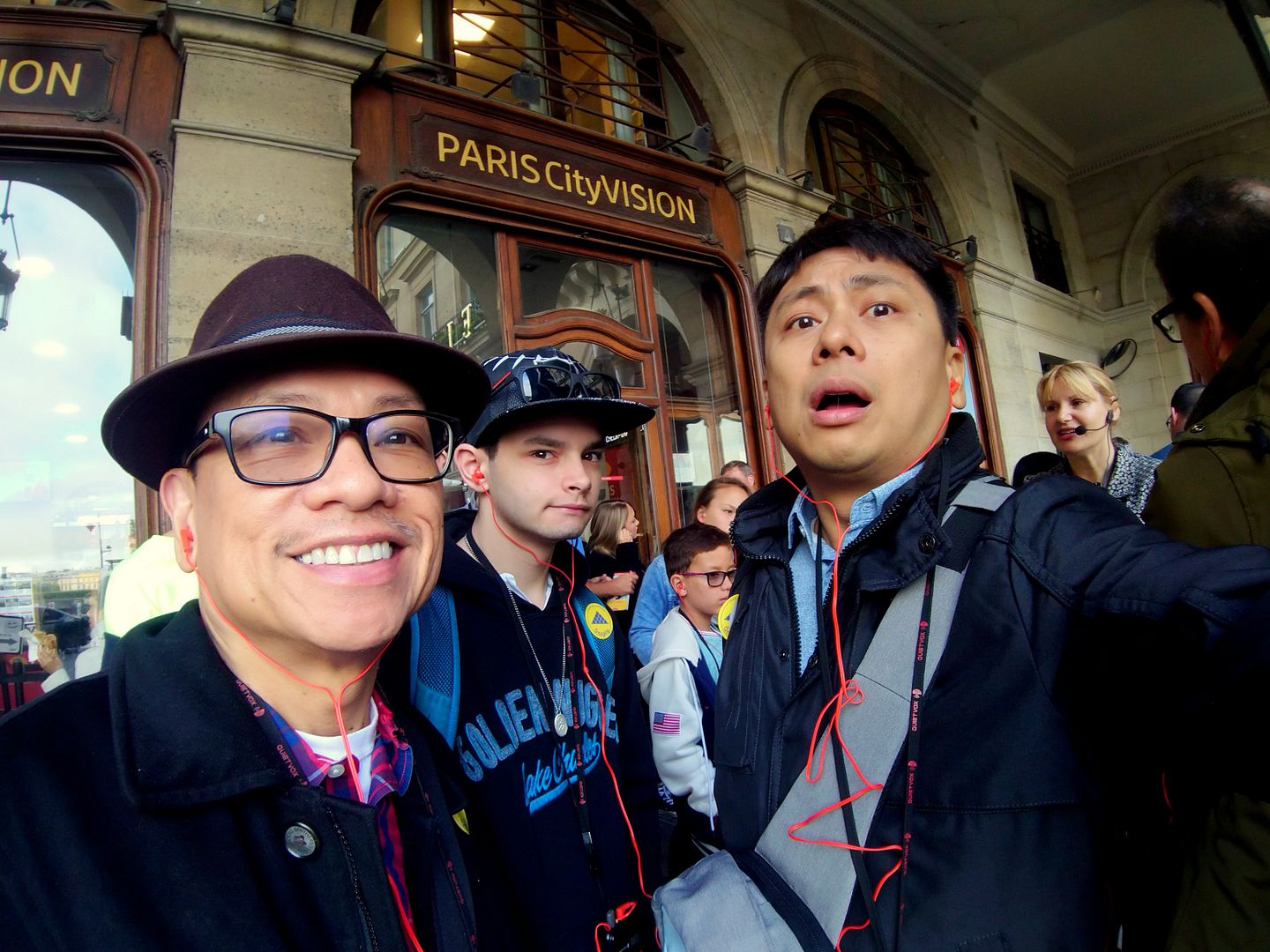 My brother, nephew, and I only had half a day to cover an area of more than 70,000 square meters exhibiting almost 40,000 objects from prehistory to the present. We would have had more luck in finding the proverbial needle in a haystack than our way to the few basic, significant pieces we needed to see.
On the strength of my sister's girl power in dispensing travel tips, I booked a skip-the-line highlights tour offered by local agency Paris City Vision through Klook. We met our guide, Madame Elizabeth, at their office at Rue des Pyramides, but not before surviving a traumatic attempted robbery right in front of the Louvre! The sight of sublime art delayed the onset of post-traumatic stress by a few hours.
These were the ladies that defined my maiden visit to the Louvre:
Venus de Milo by Alexandros of Antioch (?), c. 130 – 100 BCE
Armless and topless, striking a laid-back runway model pose: There was no mistaking Venus de Milo. What was arresting in seeing her in person was her six-and-a-half-foot frame. The statuesque marble sculpture on a pedestal perch commanded the ground floor of the Sully Wing where a crowd quickly gathered.
Mme. Elizabeth shared an art appreciation tip, drawing our attention to the way light fell on Venus' face. The divide ran down from her mid-parted hair through her nasal bridge and chin. Regardless of daylight time, her facial right was always illuminated by natural light from a window, her left perpetually in its shadow. This 3D chiaroscuro was a quality she shared with the moon.
Venus was likewise as mysterious as the moon. She had intrigued art historians since her discovery in 1820 on the island of Milos, Greece. Pertinent facts surrounding her creation were fluid depending on political motivations rather than scientific findings. Who sculpted her in which Greek era? Was she Aphrodite, the goddess of beauty, or Amphitrite, the goddess of the sea? Did she carry objects that could reveal her identity?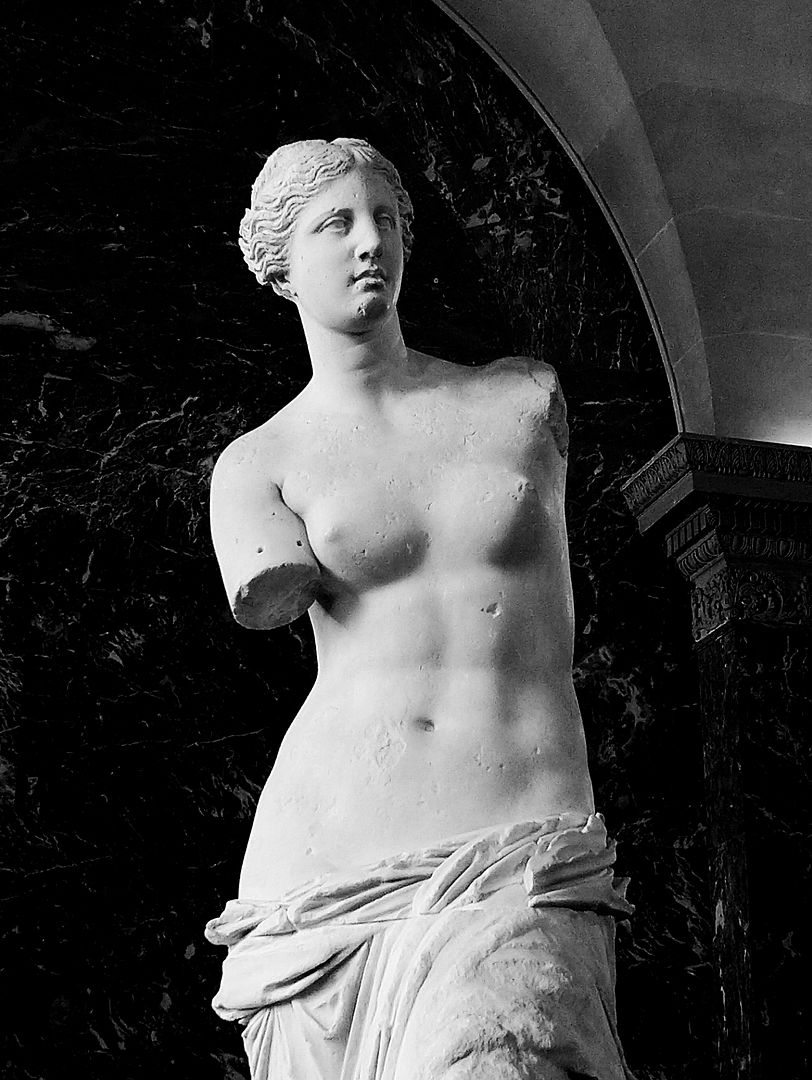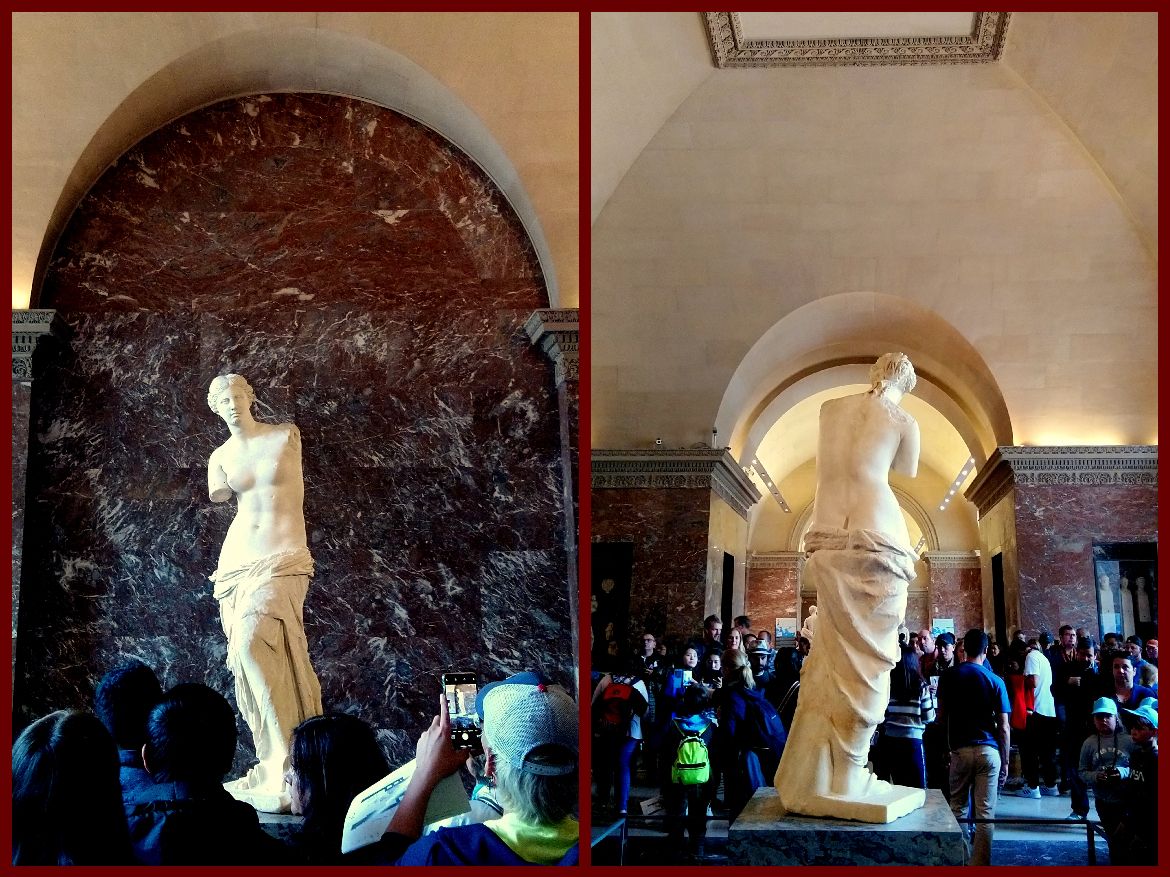 The museum crowd mostly ogled her at full frontal. I circled round the back for a comprehensive view. Venus de Milo was the original hipster; her tunic had slid even lower to partially expose her derrière. That peeking ass crack predated any millennial's by more than two millennia.
Hailed as the epitome of Western female beauty, this Venus was indeed full-bodied and curvy, a particularly Hellenistic trait, according to Mme. Elizabeth. Save for the perky bosom, the Grecian goddess seemed to flout traditional femininity: cropped hair and slightly slouched torso, undaunted in expression and unencumbered by appearances. It was for these unlikely reasons, then, that I thought her a worthy standard for women: giving zero f—-s to anyone, even to men like painter Renoir who body-shamed the sculpture by calling it "the big gendarme." In fact, she was the big deal for the French. Venus de Milo became the toast of artists and critics upon her unveiling at the Louvre in 1821.
In the end, it was her imperfection and brokenness – "the body as a ruin," succinctly put by writer Jonathan Jones – that catapulted the 2,100-year-old masterpiece to the collective imagination of people the world over for 200 years. The art transcended the creation of the artist; it was what it had become through time and circumstance.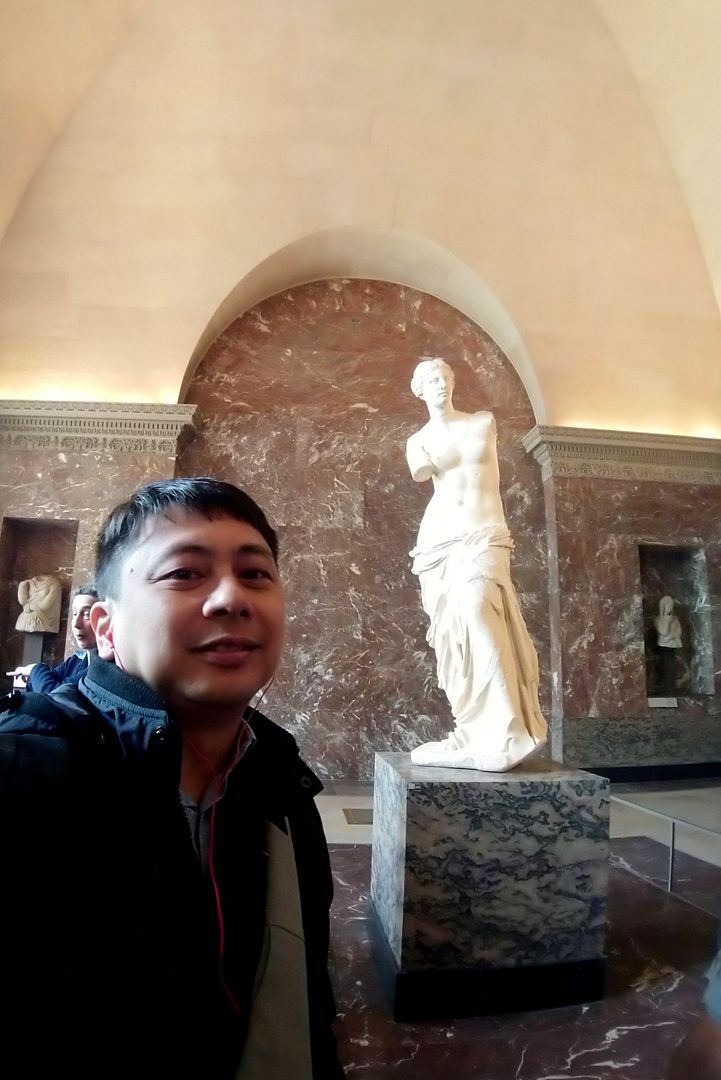 Winged Victory / Nike of Samothrace by Pythokritos of Lindos (?), c. 200 – 190 BCE
The Winged Victory of Samothrace was another Grecian marble sculpture of mysterious origins and with missing appendages, also generally agreed to be Hellenistic as the era was known for depicting mythology in motion. It was massive, almost three times the height of Venus de Milo. Decapitated and wind-swept, Nike, the Greek goddess of victory, had dominated the Daru Staircase since 1883.
Two decades prior, the figure and the ship on which it stood were unearthed by a French archaeologist at Samothrace Island, Greece. The ship was reassembled on site, the headless and armless figure with a missing wing at the Louvre. The right wing replica was, then, plastered on.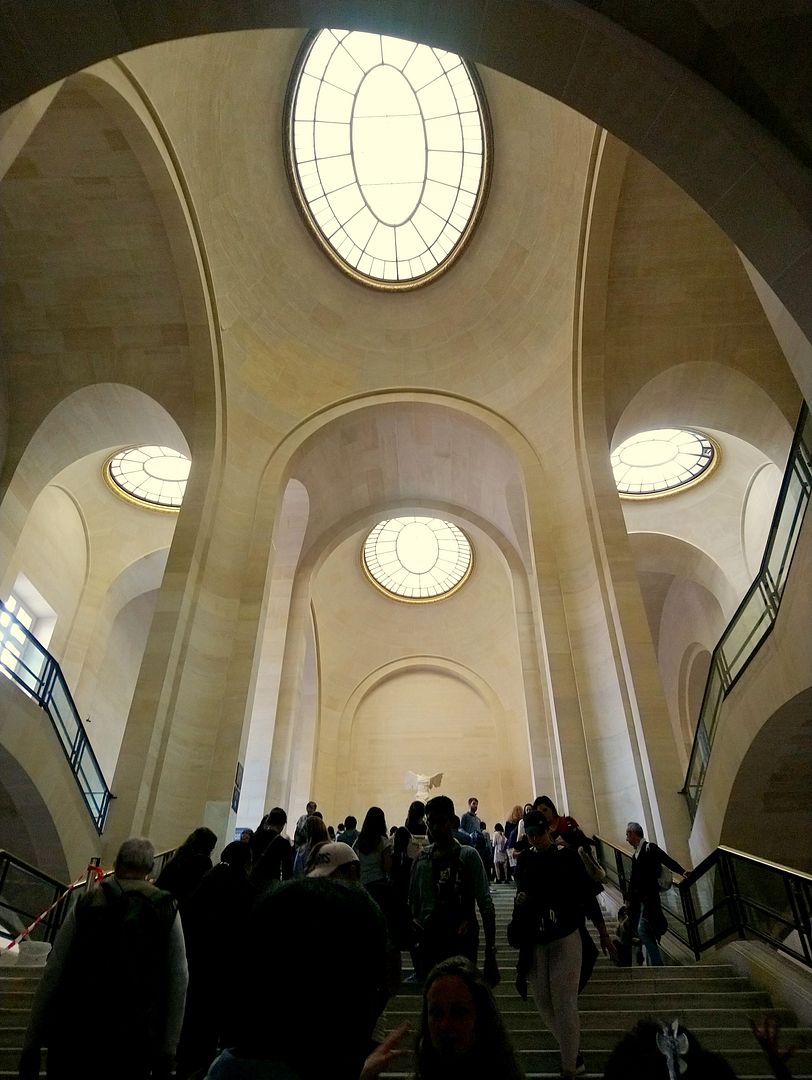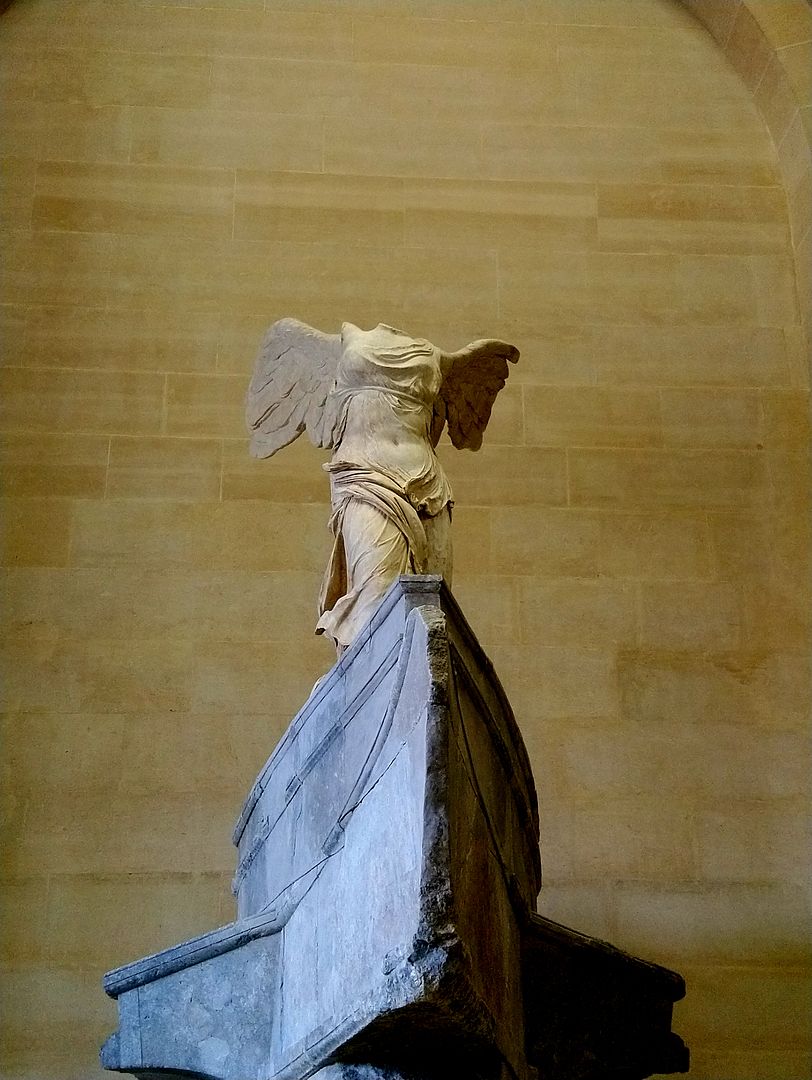 The theatrical piece originally adorned the Sanctuary of the Great Gods, an ancient temple of an unknown religion in the Aegean archipelago. Its forward thrust against the wind was believed to depict victory in a maritime battle. Details of the human form, of the fold and twists of garment, of the feathered wing were life-like. It was a snapshot in stone.
Nearly a hundred years after its discovery, the right hand was found in Samothrace. It was open, not grasping any object. Mme. Elizabeth proffered that, despite the assigned name, the sculpture represented peacetime welcome rather than war victory. In any case, the mutilated sculpture with its detached hand encased separately atop the staircase was a macabre pair.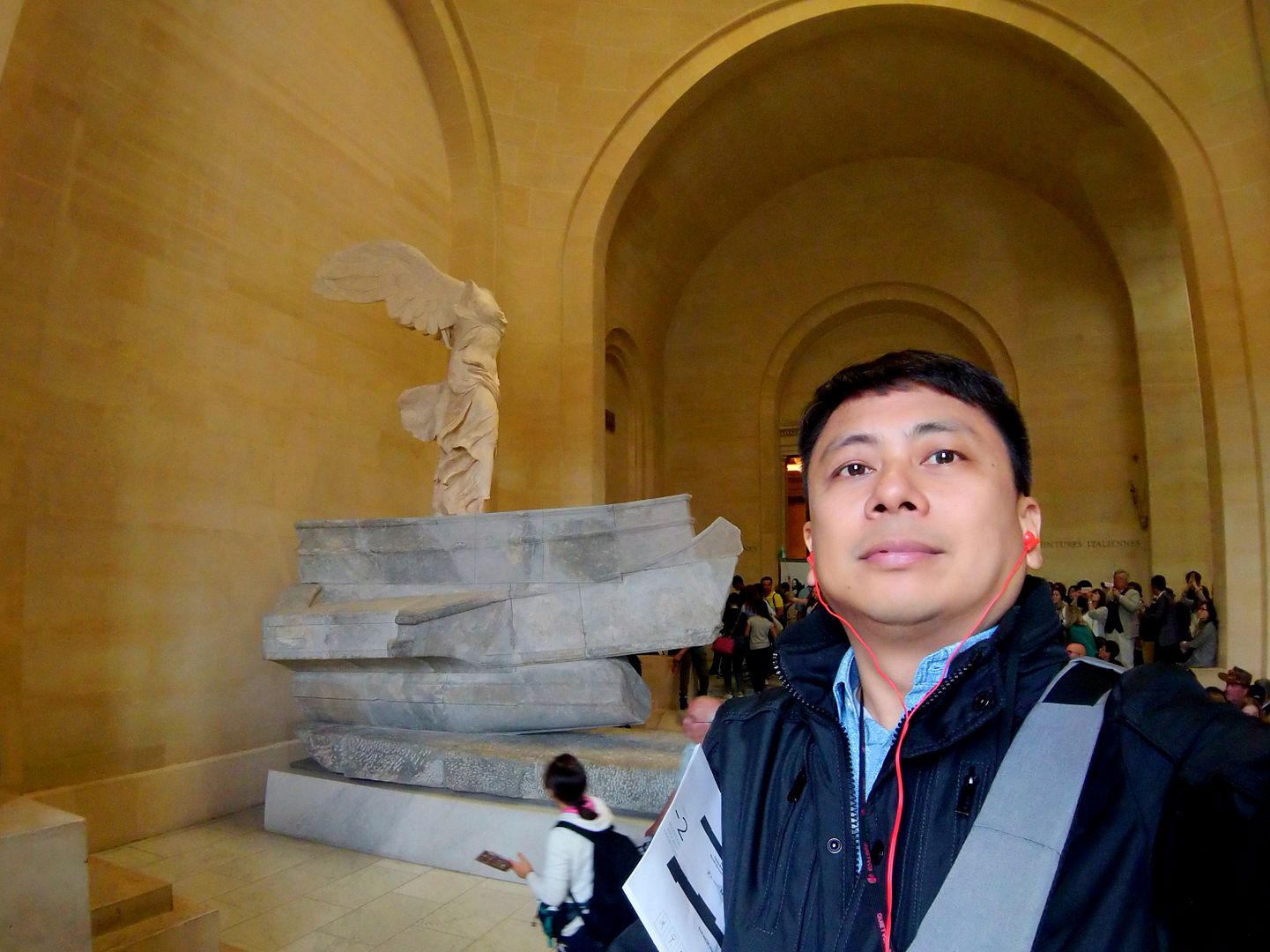 A Young Man Being Introduced to the Seven Liberal Arts by Sandro Botticelli, 1483 – 1486
That lad got lucky, it could be said, to be under the tutelage of seven fair teachers out in the woods. But where was the boy among the wan, waifish figures clad in gender-neutral garments? It proved that long-haired, fine-featured boys of K-pop fame were not a recent phenomenon. Here he was in a painting discovered in 1873 sporting a Tilda Swinton look. How ironic that knowledge was personified as women, yet, in antiquity, they were perhaps chattels. "The learned man is a free man," it was said, but how were women? Even that male toddler peeking out in the foreground was up and about.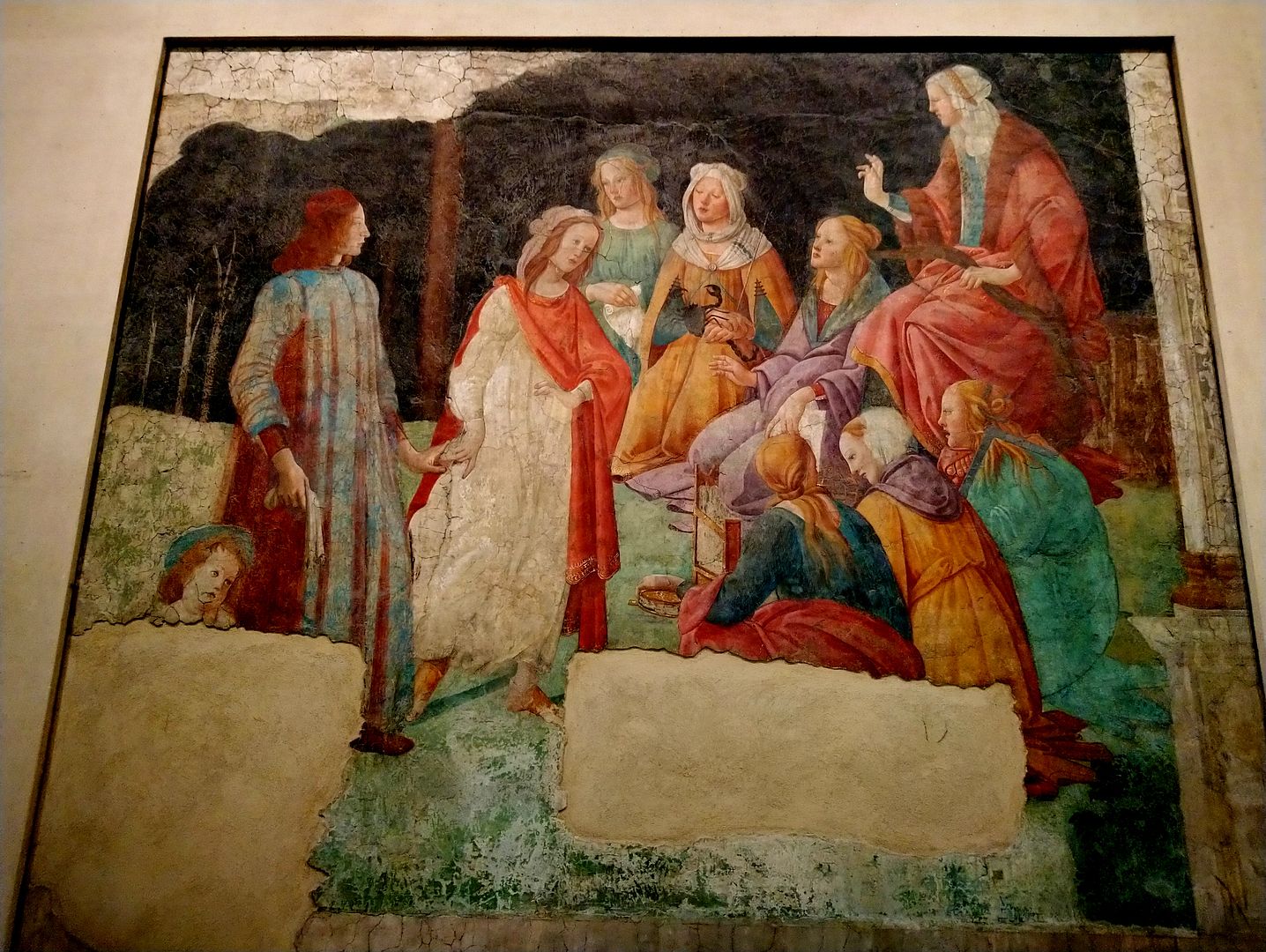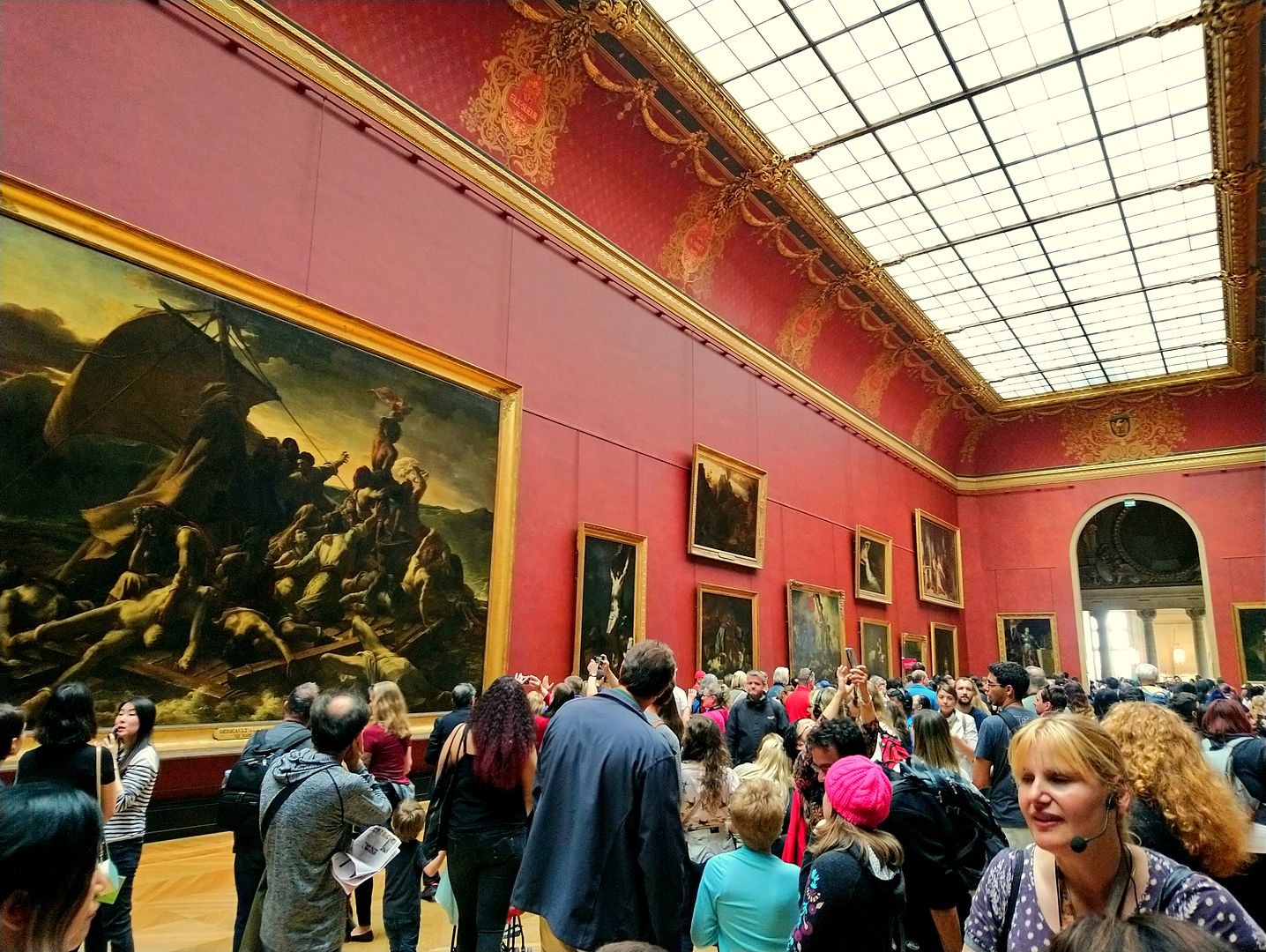 The Virgin and Child with Saint Anne by Leonardo da Vinci, c. 1503
At the risk of being branded a heretic, I maintained that the lineage of Jesus should have been matriarchal. The Son of God – born of the Holy Spirit, not of Joseph – was formed in Mary's womb, a direct physical connection, if not genetic, at least not merely symbolic. In the absence of Jesus' maternal genealogy, this Leonardo Da Vinci piece of Jesus with his mother and grandmother (unmentioned in the Bible) was a departure from the usual Holy Family depictions.
While the original oil-on-wood painting established the calling of Jesus at infancy – Baby Jesus cuddling a lamb – my grieving, motherless heart cried at the image of maternal love – Mary restraining her baby and Saint Anne cradling her adult daughter on her lap. This tender depiction of unconditional love – maternal and divine – brought me on the verge of tears in the crowded Department of Paintings. All this as Mme. Elizabeth was explaining the pyramidal arrangement of the figures. Was it da Vinci's code for Illuminati membership?
Joan of Arc at the Coronation of Charles VII by Jean-Auguste-Dominique Ingres, 1854
In French, Jeanne d'Arc au sacre du roi Charles VII dans la cathédrale de Reims. Finally, I laid eyes on French art with a French subject made by a French artist in a French museum. The portrait was of the iconic and heroic Jeanne d'Arc (Joan of Arc), arguably the most famous Frenchwoman in history.
Ingres' method of portraiture involved a template of a nude figure on which he would later paint clothes and accessories, in this case, armor. The woman had swag, commonly associated within the purview of men, which would soon be her undoing. The technique was worthy of the subject who, in the dramatic trajectory of her short life, had been decorated as a warrior winning battles for France and stripped as a martyr burned at the stake. Joan of Arc was fearless and peerless. Five centuries later, she would be canonized as a saint and celebrated as an inspiration of Madame X.
Liberty Leading the People by Eugene Delacroix, 1830
A moment of silence with Joan of Arc could only lead to the bellows of the Paris uprising of 1830, known as the Trois Glorieuses (Three Glorious Days). Delacroix's Liberty Leading the People was a painting you could hear. Though rendered in romanticism, the actual scene was witnessed by the artist himself, not a reimagining of an event far back in history. It was photojournalism on canvas.
Marianne, the Lady Liberty, was a dynamic revolutionary: striding atop the casualties of war, raising the flag in anticipated victory, spurring on her armed countrymen, wearing the Phrygian cap, the symbol of the French Revolution of 1789, all while unmindful of her exposed breasts and unshaven pits. How telling that a woman, traditionally known as a homemaker, portrayed a kingmaker and freedom fighter. The hand that rocked the cradle could brandish a flag and grasp a bayonet.
Francesca da Rimini and Paolo Malatesta appraised by Dante and Virgil by Ary Sheffer, 1855
This version of Hell, lived out by many women in life throughout history, was Dante's second circle of Inferno for the lustful. Francesca was doubly trapped – in an arranged marriage and in an illicit affair with her brother-in-law. She was twice punished – killed on earth, eternally damned in hell. The girl got a double whammy – in life and in the afterlife.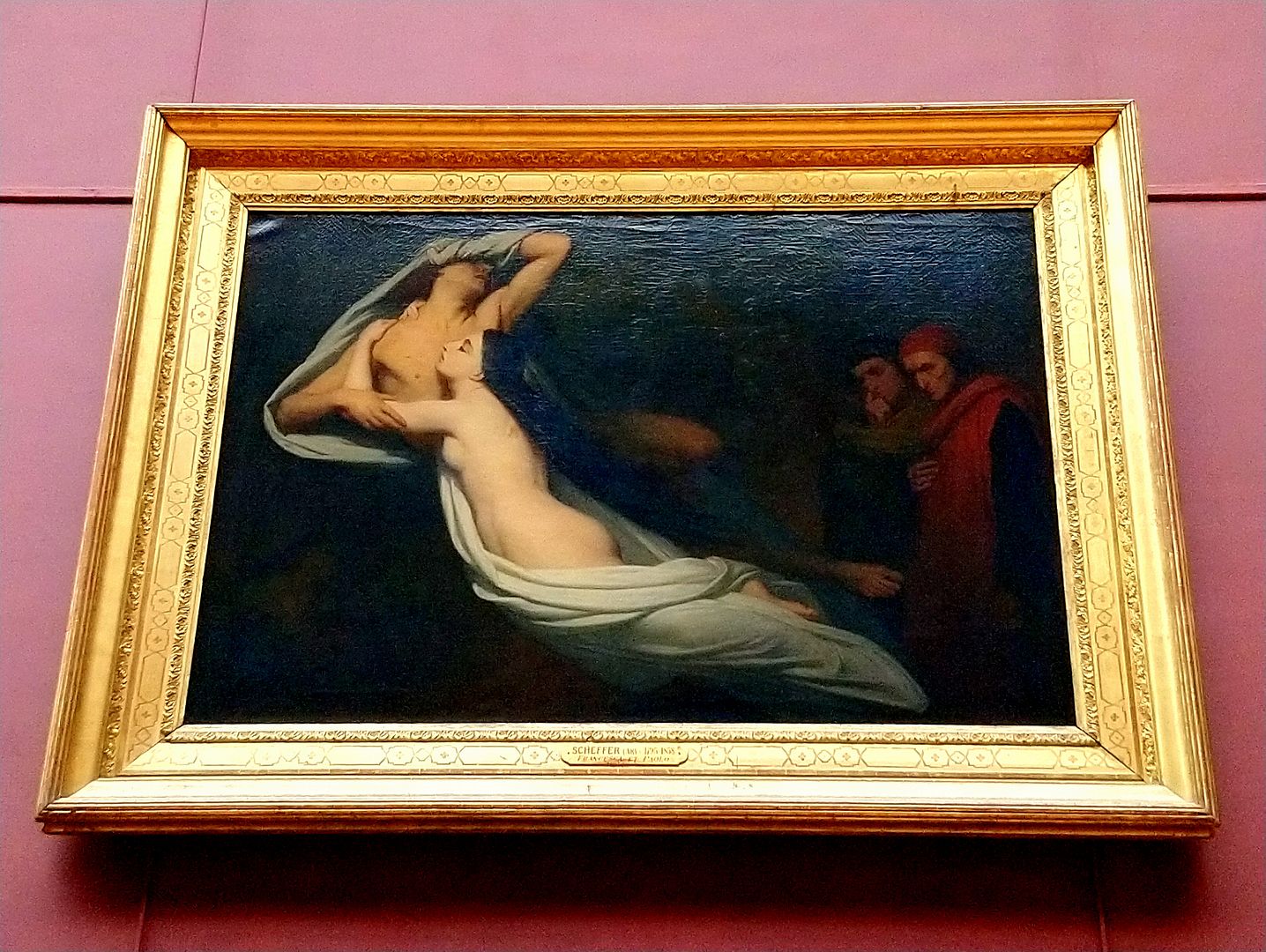 This version, the artist's third on the same subject, showed the grace and beauty of forbidden love. The couple had been trapped in an eternal whirlwind of unfulfilled passion. In love and lust forever – it had been many a woman's story.
A shout-out to Mme. Elizabeth, our museum guide who told stories, not merely dished out facts and figures, about the artworks. Brava! But there were places a tourist must explore alone without his guide. In the Louvre, that would be the Mona Lisa room at the Denon Wing. It was nearly impossible for her to do her spiel in a sardine can. She left the group and waited at the end of the hallway.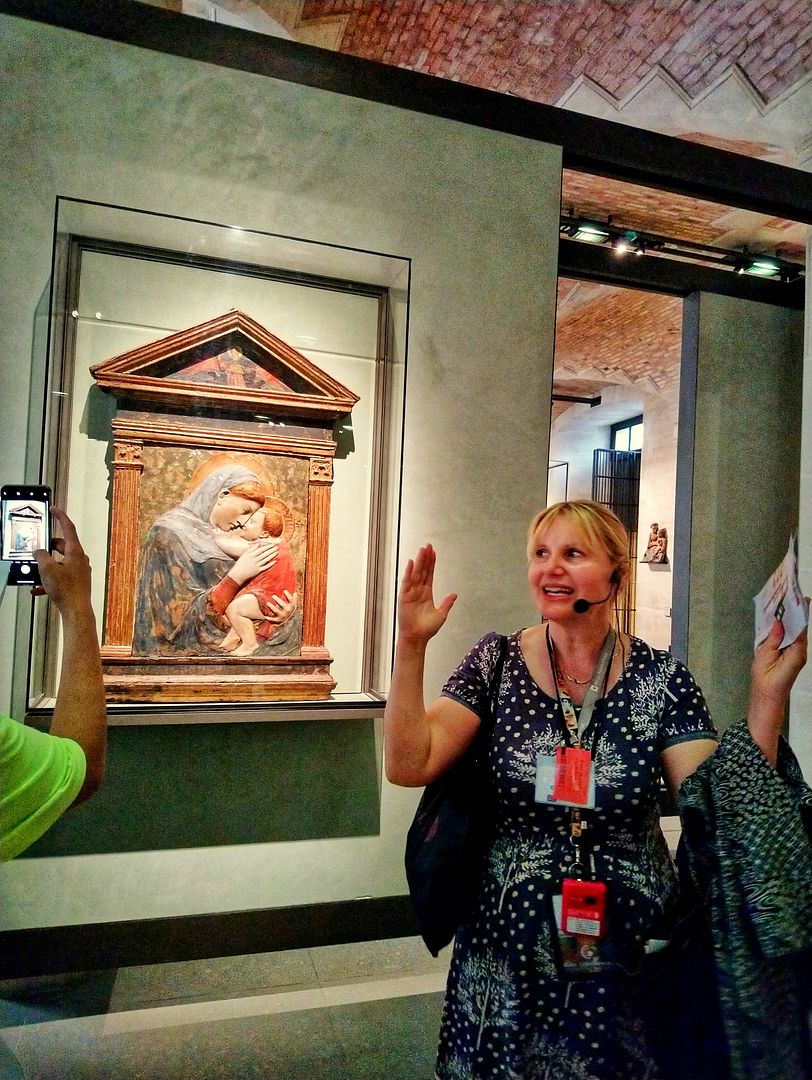 Mona Lisa by Leonardo da Vinci, c. 1503 – 1517
Exhibited in the Louvre since 1815, Mona Lisa achieved unprecedented fame in 1913 after a two-year disappearance by a high-profile heist. Decades later, she merited her own room. The oil-on-wood painting was protected in a bulletproof glass casing and lighted by a shatter-proof glass ceiling to deter thieves and vandals. A friend asked if the painting was merely the size of an ID photo. Not quite, it only looked tiny and isolated in its big hall. I had heard the stories and seen the photos. None was unfounded. A sizable crowd had already swarmed the pièce de résistance.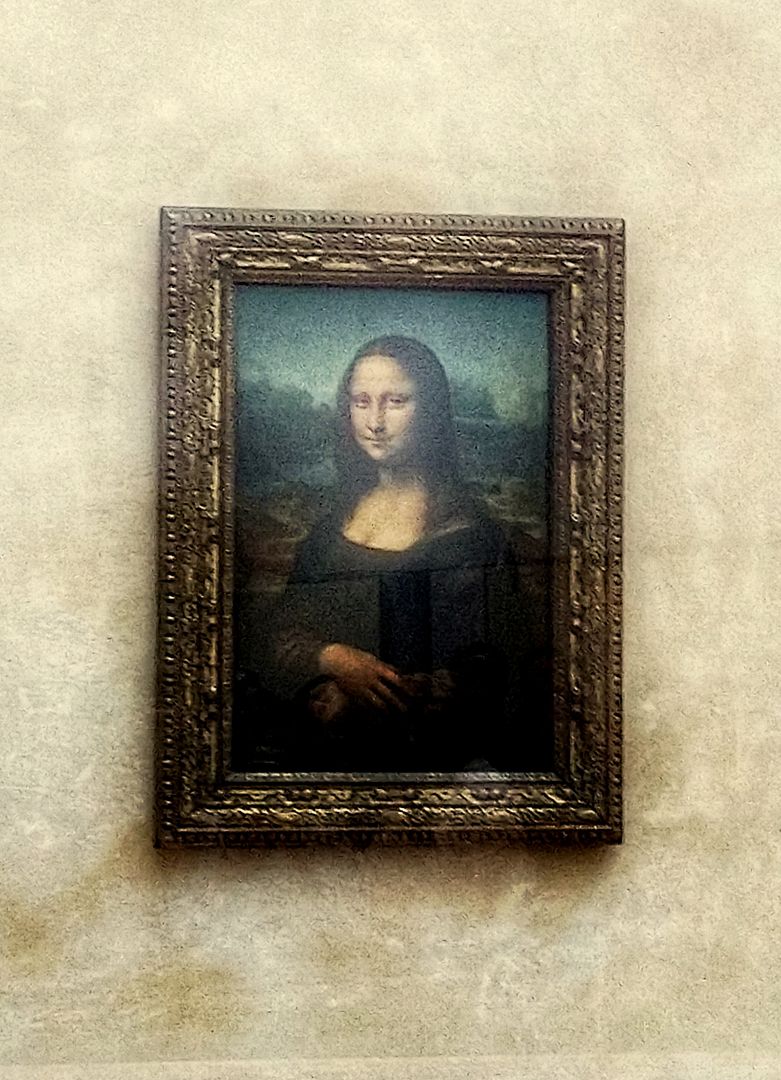 I nudged my way to the velvet rope that kept the masterpiece at a distance. Security personnel managed the endless stream of human traffic. Still, a fair amount of pushing and shoving made a detailed observation and deeper reflection challenging at best. I focused on that famous smile. Mona Lisa was also known in Italian as La Gioconda, roughly translated as "the happy one," yet the smile was not decidedly so. My grieving, motherless heart once again wandered to the memory of my mother whose smile was similarly enigmatic. Did the smile well out of inner happiness or given for my own?
The portrait's mystery and my uncertainty crossed paths. While everybody was jockeying for a good view and an even better shot, I was crying out for my dead mother. An art critic put it best: "The Mona Lisa alone is a living enigma: the soul is there, but inaccessible." I dug that.
All these pieces encompassed the gamut of female qualities and roles – maiden to mother, whore to warrior. One was intentionally mysterious with a smile and some were unintentionally broken with missing body parts, none of which diminished their power over our cultural consciousness.
Physically and emotionally drained by our museum tour, I joined my brother and nephew for sandwiches and soda on the al fresco terrace of Café Mollien at the Denon Wing. Feral pigeons swooped down to clean up our crumbs as their ancestors must have done when French courtiers ate at this very terrace.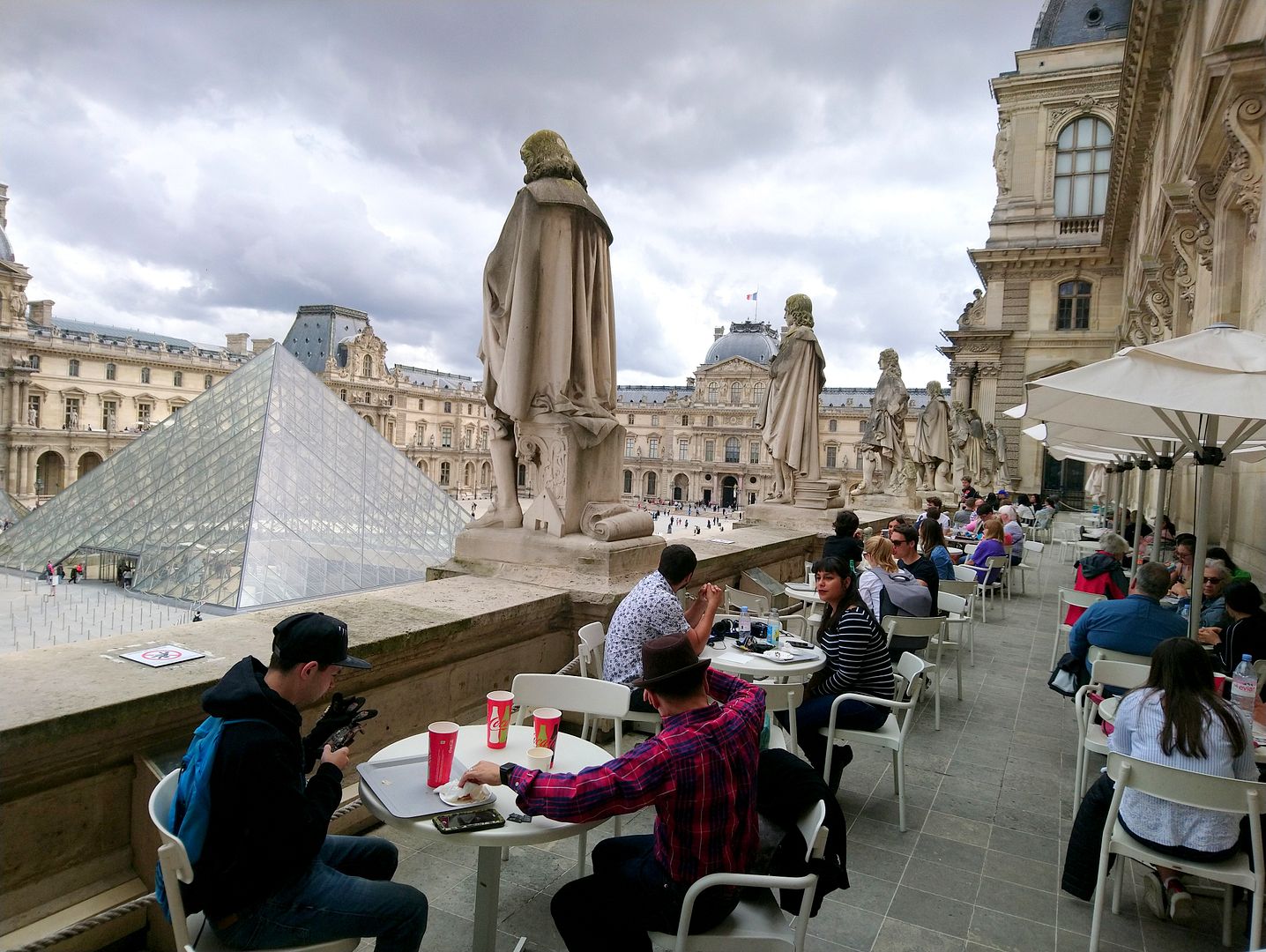 Even at the end of the tour, the snack stop was an extension of our museum experience, eating as we were under the shadow of stone statues set on the palace parapet overlooking Cour Napoléon where I.M. Pei's glass pyramid stood. It truly was a transcendent experience to see famous artworks in person, to understand their historical and present context, and to feel a personal connection with them.