Casablanca, Morocco
June 17 – 19, 2019
Casablanca was not Casablanca. The movie was not shot, nor could the story even be set, in the city. Given the time and place in history, Tangier would have been a more plausible setting. Everything I knew about Casablanca was fake AF. To top it all, Tripadvisor reviews generally dismissed it as an unavoidable but unnecessary pit stop as travelers made a mad dash to Marrakesh and Fez. Casablanca was tabula rasa in more ways than one.
Mohammed V International Airport seemed to confirm the lackluster reviews. The terminal had clearly seen better days, outpaced by the growth of passenger traffic. The immigration hall was cramped and the arrival lobby infiltrated by taxi barkers. Was this a foreshadowing of the city it was serving?
Ki had landed several hours before my rescheduled Royal Air Maroc flight from Marseilles did. For our first time to set foot in Africa, we made plans to arrive way before sundown. But ETA and actual arrival did not always jibe. The delay left us with a mere 15-minute window to avoid taking a taxi in a strange continent at an unholy hour and catch the last train out of the airport. The conveniently annexed railway station saved us the trouble and trepidation.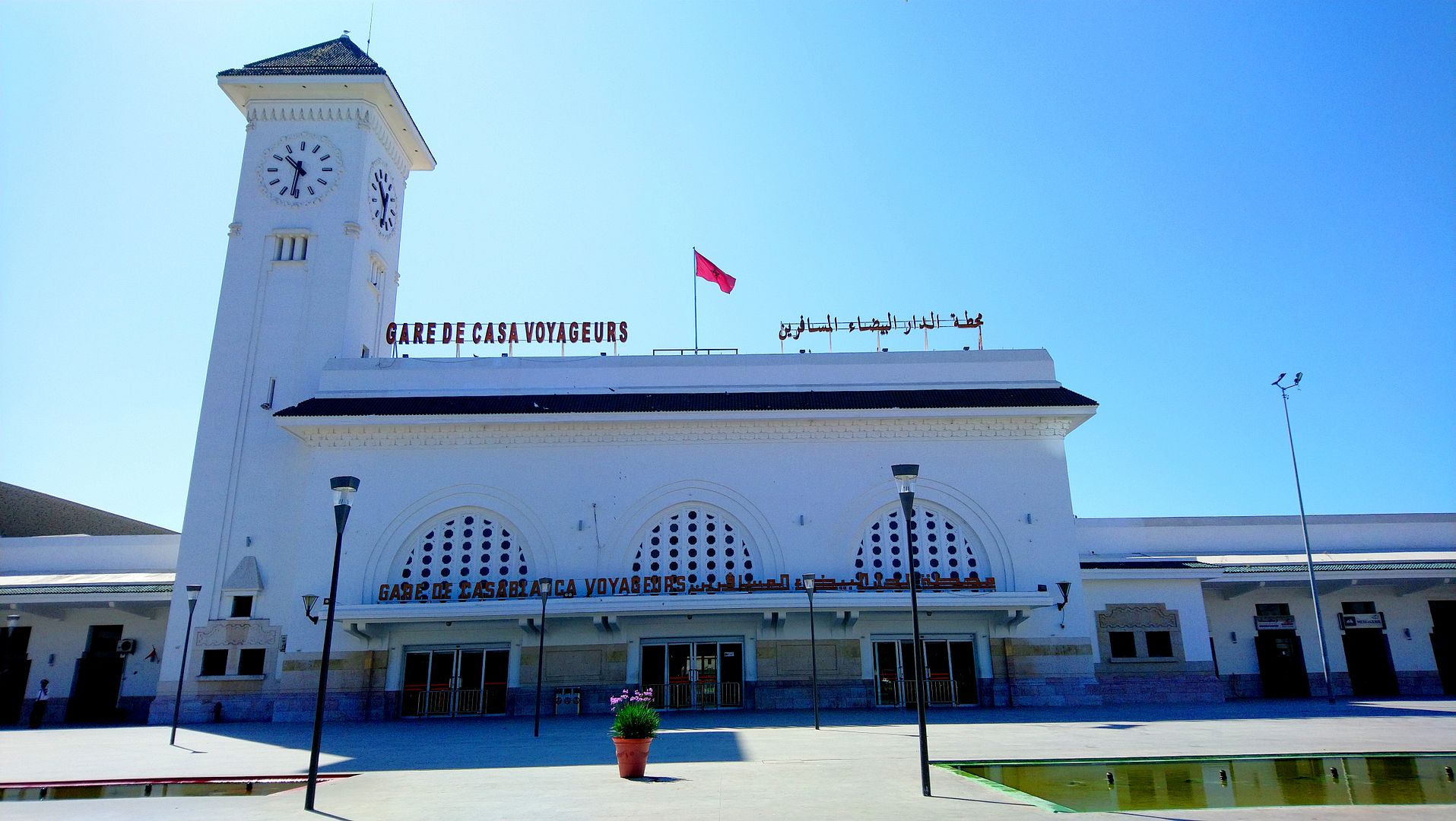 The rather clunky train chugged off to our stop, Gare Casa Voyageurs, which posed a challenge in dodging offers from cabbies competing for the last passengers from the train station. We feigned language barrier and hurriedly (read: no chance to check Google Maps) dragged our luggage out to the unknown – aka Africa.
We found ourselves – with everything we had on us – lost in dark, deserted streets. I suddenly grew eyes at the sides and back of my head. I had never been in-the-moment as much as in that moment. The lone convenience store still open offered some refuge, but the couple who owned it could not give comprehensible directions to our hotel, supposedly a manageable walking distance from the station. Google Maps still proved to be our most reliable navigator.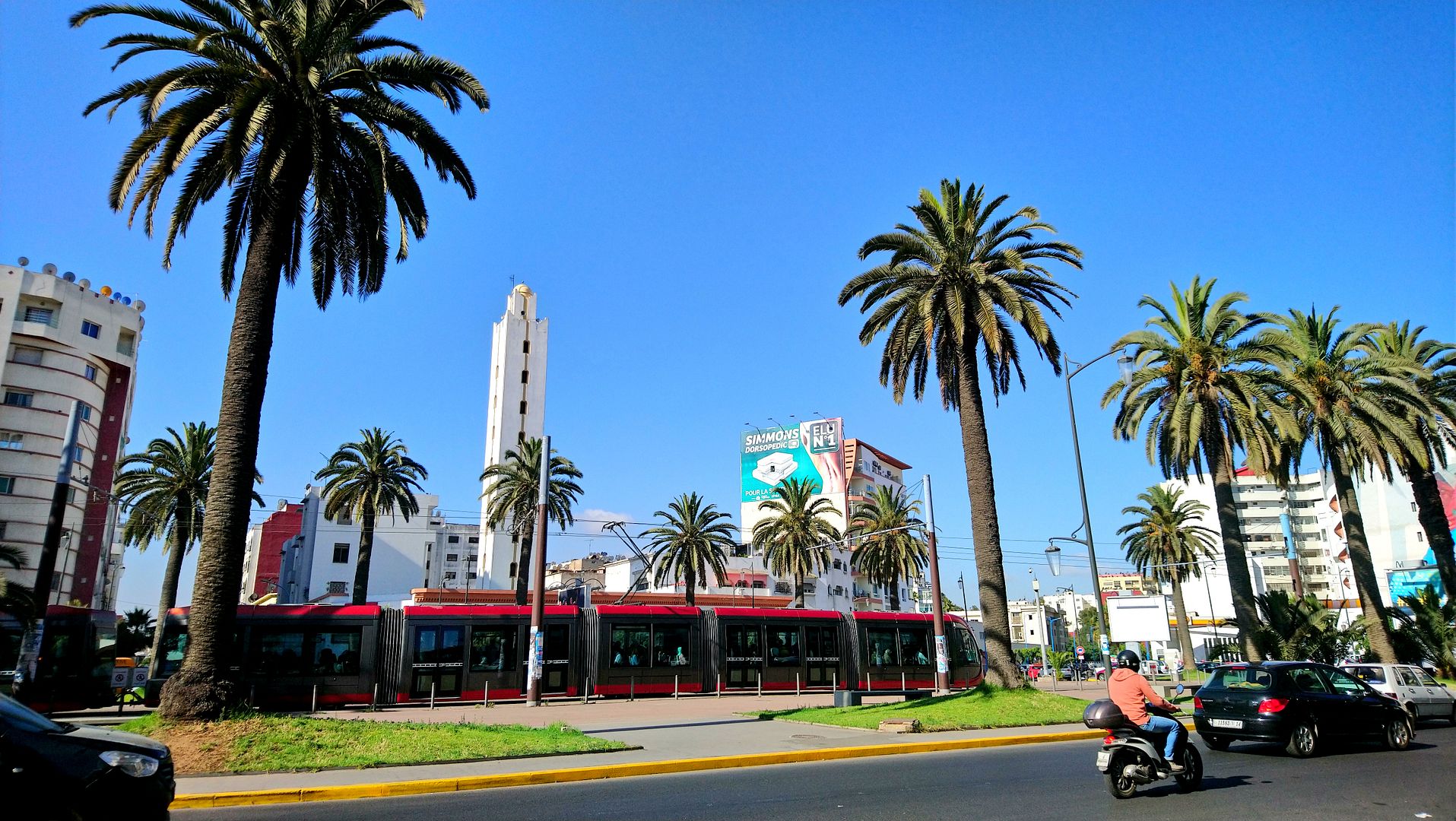 Several wrong turns later, we made it in one piece – as did our luggage – to brightly-lit Premiere Classe Casablanca Centre Ville past midnight. I heaved a sigh of relief, oblivious to the few minutes of late check-in that would cost me twice the room rate.
That Agoda would automatically bill my card at the stroke of midnight slipped my mind; I paid in cash collected by the receptionist without question. Good thing I insisted on a receipt (apparently, receipts were not de rigueur in Morocco as we would experience in other hotels). It came in handy as proof of payment when I contested the double billing in Agoda a month later (thanks Agoda for the refund!).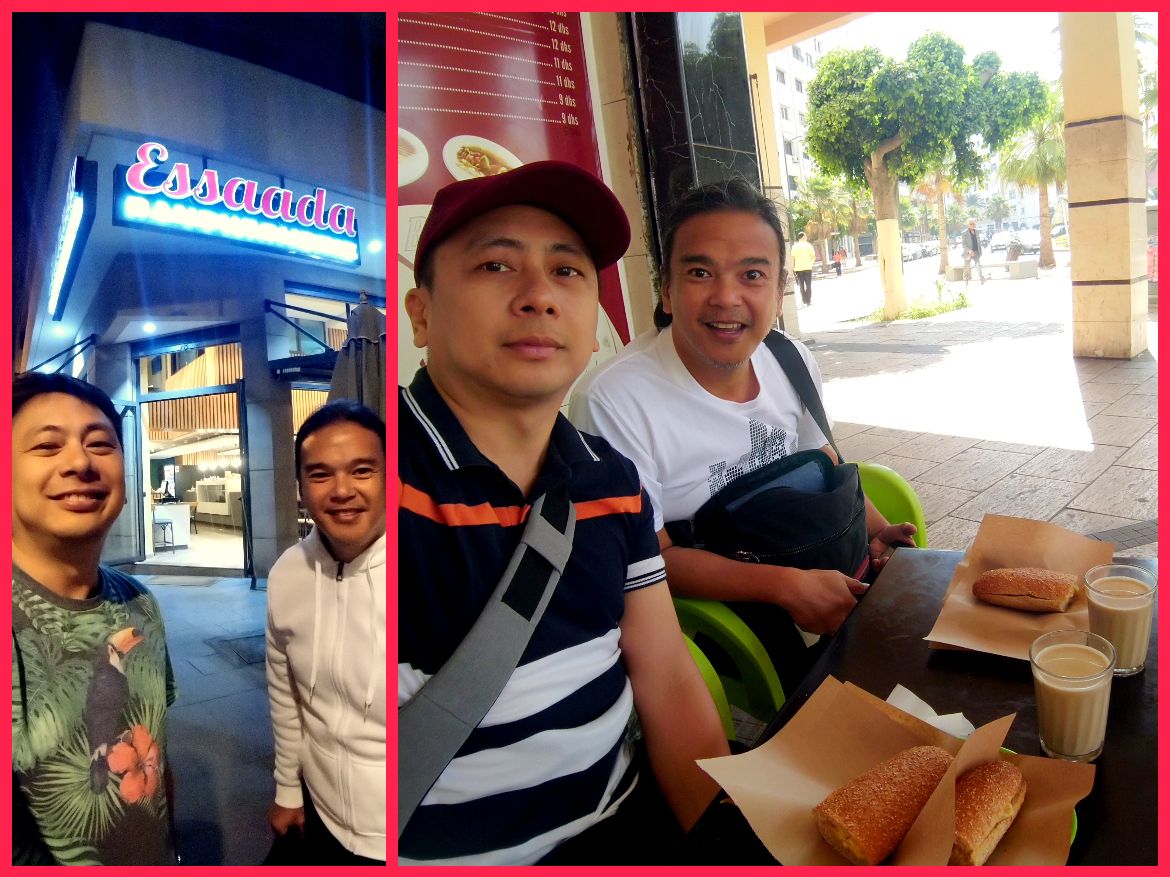 Our hunger pangs sent us back out soon after we had settled in our room. Only Essaada Sandwicherie at the building next-door was still open that late. Halal pizza was our first meal in Casablanca.
We woke up to a newly-developed vicinity. Bathed in morning light, the plaza at the corner, Place Al Yassir, was far from the threatening black hole it was the previous night. This spot of green surrounded by date palm was an oasis in the middle of urban concrete. A modern tram line cut through the park, but Ki was bent on "urban trekking." We traced the tram tracks on foot down Mohammed V Boulevard through the downtown area, called centre ville in Moroccan cities.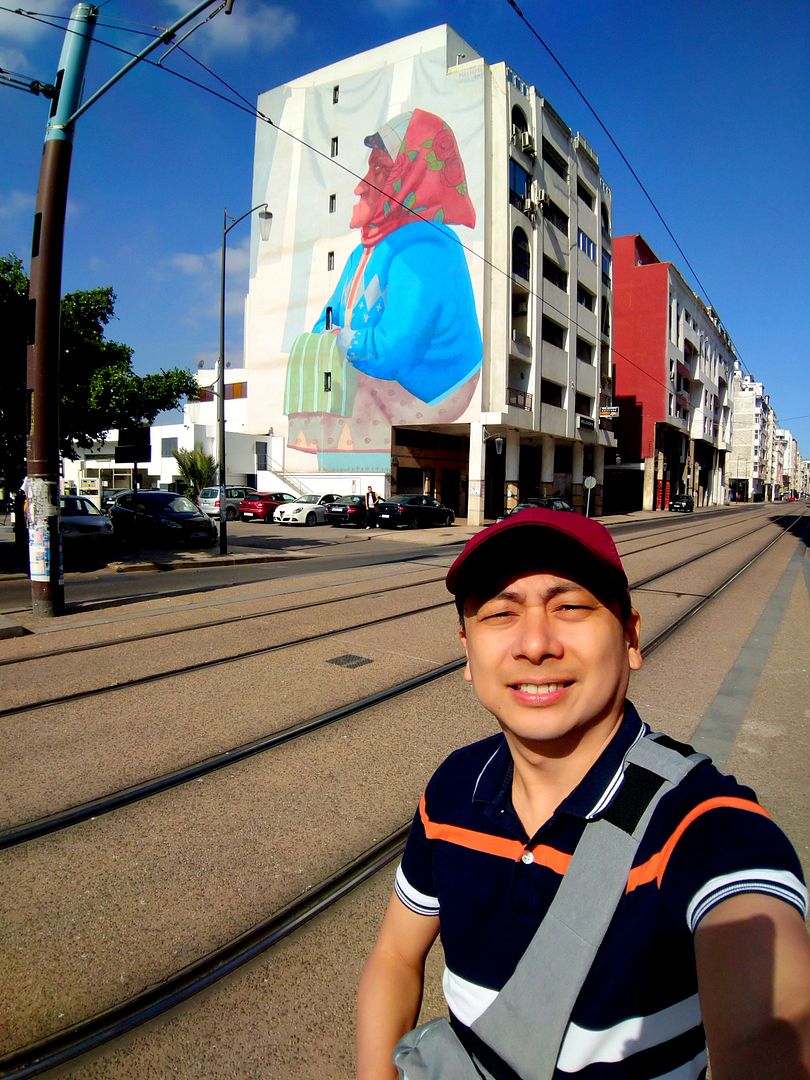 A hole-in-the-wall just outside our hotel served basic breakfast of bread and yogurt. The menu was in French; a lady diner graciously explained the items for us. We settled at a sidewalk table facing the street as Moroccans, we would soon find out, were wont to do. A huge mural portrait of an elderly lady adorned the building across the tracks, making an otherwise drab firewall photogenic. Thumbs up to age-inclusive urban art if that were a departure from the tyranny of youth.
The hundred-year-old shopping boulevard was the perfect jump-off for urban trekking. Extant 1930s Art Deco buildings with Moorish architectural embellishments – primarily keyhole arches – were mostly whitewashed, befitting the city name. The mash-up of European and Moroccan styles evoked the cinematic Casablanca, truly a visual introduction to the colonial heritage of North Africa.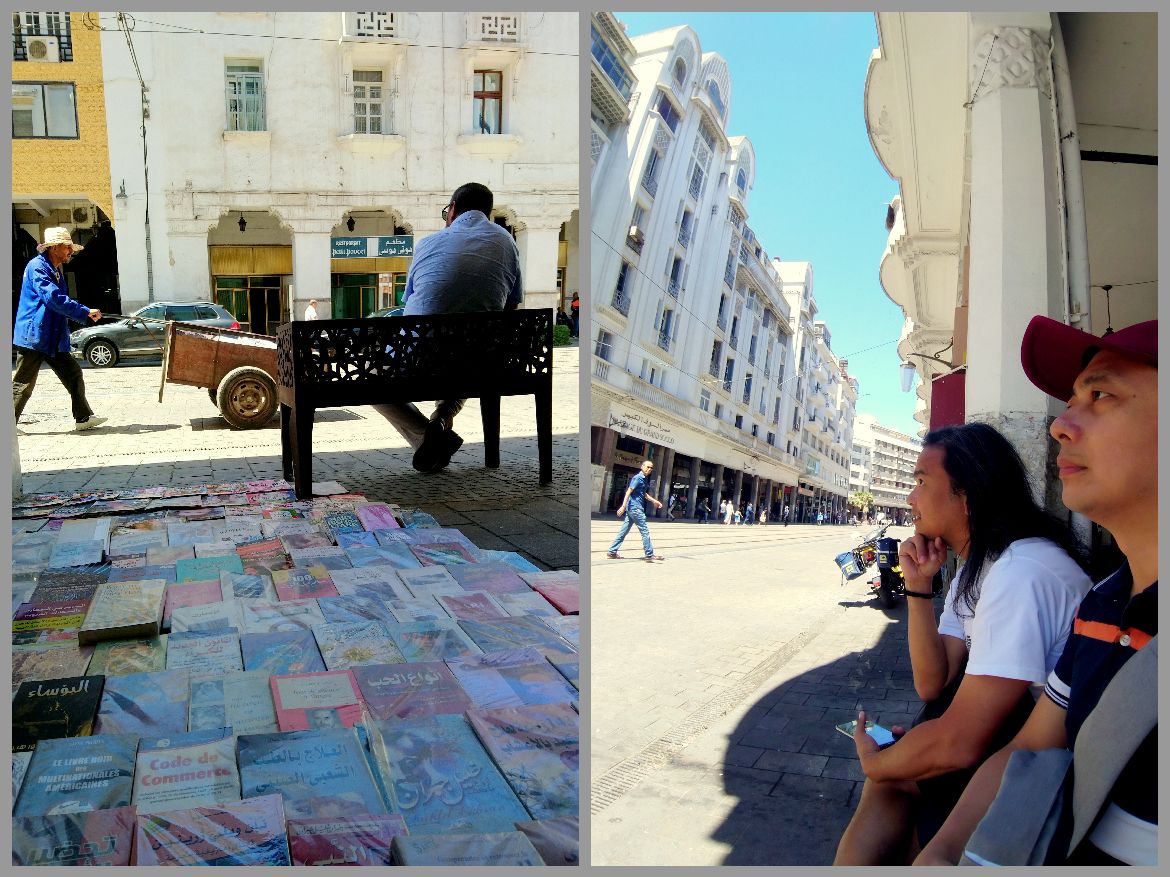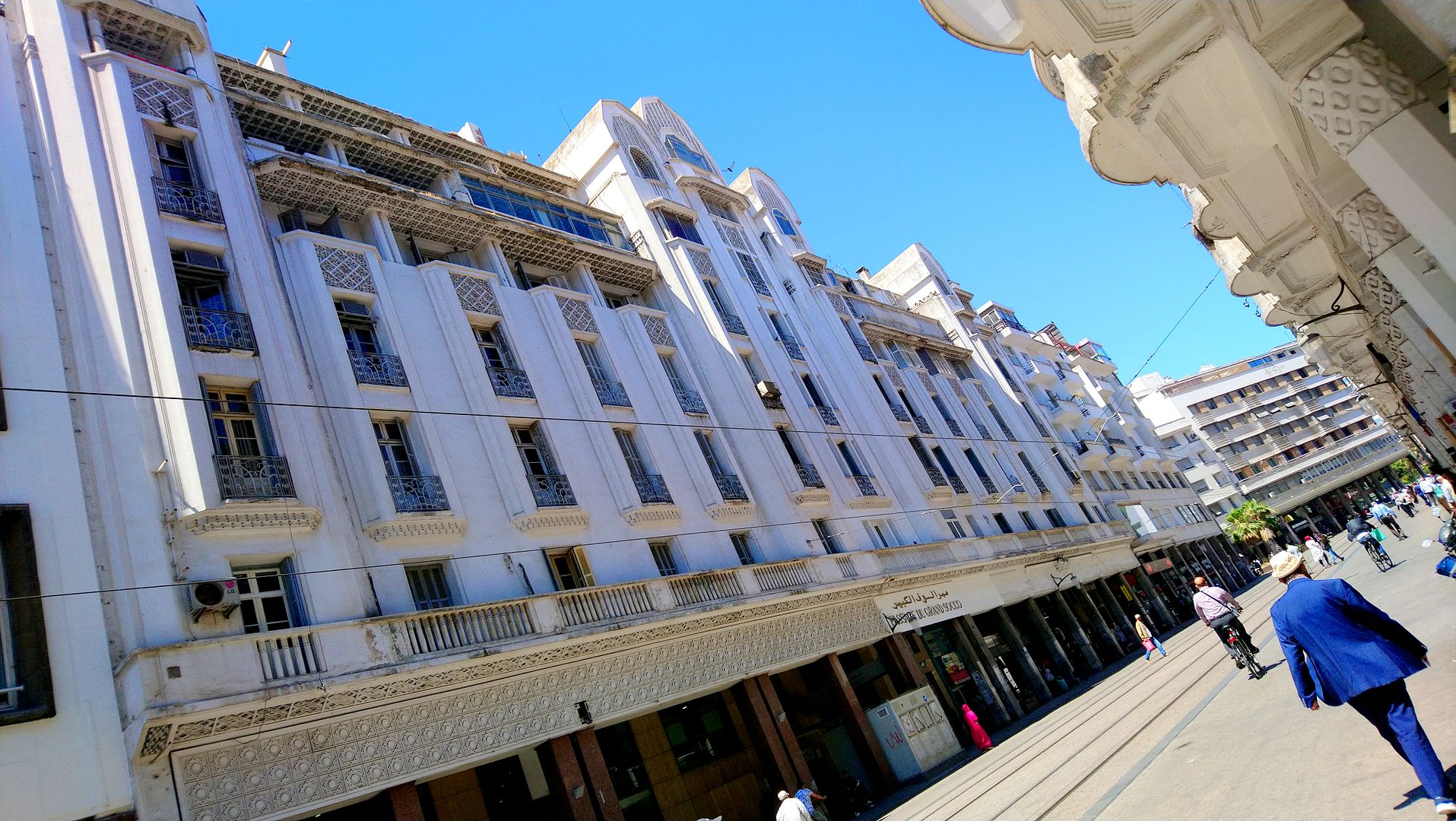 Further on, we found an iron bench facing the street, as was usually the case here, practically inviting us to sit and watch people walking by: men in robes, a few in suits, ladies with hijab, and a rowdy group of teenagers oblivious to their chiseled movie star looks. This stretch of boulevard was indeed a living and breathing museum, a piece of the past yet as much a part of the present.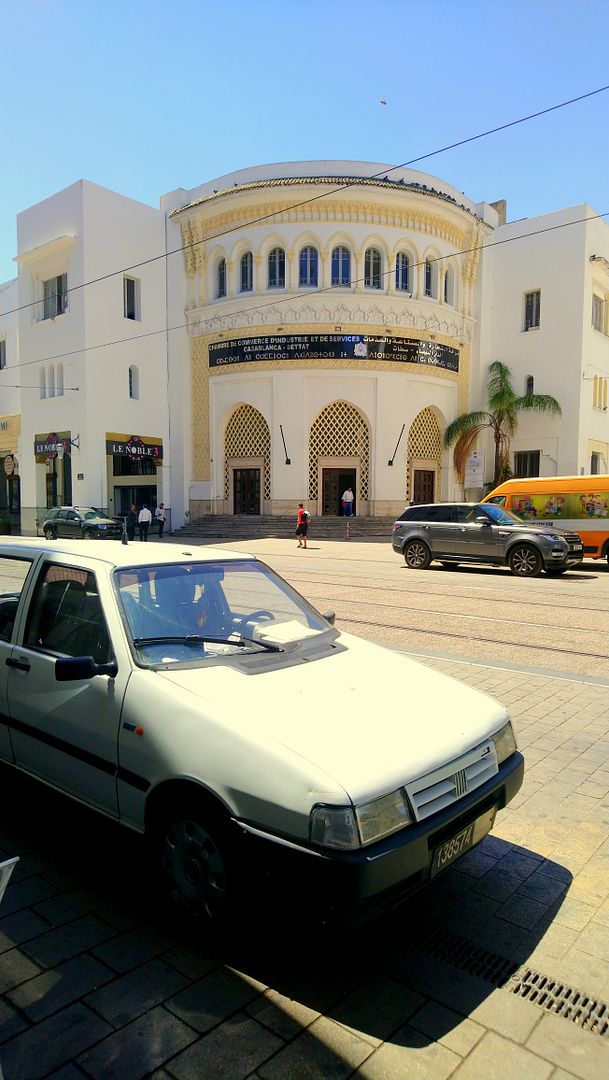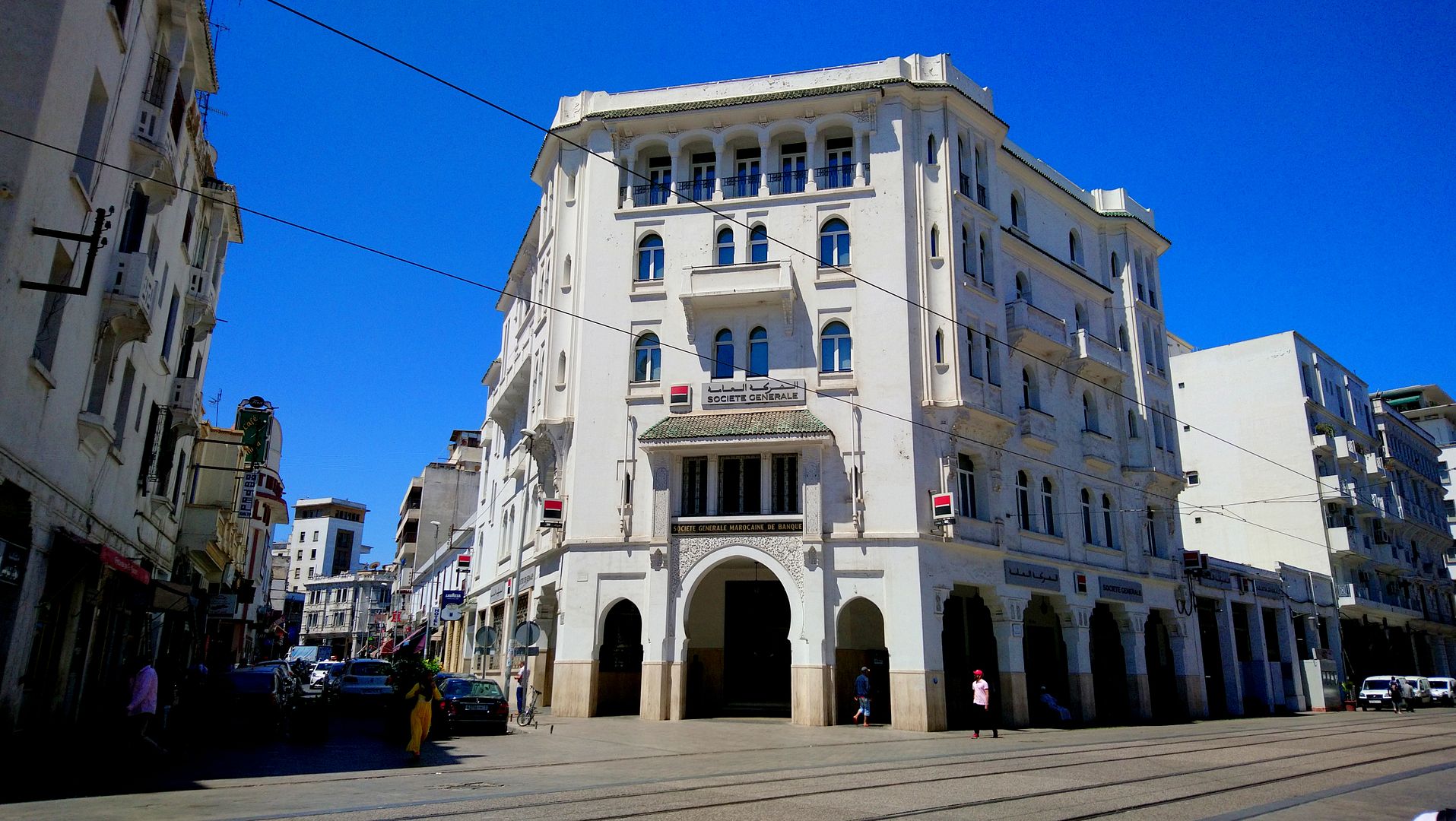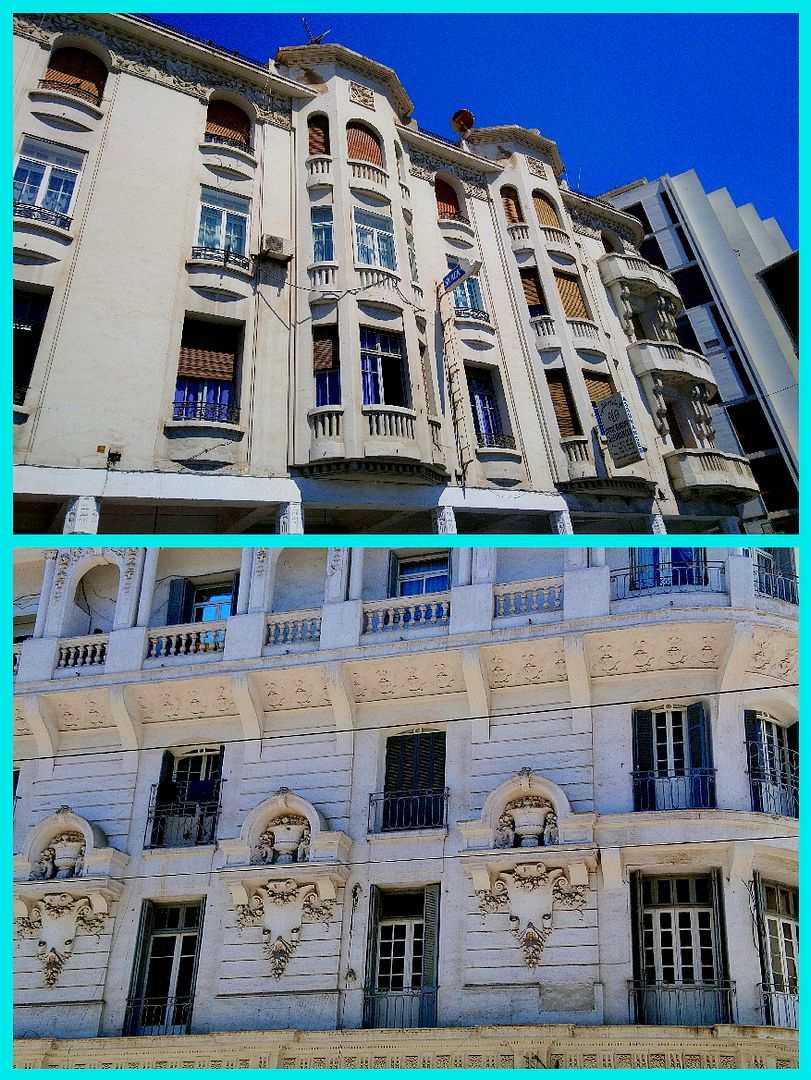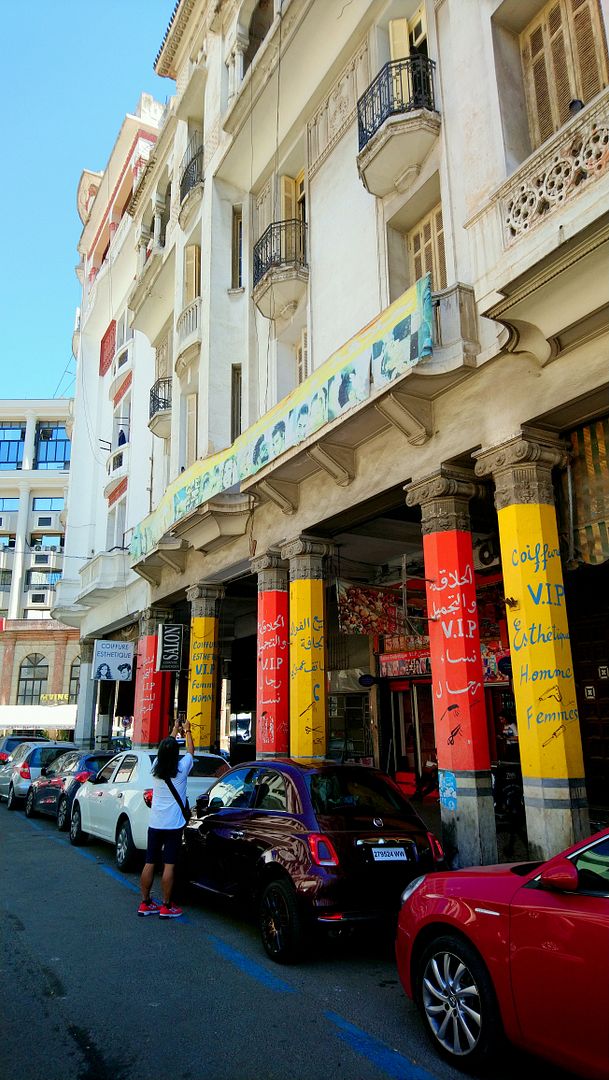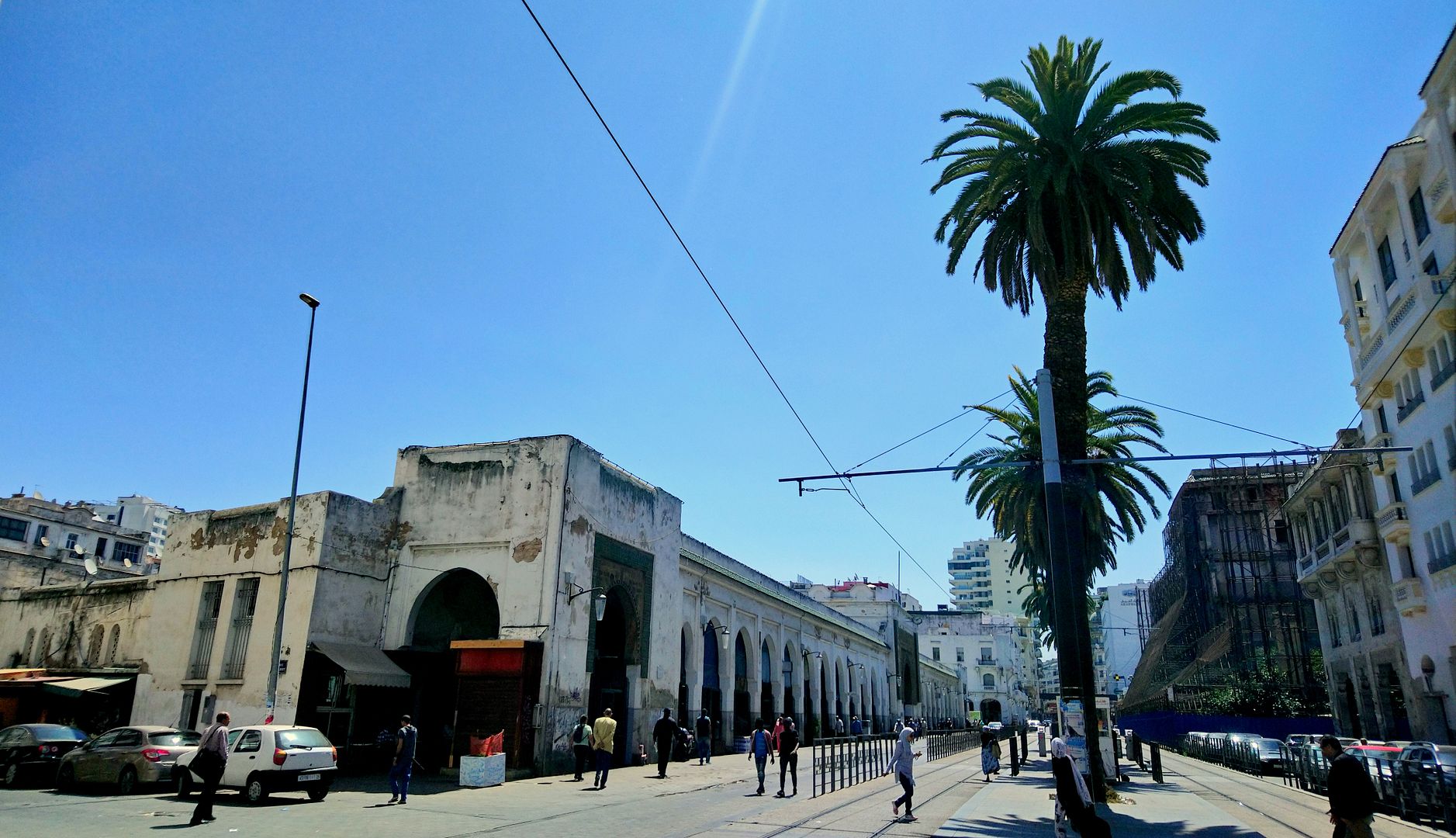 An archway stacked with flowers for sale drew us in to Marché Central (Central Market), a self-contained block of white-painted halls and courtyards where locals shopped for their daily meals and needs. The colorful arrays of spices and produce (special mention: olives and oranges), glistening fish from the Mediterranean and the Atlantic, halal cuts of meat, and seductive bouquets of flowers did not escape Ki's photography.
As did a vendor sipping tea in her stall. I got anxious because I had been warned that Moroccans generally did not approve of tourists taking their photos. This woman, uncharacteristically, raised her glass to our selfie. Perhaps such graciousness was indicative of the low tourist traffic in this city.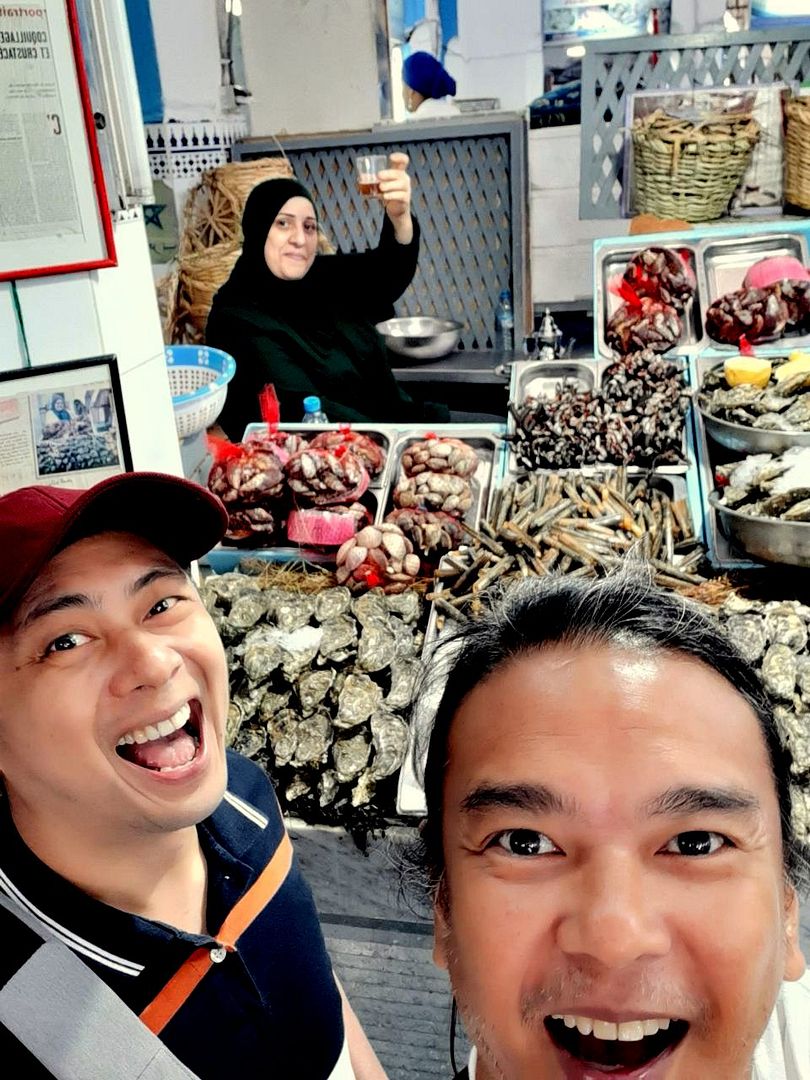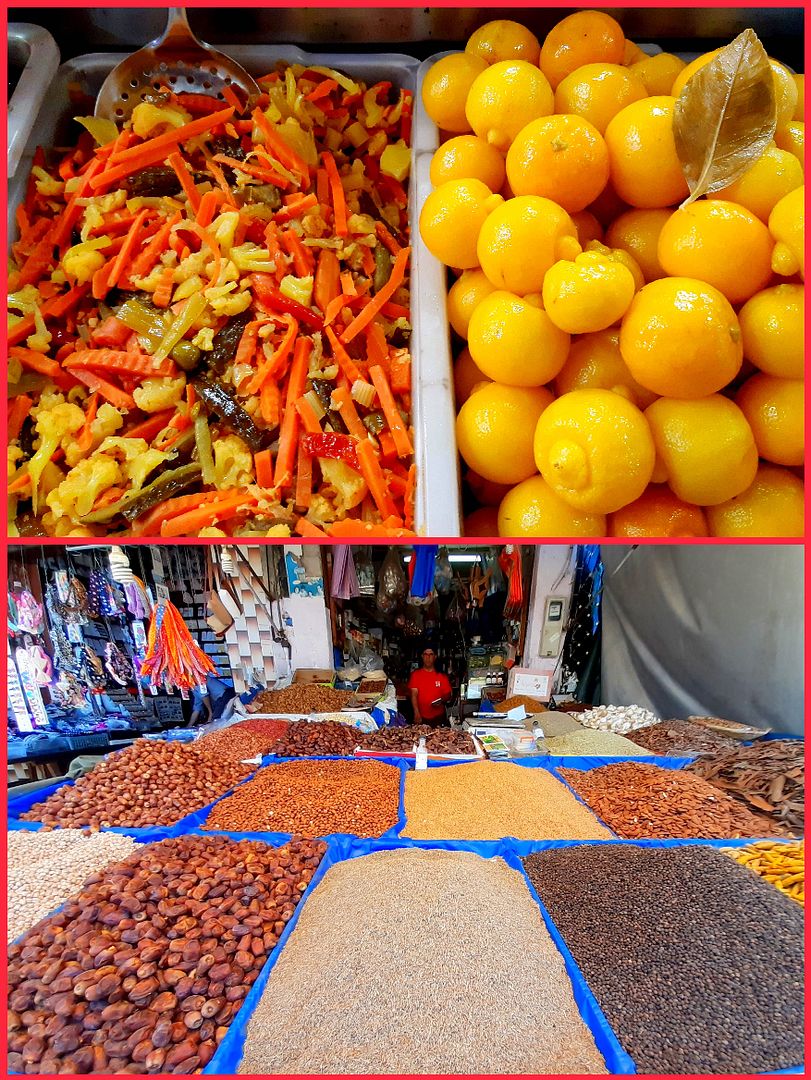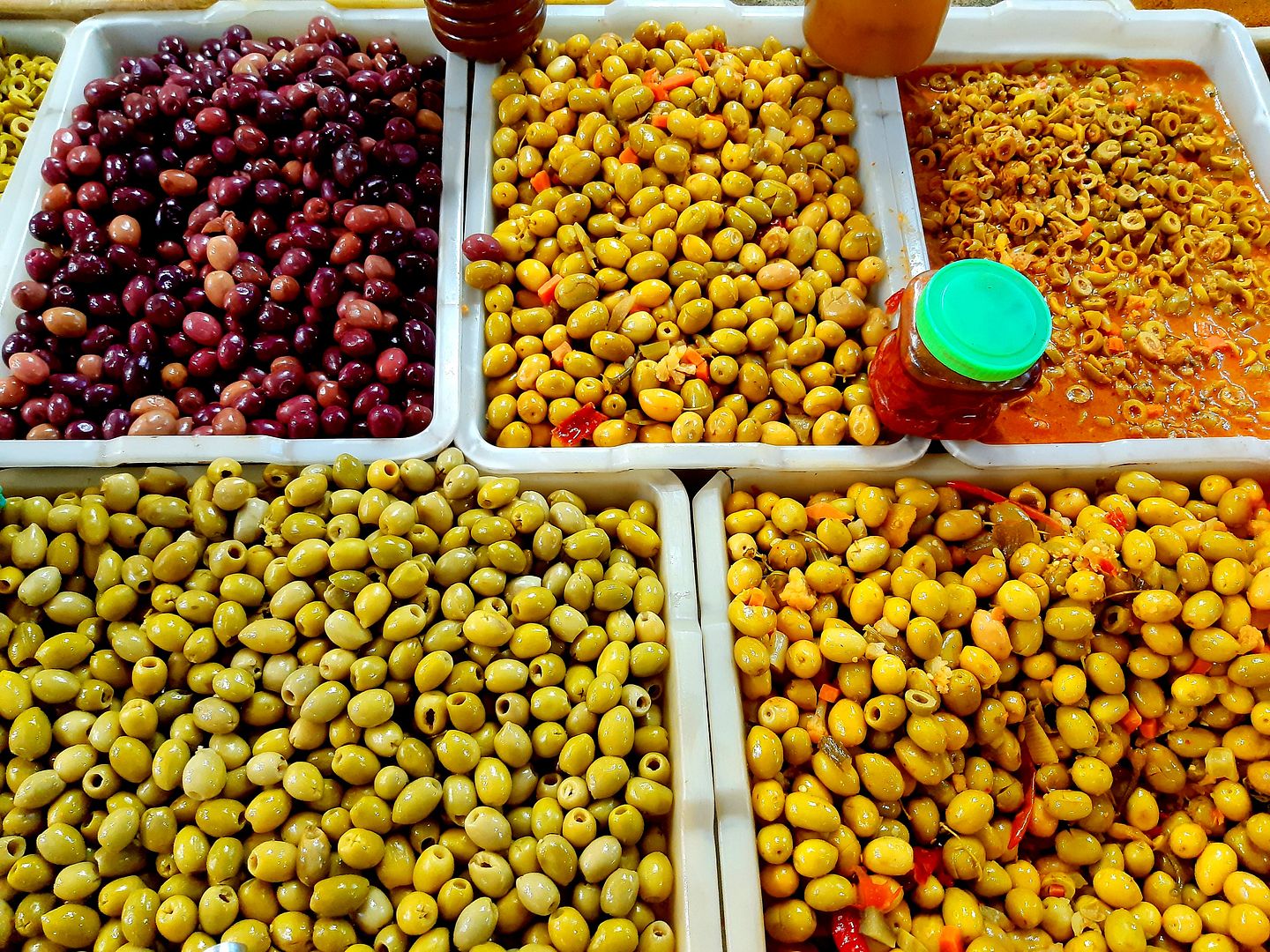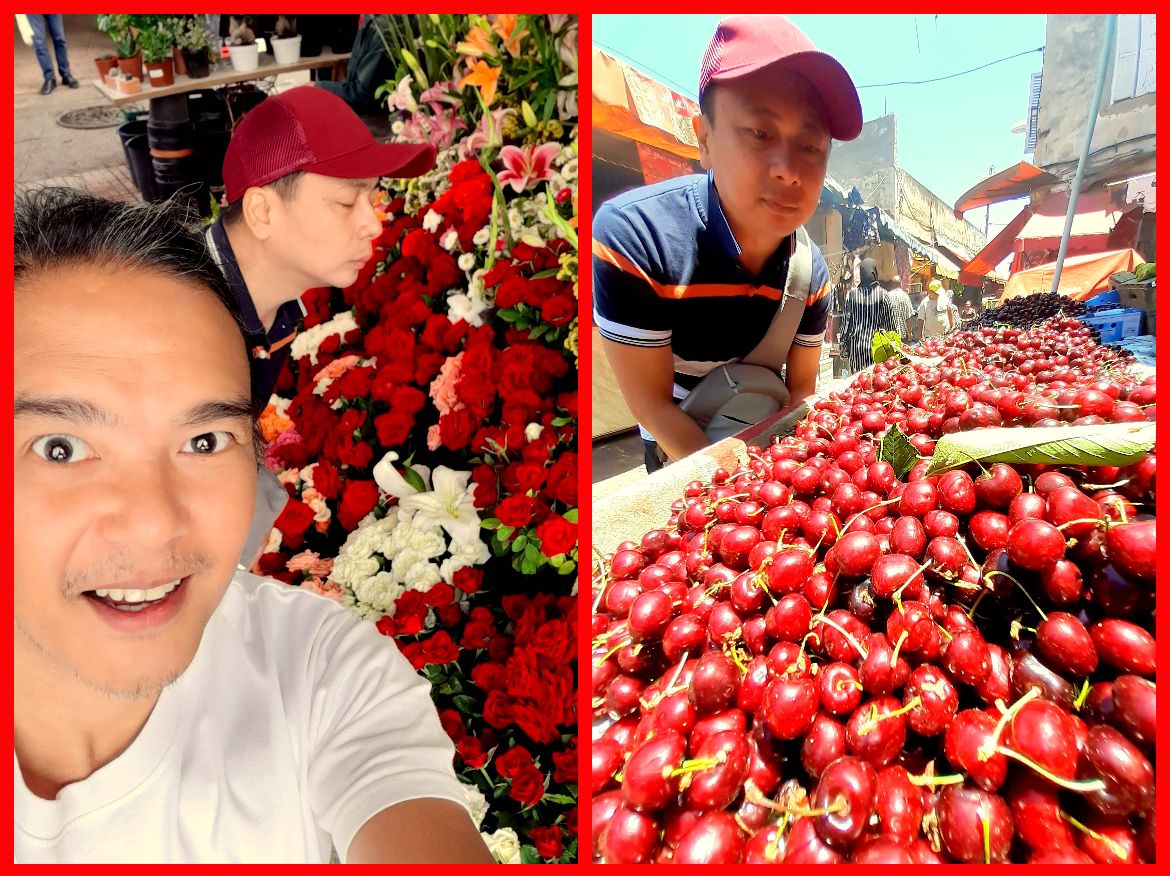 The boulevard led to the tree-dotted expanse of Place des Nations-Unies (United Nations Square). The scale alone indicated we were at the heart of Casablanca. As a crossroad in history and urban planning, the square connected the French colonial district and ancienne medina (walled Arab quarter) of pre-colonial times. Apparently, the French chose to build their city apart from the walled quarter, thus preserving the medina and the city's dual heritage.
Beyond the square, the streets became narrower and choked with vendors. Gone were the stately colonial structures and wide open spaces. Buildings of stone and clay with white paint flaking off looked worse for wear. Somehow we ended up in the medina, though unlike the ones shown in travel websites. There was little attempt to gentrify the area. It revealed its age rather unapologetically, although I imagined there was no leftover relic from when the city was called Anfa by the Berbers some 3,000 years ago.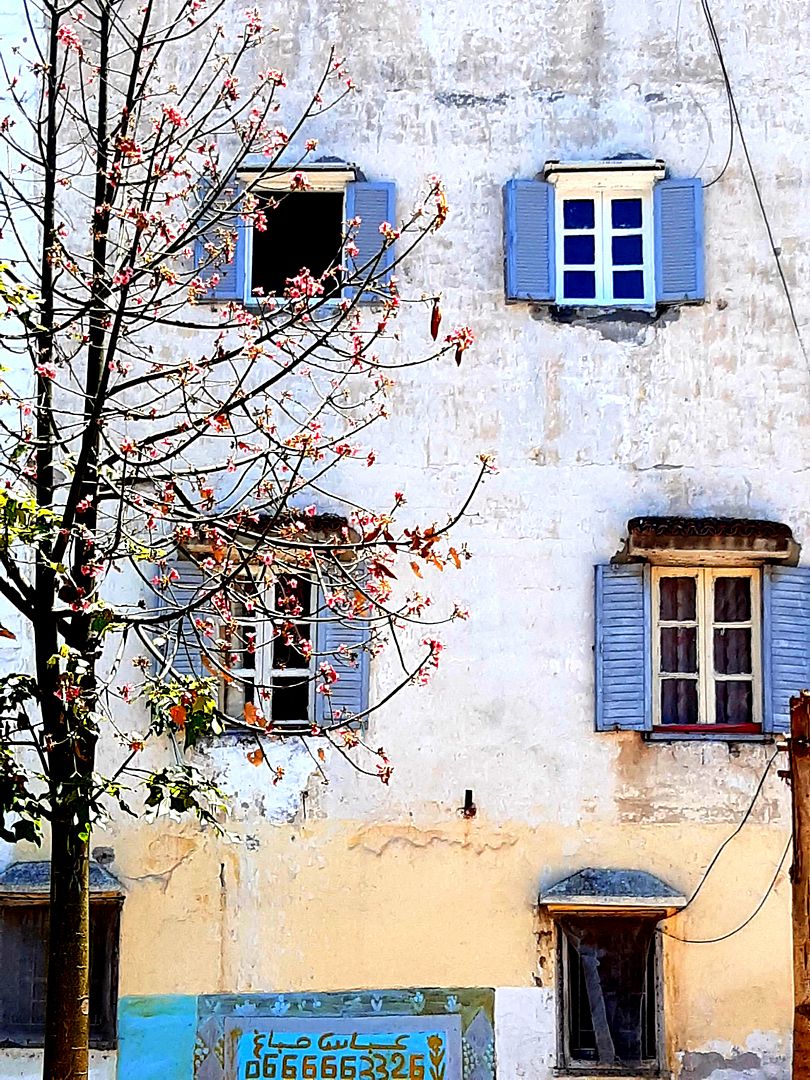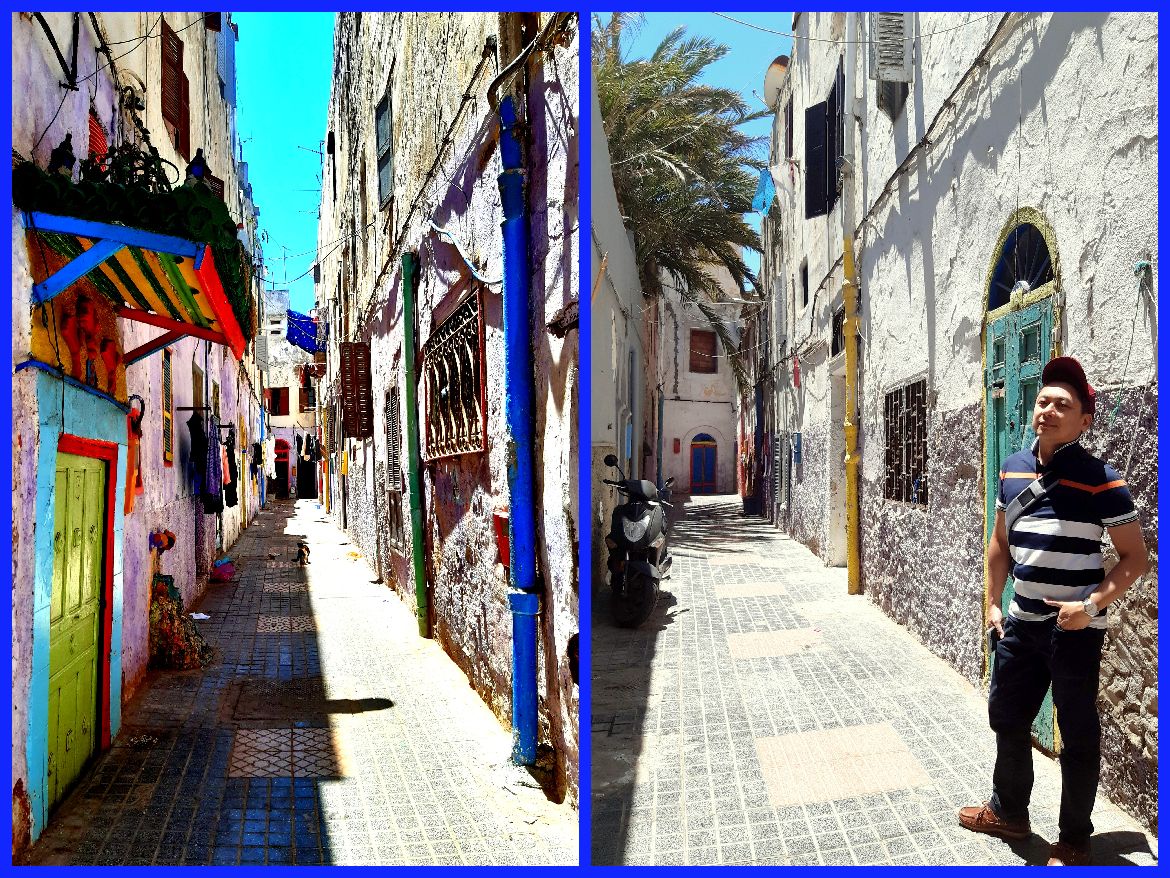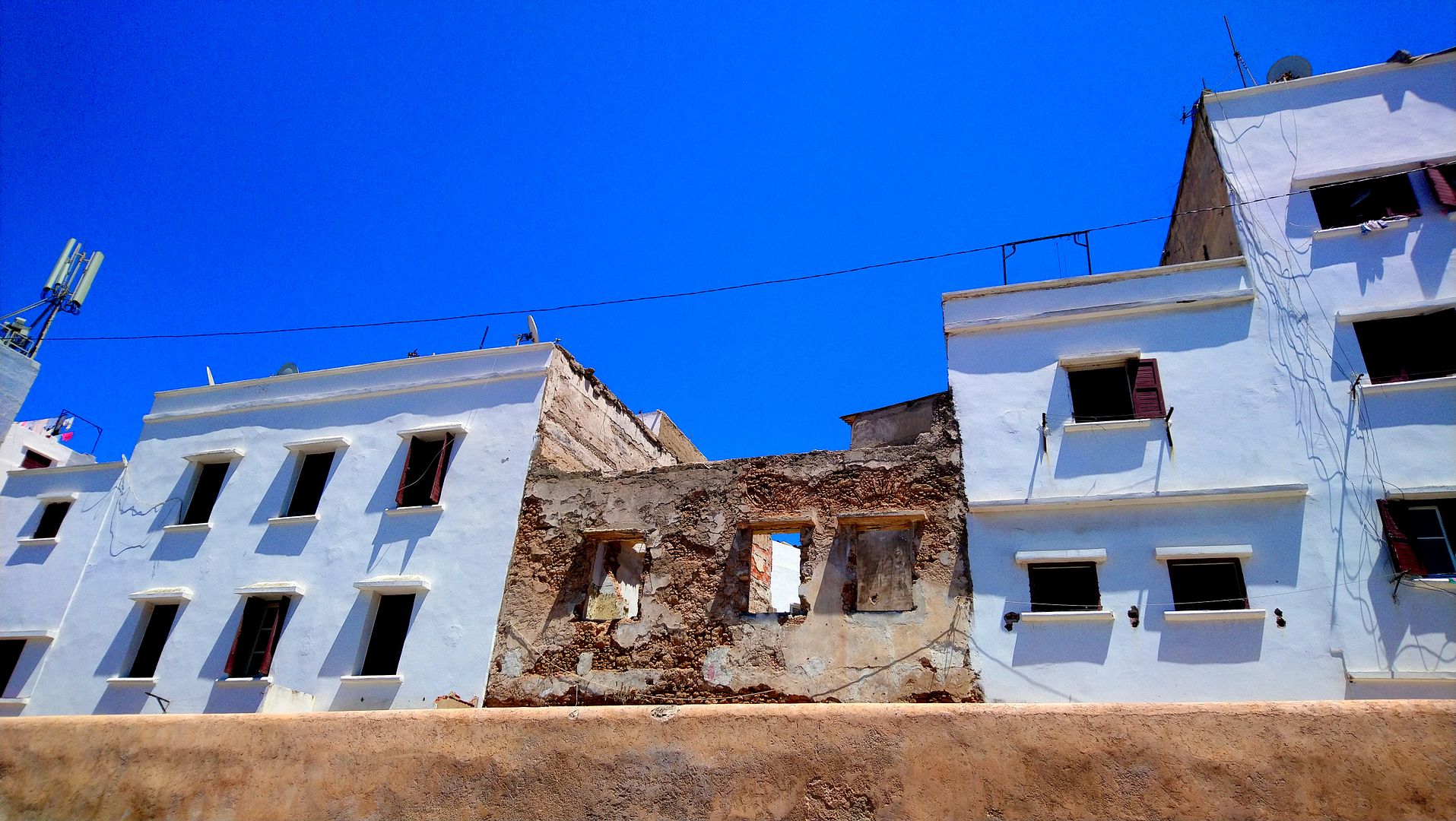 It served Casablanca's medina well that we visited it before the more famous ones in Fez and Marrakech. That way it didn't suffer from comparison. We merely took it as it was: a marketplace for locals, not so much for tourists. Many of them resided in homes hidden in narrow alleyways as evidenced by concealed clotheslines or parked motorbikes. It offered a glimpse of the local way of life.
We partook of that by having a taste of the Moroccan pita bread that vendors handled like inedible items – setting them on uncovered surfaces and touching them with bare hands – and the ubiquitous freshly-squeezed orange juice prepared in roadside stalls and poured in glasses rinsed in a basin of water. We gulped it down, pulp bits and all, wishing it didn't come with a strain of hepatitis virus.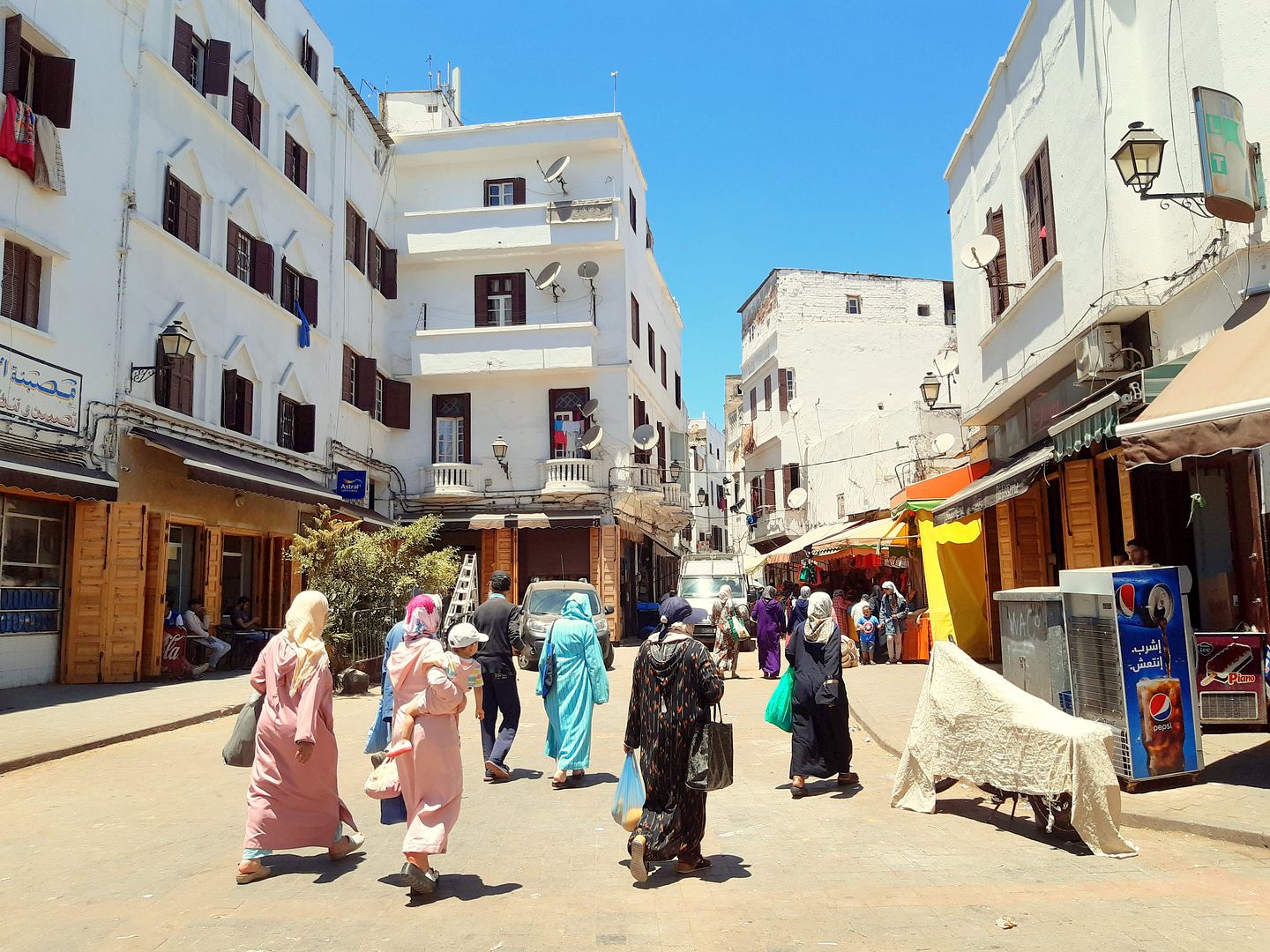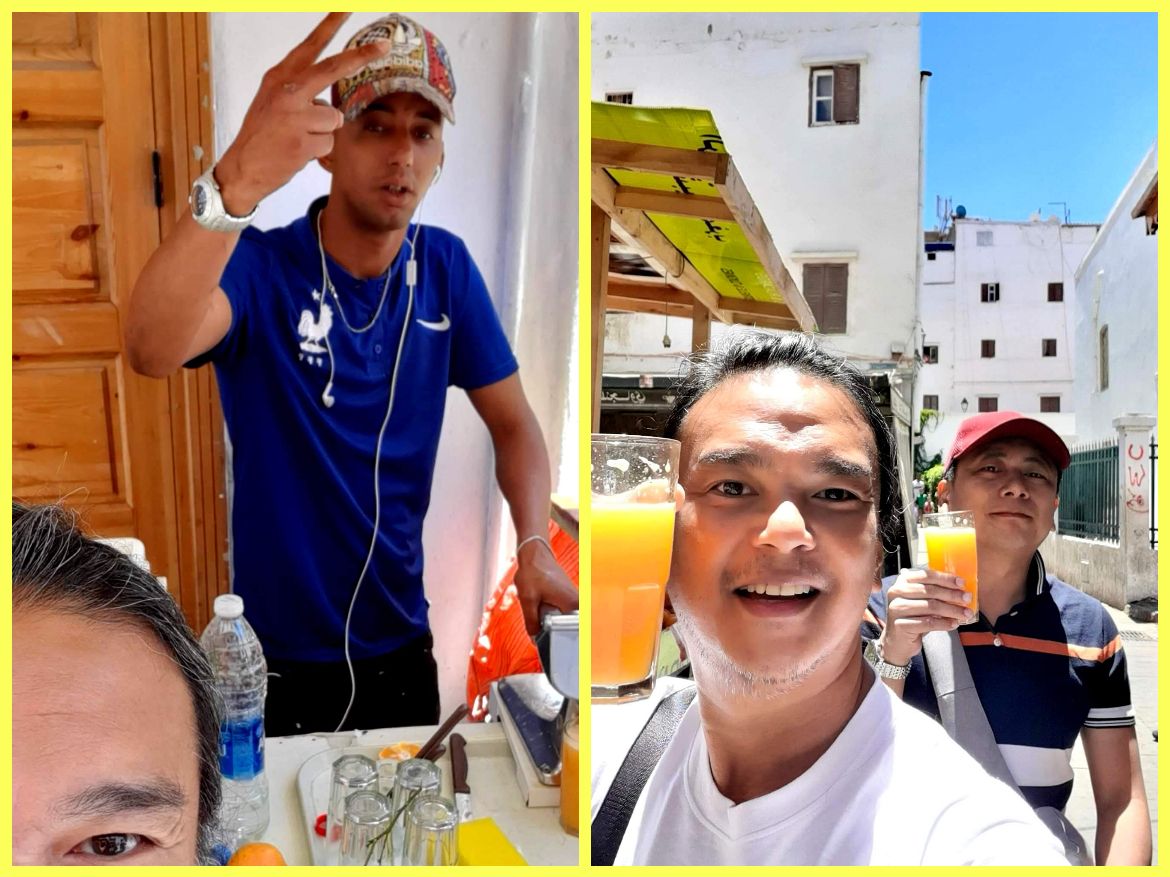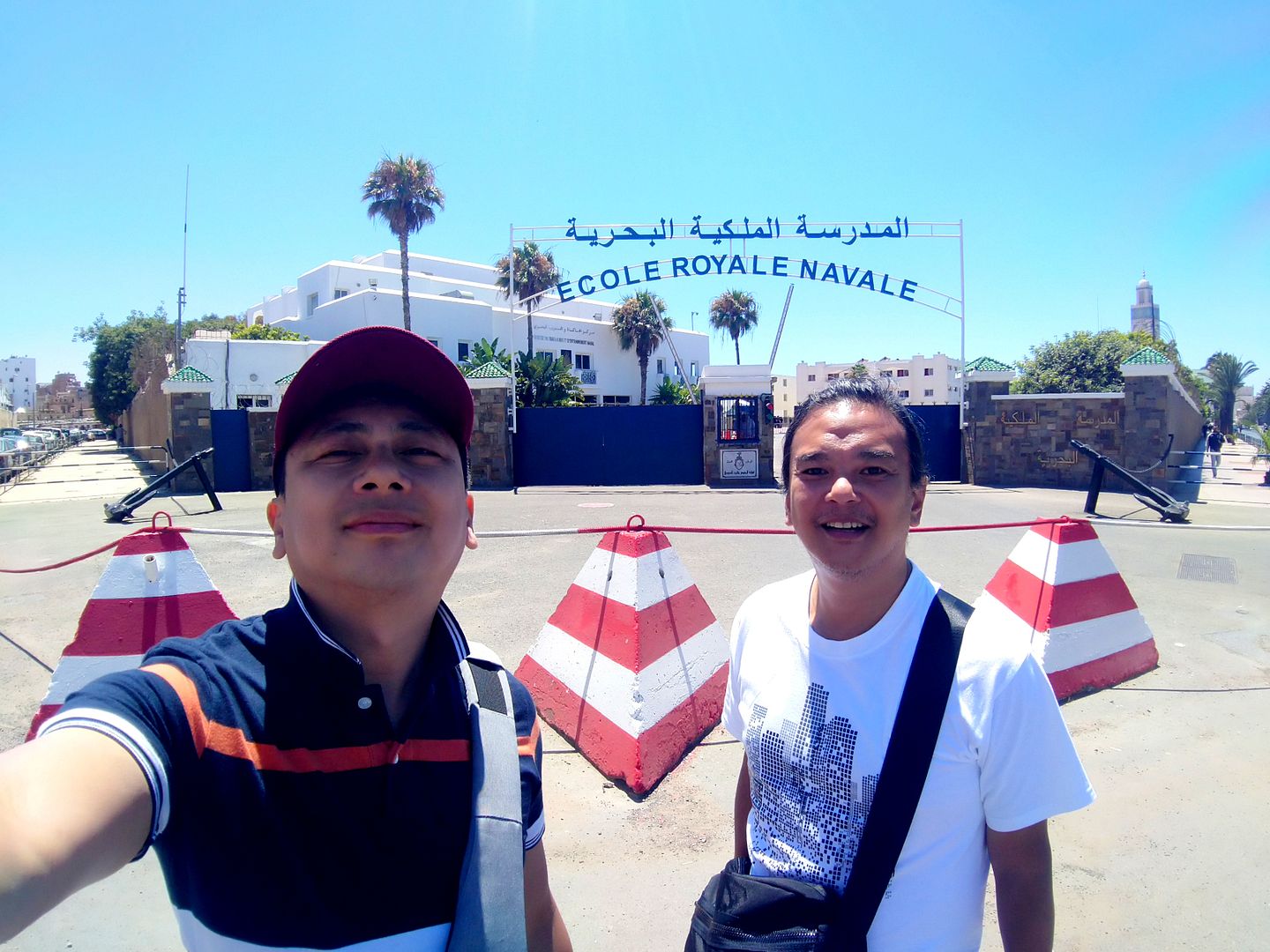 We emerged from the medina to a street where a battalion of young men in uniform marched in formation. They were students of Ecole Royale Navale. Enrollment was up, apparently. After all, Morocco had to maintain a long coastline along the Atlantic and that tight waterway shared with Spain and Gibraltar up north.
We walked past a gas station. The male attendants called out to me in French and made strange gestures that raised the red flag for me. It turned out they simply wanted to wash the bag of fruits I was carrying so I could eat them. I was gutted that I misread their goodwill. Other times their friendliness confused us. At an ice cream take-away counter, Ki swore the smiling male server was flirting with me as he scooped out my order into a cone.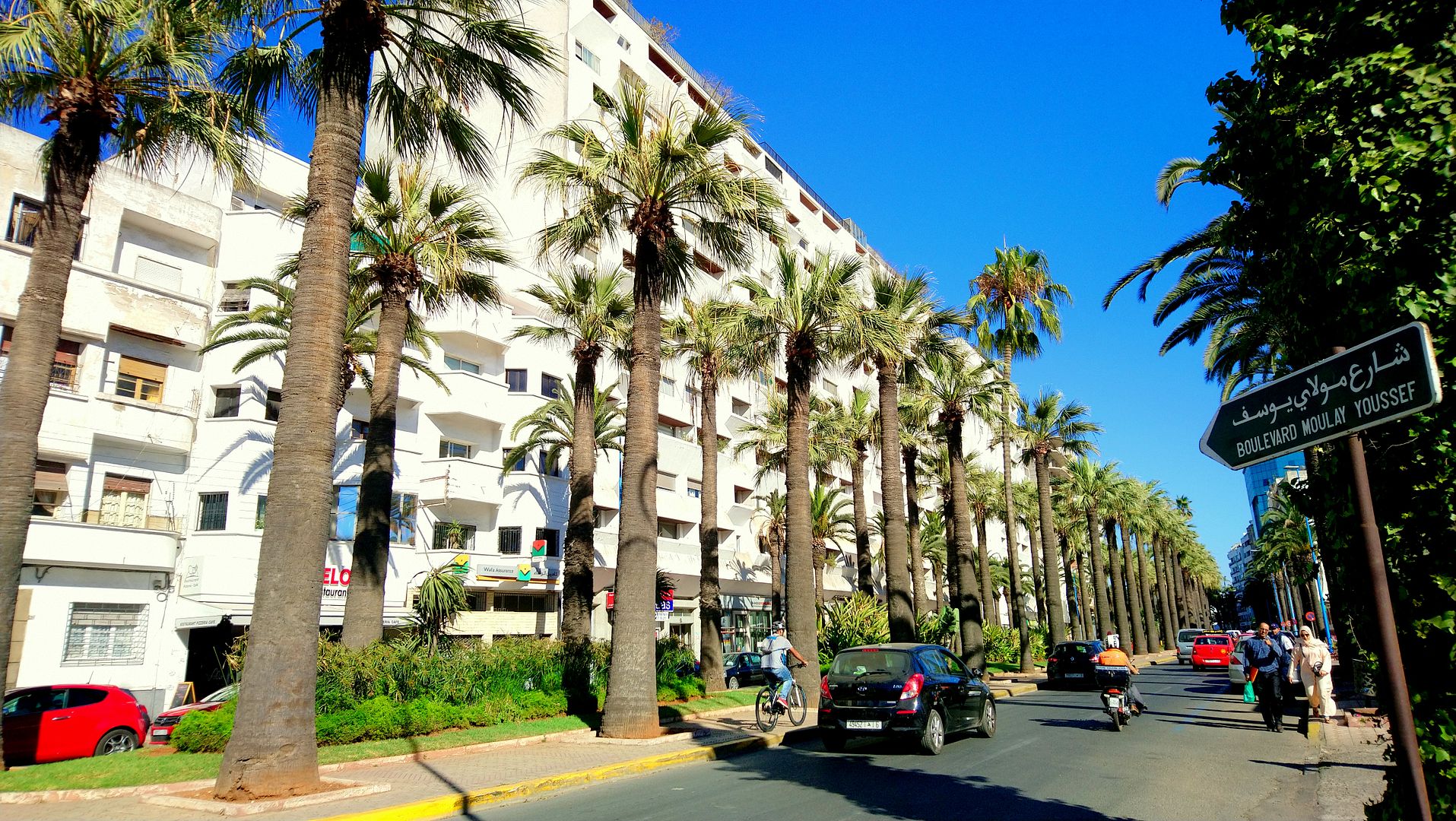 Soon we were in post-colonial Casablanca. The wide, palm-lined Boulevard Moulay Youssef conjured up Miami vibes. On one end, the boulevard seemed to go straight out to sea, flanked by modern office buildings and hotels. Gone were the chaos of vendors and shoppers. In their place, vehicular traffic and real estate were the economic indicators, especially at the busy Avenue Hassan II. We were back in the present.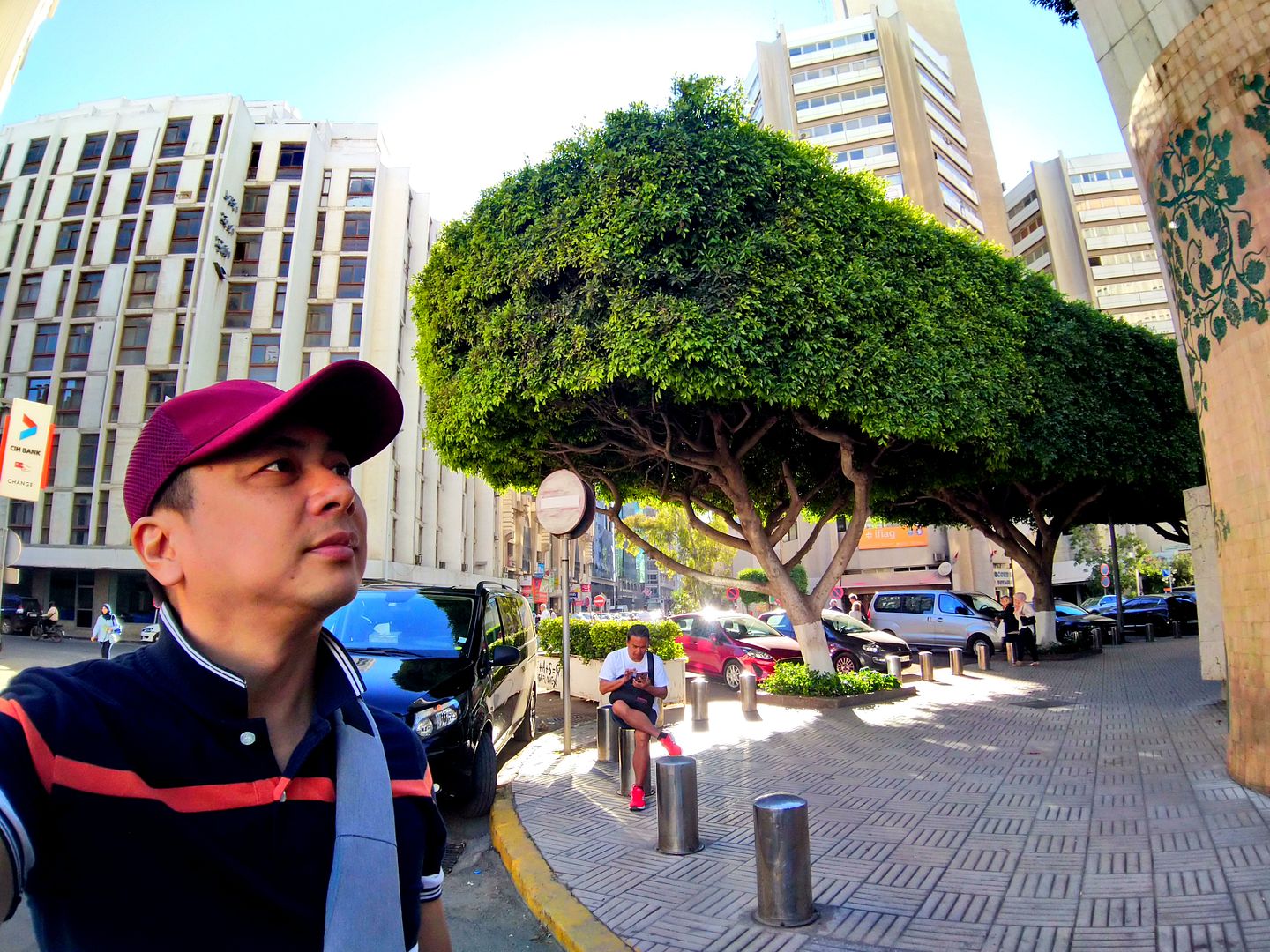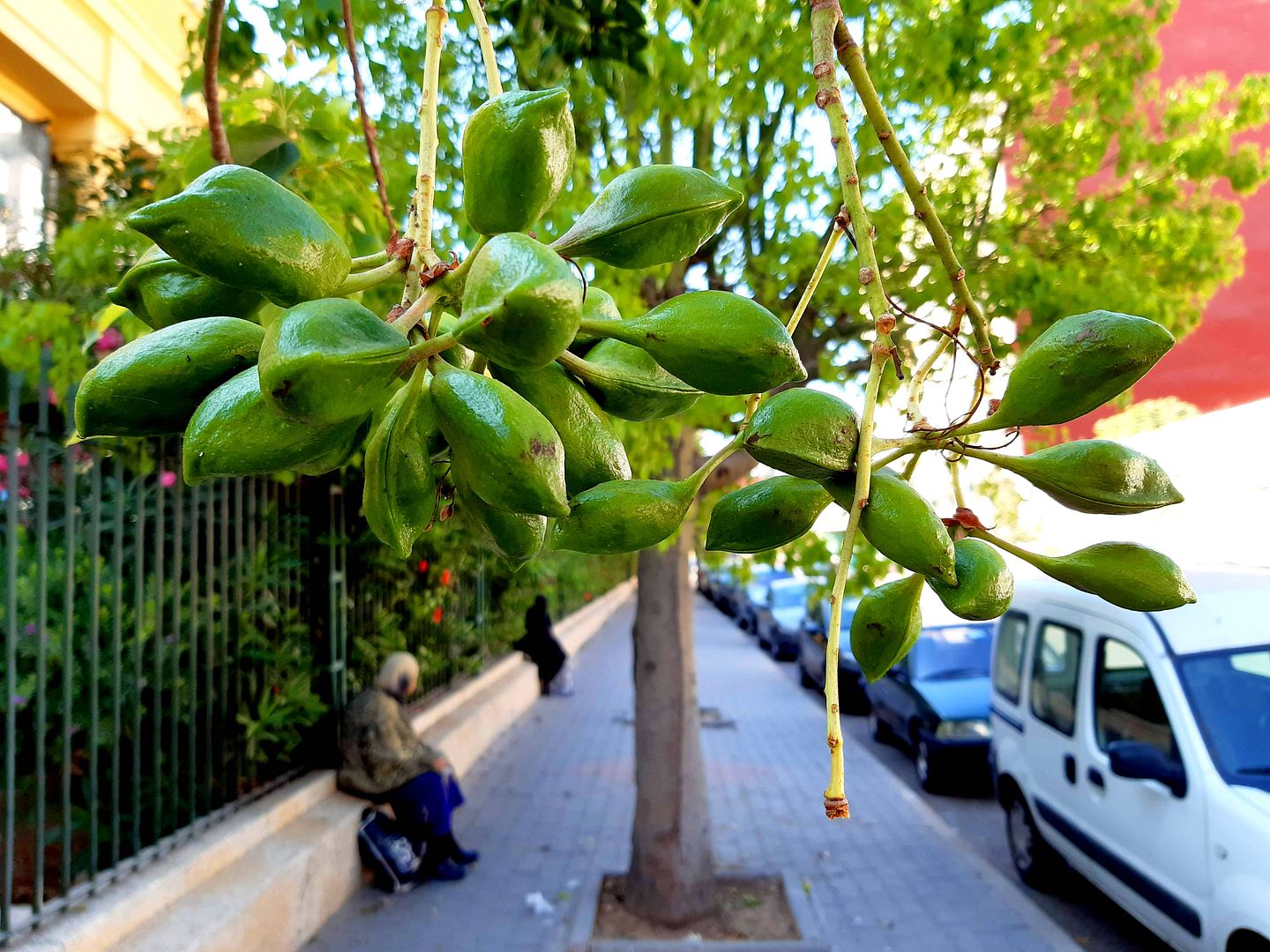 The reviews were right. Casablanca was not a tourist draw. But that was exactly how the city charmed these two urban trekkers. Ki and I got to see a city lived in by its inhabitants, not a heritage site for tourism. We loved that, although there had been pockets of gentrification, there were still areas left to develop – or not – on their own accord. We loved how streets were mostly tree-lined, some shaped to serve as sidewalk shade. We loved how locals were not jaded by the influx of tourists.
We loved the alfresco dining experiences it offered us. On our last day that fell on my birthday, we celebrated with breakfast at Venezia Ice along Boulevard Emile Zola (my sister commented on IG: "Emile Zola was in Morocco?"). We naturally settled at the table by the sidewalk for an up-close-and-personal view of the city.
Perhaps the reason many travelers claimed there was nothing to see in Casablanca was that they were not looking. "Here's looking at you, Casablanca," I would say.