Mandalay and Yangon, Myanmar
May 29 and June 1, 2018
Jo and I stopped by Mahagandhayon Monastery in Amarapura, former royal capital, to watch monks line up for lunch. The experience was strangely calming. At 10:30 AM, the novices were being served what would be their last meal of the day. Hundreds, if not a thousand, of young monks, some still children, bearing black bowls formed snaking lines under tall tamarind trees in utter silence. They were mostly oblivious to the handful of tourists like me at the sidewalk taking their photos.
Though the monastery accepted donations from visitors, it was not required nor was there an entrance fee. Far from being touristified tradition, the open house was a gracious invitation to foreigners to witness a slice of monastic life. The novice monks were a sight to behold: bald and barefoot, robed in velvet (children in white), solemnly awaiting their turn to receive food in aluminum bowls. What could be the thoughts running in their minds, the emotions stirring in their souls? Hunger perhaps? Or was the purpose to empty those thoughts and feelings?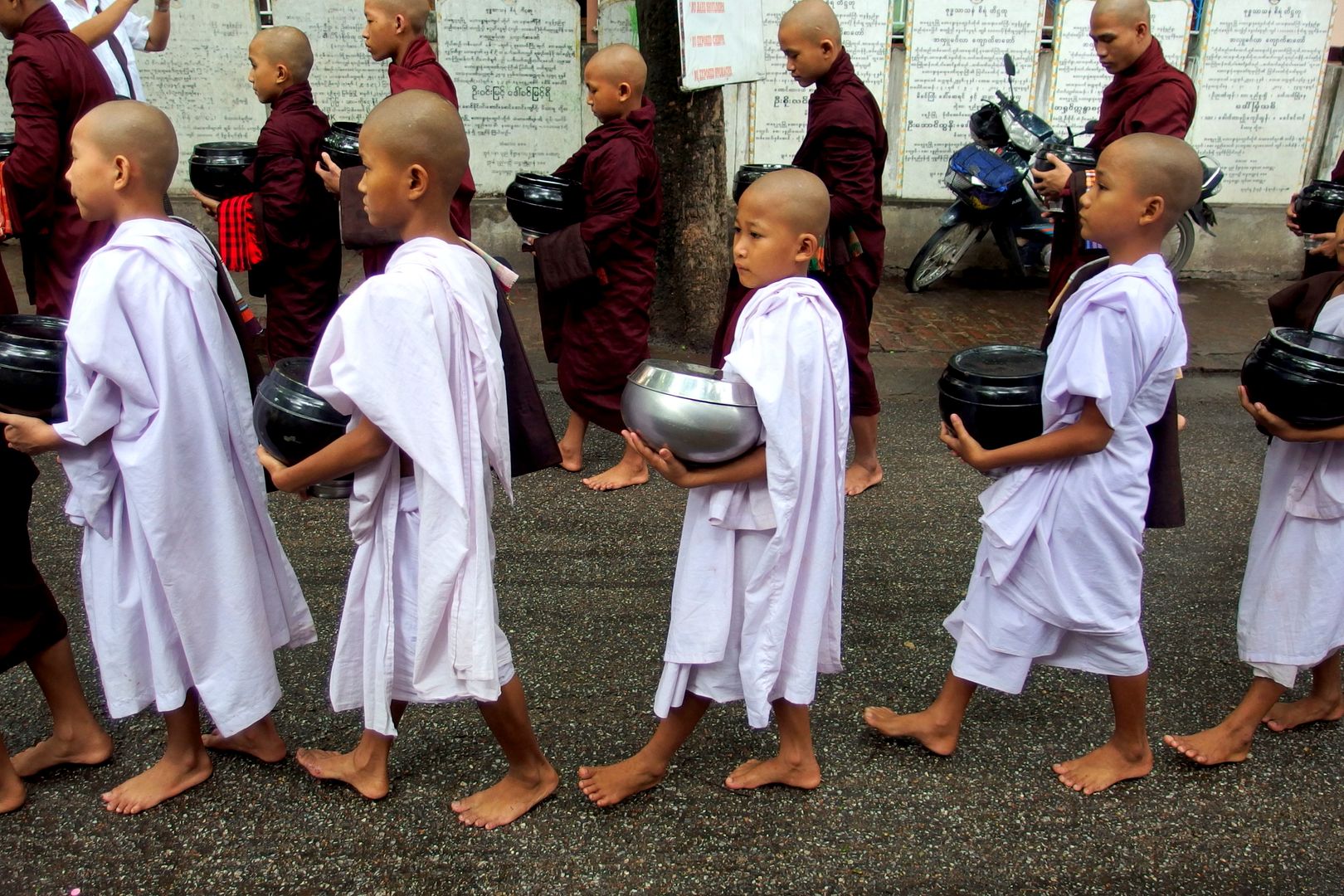 These young monks had been up since around 4 AM and had already attended classes in the ancient language of Theravada Buddhism. Peeking through windows, we watched them partaking of their meal in ritualistic silence. This strict ritual was their daily schedule. For more than a century, the monastery had been a Dhamma school offering religious education that took close to a decade to complete. How ironic, though, that Jo got wind of this monastery in Instagram. Social media brought us to the place where social interaction was kept to a minimum.
The presence of tourists attracted some enterprising local people. I met a girl with elaborate thanaka designs painted on her face. She charged a dollar for a photo. Her presence posed a contrast to the fact that only boys were allowed to study in the 12-hectare monastery, the largest of its kind in Myanmar, founded by Agati Thukha Sayadaw. The school's renown was cemented by Dhamma teacher and revered abbot Ashin Zanakabivumsa whose rules and routines had been observed in the monastery for almost half a century.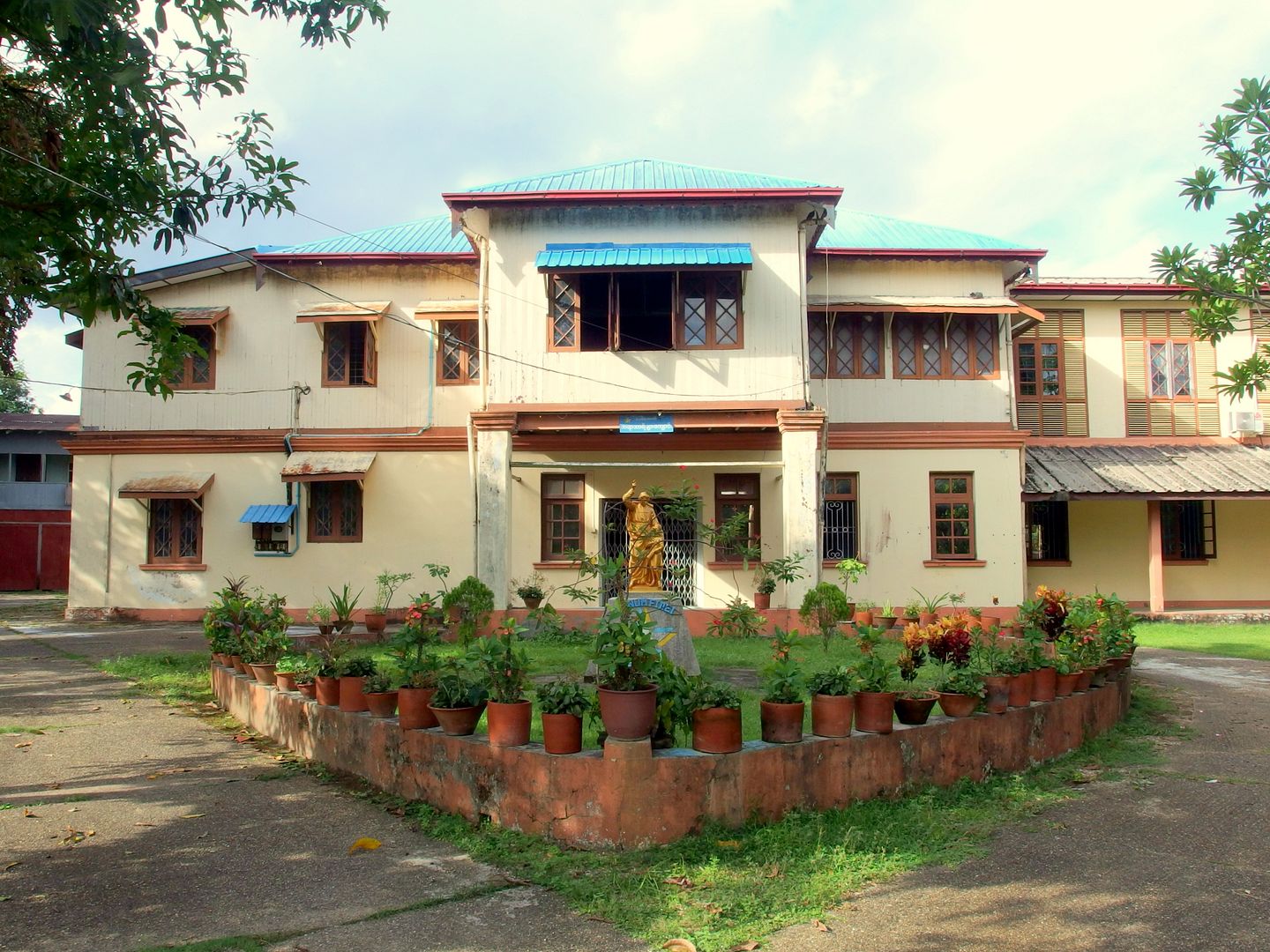 Days later in Yangon, I was surprised to know that the De La Salle Formation House in gentrified Mayangon District was as old as Mahagadhayon Monastery. As I was graciously allowed in at the monastery, I was invited by Lasallian Brother Justin Nge Bo, my former student in Manila, to visit their Yangon HQ occupying a secluded lakeside property.
This Catholic religious community was established on the other side of the world by French educator and philanthropist Jean-Baptiste de la Salle in the 17th century with significant help from fellow educator for the poor Adrian Nyel. The brotherhood reached Myanmar more than 150 years ago. Like their Buddhist counterparts, De La Salle Christian Brothers had to take vows of poverty, celibacy, and obedience. Not ordained as priests, they ministered as educators to the youth as St. Jean-Baptiste de la Salle did.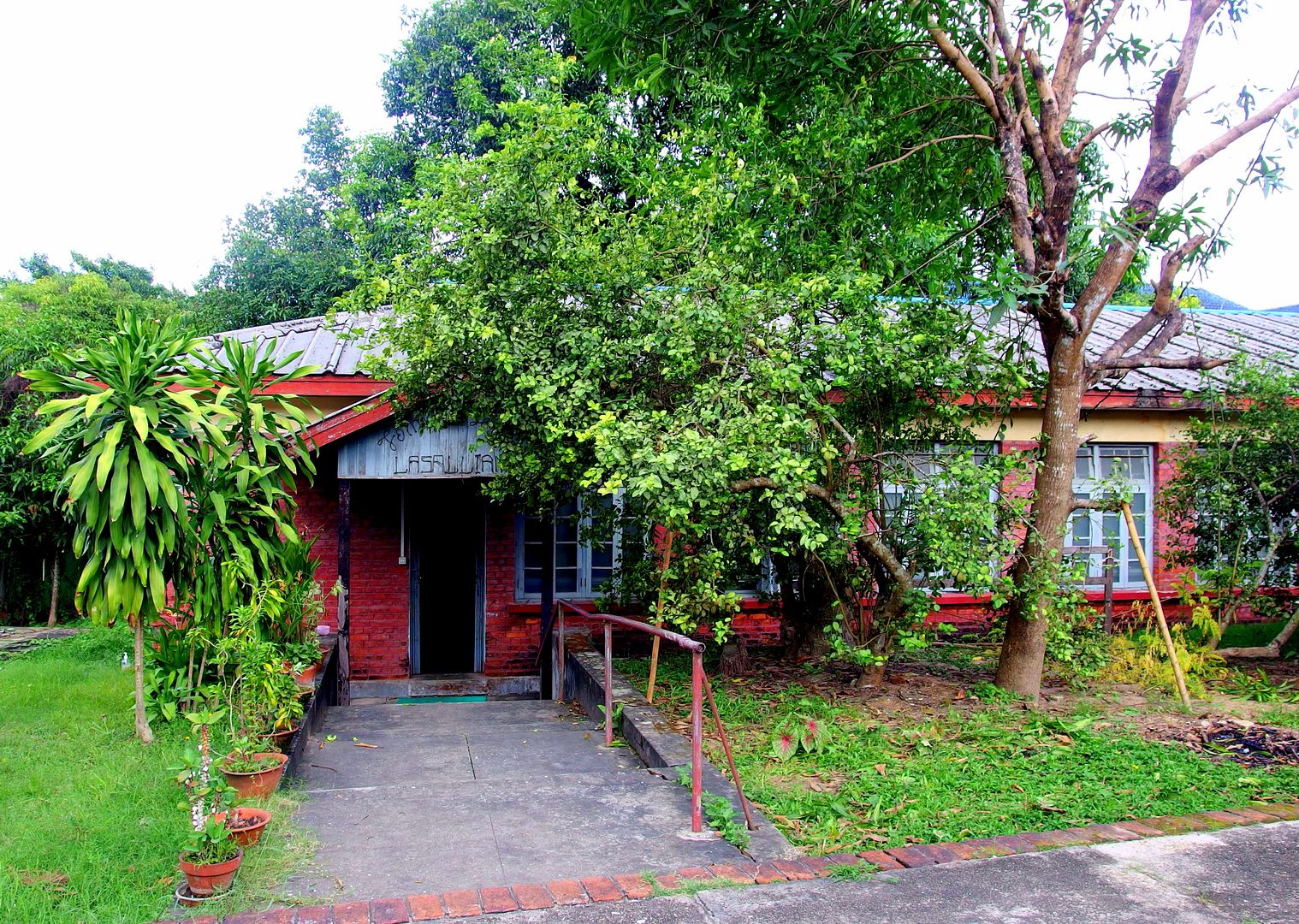 Bro. Justin toured me around the formation house consisting of a couple of bungalows. He had prepared a typical Myanmar meal, an equal mix of meat and veggies, at the two-story main house. The living and dining rooms, which could host a large social gathering, were left to ourselves. Only bird call and rustling leaves broke the silence. After lunch, he showed me the sleeping quarters at the back divvied up into dorm rooms where Bro. Justin was staying. The good Brother delayed his trip to his home province for a week to see me in Yangon.
We concluded the tour in his secret backyard hideaway at the shore of Inya Lake where he spent lazy afternoons fishing. He described it in almost spiritual terms while I invaded his privacy and quiet place.
Calming as both visits were, it was a confirmation that I was not made for religious life, Buddhist or Catholic. The strictness and rigidity of daily routine, the deprivation of physical needs and sensuous pleasures, the curtailment of personal freedom were all tall orders. On the other hand, I realized I needed to stop moving and overthinking, just to stop to be at peace in the moment.