Kaohsiung, Taiwan
December 24 – 25, 2019
I wasn't home for Christmas – for the first time in my life. Of all holidays, Christmas had exclusively been a family affair. In my 50 years, I celebrated 45 Christmases with my parents. Becoming an orphan four years before was a game changer. What could be the loneliest holiday proved to be less so with fellow orphan Ki. We had already decided to ring in the new year at Taipei 101; I figured we might as well leave earlier to spend Christmas at our port of entry, Kaohsiung.
We planed in on Christmas Eve not knowing what to expect in a city we hadn't been to, much less how they celebrated Christmas, if at all. Reassuringly, Kaohsiung International Airport greeted us with a whimsical welcome of colorful drawings adorning the walls of the arrival hall. KHH was an airport identifying as a kindergarten.
At the lobby, a Christmas tree towered over currency exchange and baggage carts. Pagan origins notwithstanding, the tree symbolized that it truly was "Christmas all over the world tonight," as Sheena Easton crooned. Even in Buddhist Taiwan.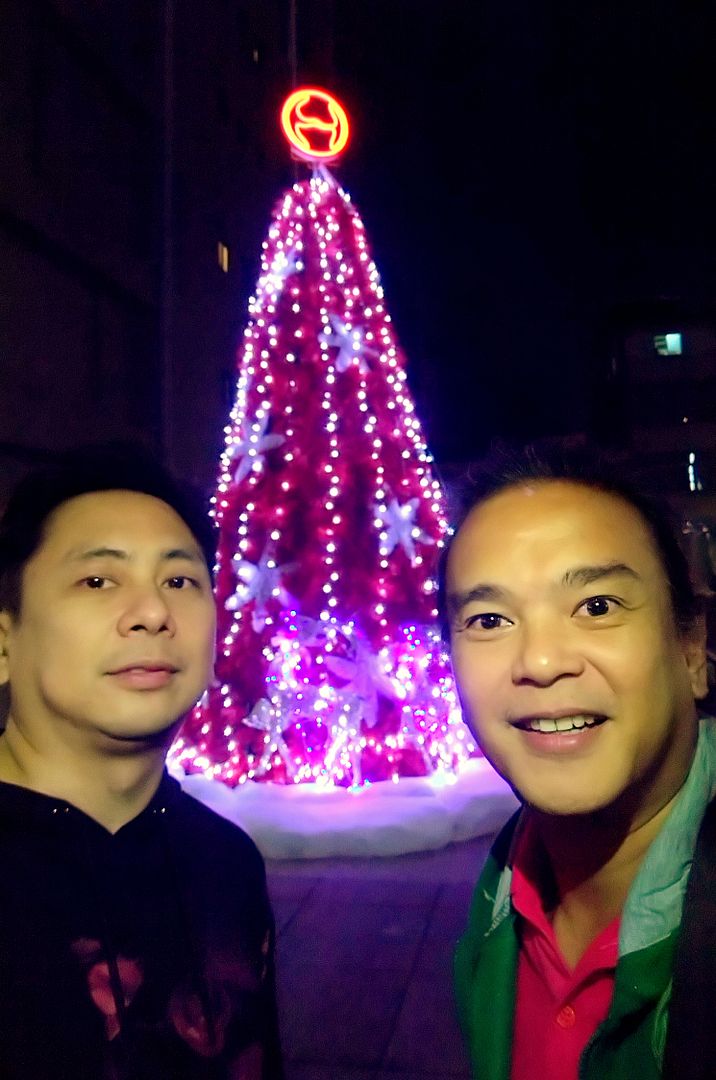 After backpack drop-off at the hotel, we headed on foot to the only Christmas celebration we knew of in the city. Empty sidewalks appeared even wider. Was it the evening chill that kept people off the streets? They couldn't be preparing for Christmas Eve dinner, could they? A Christmas tree twinkling in pink at a Zhongzheng Road parking lot provided the lone spot of light and color. It all evoked that first night before Christmas. In a similarly cold, dark, lonely, foreign place was the reason for the season born under the glow of starlight.
A relatively sizable crowd had gathered when we reached the promenade at Love River Park. The former Takao River became an open sewage of industrial and human waste until it was cleaned and dressed up for tourism revitalization as Love River to tap into its romantic potential. One riverbank food stall was blaring a disco version of Feliz Navidad from speakers. Finally, some Christmas cheer!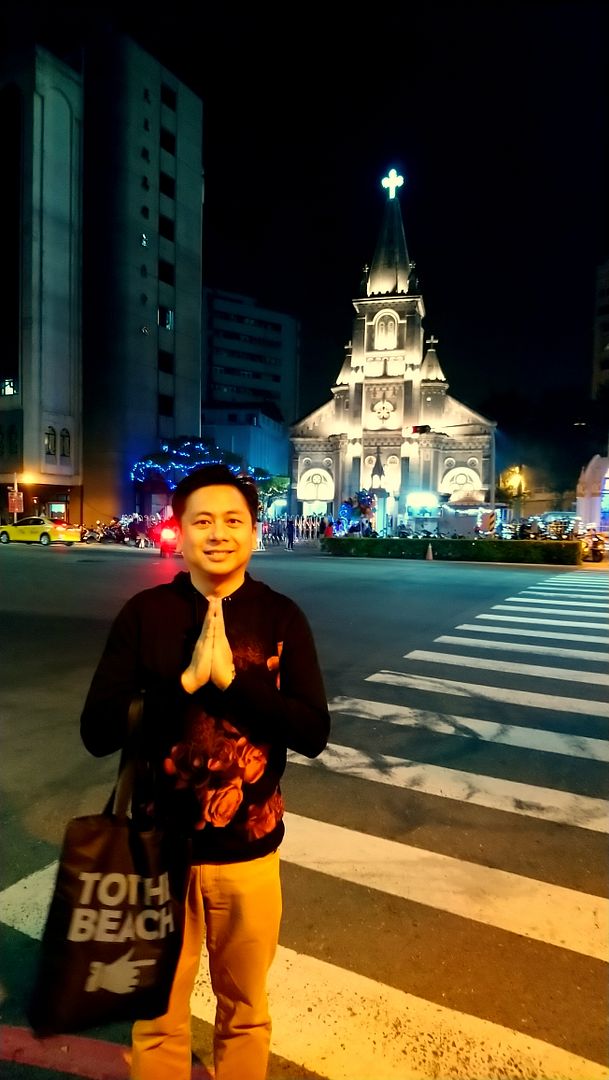 We turned a corner from the river and there appeared the Holy Rosary Cathedral dwarfed by neighboring buildings but standing tall and gloriously floodlit. Its Gothic spire reached up to the dark sky with a cross of light. The Christmas Eve Mass was underway. We slipped into the packed church, inching our way inside.
Doctrinal differences put aside, I was a Baptist sharing the solemn and joyous celebration of the birth of Jesus with Taiwanese Catholics. That a humble nativity 2,000 years ago halfway across the globe transcended this ethnic and linguistic divide made for a profoundly spiritual experience.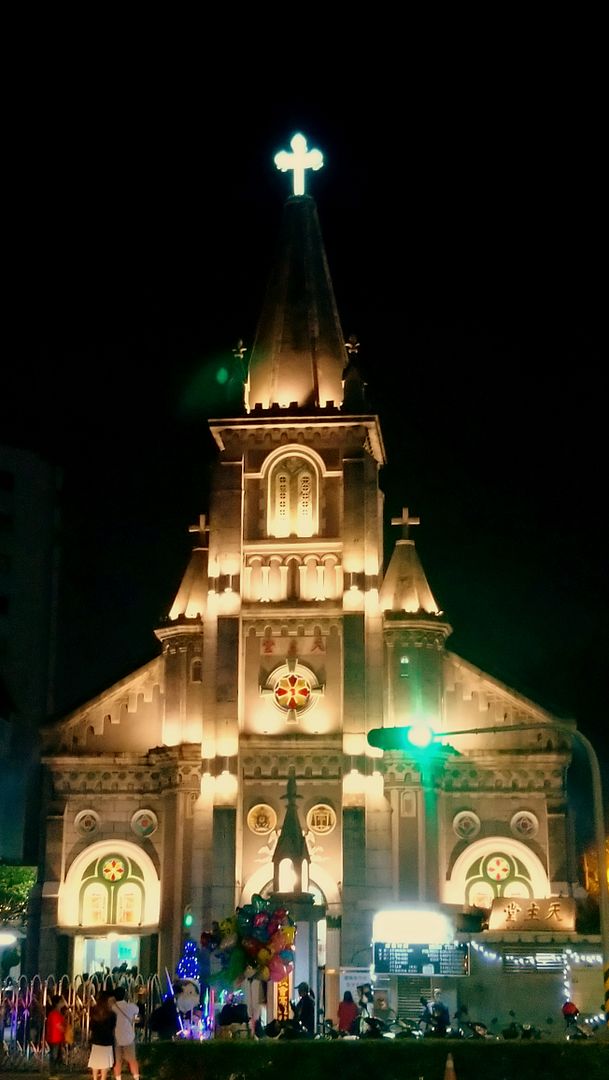 Not only did I come to celebrate our shared faith in Jesus, we also chose to visit this church for its Philippine connection. The Holy Rosary Cathedral was established by Spanish colonists from the Philippines in the mid-19th century. Perhaps that accounted for the similarity of its interior design to the Manila Cathedral despite the difference in size. Incidentally, the wedding of my Taiwanese friend, Eric Lin, was held at the Manila Cathedral, the grander twin of this more compact church in his hometown.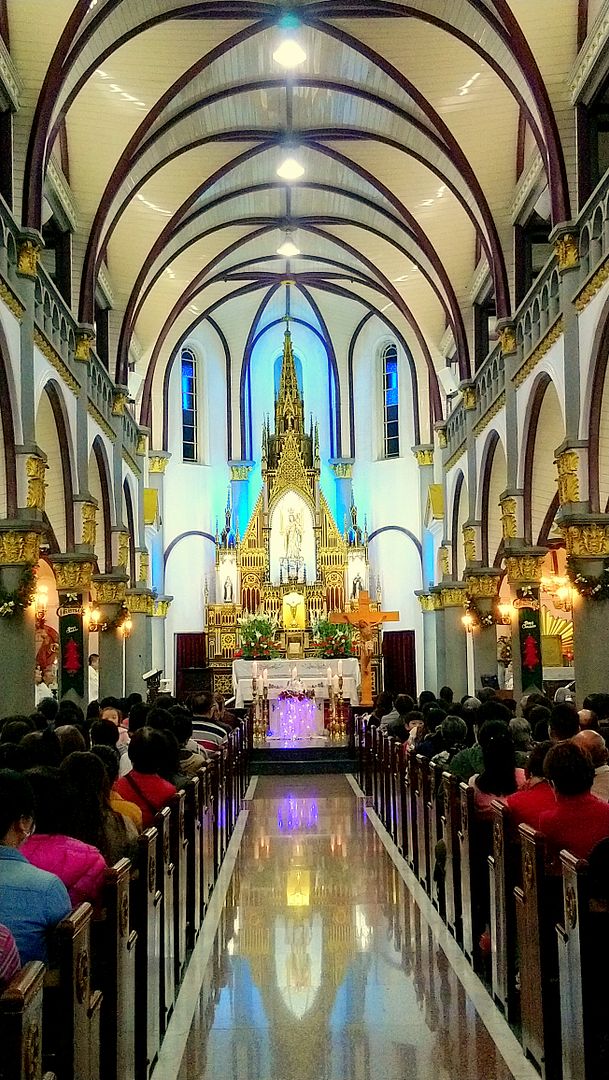 Worship songs were alternately sung in Chinese, Latin, and English. One in Spanglish made it to the choir's setlist – Feliz Navidad. How strange to hear this secular song in church and what a relief to discover that it rivaled Mariah's annoying Christmas anthem in popularity in Taiwan. Jose Feliciano would be so proud. As a nod to the country, I traded the song's holiday greeting in English for Mandarin: "I wanna wish you a sheng dan kuai le!"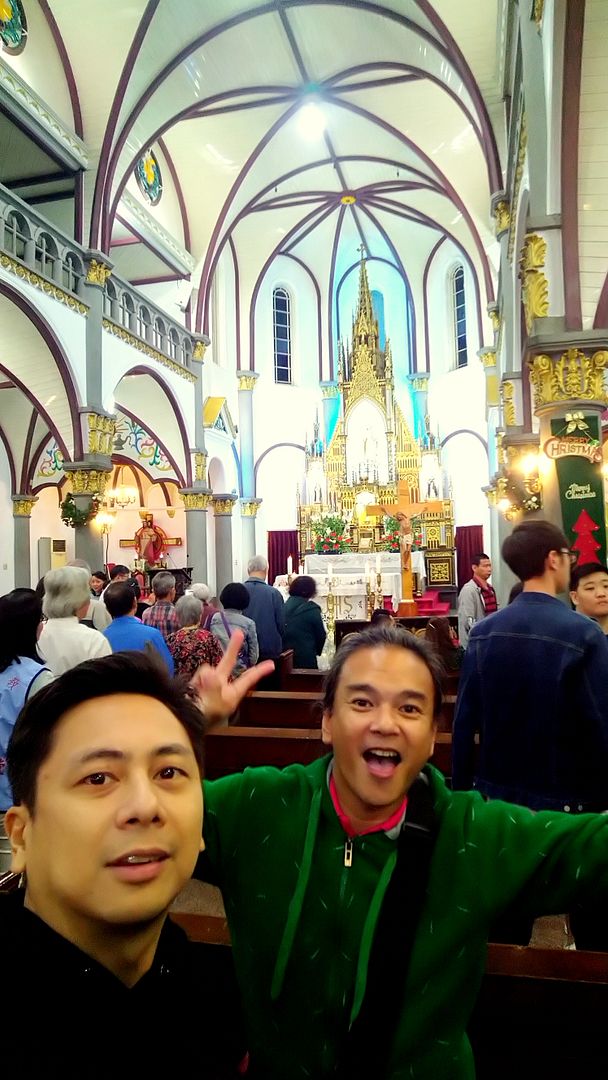 The church grounds were adorned by neon installations of hearts, rings, kissing swans, and the word love spelled out in block letters. It was clearly in keeping with the romantic theme of the city's tourism campaign. But in keeping with the season, it was a reaffirmation of love that transcended time and distance, much like that one born on the first Christmas.
I took liberties with the famous Bible verse and came up with this: "For where your love is, there will your home be also." We had always kept the love of our parents in our hearts. Indeed, Ki and I were home for Christmas wherever we spent it.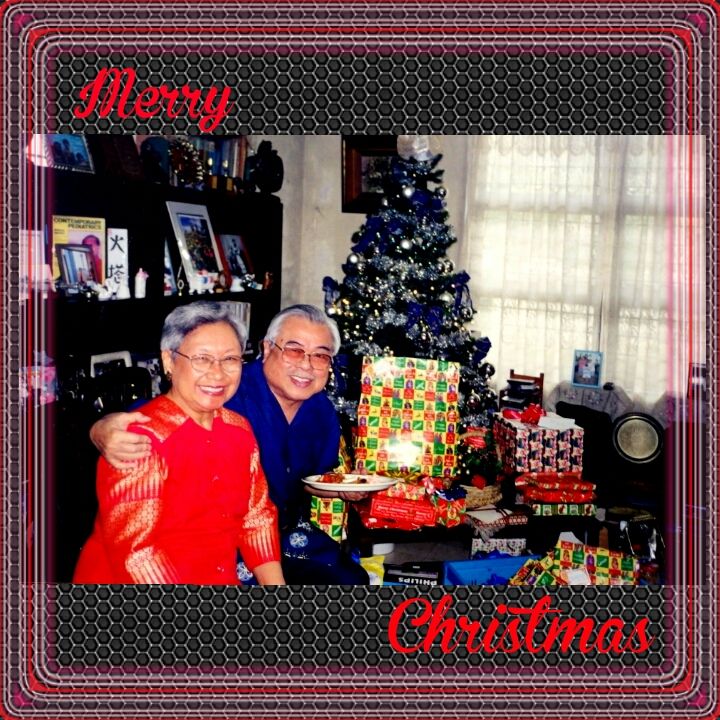 Thank you for reading! Your support is much appreciated. Donate now: