Paris, France
June 12, 2019
The City of Light wasted no time showing its dark side. I got a full Paris treatment within 24 hours of my arrival. Friends had told me enough cautionary tales to get my guard up as soon as I got off the Thalys from Amsterdam. I went to Paris with eyes wide open, not to go sightseeing through rose-colored glasses.
A foreshadowing happened a block away from the Louvre. At 9 AM, the side streets were mostly empty. Trailing behind my older brother and nephew who were on Google Maps, I was targeted by a teenage gang of about three or four. A dark-eyed girl suddenly started waving a form to my face. Their prospecting skills were off; somehow my rich but distracted brother did not strike their fancy. They drew closer as they grew more persistent. I thought it best to flee across the street. Just then, my hero appeared out of nowhere. An elderly man, not a man in uniform, shooed the juvenile delinquents away. Indeed, some heroes did not wear capes. So off we went our merry way.
I figured that was enough assault for the day. But no. Right by the doorstep of the Louvre, another gang – I would say Gypsies, but I was shamed on Facebook for profiling – swarmed around me. The same modus operandi: form waving and unintelligible shouting. I was targeted again by four or five teens, but I could not be distracted. I gripped my wallet and phone in my pocket and sprinted toward the entrance queue of the Louvre. I cut through a line of people and the gang dispersed empty-handed but not before unzipping the body bag slung across my chest. In retrospect, I was the one profiled: a Chinese-looking tourist must be loaded with shopping money.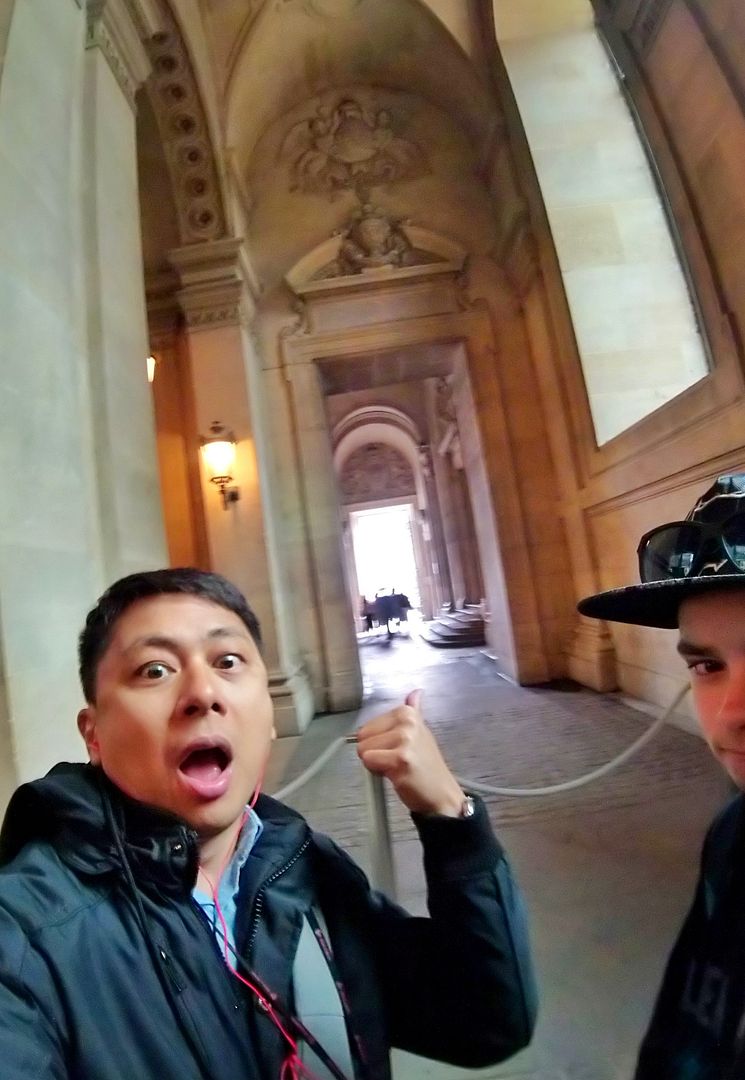 I survived back-to-back attempted robberies just minutes apart unscathed. Only the thought that I had decided – at the last lucky minute – to leave my cash in the hotel safe kept my wits about me. But how appalling that this brazen assault was committed in broad daylight. I would think a world-famous tourist magnet merited tighter security. How could Parisian authorities turn a blind eye to these petty thieves? In my travels around Southeast Asia, I had neither seen nor experienced this display of criminality with such impunity.
I should have known. Paris was a bonanza for thieves and scammers. The previous evening, I had been had online, this time with my sister. We booked a tour through Airbnb called "Paris through the Hemingway" in honor of our late father who stanned the author. The guide, who went by a single name Olga (curiously, it sounded more Russian than French), set the meet-up by the fountain of Place Monge at 5:30 PM. In her message, she promised that "your memory is priceless" and "you get the best possible intellectual experience."
We waited, she never showed up. We called, she never picked up. We texted, she never replied. We emailed, she ghosted us. Olga Baranova (the last name was provided by another Paris tour guide also named Olga!) was either a phantom or a scammer. I would go for the latter.
How apt, then, that the city's nickname La Ville-Lumière (The City of Light) came, not from the evening illumination of Eiffel Tower and Champs-Élysées, but from far less romantic origins. In 1667, Louis XIV installed street lighting and encouraged Parisians to put burning candles and oil lamps on their windows, both measures aimed at reducing the crime rate. Sadly, centuries of light could not dispel the darkness stubbornly lurking in the city.
Tourists were fair game in this present-day urban safari. My two short days in Paris gave me a taste of its cultural heritage, including but not limited to its long history of lawlessness.
Thank you for reading! Your support is much appreciated. Donate now: