Taichung and Taipei, Taiwan
December 30, 2019
Soggy weather greeted us as we emerged from our windowless room in Taichung. We hopped awning to awning until we took shelter at Gao-Bei Milk King. The promise of their specialty papaya milk beckoned us in as much as its warm and dry interior. The cold December rain had no plans of letting up. Our yellow plastic raincoats were drenched and dripping all over Taichung Railway Station. Rain poured on Ki's birthday.
Ki and I were born in the same year. Fifty years later, we spent both our birthdays on trains: mine in Morocco, his in Taiwan. What set out as clueless DIY trips turned out to be a meaningful metaphor. I waxed sentimental on Facebook:
The road is lonely, but it is less so together. We've known each other for a quarter of a century! Here we are @ 50 riding trains, going on adventures, getting lost, finding our way, taking detours, strengthening bonds, making memories, living life! Thank you for sharing the journey with me!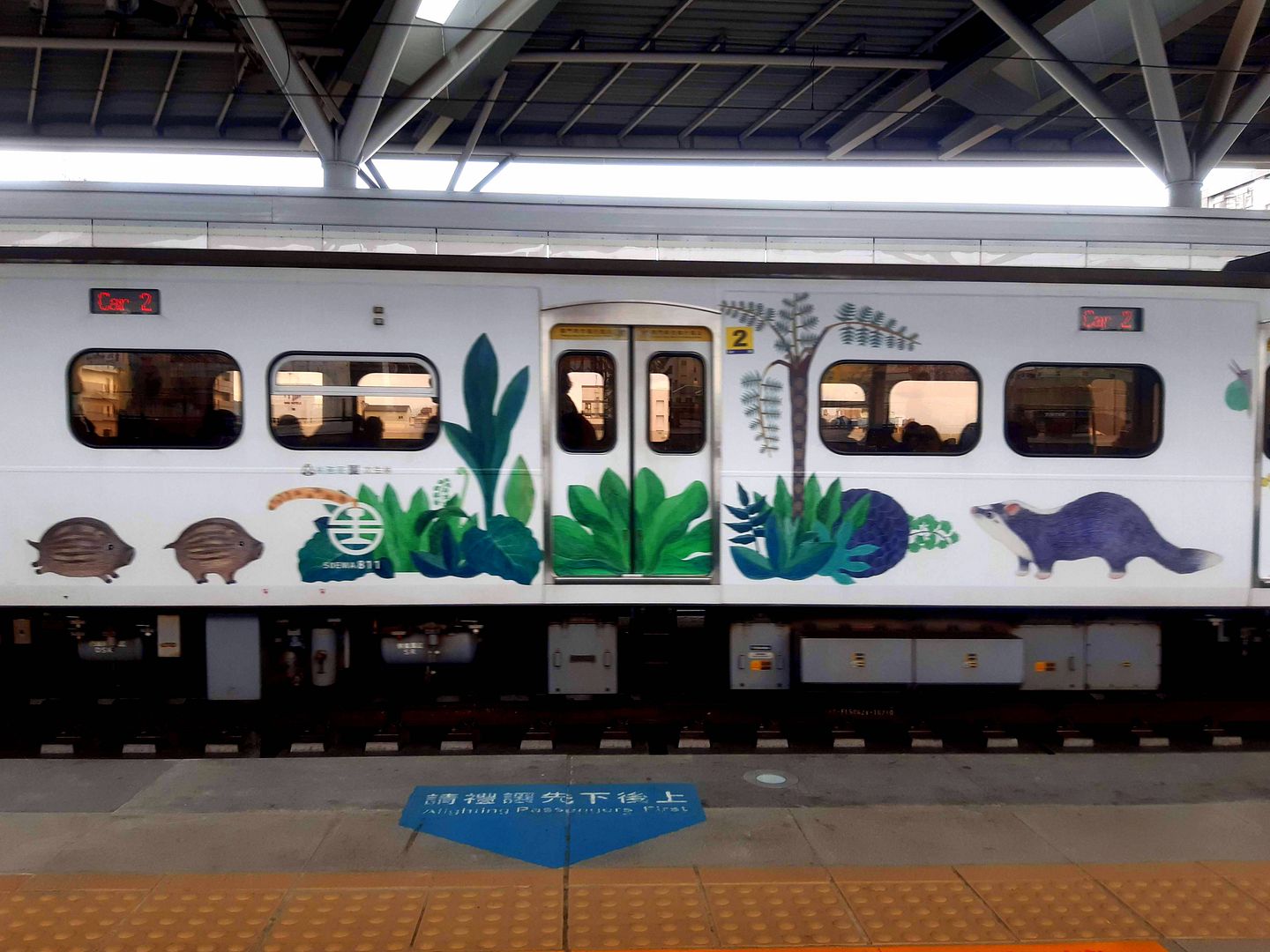 Our transportation of choice was the slow train to Taipei mainly because the station was located downtown, not in the outskirts as the fast train's. But who was I kidding? It was easier on the budget. The ticket staff corrected us though, "Ordinary, not slow." Traveling by coach may have made multiple stops, but it allowed more views of the countryside and small towns. What a treat to see Ki taking it all in with childlike wonder.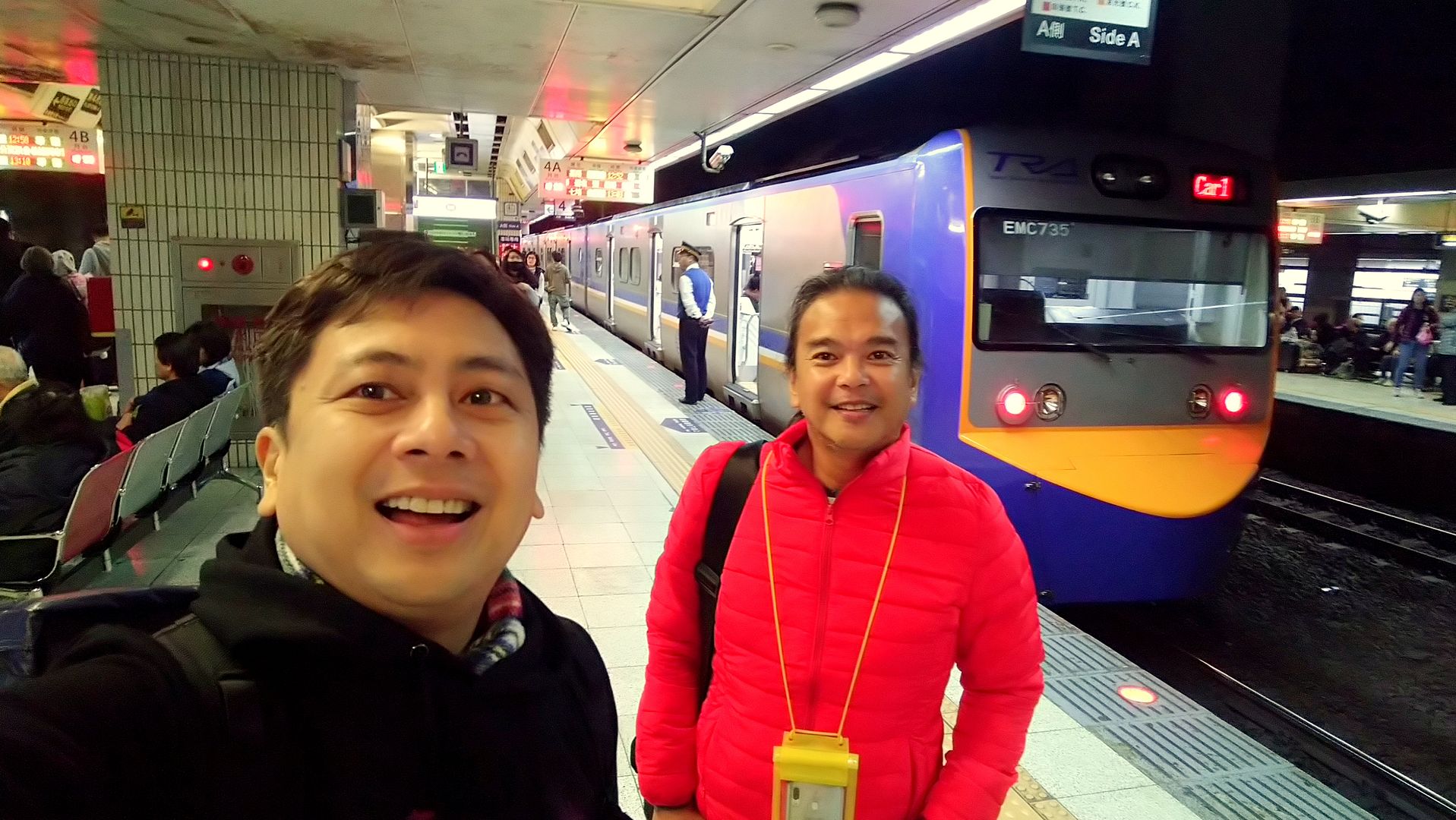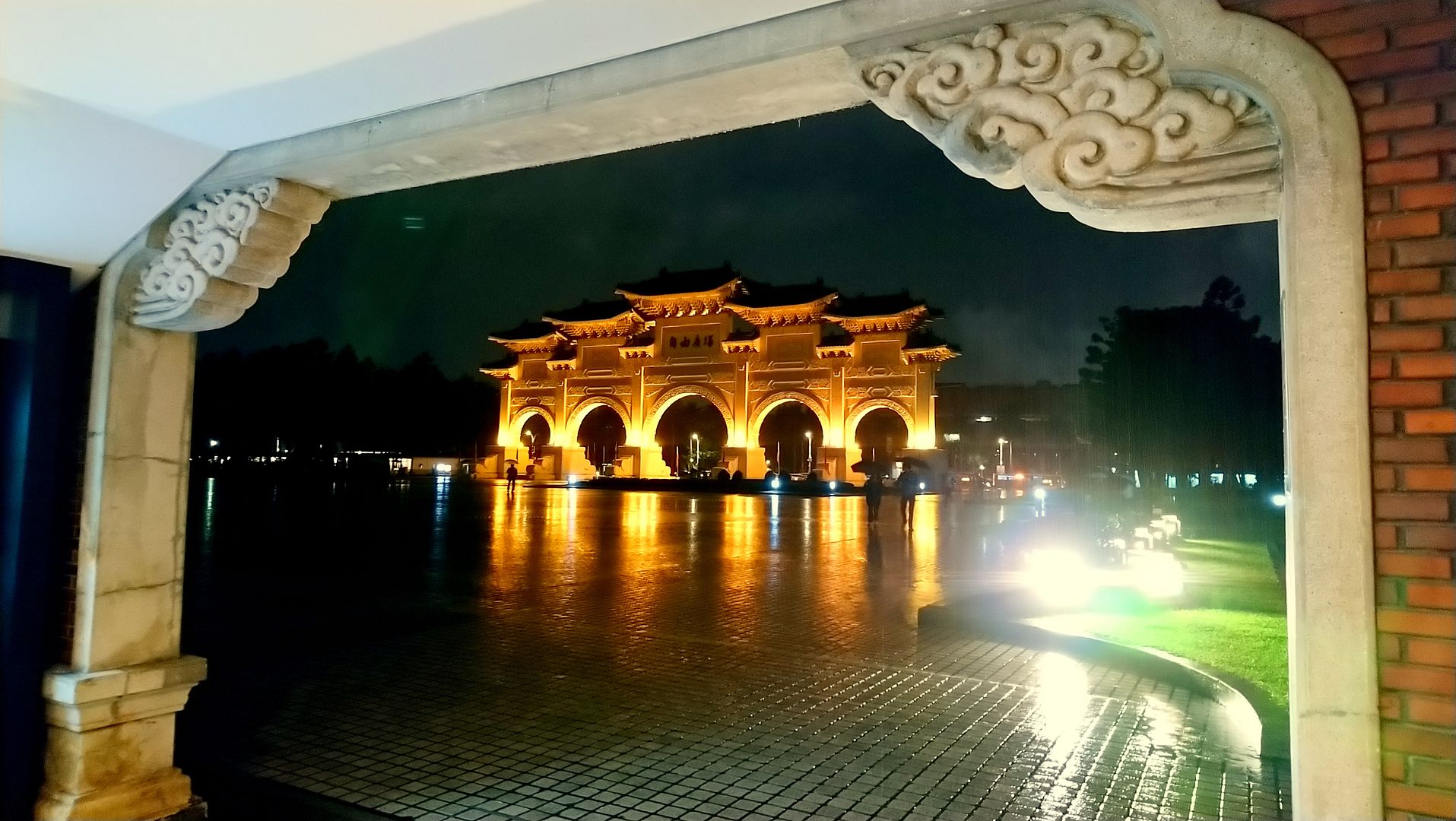 Taipei fared no better than Taichung in the weather department, but holing up in our hostel was out of the question. Our OOTD of plastic raincoat and Spartan rubber slippers saved the rainy day. Bare feet could be wiped dry, mesh sneakers not so. Outfitted accordingly, we took on the pouring rain on our evening promenade that turned into a kind of Ice Capades across wide and open Liberty Square.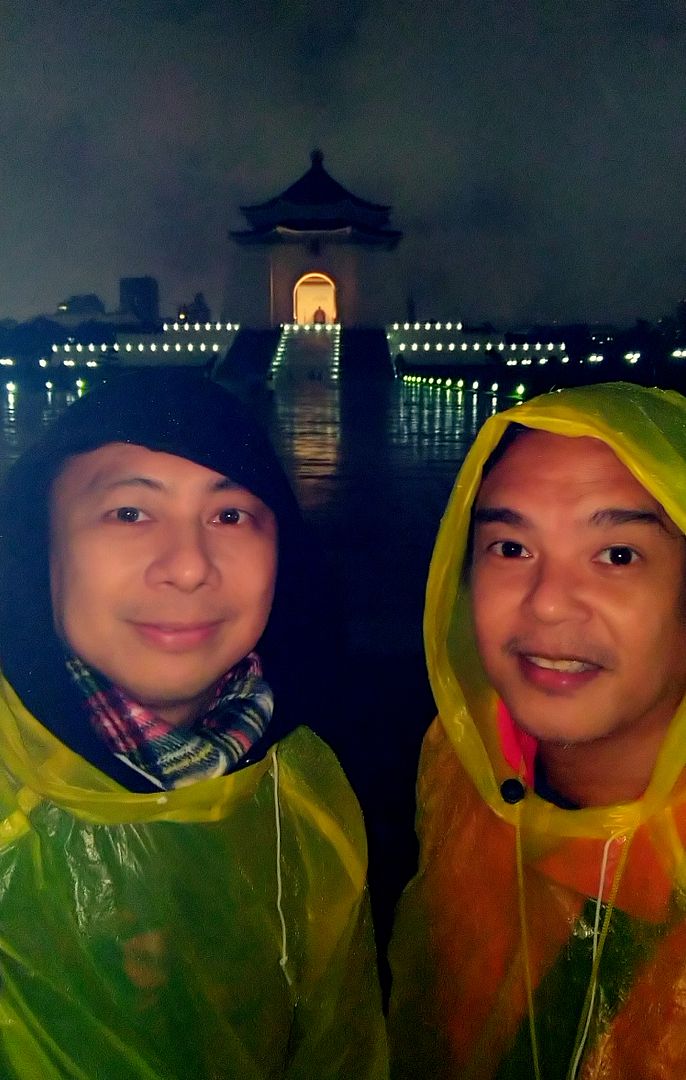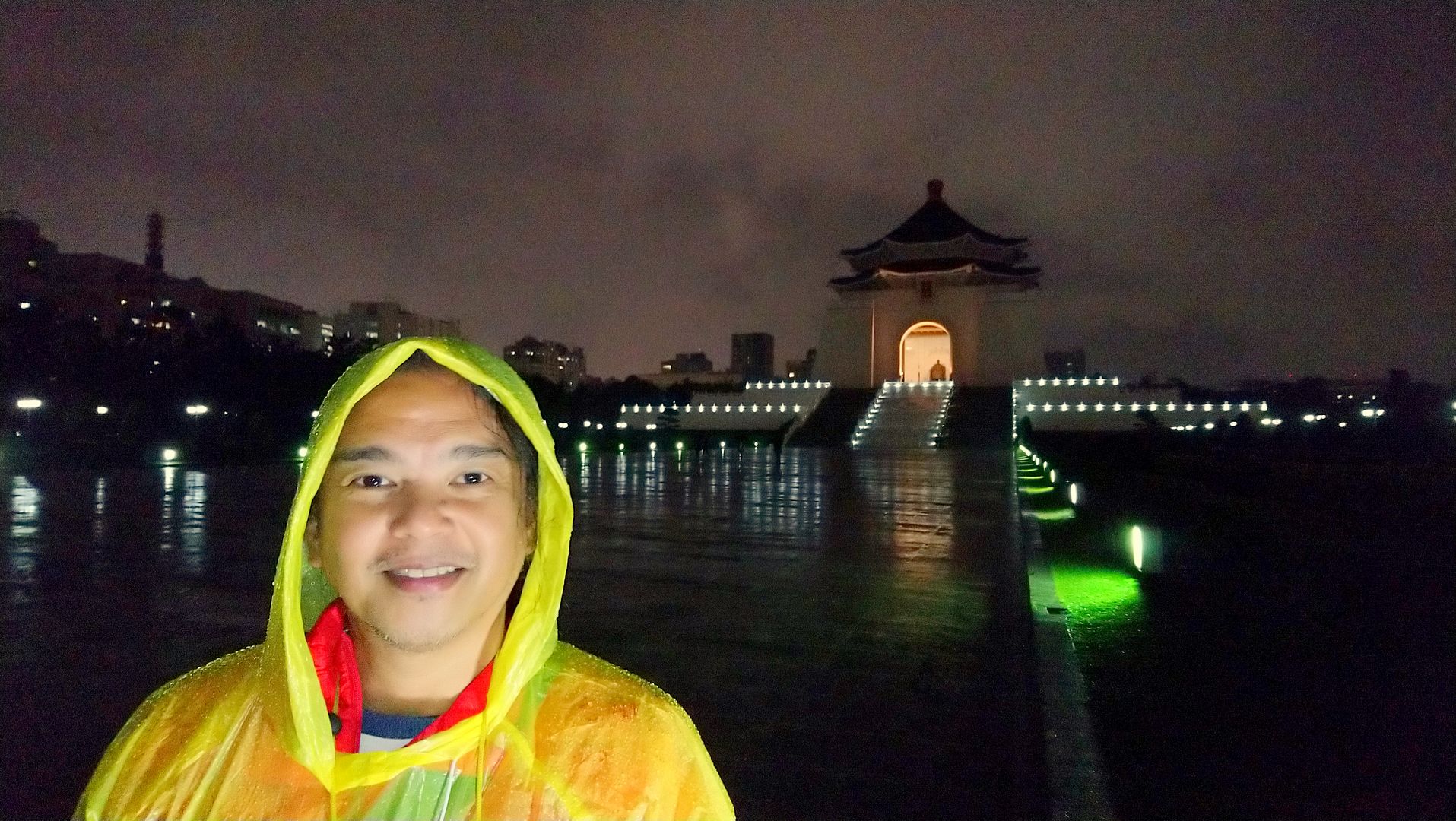 Shimmering reflections on puddles lighted our way toward Lampe Berger-shaped Chiang Kai-shek Memorial Hall at the square's extreme end. We staggered up the slippery flight of stairs and reached the top at the eleventh hour. A minute or so before 6 PM, the massive sliding doors slowly came together. We had our moment – literally – with the statue of Chiang Kai-shek. Ki considered it dramatic luck that we caught the closing curtain.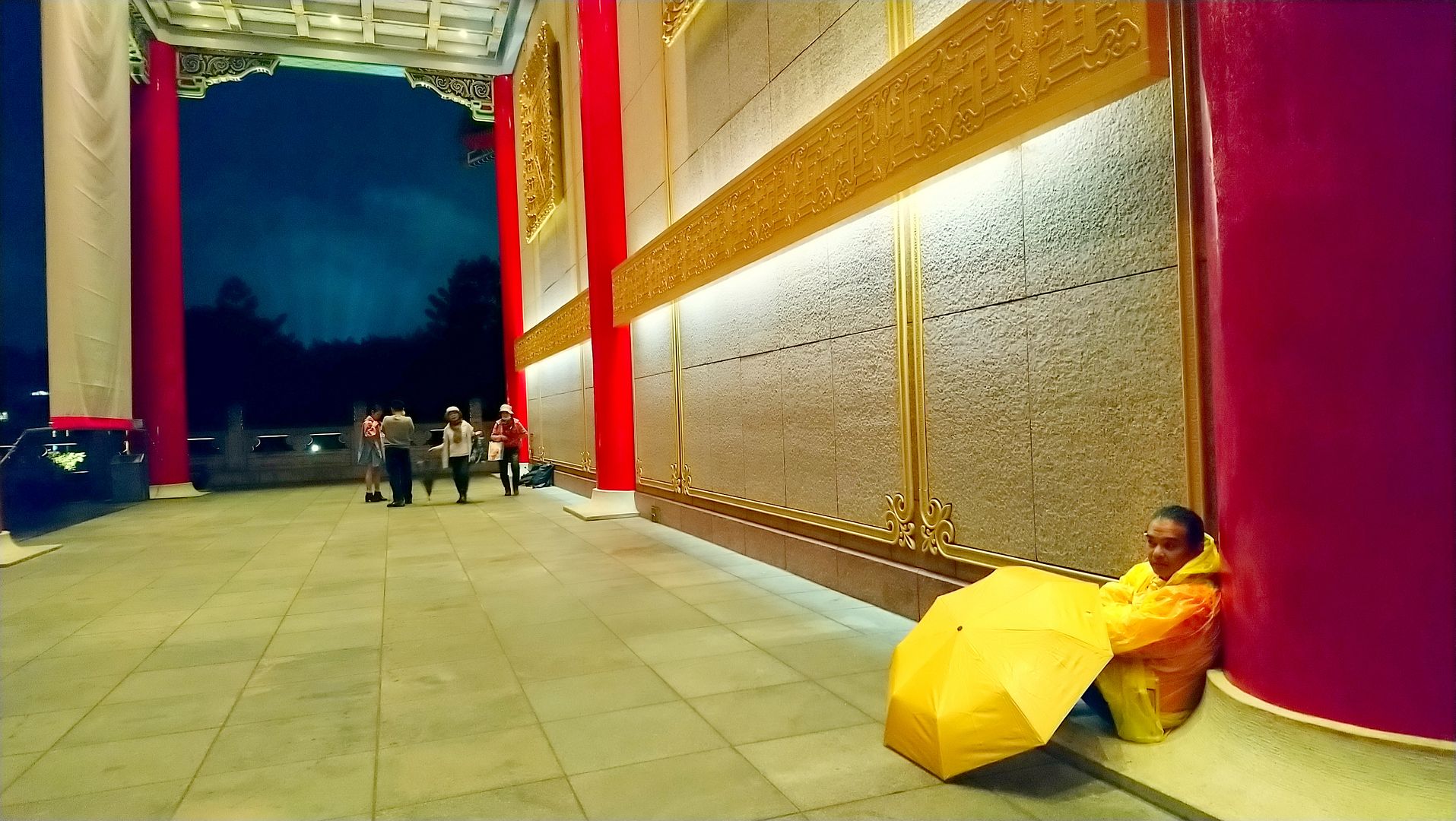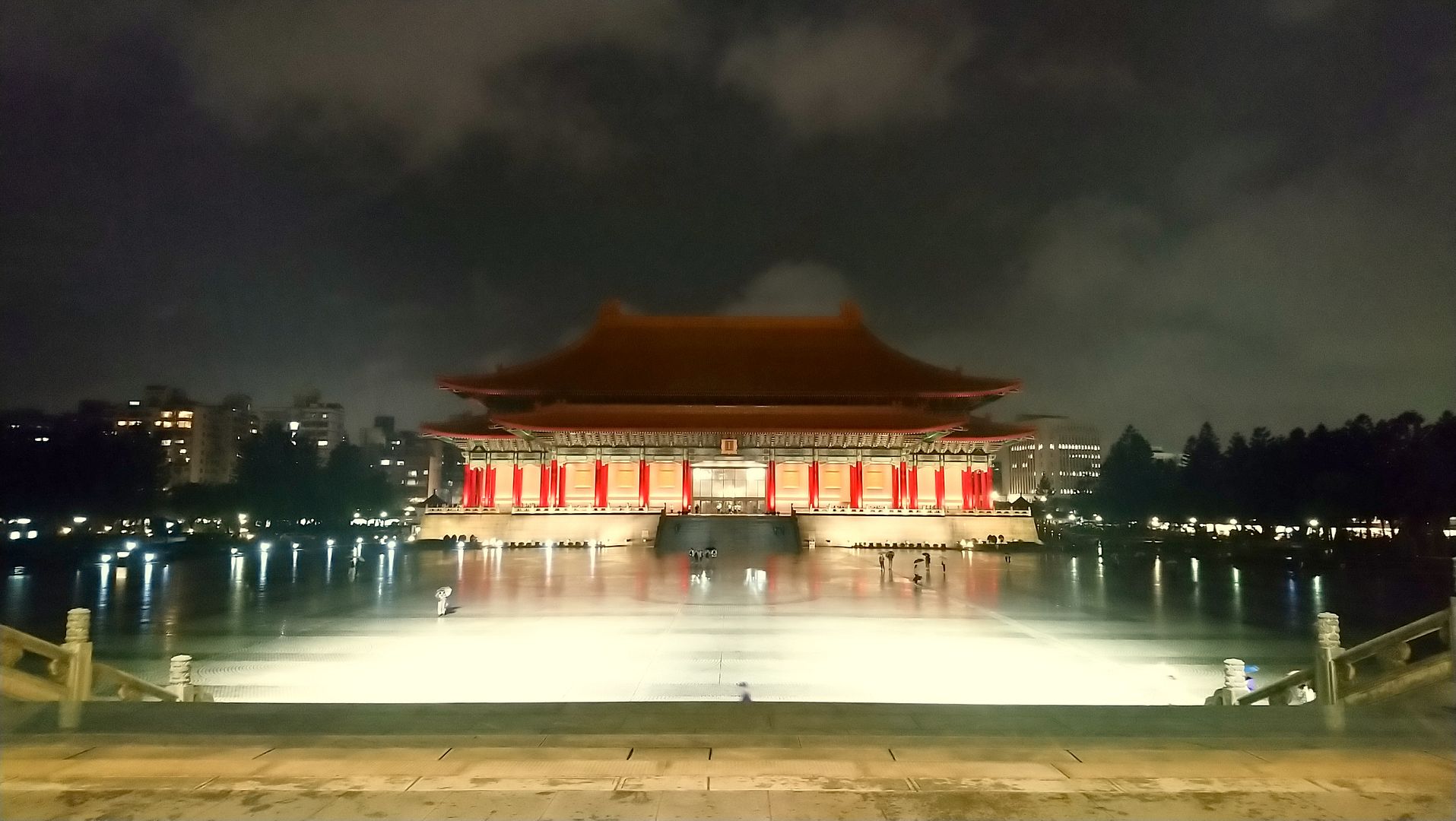 Pelted by relentless rain, we skidded through the square to the National Concert Hall on our way back to the subway station. Under the upturned pagoda awning was invitingly dry and we hunkered down by a red pillar, which proved to be a vantage point for people-watching. Soon, well-heeled concertgoers started trickling in, but they all paid us no mind.
By the time we moved down to the ground level, what seemed to be a sorority initiation rite was underway. It was such a welcome change to see local people going about their business in an otherwise tourist-heavy place as this.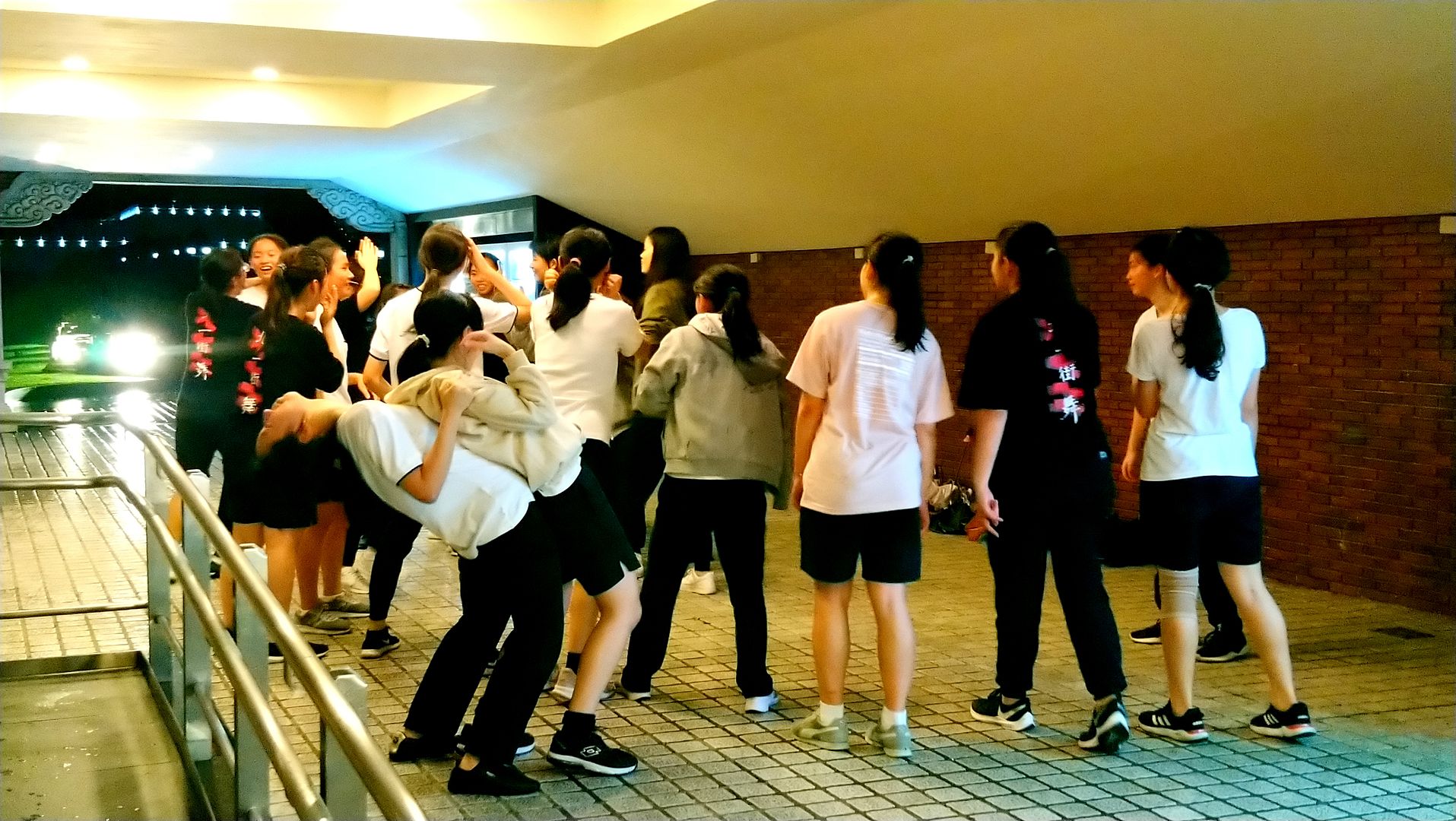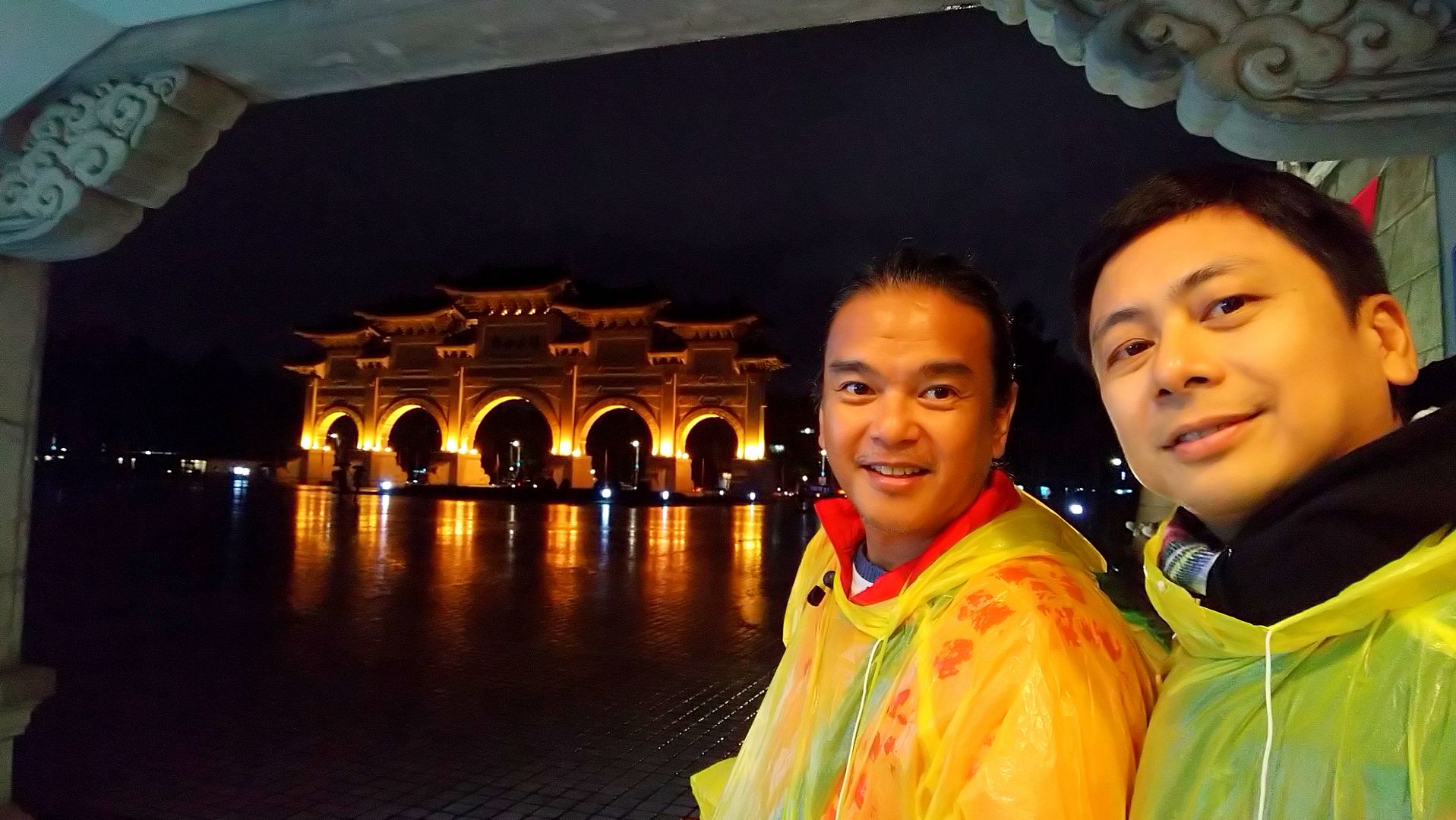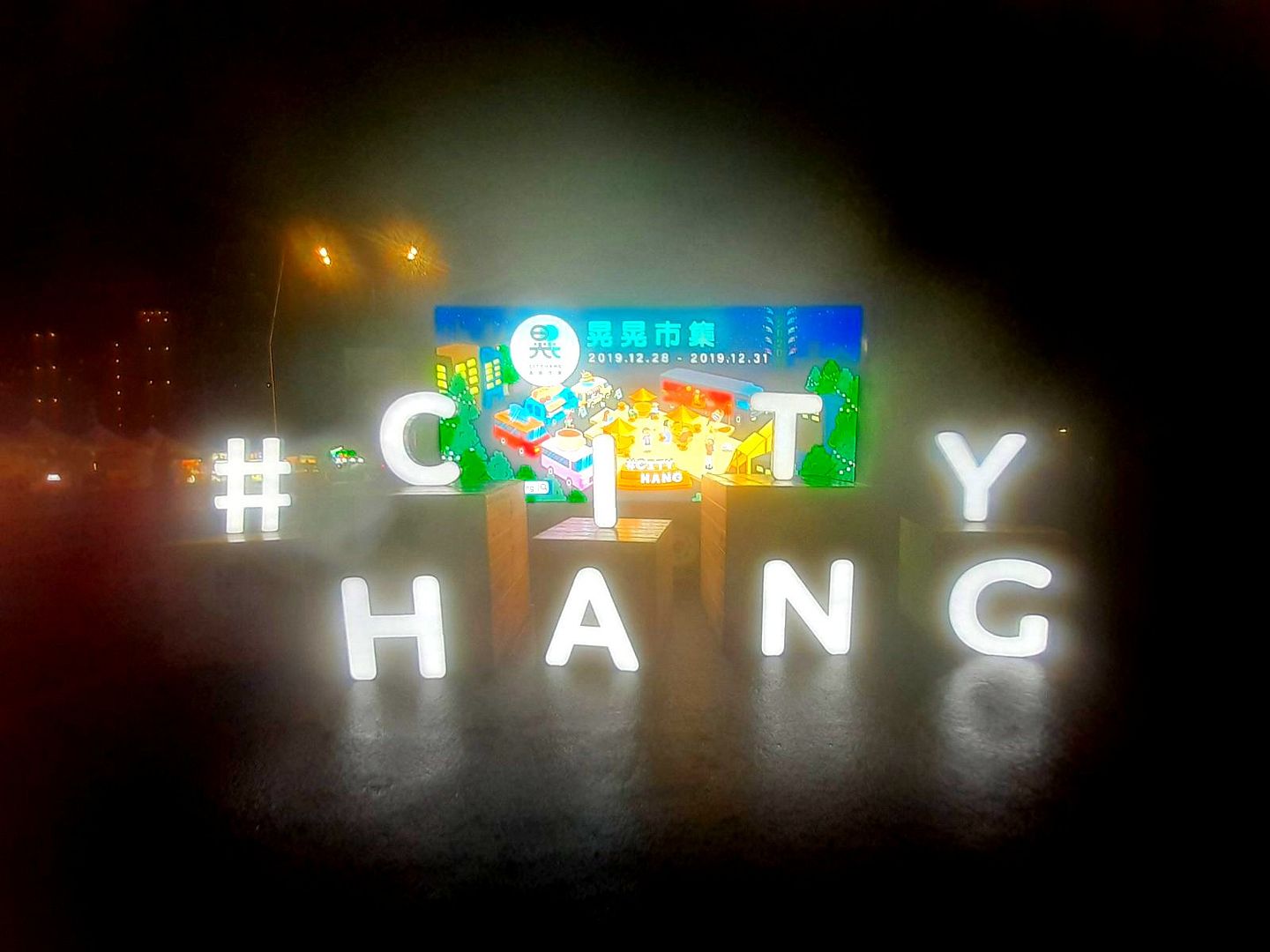 Dinner consisted exclusively of street food from an open-air food festival we chanced on near Taipei 101. Only a handful of stalls were still open, some about to pack up. We were the last customers for the rainy night.
And so it came to pass that Ki's 50th birthday was wet and wildly spur of the moment. I was nearly apologetic for the less than ideal circumstances. Rain literally dampened the celebration, but the same rain brought spontaneous and unique experiences. Ki posted this caption on Facebook:
My 50th birthday was raining with happiness.

Richmond Butalid
I was drenched with gratitude. This paradox put so beautifully in this song came to mind:
The same sun that melts the wax can harden clay
And the same rain that drowns the rat will grow the hay
And the mighty wind that knocks us down
If we lean into it
Will drive our fears away.

Amy Grant / Tom Hemby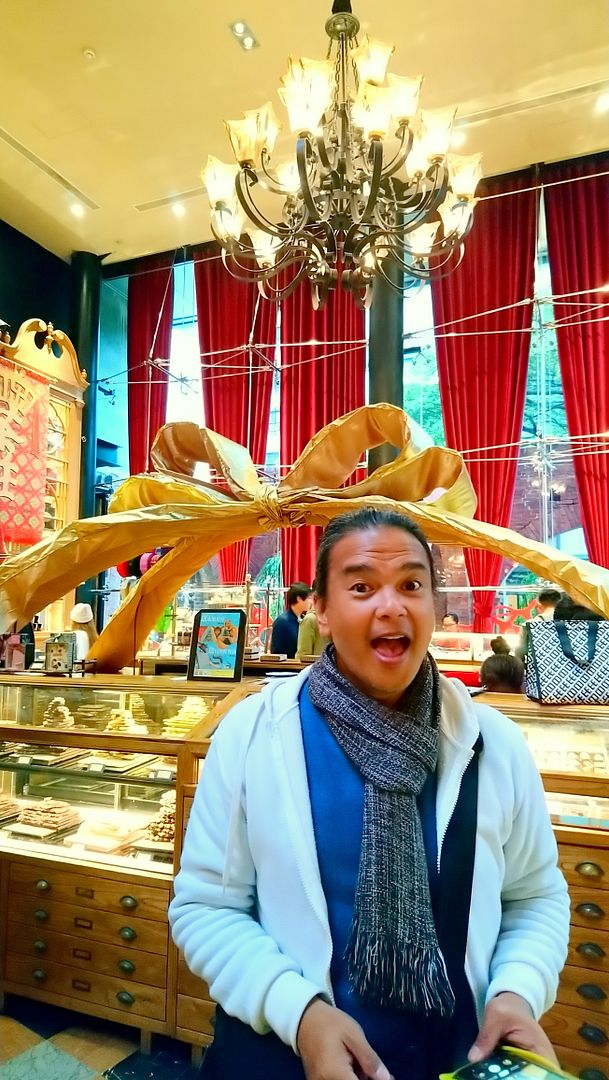 ****
This post is dedicated to Richmond Absin Butalid.
Thank you for reading! Your support is much appreciated. Donate now: