Tangier, Morocco
June 21, 2019
Avec le temps tout s'évanouit.

Léo Ferré
"With time everything vanishes." Even an entire civilization all but disappeared with scant remnants of its existence. To the unfamiliar, Moroccan history may seem to have begun with the Islamic conquest. That we would stumble on a pillaged Phoenician site in Tangier was the cherry on top – of Marshan Plateau which Ki and I unknowingly explored on foot.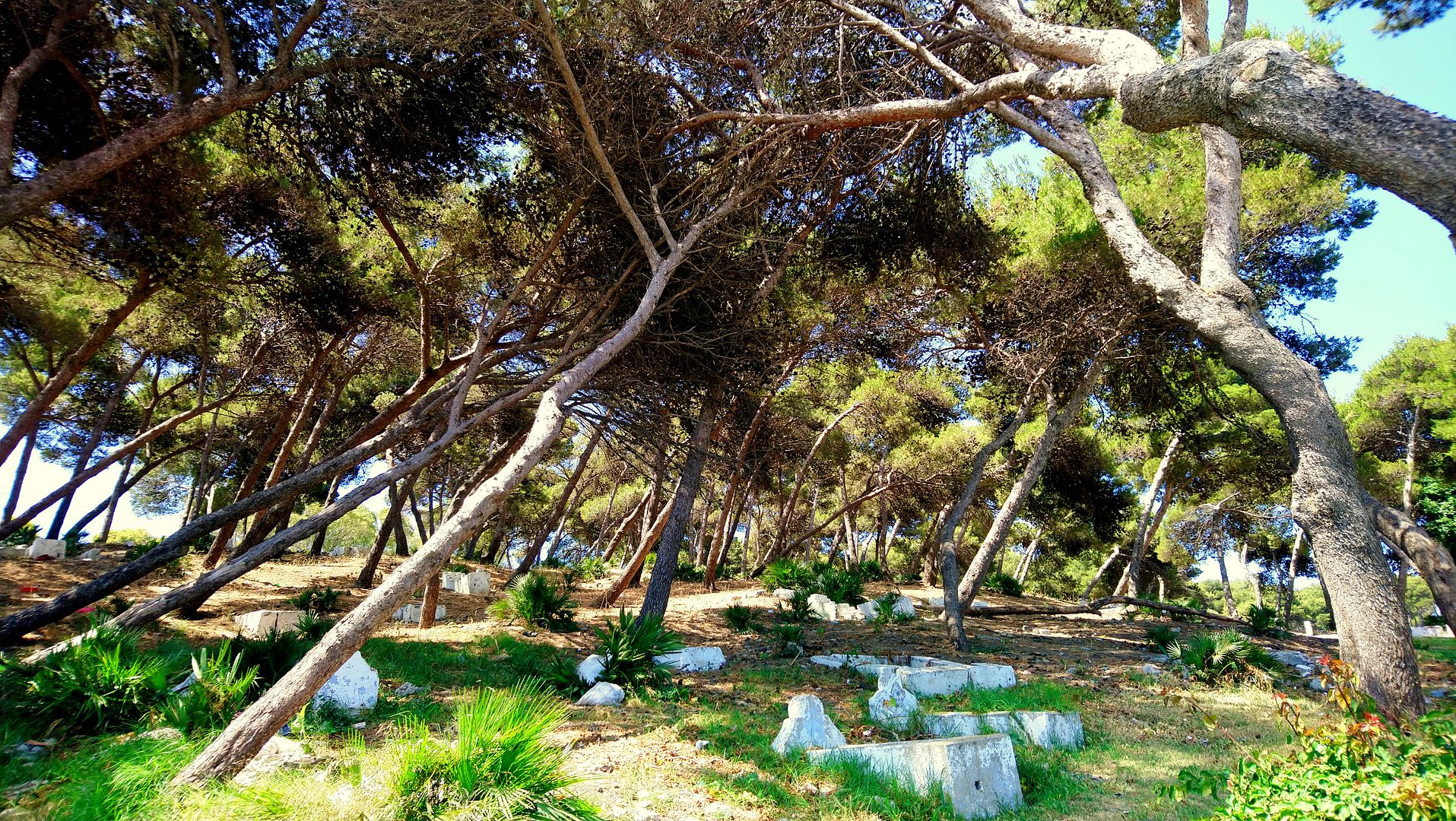 A foreshadowing of our day's finds presented itself early on in our urban trek. On a roadside slope, overgrown weeds partially concealed a few headstones, nameless and forgotten. Eucalyptus trees protectively bent over the abandoned cemetery. The view evoked the deathly images and sensibilities of a Van Gogh painting: contorted trees casting dappled shadows.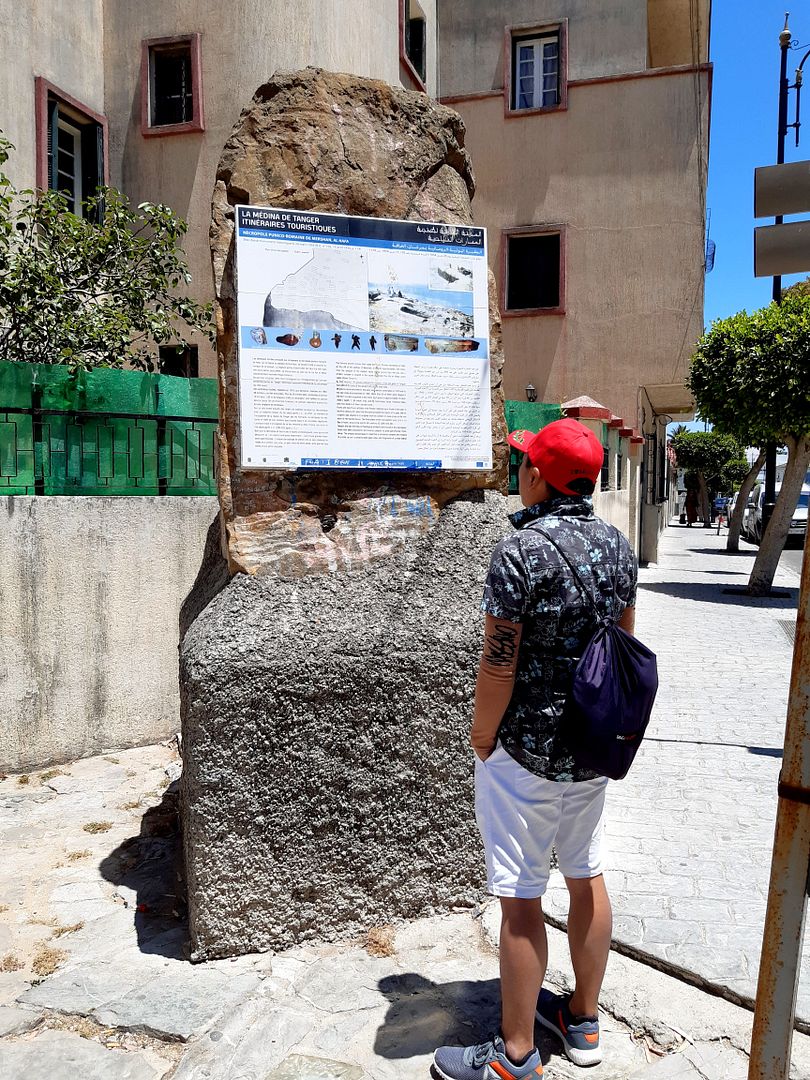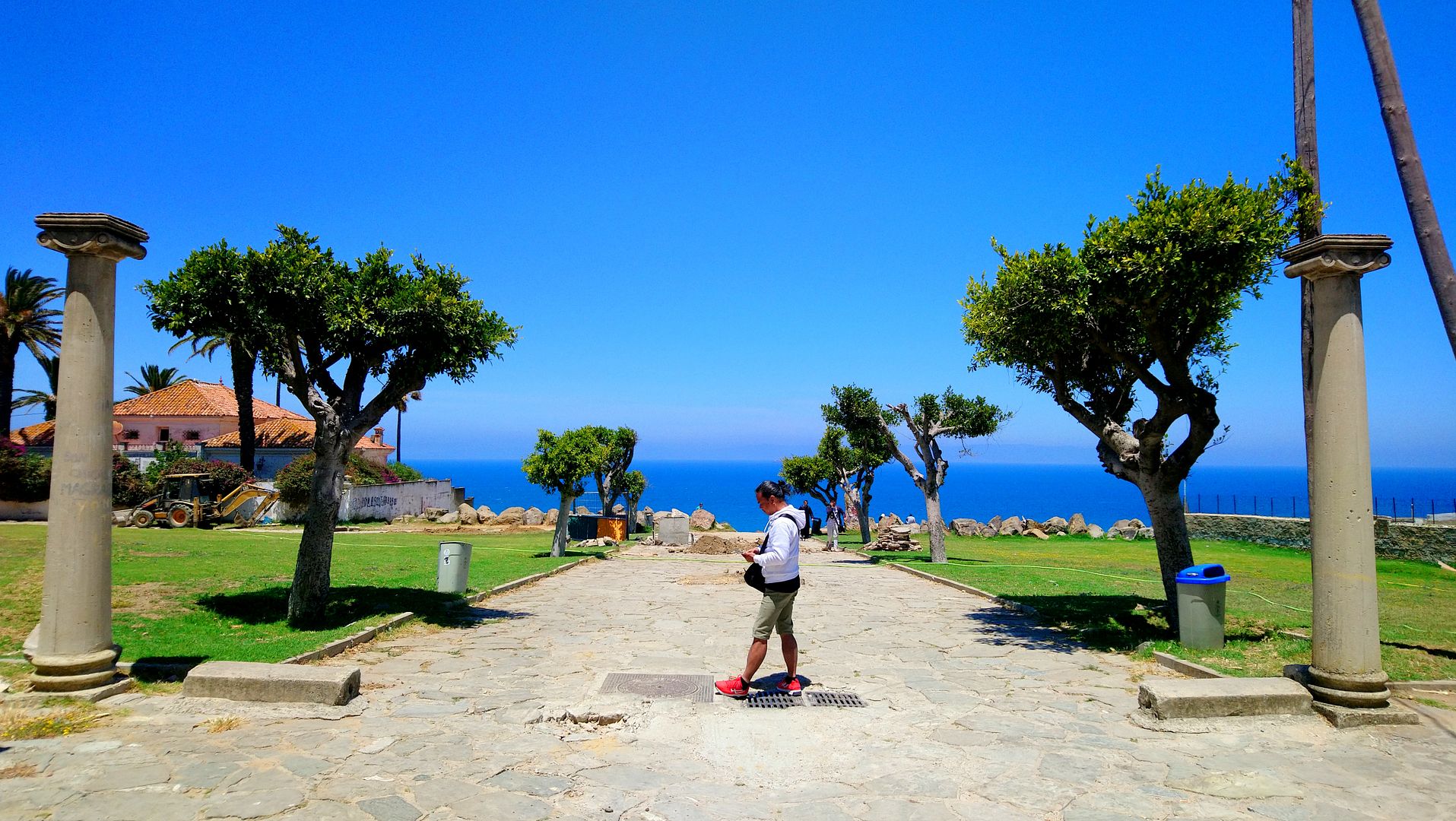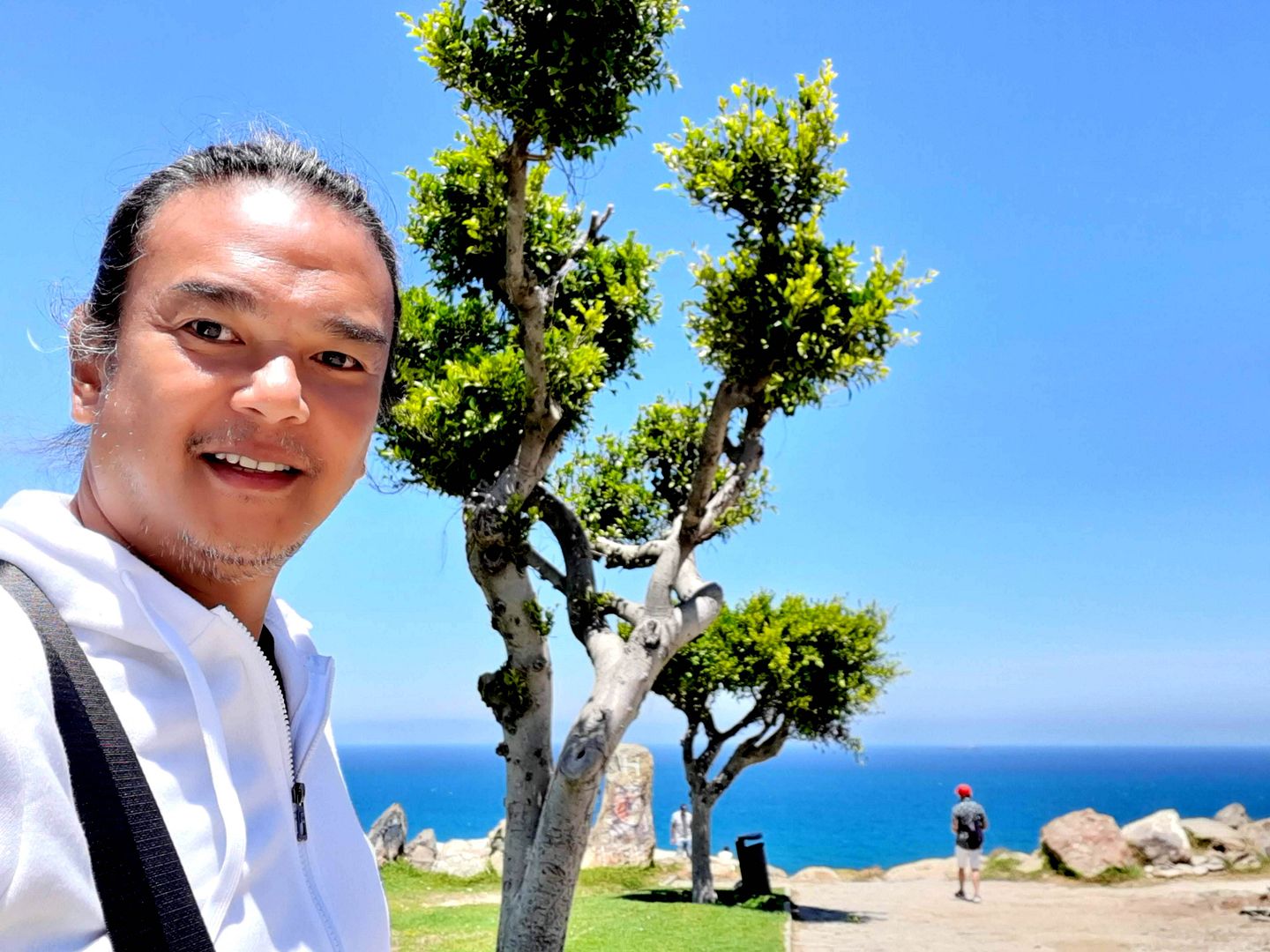 Unencumbered by a checkbox itinerary, our aimless steps led to a paved footpath flanked by a pair of Tuscan columns that, from our point of view, stood like the Pillars of Hercules in the Spanish coat of arms. Beyond the free-standing columns lay the impossibly azure Strait of Gibraltar, after all, and the horizon outlined by hazy Andalusian mountains. Europe was tantalizingly within reach from this shore of Africa.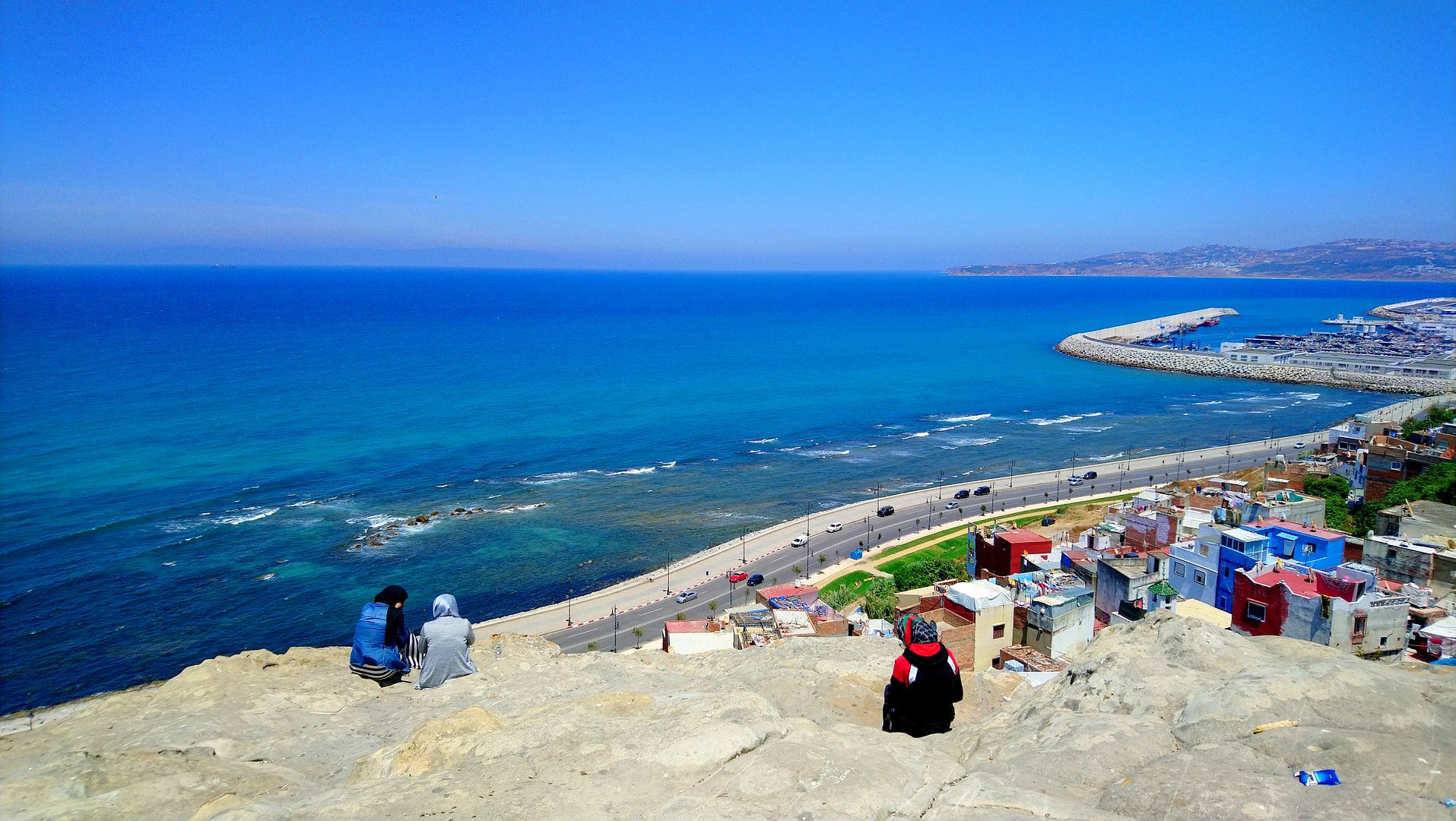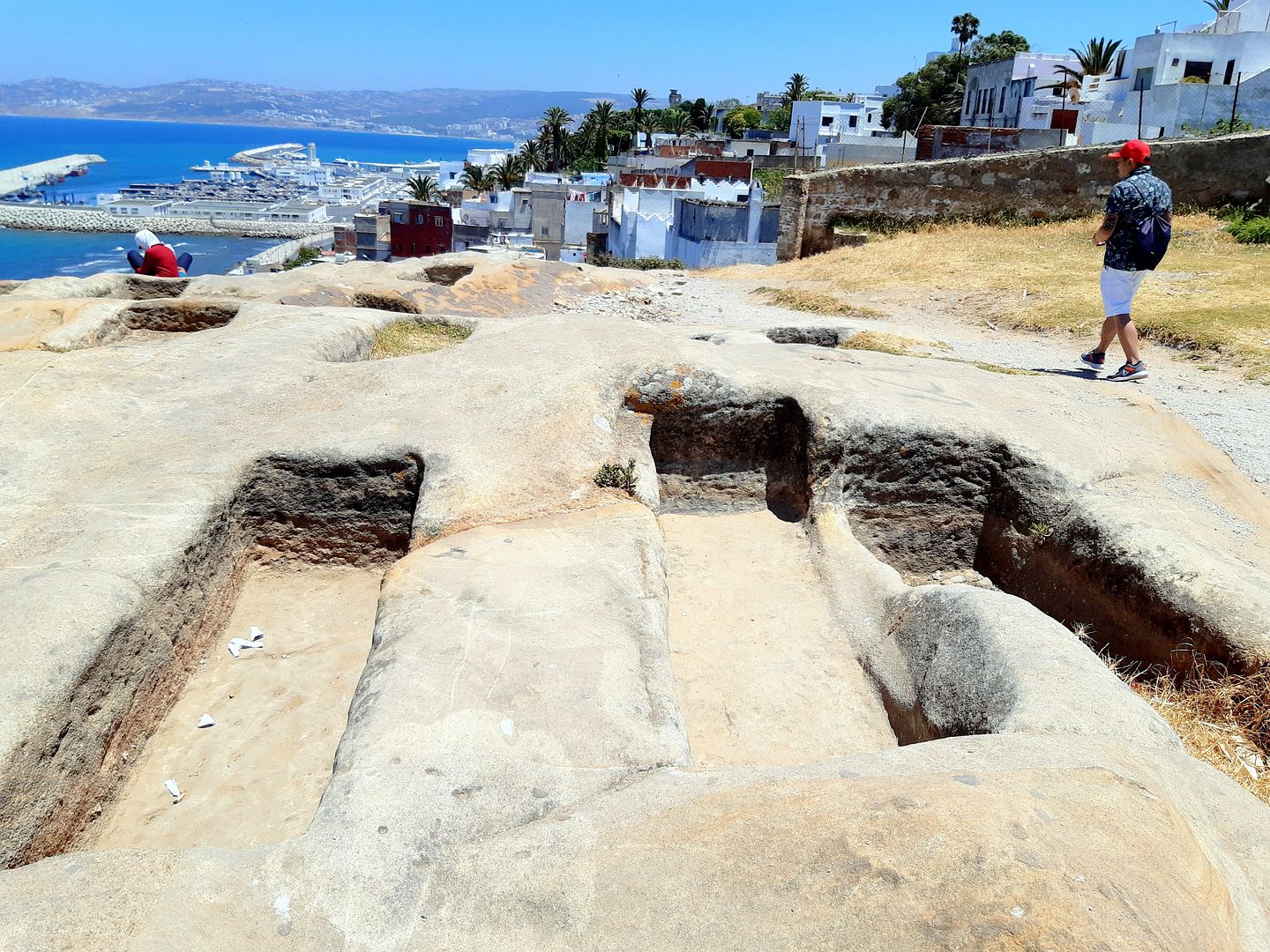 The columns ushered us into the lost centuries before the Islamization of Morocco. Phoenicians established a trading port on these shores more than 2,000 years ago, which, as every major Mediterranean city, fell into the hands of the Romans in the first century AD. The remains of this civilization lay on the Punic-Roman Necropolis of Hafa crowning the cliff of Marshan Plateau. The remaining rock-hewn graves had been cleaned out by the Romans leaving empty rectangular holes on the rocky ground.
The age-old grave site was simply marked by a commemorative plaque, nothing more. Unfenced and accessible, the scenic location had become a park for local people basking in the summer sun and cooling off in the Mediterranean breeze. We took their cue and settled comfortably on the graves whose dead occupants were long gone and most likely interred in glass cases in museums or private collections. Ki drew the line at dangling our legs over the cliff dropping down steeply to the coast-tracing boulevard, Route de la Plage Merkala.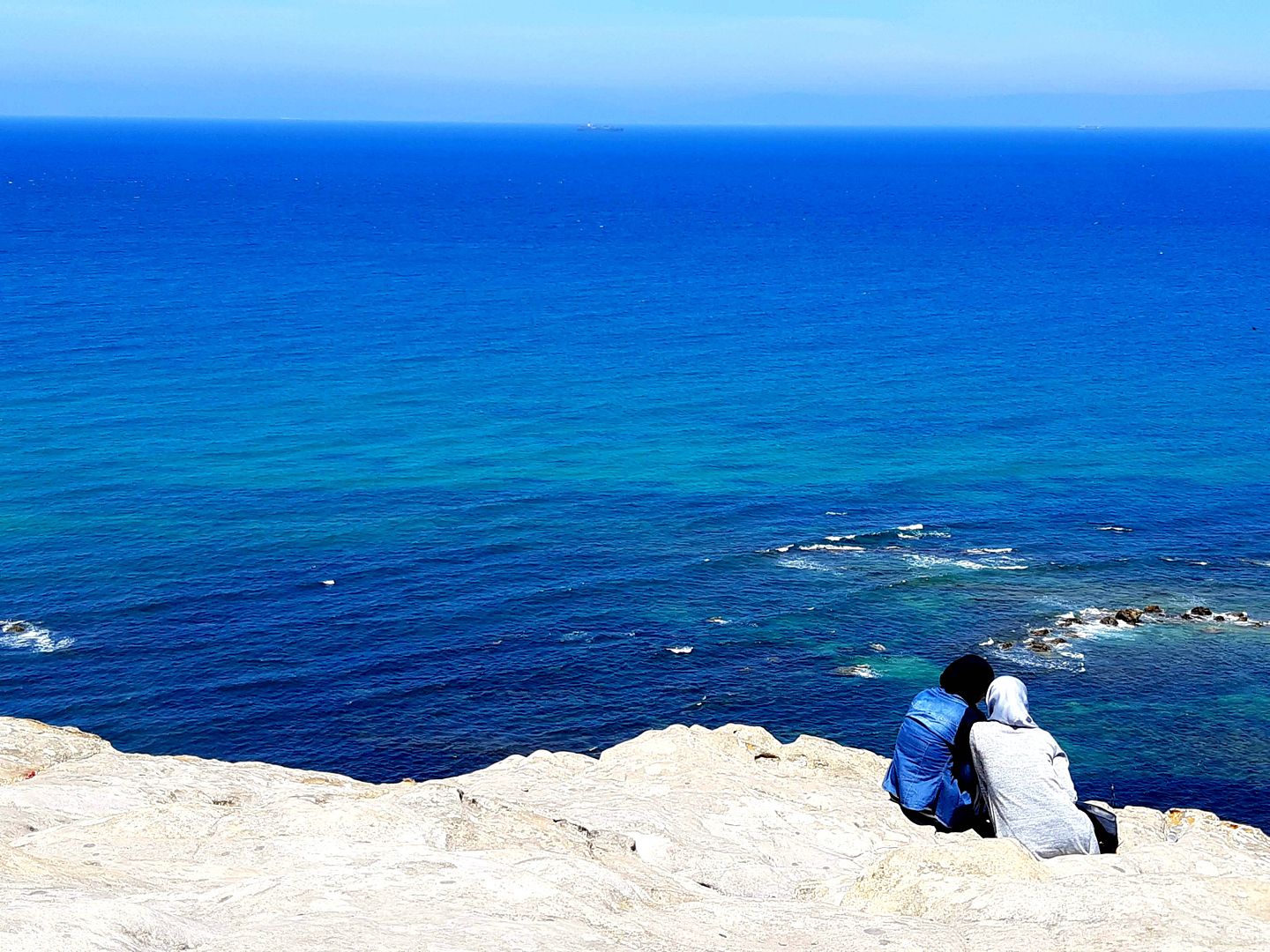 Humans shared the windy perch with a flock of seagulls. Squawking mid-flight as if staking claim on their space, they had the effortless command of sky and sea. I would later tell a Moroccan man how I found seagulls dominating all Mediterranean coasts I had been to. He incredulously replied, "Wherever the sea was found, seagulls were found." I said that I lived in an island country that did not harbor these birds, a fact that shocked him.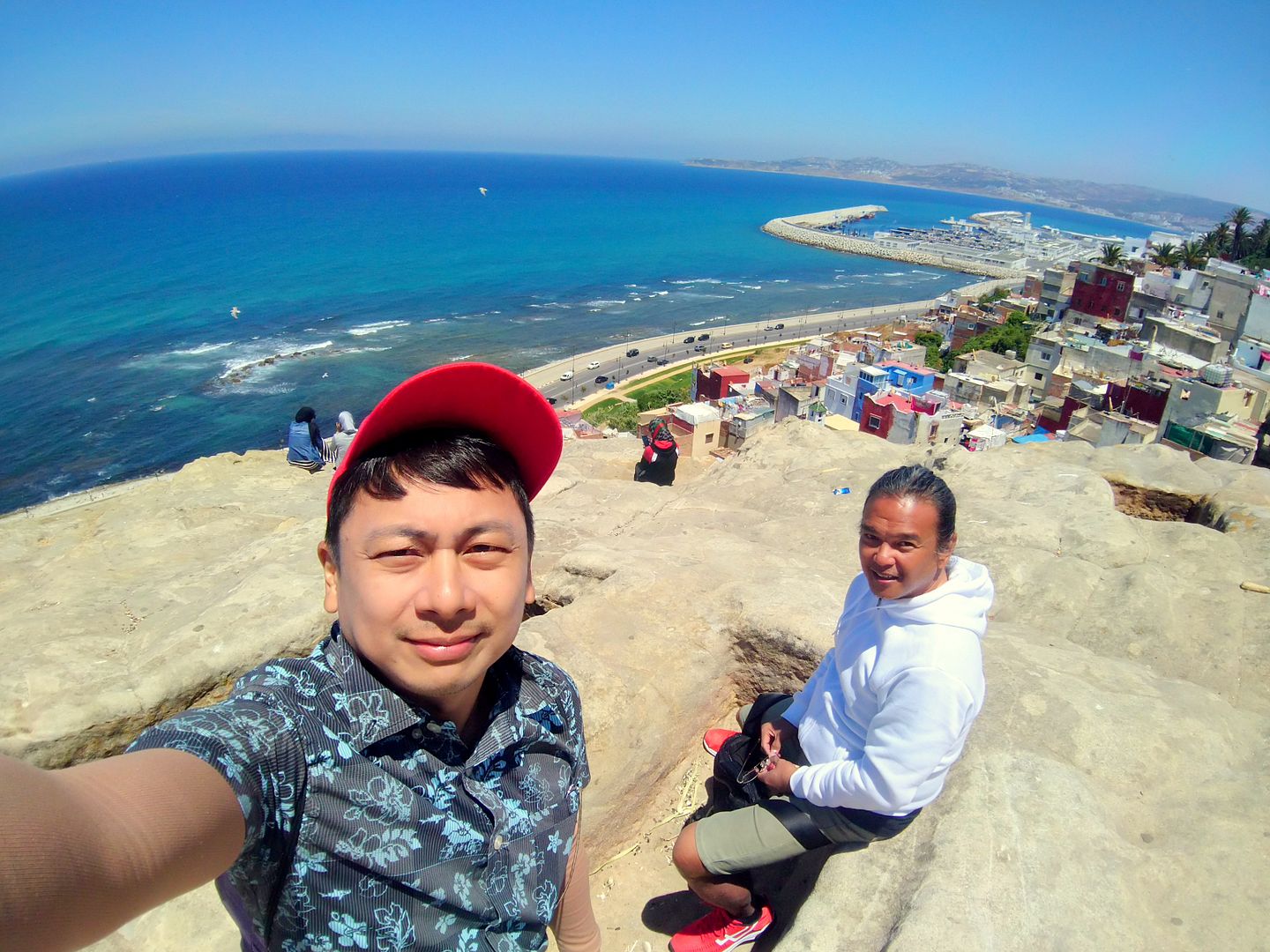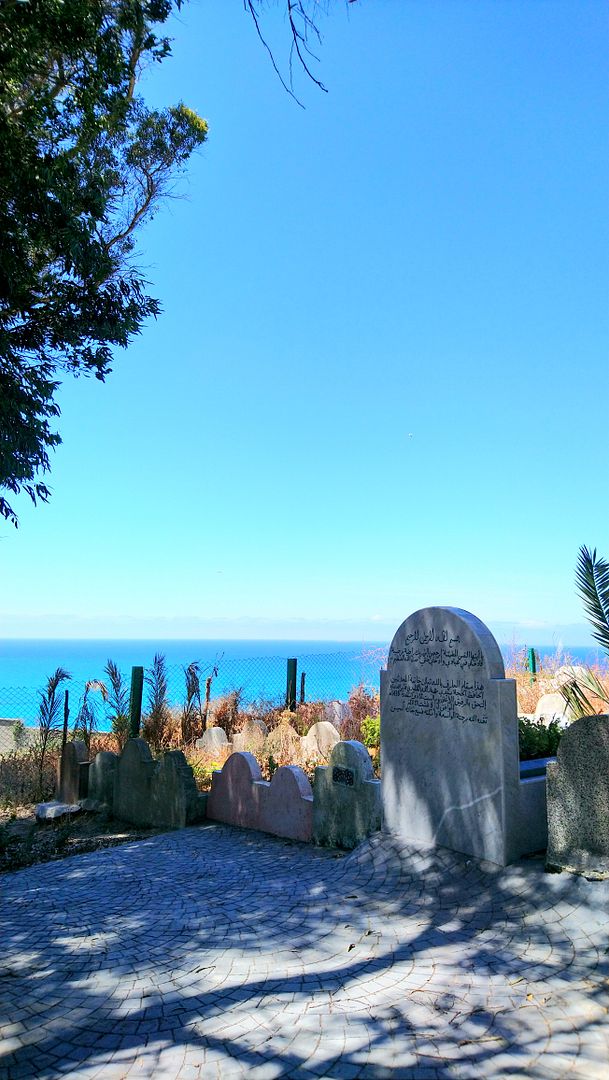 A few blocks on, Ki and I walked past a gate which, at double take, was an entrance to a present-day cemetery. Unsure how local Muslims regarded their burial ground, I wasn't keen on going into Marshan Cemetery, surely absent in any tour group's itinerary. Ki's curiosity won over my savoir faire. The elderly cemetery caretaker didn't bother to notice a pair of tourists taking photos at an unlikely place for selfies. We moseyed on down a winding footpath across dense rows of headstones, some newly painted, others untended. Ki would stop to shoot some weeds, one of which he sniffed out to be aromatic and picked a stalk to scent his man purse.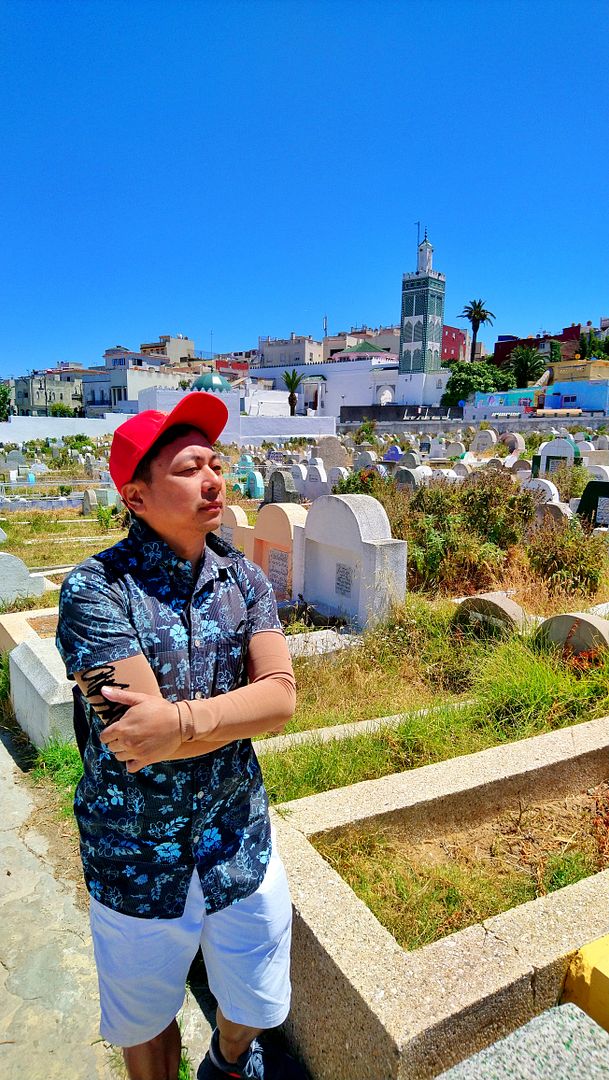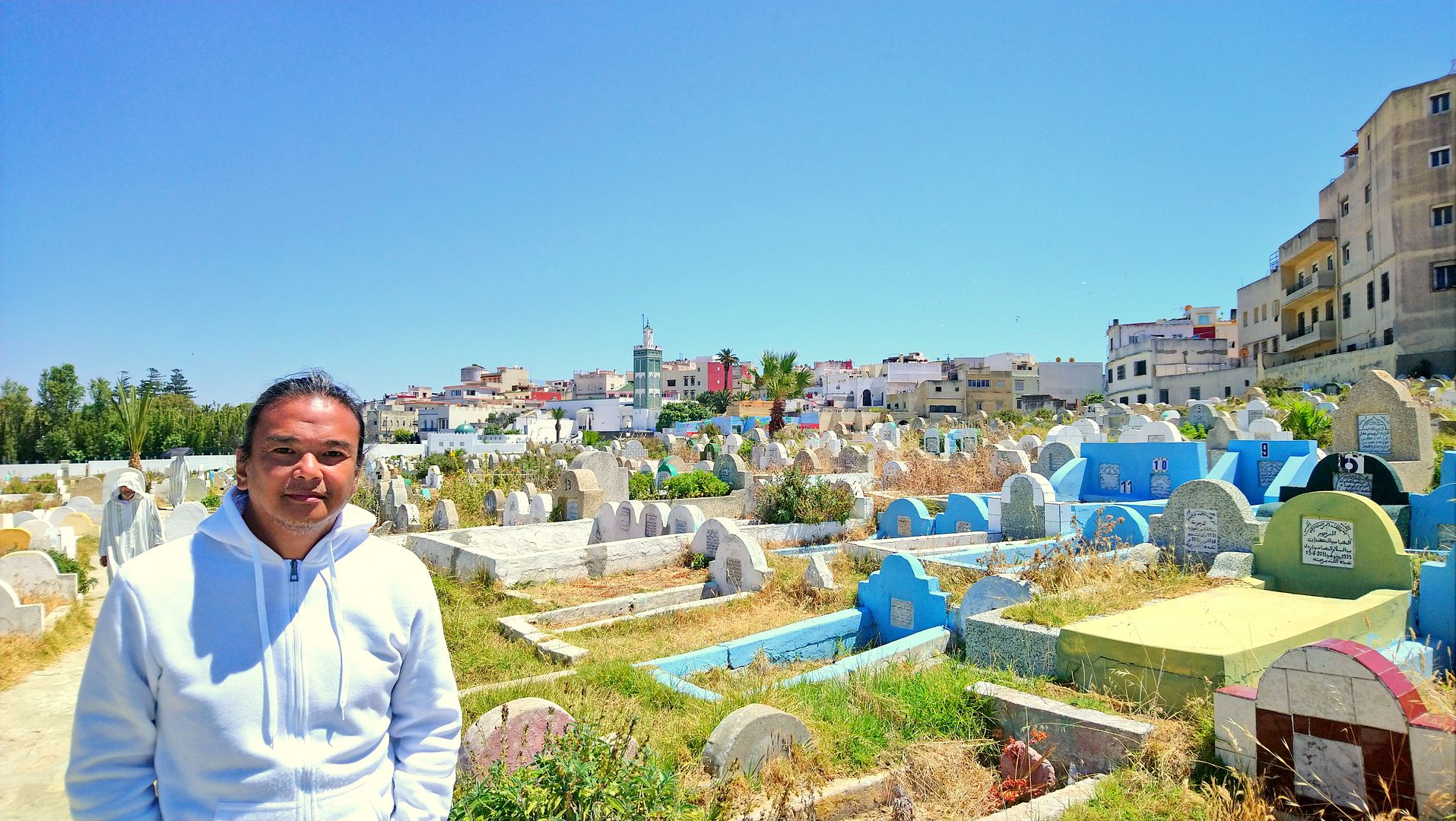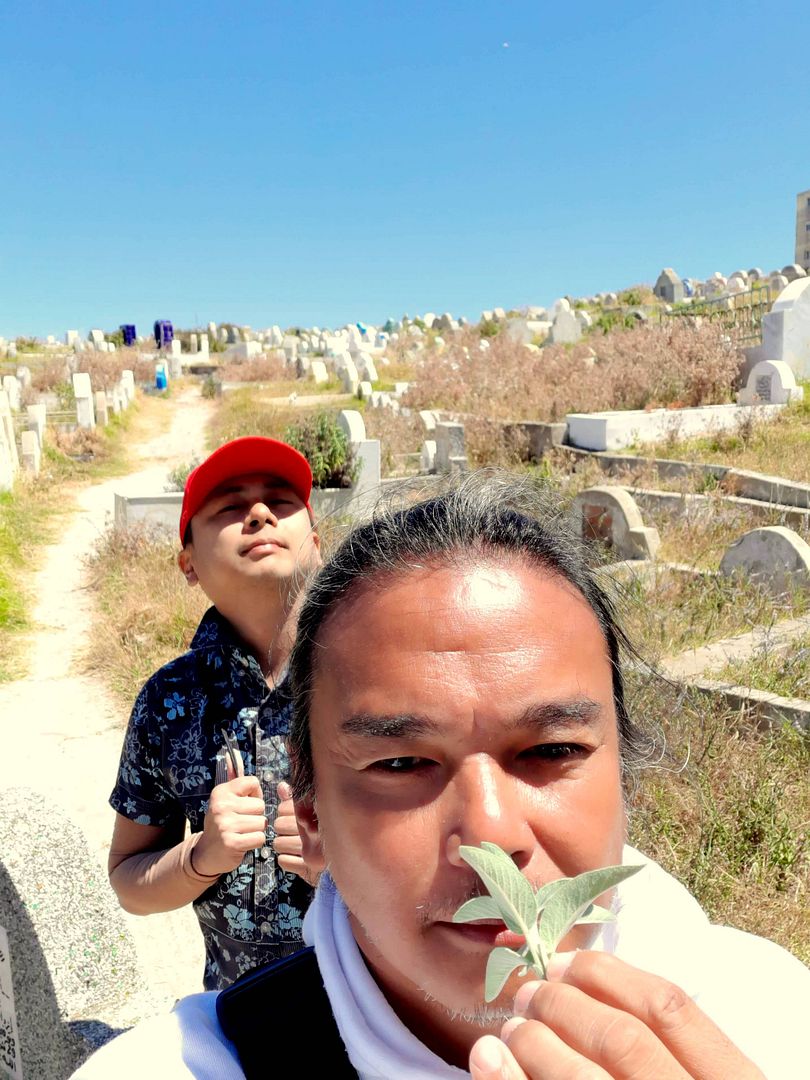 Crosses and statues of angels and saints were conspicuous in their absence. For a first-time visitor to an Islamic cemetery, it felt strange to see only half-moon headstones bearing modest markers. They varied in height and color, some were box-shaped while others hollow like a plant box, but generally uniform in appearance, imbuing death with a sense of equality.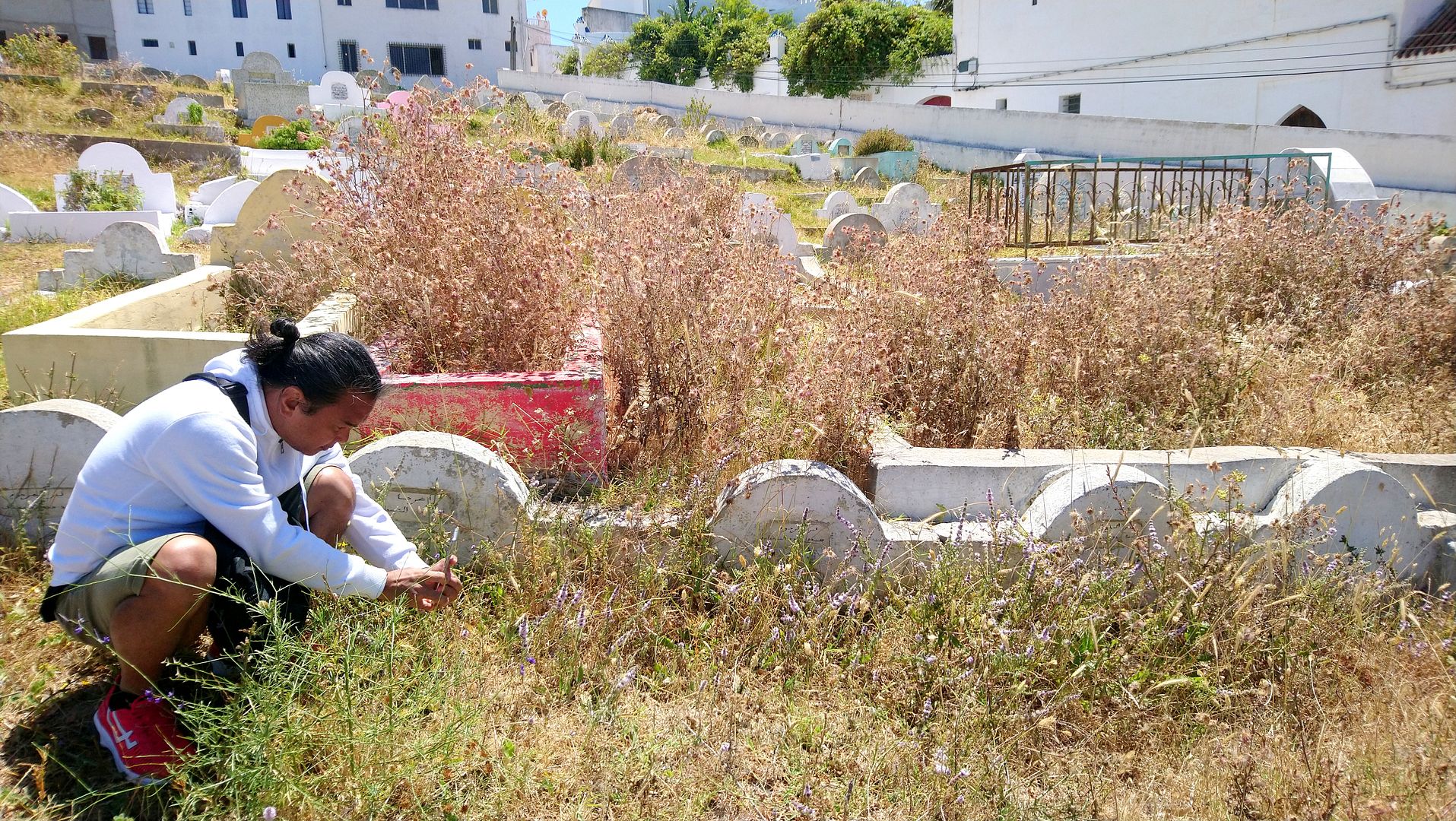 We exited the cemetery at the back where the footpath merged with a narrow alley. Ruins of a wall stood crumbling by the road. This time no information was put up. Was it part of the ramparts that delimited ancient Tangier? We would never know. Random ruins literally littered the landscape of Morocco.
Groups of men clutching folded towels continued down the steep alley apparently leading to the coast. We didn't feel comfortable finding ourselves deep into an unfamiliar inner community. We pivoted back to the main street.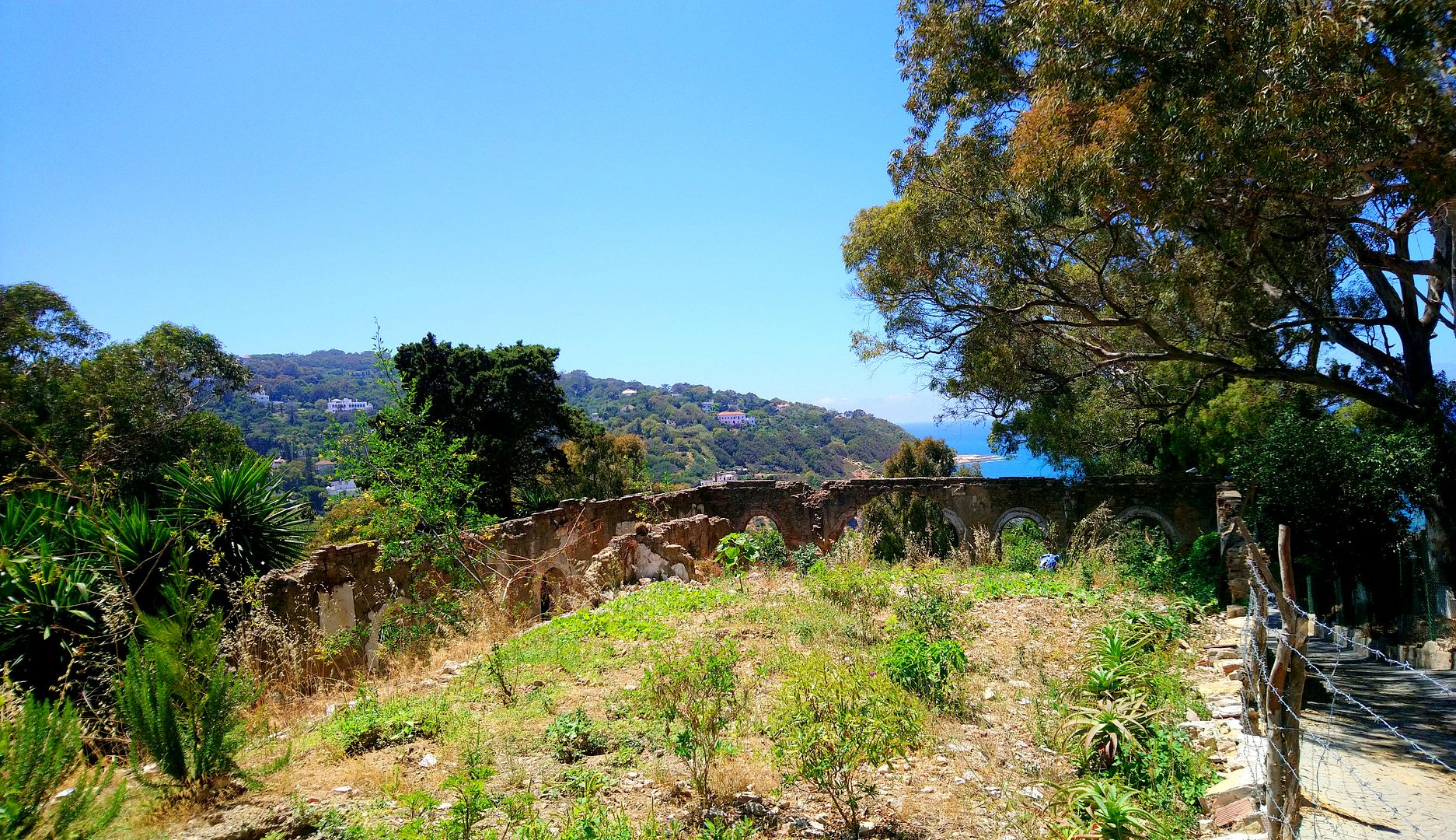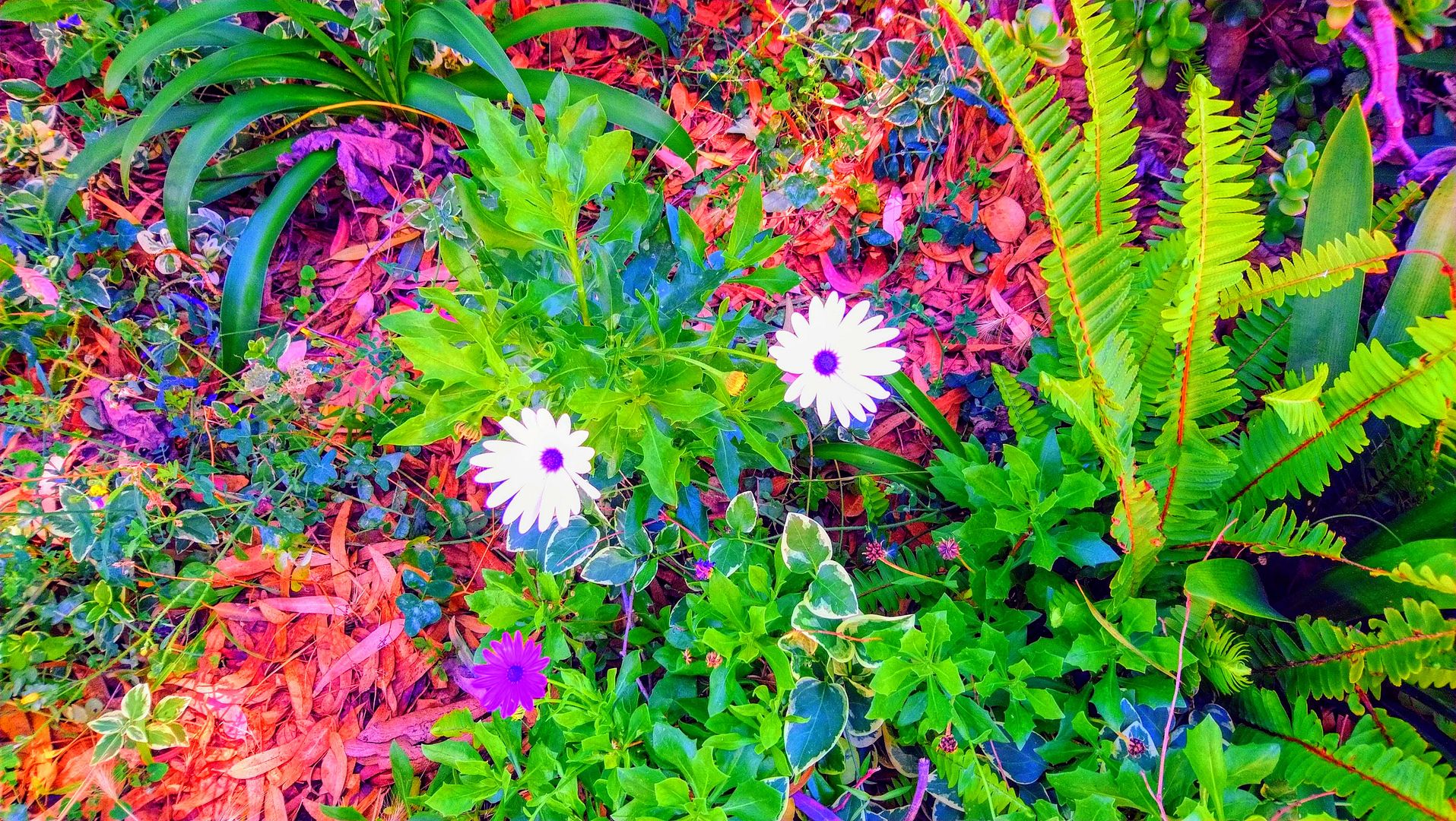 Outside of Marshan Cemetery was a bed of fragile yet highly poisonous flowers called star of Bethlehem. A weeping willow, traditionally and unfairly thought of as a harbinger of death, drooped over the sidewalk. Its fragrance brought up memories of my late grandmother who grew it outside her bedroom window. At Marshan Park, Ki pointed out a full-grown shrub of hibiscus, gumamela in my language, a flower that I associated with my late mother.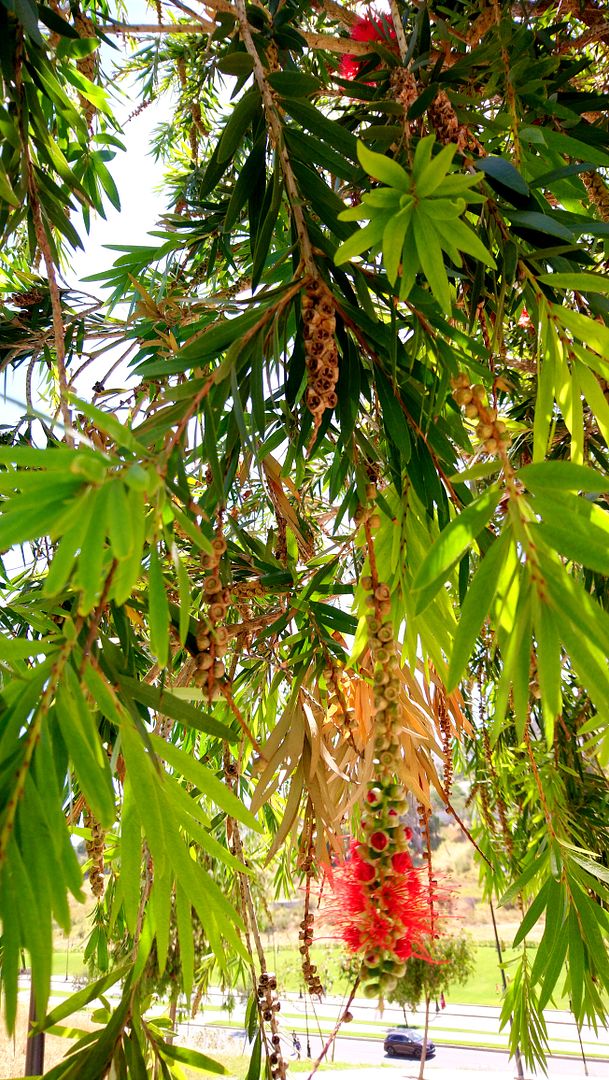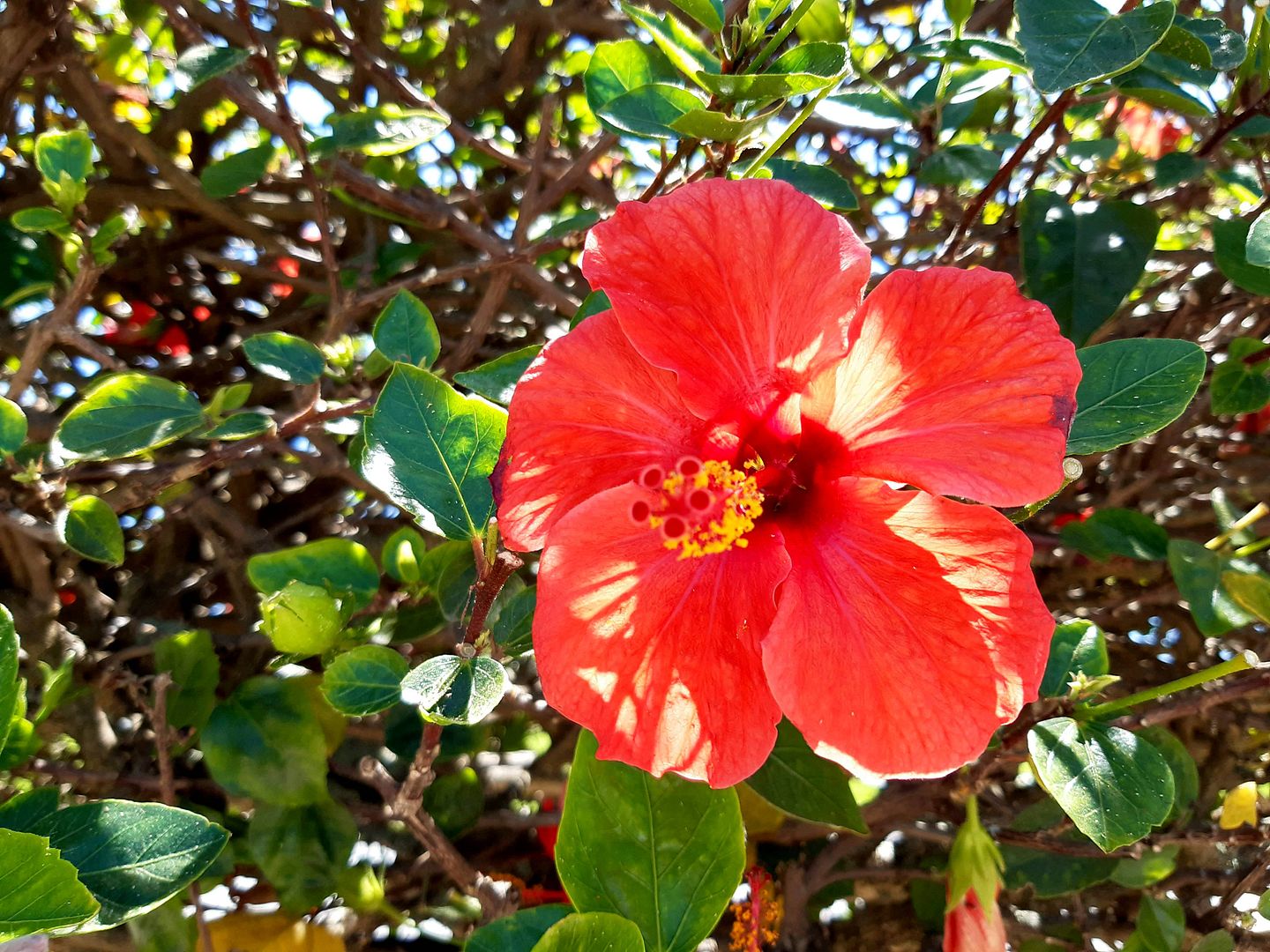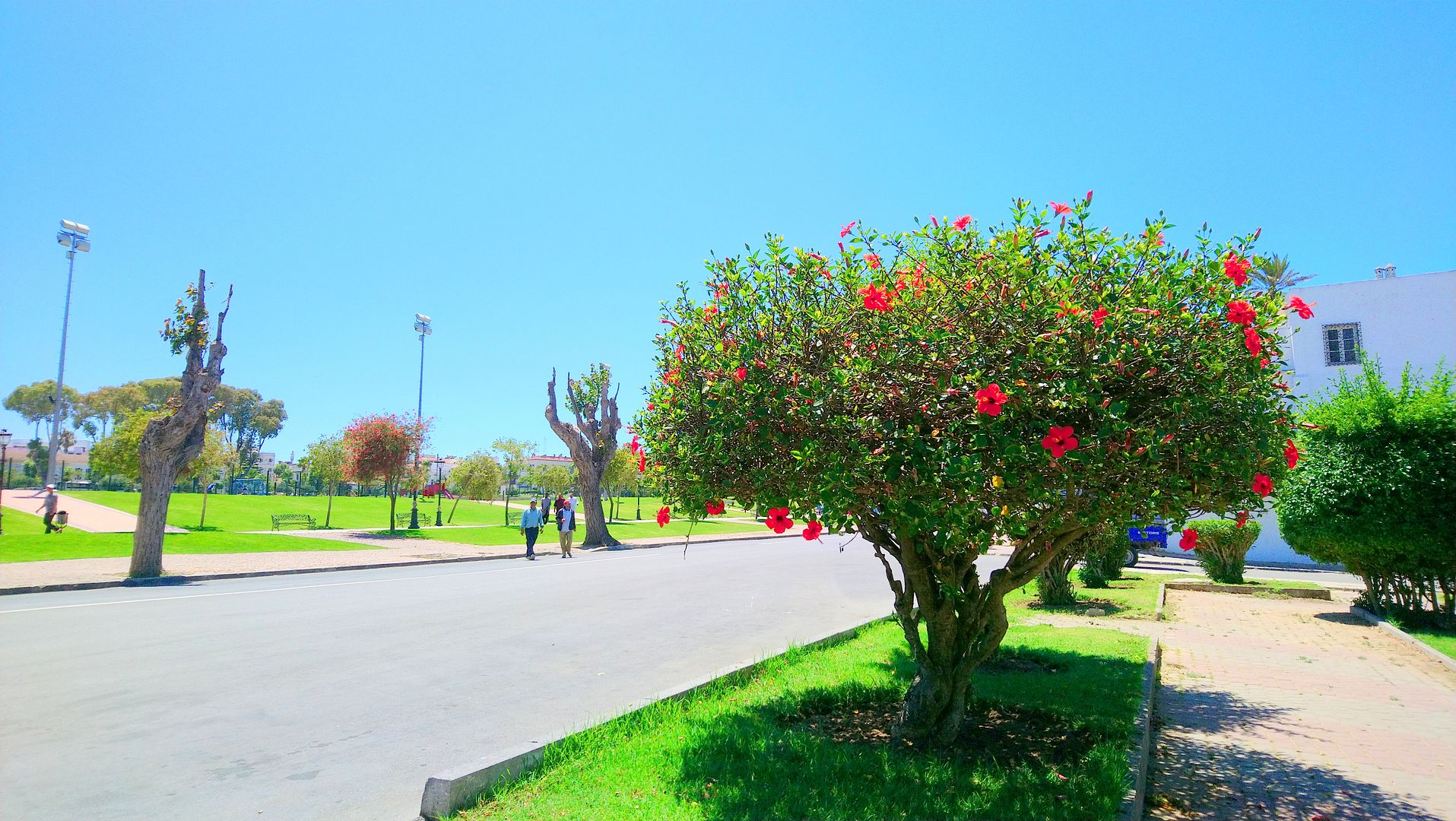 I committed the memory of my mother to words:
Save for the first night, I've dreamt of Mom since I came to Morocco. Today I came across a blooming tree of gumamela, a flower that she fondly tended, near a graveyard we traversed. Mom is always with me in spirit.
Though we never set out to trek burial grounds, Ki and I were privy to a side of Tangier that visitors wouldn't normally see. Our takeaway was rather morbid: With time, life and civilizations were akin to a flower – here today, gone tomorrow.
Postscript:
The experience called to mind Yearning, a song by Basia about missing loved ones long gone and recommended particular flowers to soothe one's longing. In the first verse, she sang:
Tender feelings heal with flowers
when your woes and sorrows leave you overwhelmed,
For the state of endless sadness or
uncompleted mourning take star of Bethlehem,
There's willow if bitter, when helpless wild rose….

B. Trzetrzelewska, D. White, P. Ross
I came across the first two: star of Bethlehem and willow. Hibiscus (gumamela) stood in for wild rose. How comforting that the song, the place, my head space at that moment all came together.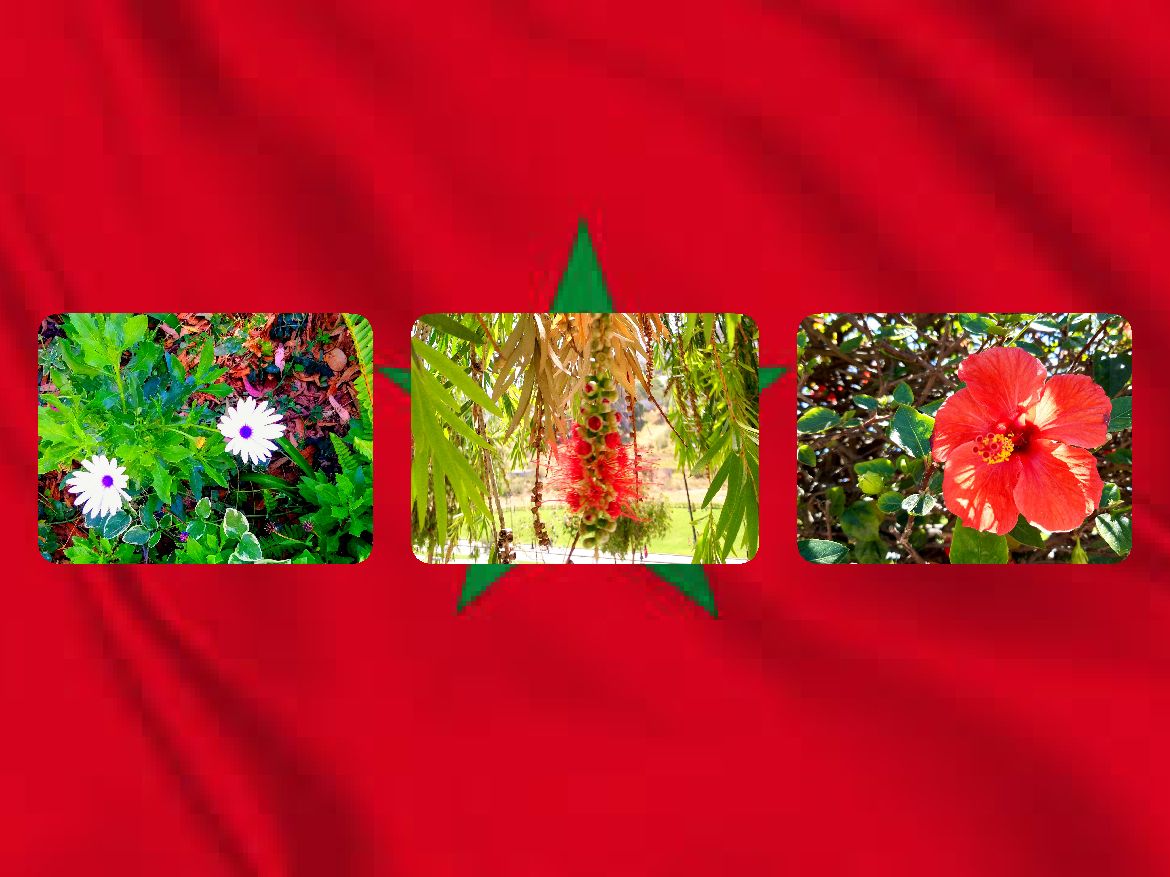 Star of Bethlehem, Willow, and Hibiscus @ Tangier, Morocco
Thank you for reading! Your support is much appreciated. Donate now: