Tangier, Morocco
June 20 – 21, 2019
Thousands of feet up on Royal Air Maroc, I could make out the tip of Morocco – of Africa, really – forming the lower lip of the Mediterranean's mouth. That turned out to be Tangier's coastline stretching from the Atlantic in the west through the Strait of Gibraltar toward Alboran Sea in the east. A day after our arrival at the sun-drenched, sea-kissed city, Ki and I were drawn to go beachcombing through five kilometers of its coast and newly-reinvigorated corniche.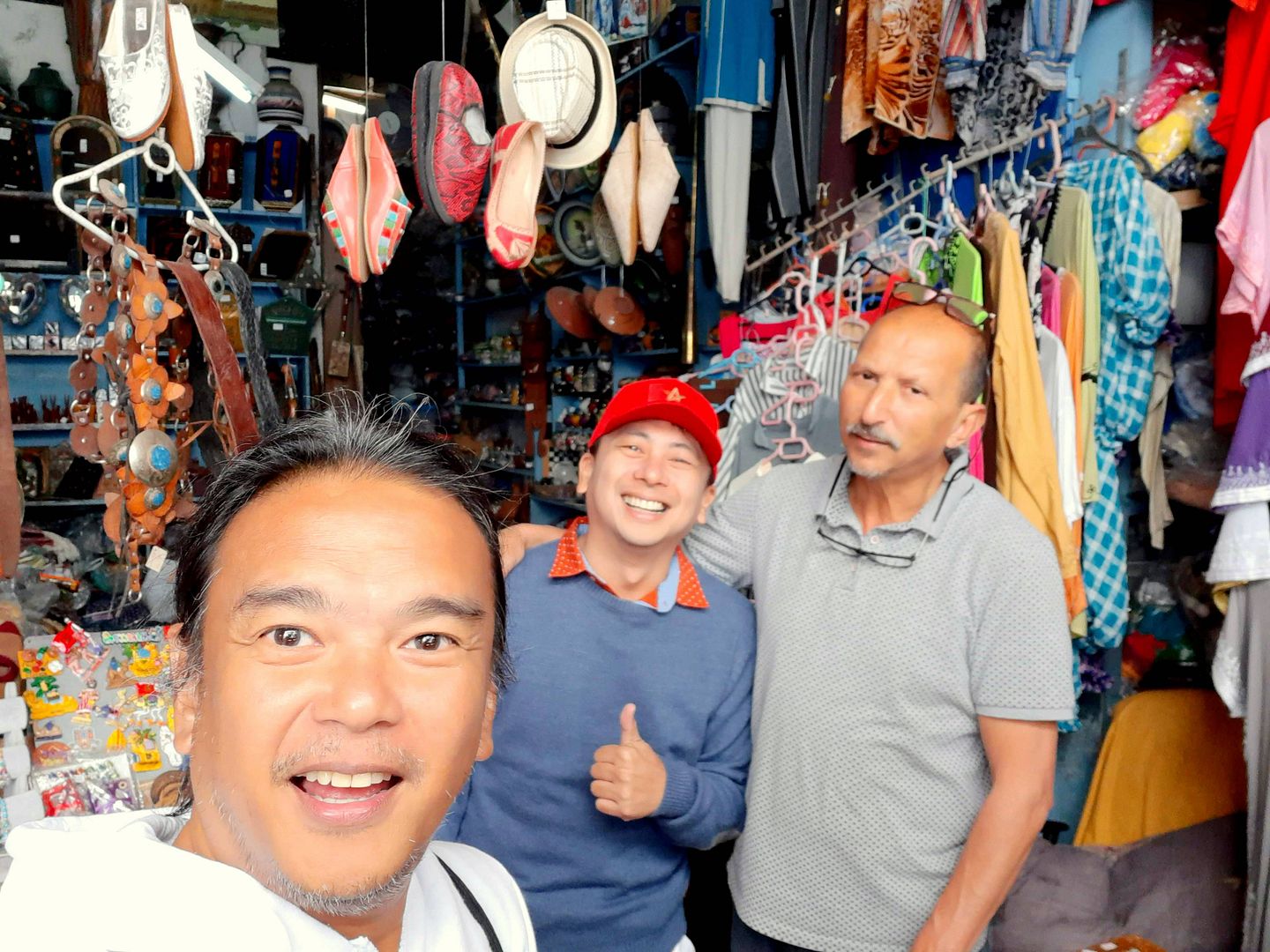 A week past mid-June, the Mediterranean's dual nature decided our OOTD: shorts, sweater, and Spartan Slippers. Forgetting my cap at the hostel, I went for the first souvenir shop we saw along Avenue Mohammed VI that offered an array of branded head gear, none held any appeal. For the tourist price, I might as well get something distinctly Moroccan: a red cap with the green pentagram of the country's flag on it. The shopkeeper concurred. We sealed the deal with a "Team Maroc" holler.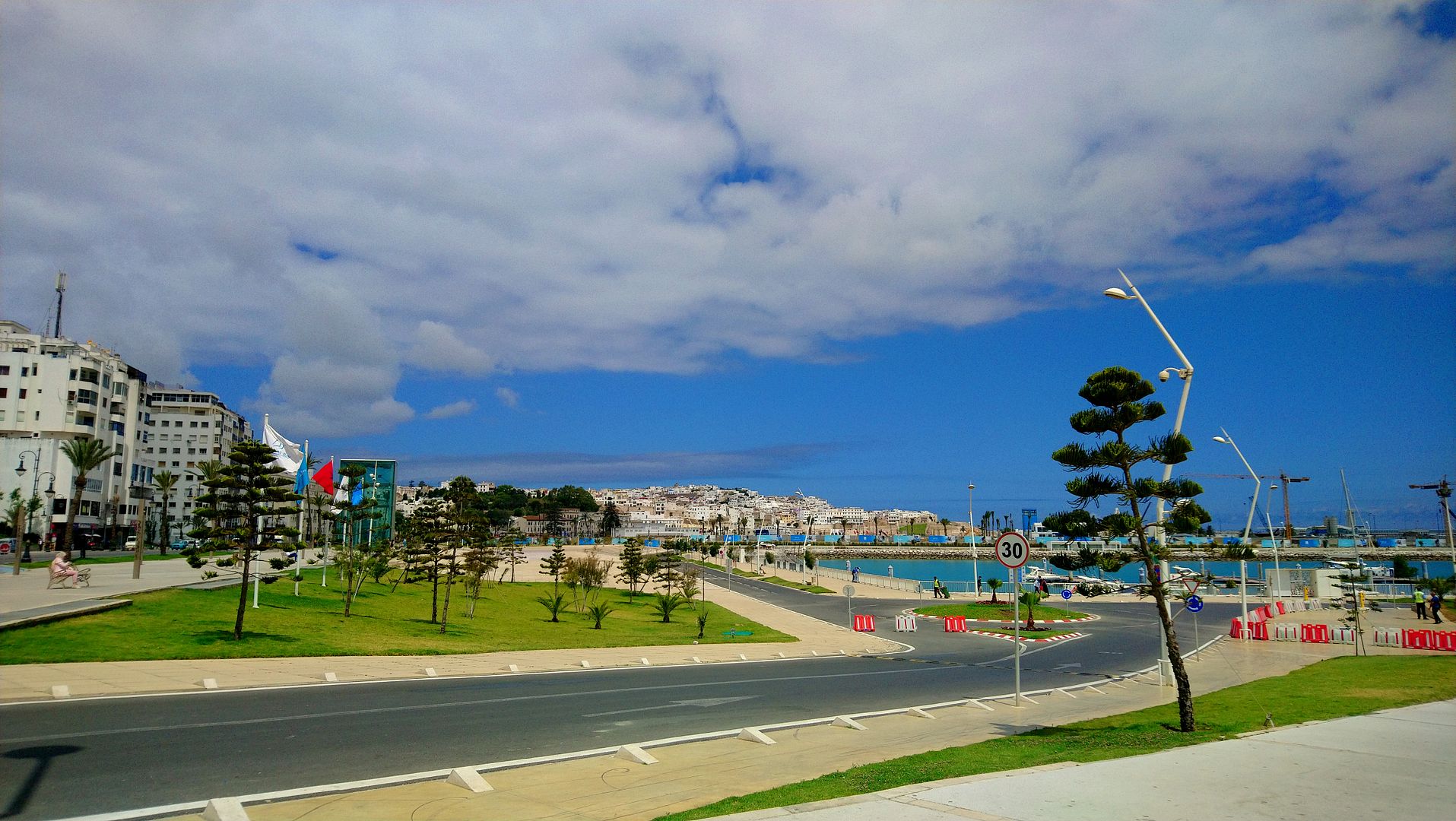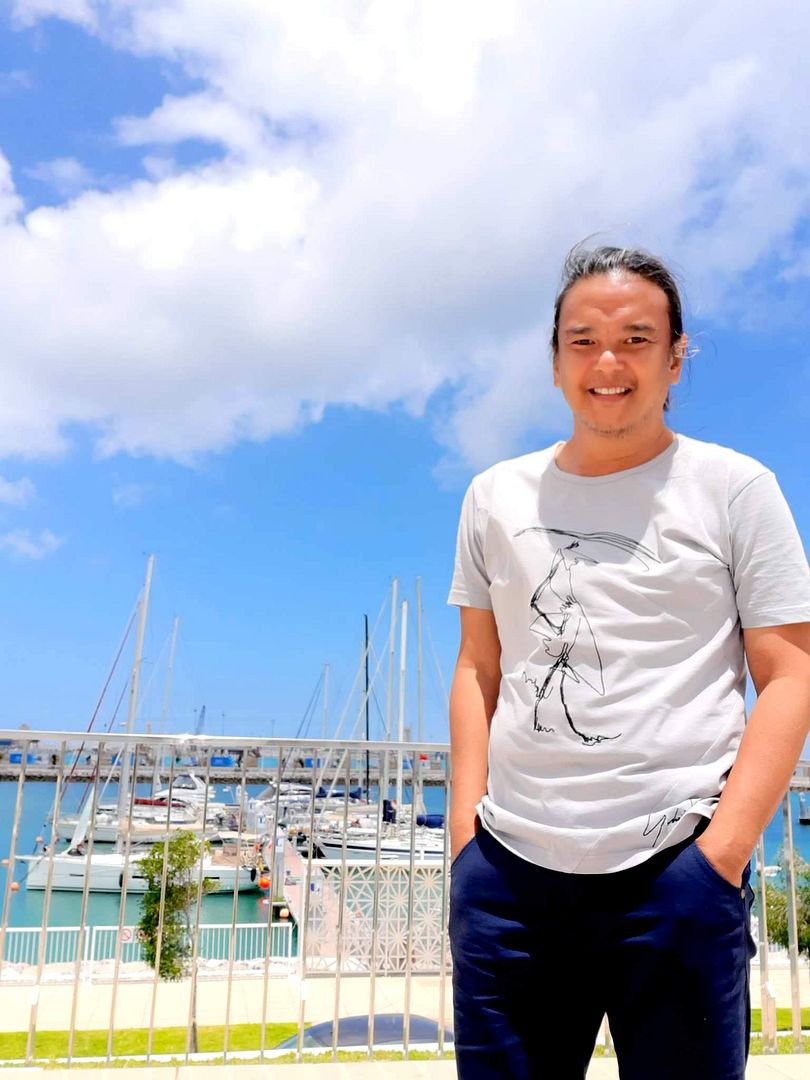 A few paces off the foot of the hilltop ancienne medina, spiffy Tanja Marina Bay, completed just a year before, thrust us to modern Tangier. American and European travelers crossing the strait in the previous century couldn't have romanticized this modern spruced-up gateway to North Africa. Clearly, we were short of dirhams for the upscale dining and entertainment in this quay. Superyachts berthed at the marina were just eye candy to us. It left only to the imagination how it was before revitalization.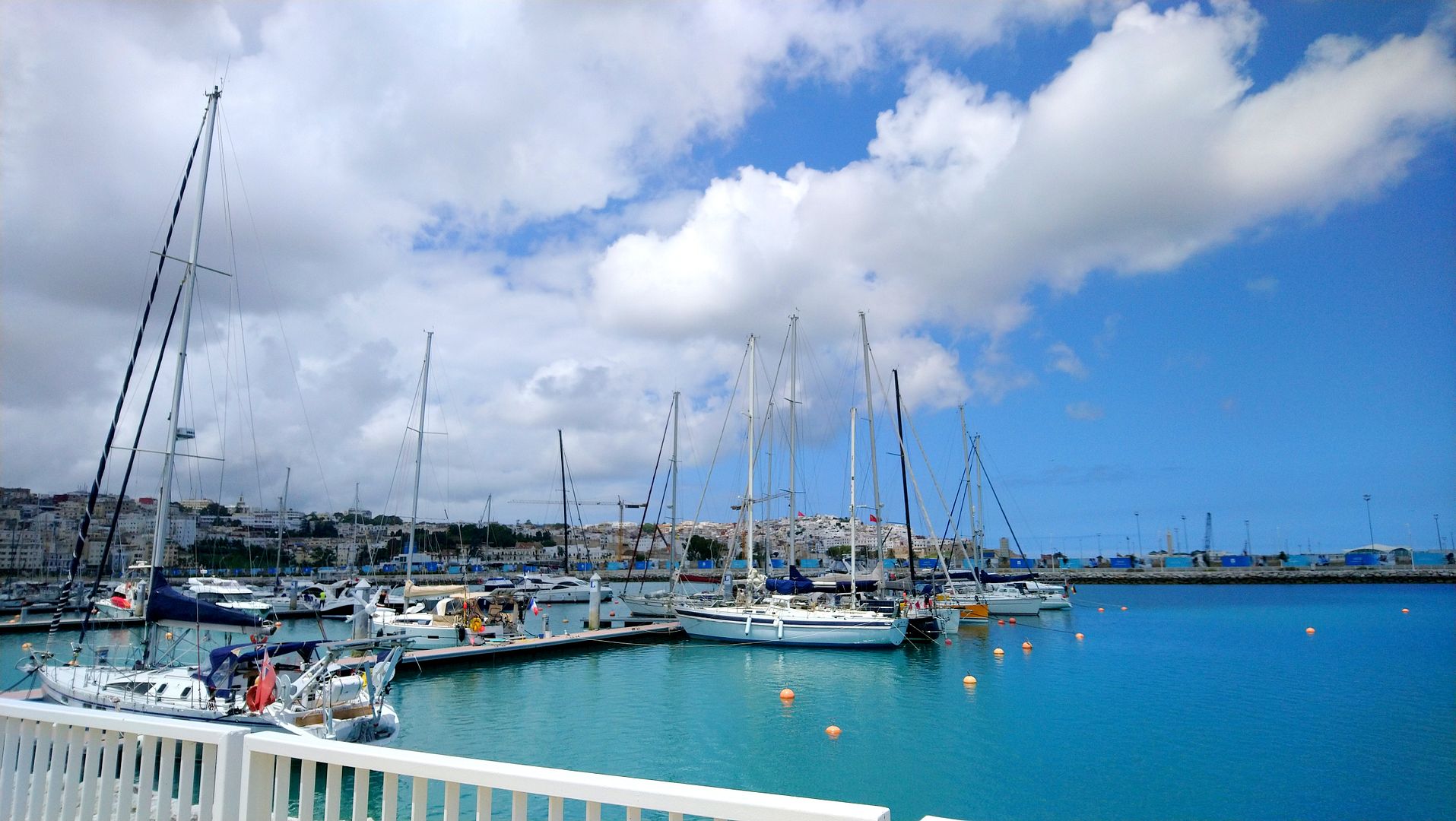 From the lookout at the end of the concrete boardwalk, we watched a gleaming speedboat pulling into the refueling and emptying station before us. It bore the name and logo of fashion house Armani. Part of the designer's fleet perhaps? Such high profile clientele explained the no-photo policy. We sneaked some pap shots anyway. Eastward from the marina, the beach beckoned.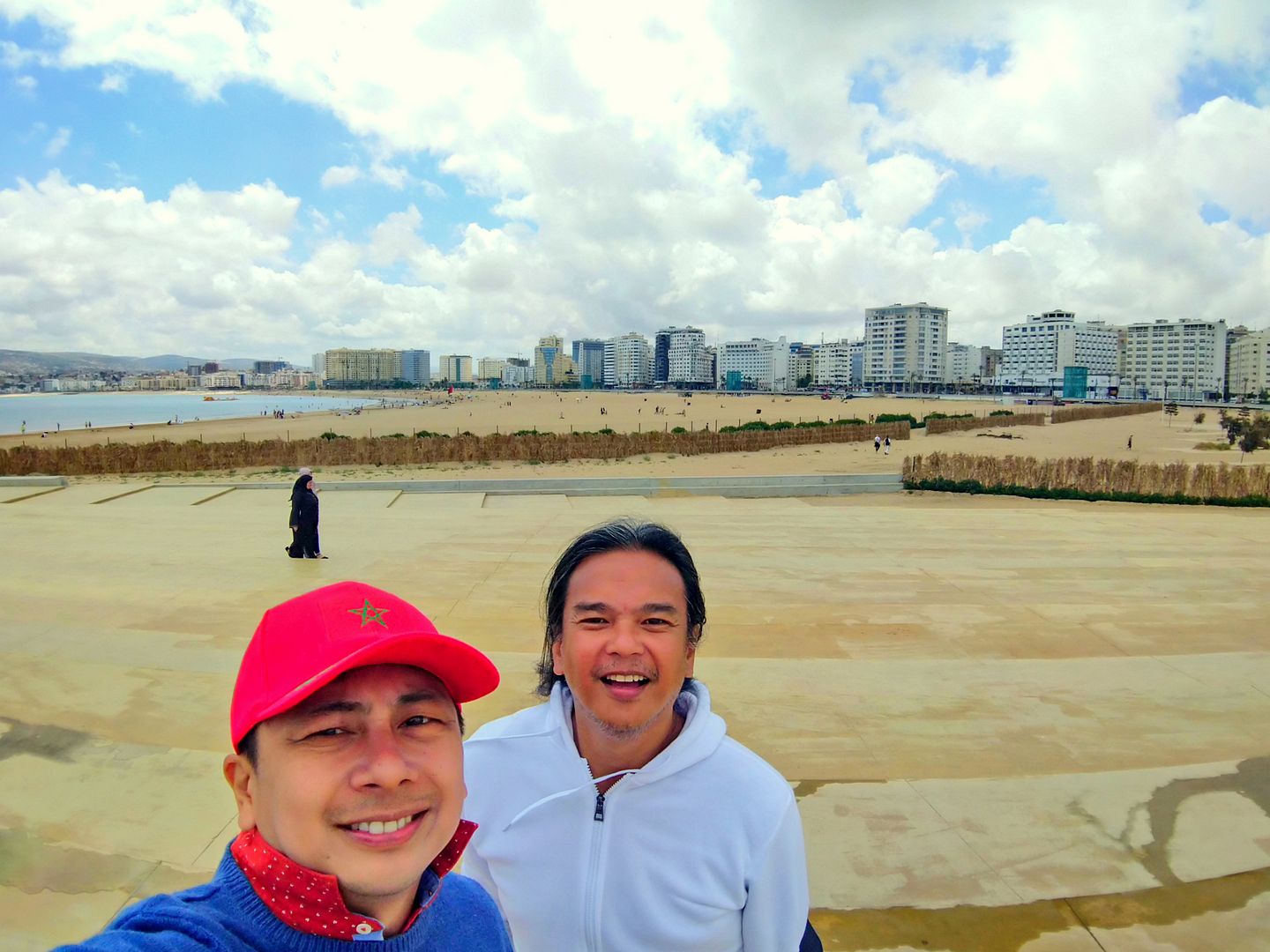 Plage Municipale Tanger / Playa de Tanger
The city's main beach evoked images of Benidorm, Spain with its sweeping swathe of sand between skyline and shore. Carefree energy filled this melting pot of locals and visitors. Men and children were sunbathing and swimming as their womenfolk draped in flowing abaya sat on picnic mats or strolled along the beach. Vendors peddled ice cream and sandwiches in beach carts. How lucky that they could spend a day at the beach without leaving the city.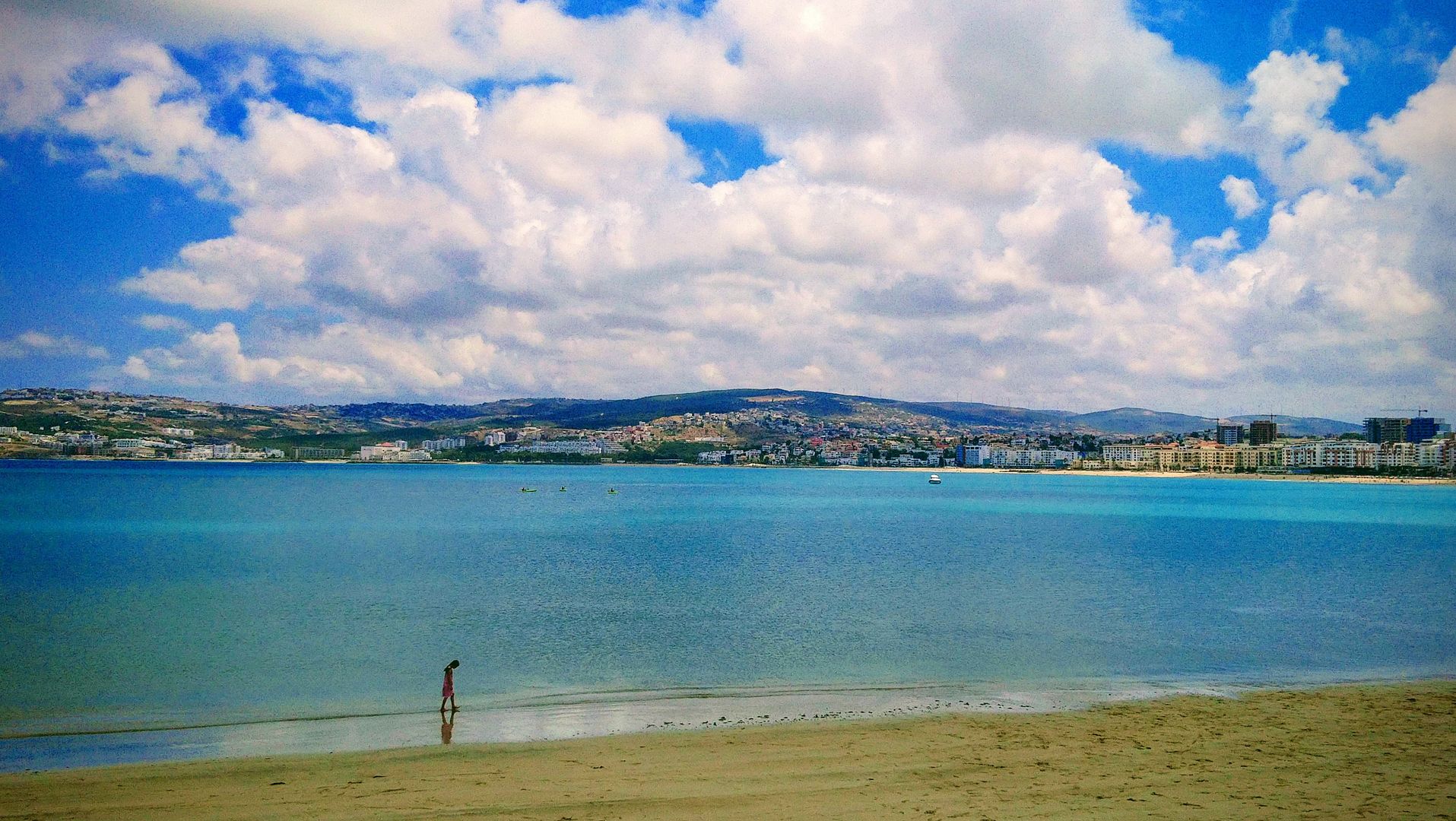 The gentrified corniche and paved sidewalk ran parallel to the beach, but kicking sand with our flip-flops was more fun. We strolled all three-kilometer length of the public beach, relatively litter-free until Ki spotted a half-buried broken bottle which he disposed of properly. We came unprepared with swimwear, but resistance was futile. Our shorts went north and we made a splash into the sparkling but frigid Mediterranean for the first time. I burst into song, "Ven conmigo, let's take a dip!" Ankle dip – that was thrill enough for us. Soaking in waters off a working port and the city center was not entirely enticing.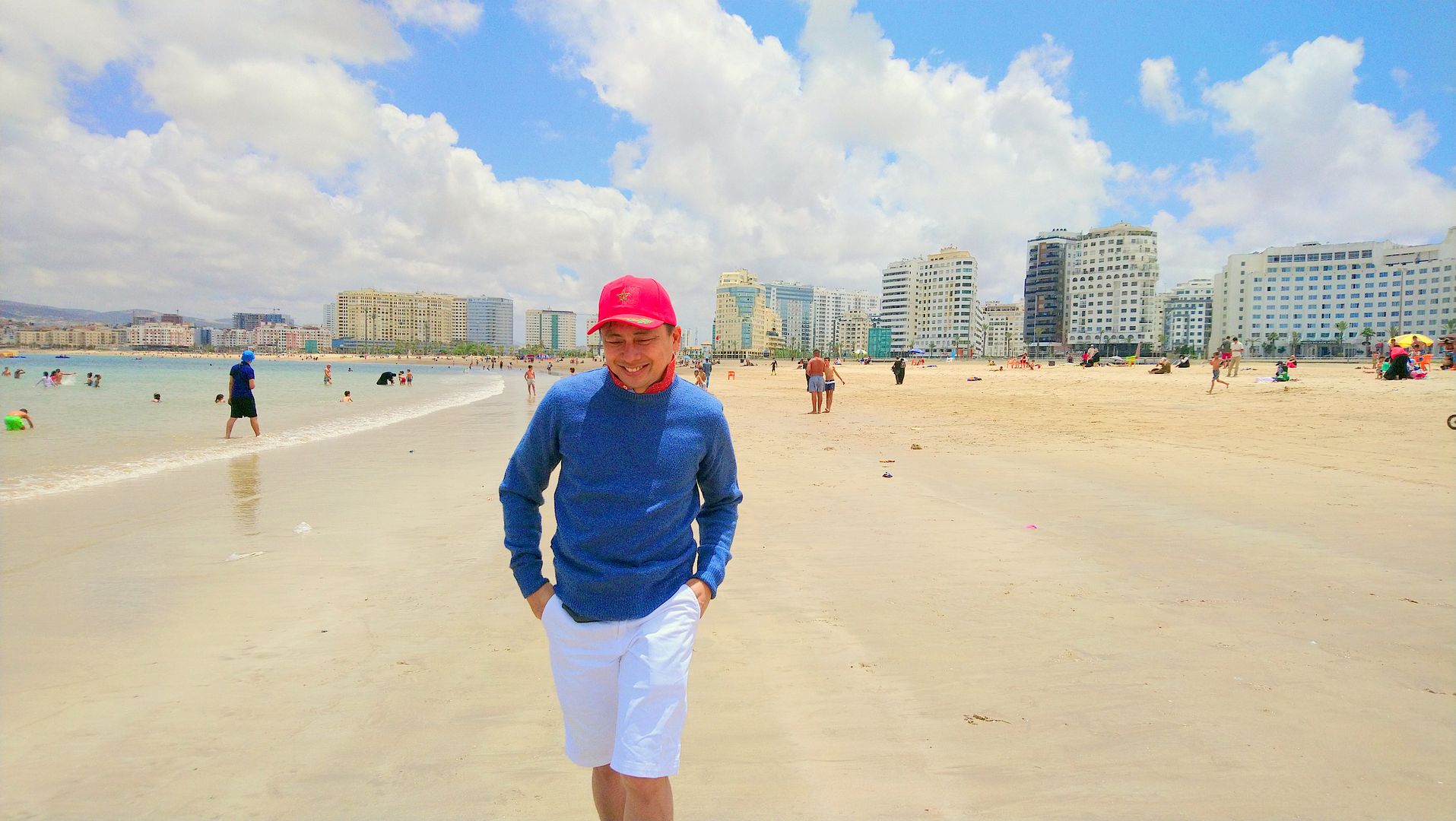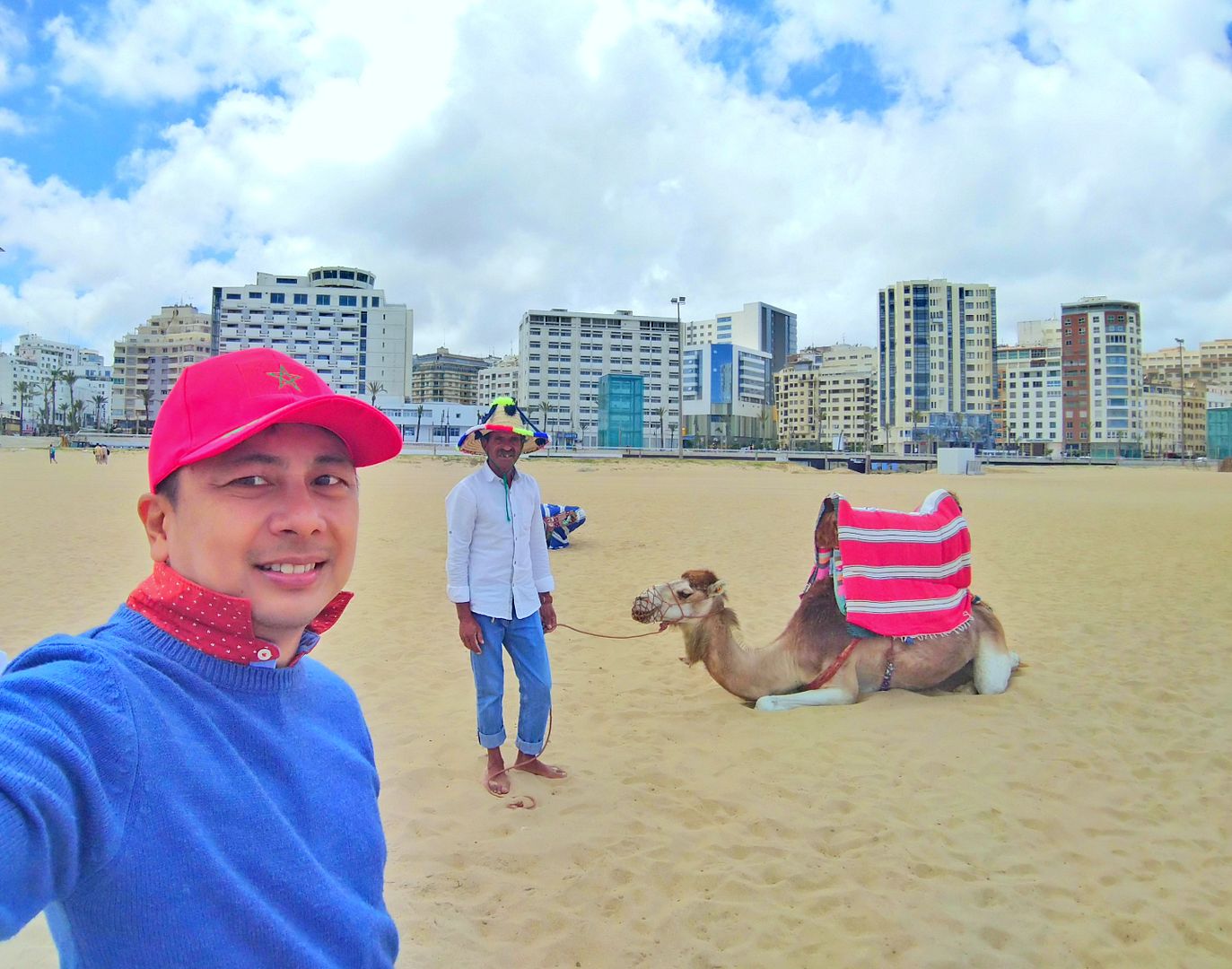 Were those humps in the distance or just a mirage? Camels at rest on the sand were a scene I expected in Africa. But who knew it would be on beach sand? On closer approach, the camel whisperer offered rides for 10 dirhams. It was the first time I laid eyes on a camel and, with the novelty of the setting, I went for it. Ki negotiated in Spanish, the default foreign language in Tangier next to French.
Mounting the dromedary – the North African single-humped camel species – and straddling both hump and saddle required leg stretching skills. It then extended its legs and, in less than a second, lifted me seven feet off the ground. Acrophobia kicked in and I clutched the front hand grip for balance. The gentle, patient giant was then led by rope in slow-mo, not exactly Lawrence of Arabia but more like a camel tow. The dismount was the final challenge. Riding a camel between sea and skyline was a surreal experience, and I finally felt I had really been to Africa.
I thought it would be downhill from the camel's hump. Boy, was that farthest from the truth. Our beach promenade was interrupted by a group of teenagers. Language barrier left me flummoxed and suspicious. Were they touts or con artists about to fleece us? They were pointing at my Moroccan cap approvingly. Ki somehow figured out they were simply asking for a photo with me. My newly-bought headgear had turned me into a novelty item. That was more than I bargained for with the shopkeeper. I obliged but only with an X-deal photo op.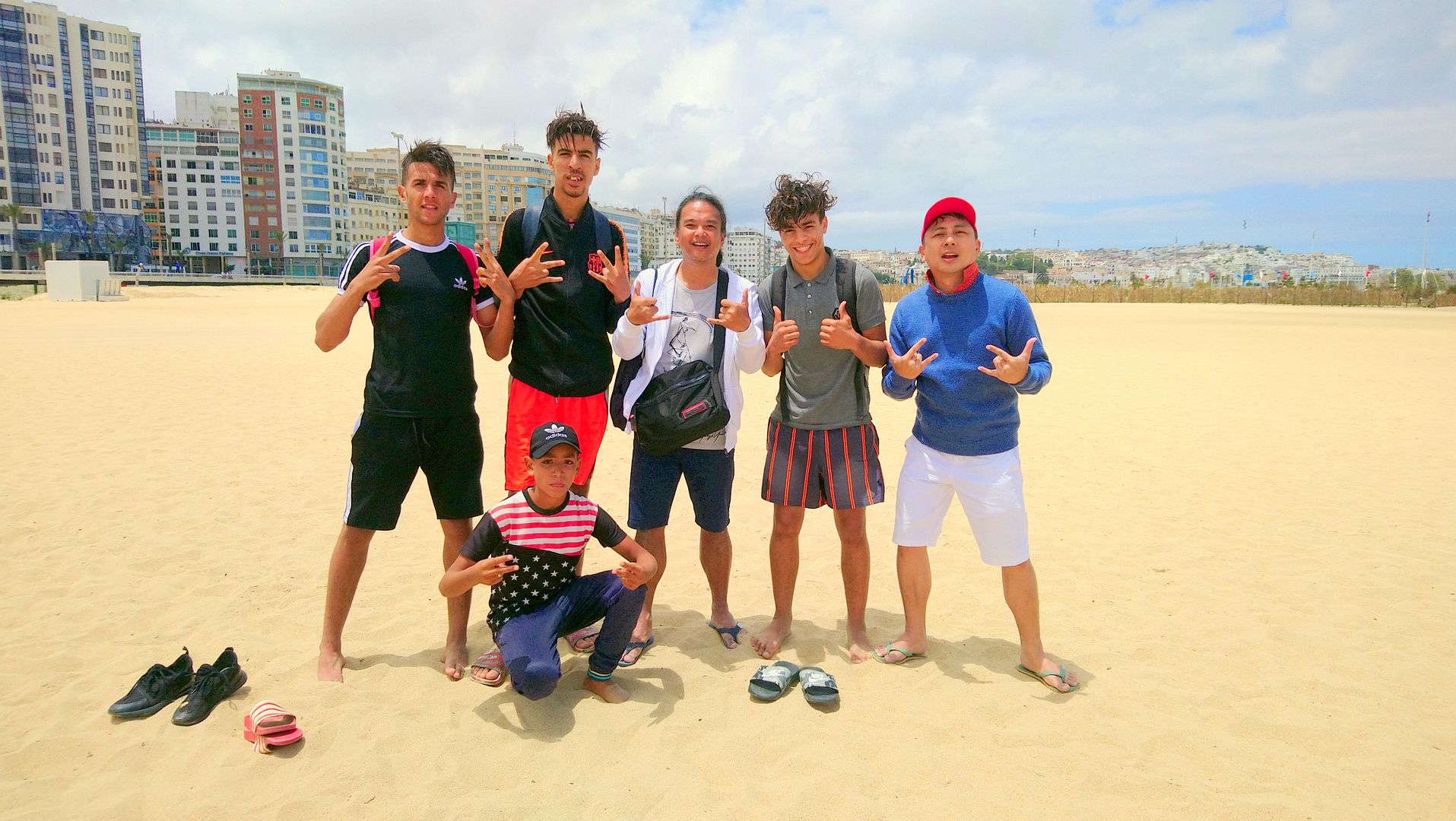 That was a one-off strange encounter, right? It didn't take long before another group of boys playing beach soccer swarmed around me, this time cheering and shouting "Chino! Chino!" Their excitement was off the charts. It dawned on me: a Chinese-looking or East Asian person wearing a Moroccan cap was a bizarre sight to them. I cheered "Team Marruecos!" back. The ruckus soon escalated into body slamming onto the surf while repeatedly saying, "Facebook!" Ki and I kept the video rolling and swore to post it on social media. If they meant what we thought, perhaps they hoped to go viral.
I felt I had already gone viral. In retrospect, I had been attracting stares and unwanted attention since day one in Morocco. It was invariably me, not Ki, and I never guessed why until meeting these boys at the beach. Sticking out like a sore thumb in a foreign country was unnerving, except when these fanboys gave it a joyful, exuberant spin.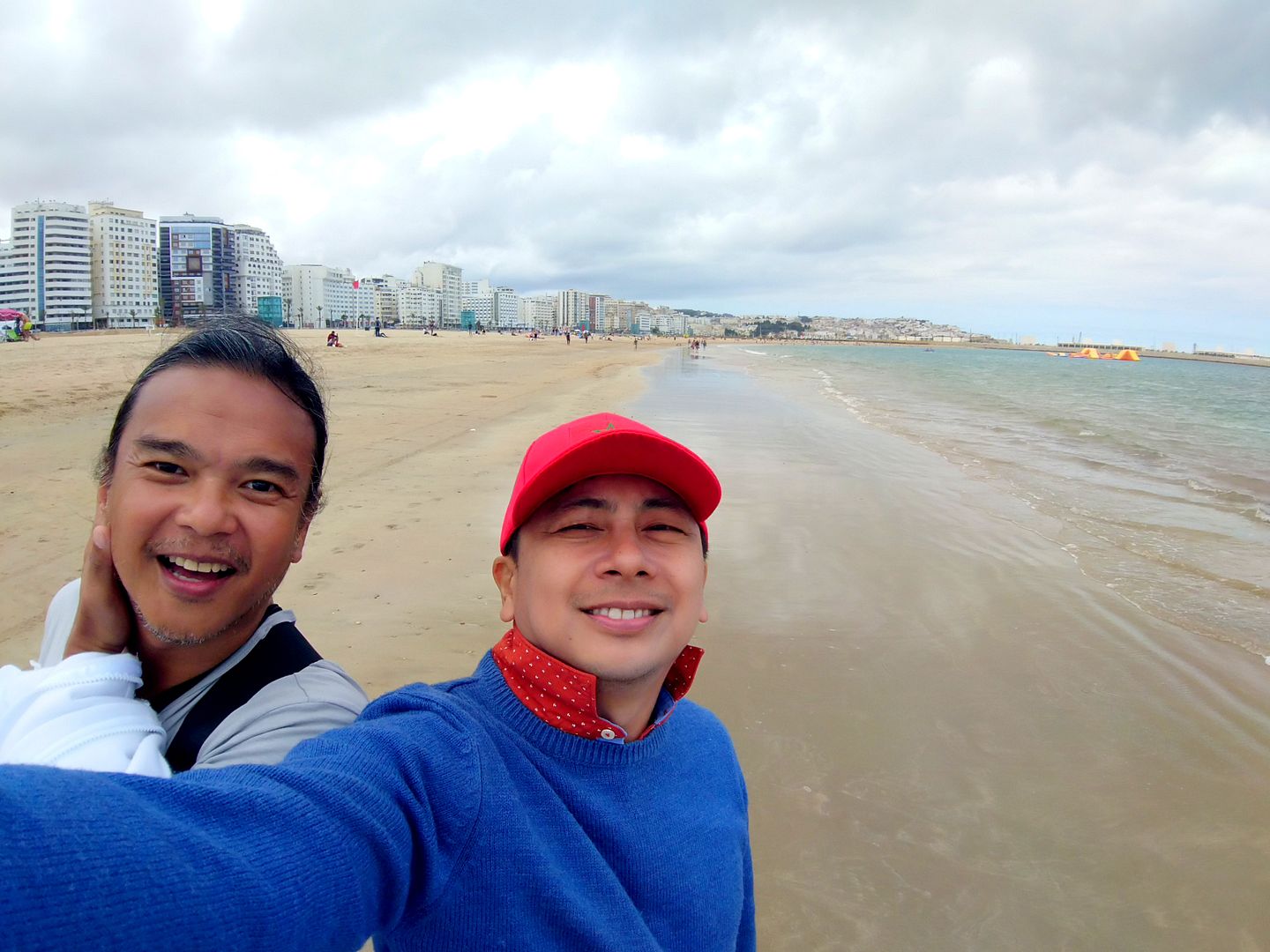 After the exhilaration came a sobering sight. We saw a man and a woman dragging an injured seagull by the wing. We assumed they were taking it to the vet, or perhaps home to make a meal of it, but they set it by the pavement and left. Two men were curiously inspecting it when we approached. Moroccans didn't eat seagulls, they said, but the Spanish across the strait might, and chuckled. They then explained that the bird's prospects were dire. A broken wing would mean death by starvation.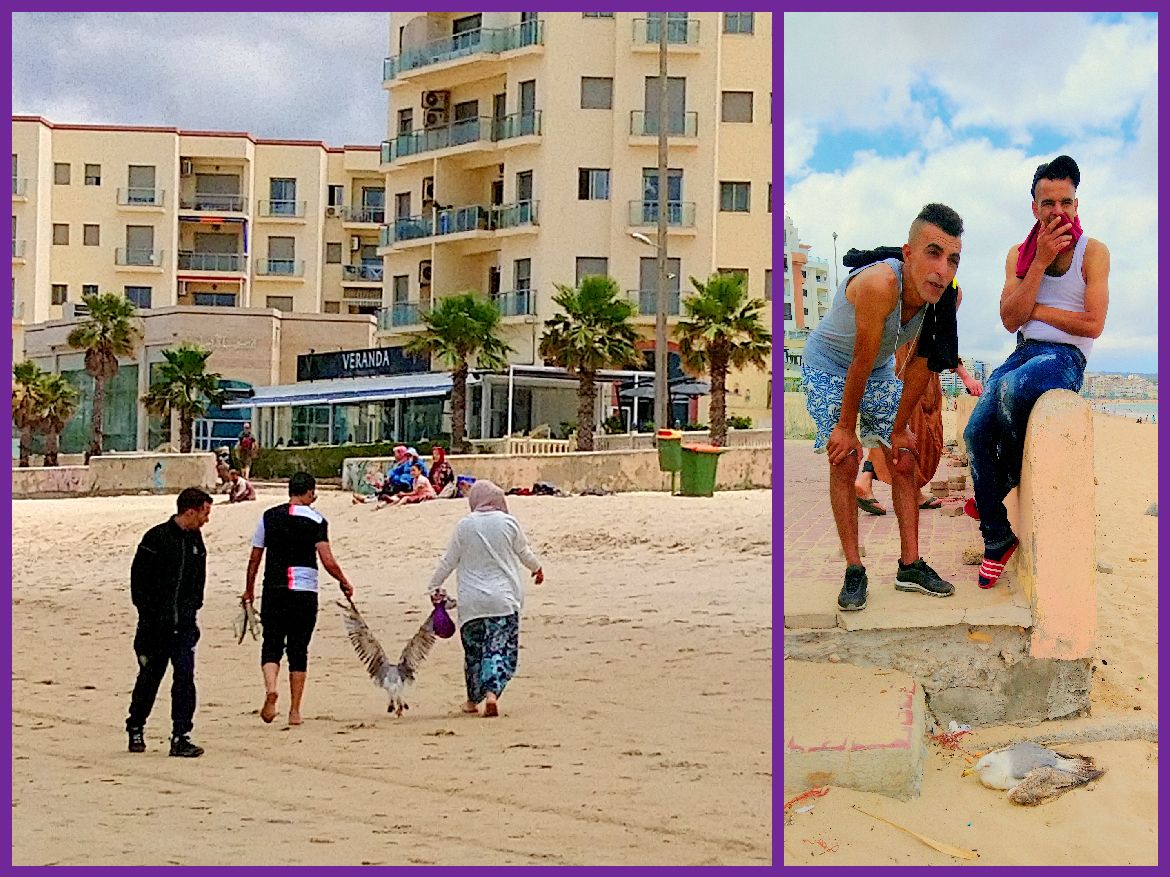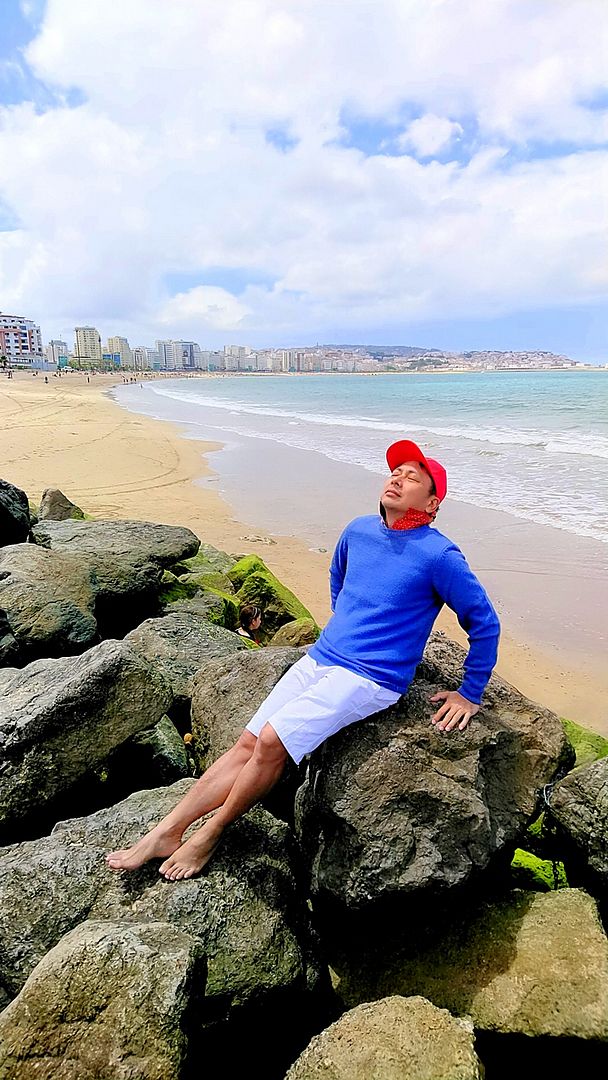 We reached a rocky breakwater that provided a photogenic platform for shots capturing the crescent cove of Tangier Bay. It also marked the eastern edge of Plage Municipale leading to…
Plage Malabata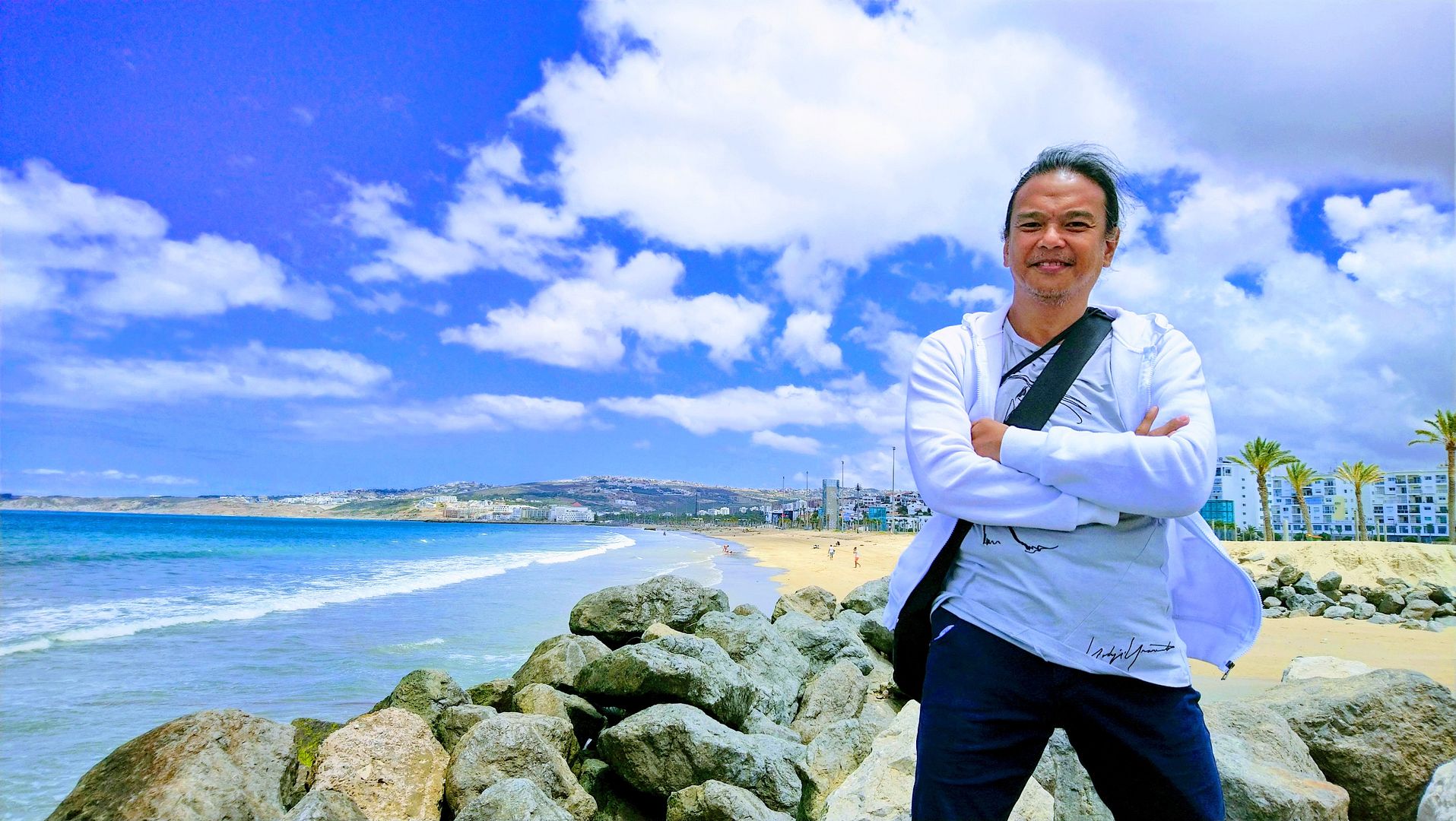 Though also a public beach, Plage Malabata was markedly different: less crowded with more development, wider paving with narrower beach. Foreigners here were more expat than tourist. The skyline was considerably lower consisting of mixed-use buildings. I would say Plage Malabata was the most middle class of Tangier's public beaches.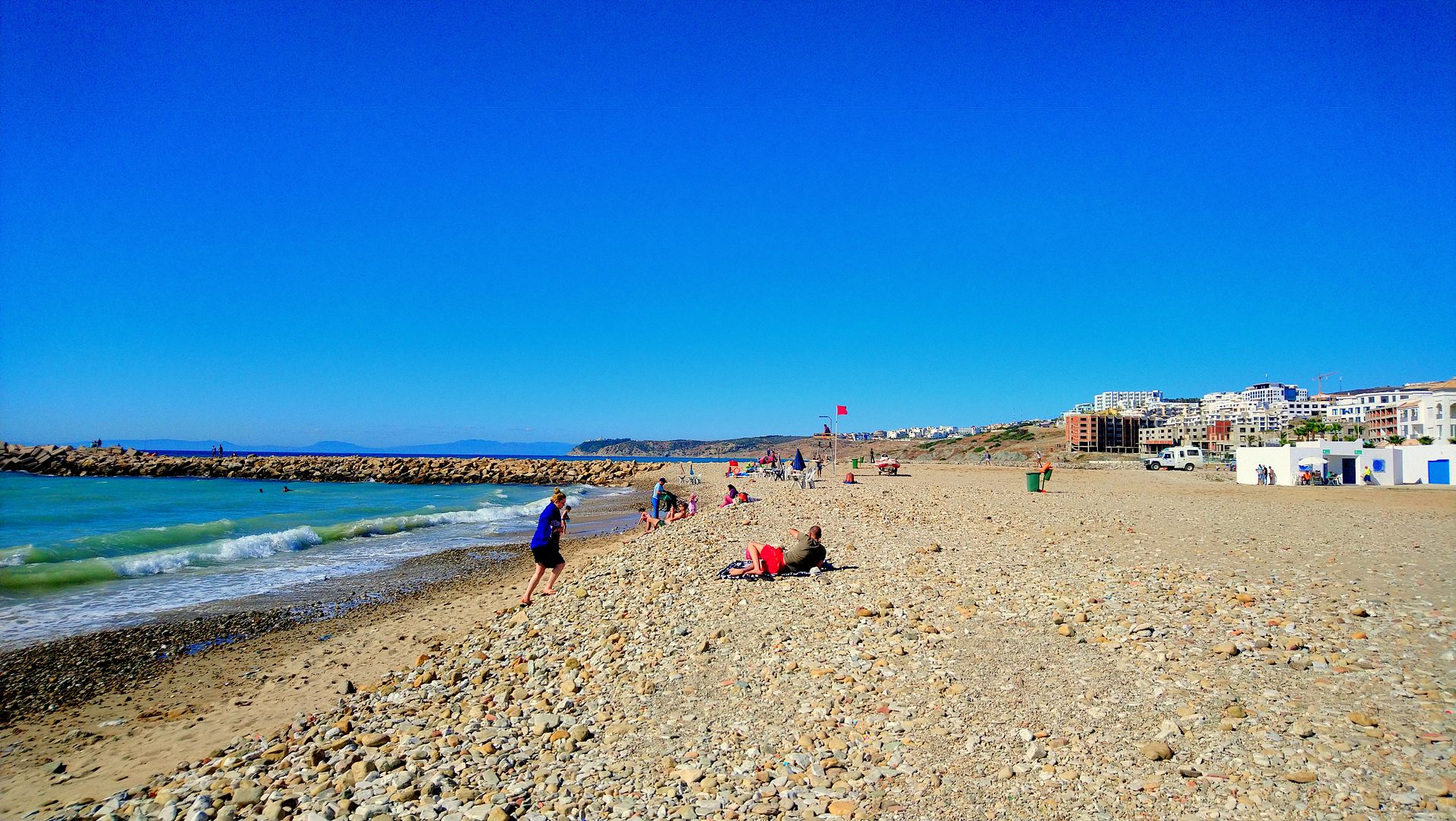 Plage Ghandouri
Sand quality further east drastically went south. Plage Ghandouri was pebbly, a challenge for our flip-flops but reflexology for our tired feet. The tide was coming in by then, slapping the shore with stronger surf. It was time to rest and rehydrate at RR Ice Cafe, a restaurant so trendy it had artificial turf in its al fresco dining area. The Bay of Tangier provided a relaxing view while we were waiting for our cheeseburgers and fresh fruit shake.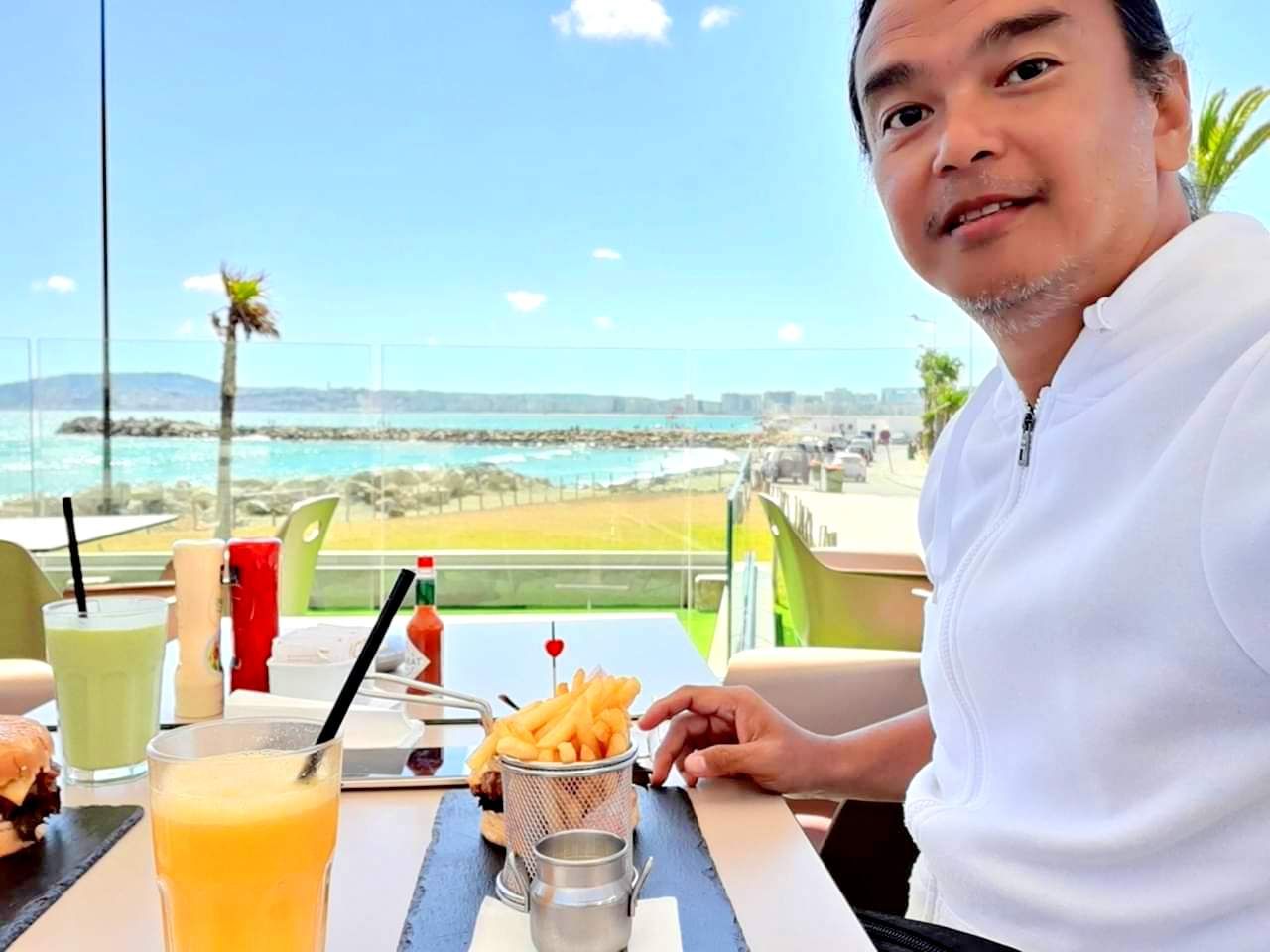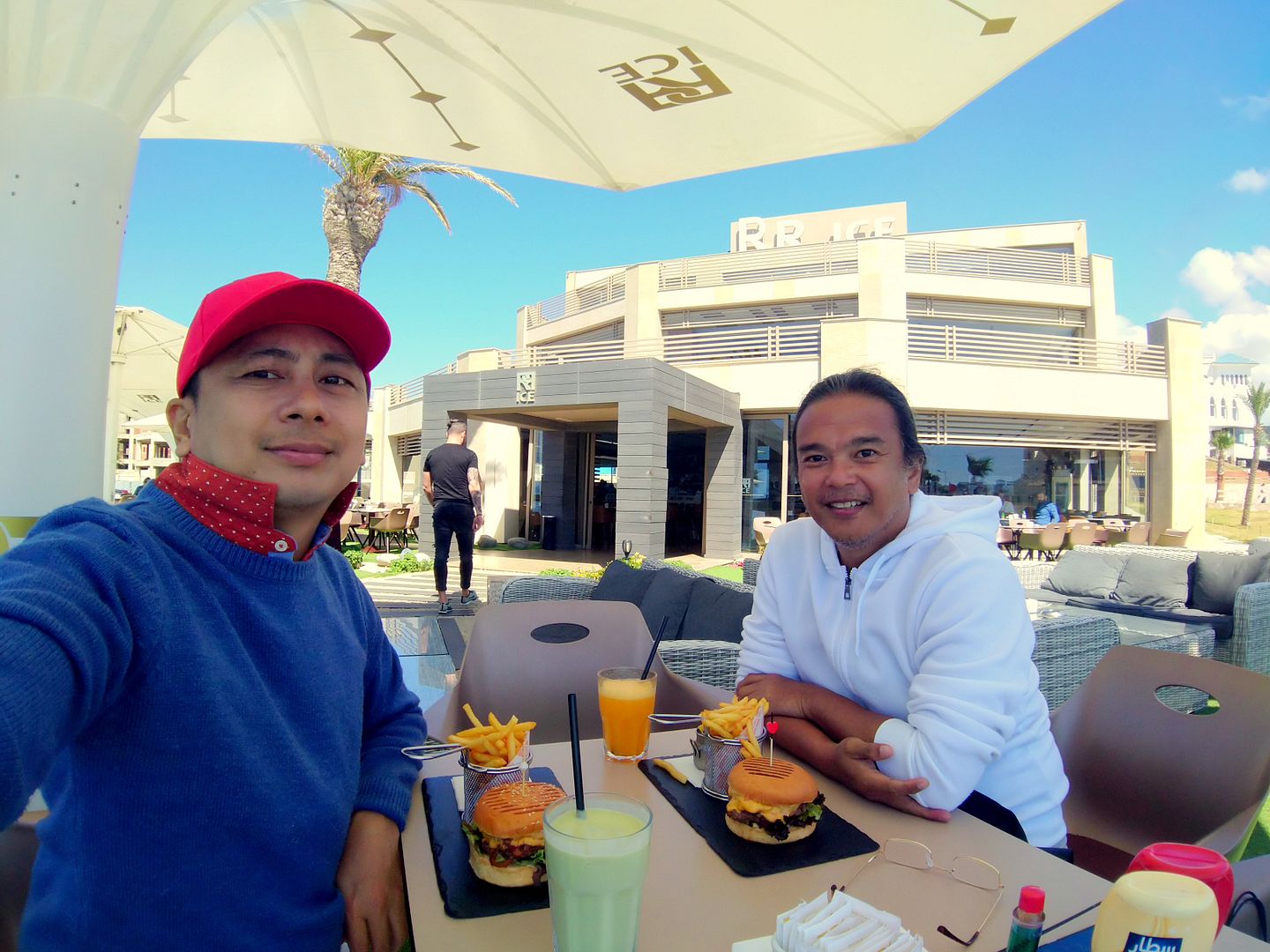 We briefly explored the quiet, newly-developed area around Mövenpick Hotel and Villa Harris Gardens. This 'hood was a world away from the kinetic personality of Plage Municipale and ancienne medina. My sore feet could not take another step at this point. We hailed a cab back to the Tangier we knew.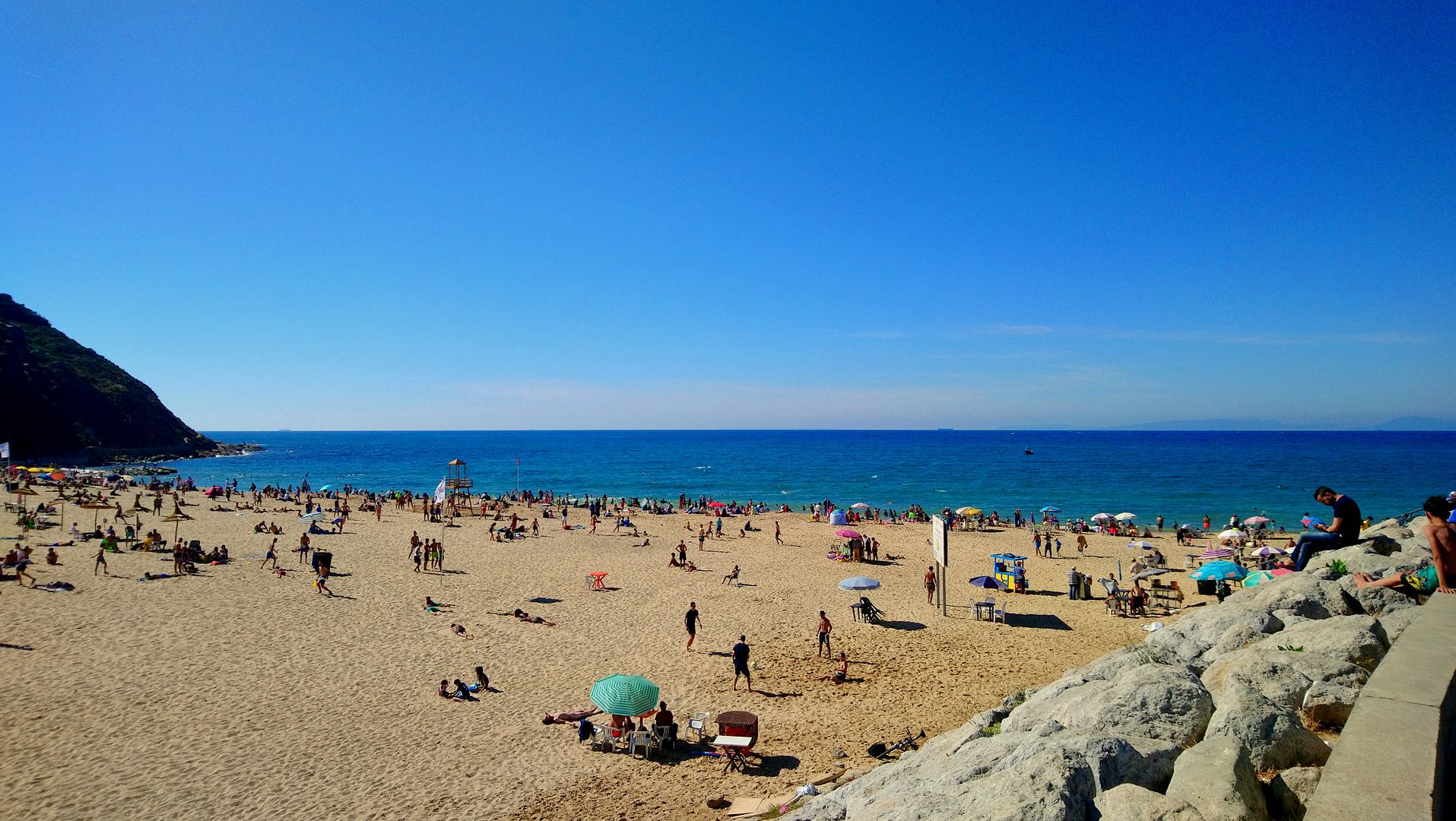 Plage Merkala
The next day, our urban trek ended up at Plage Merkala at the opposite side of Tanja Marina Bay. We followed a procession of people, one pushing a pram, down the slope from residential communities in Marshan. That was how we discovered this beach. The most compact of all Tangier beaches, it was the most densely packed with large groups of friends and families enjoying the sun and sea, some playing beach football, many just shooting the breeze. We hunkered down in the shadow of a lifeguard tower with our sandwich and Coke.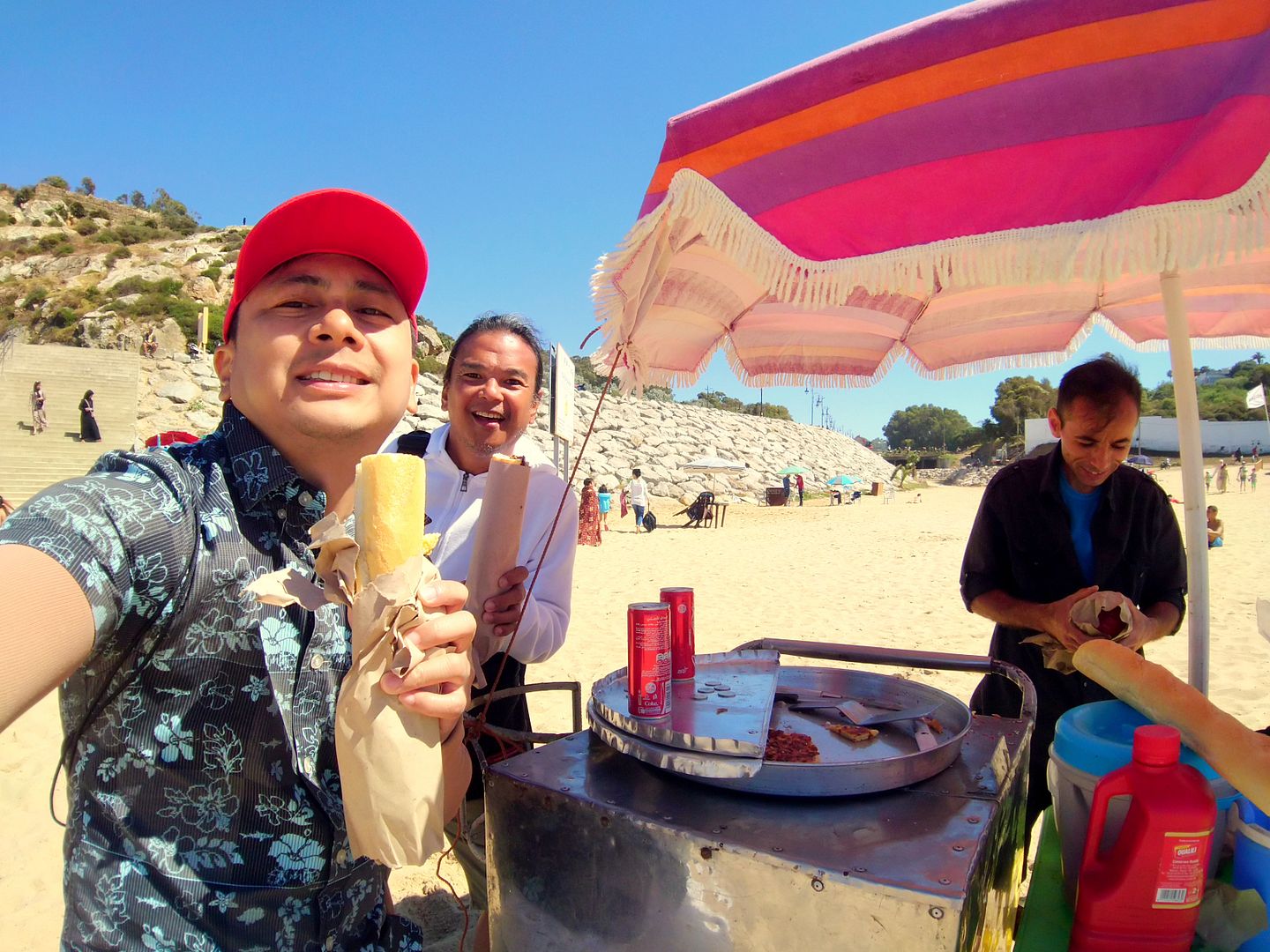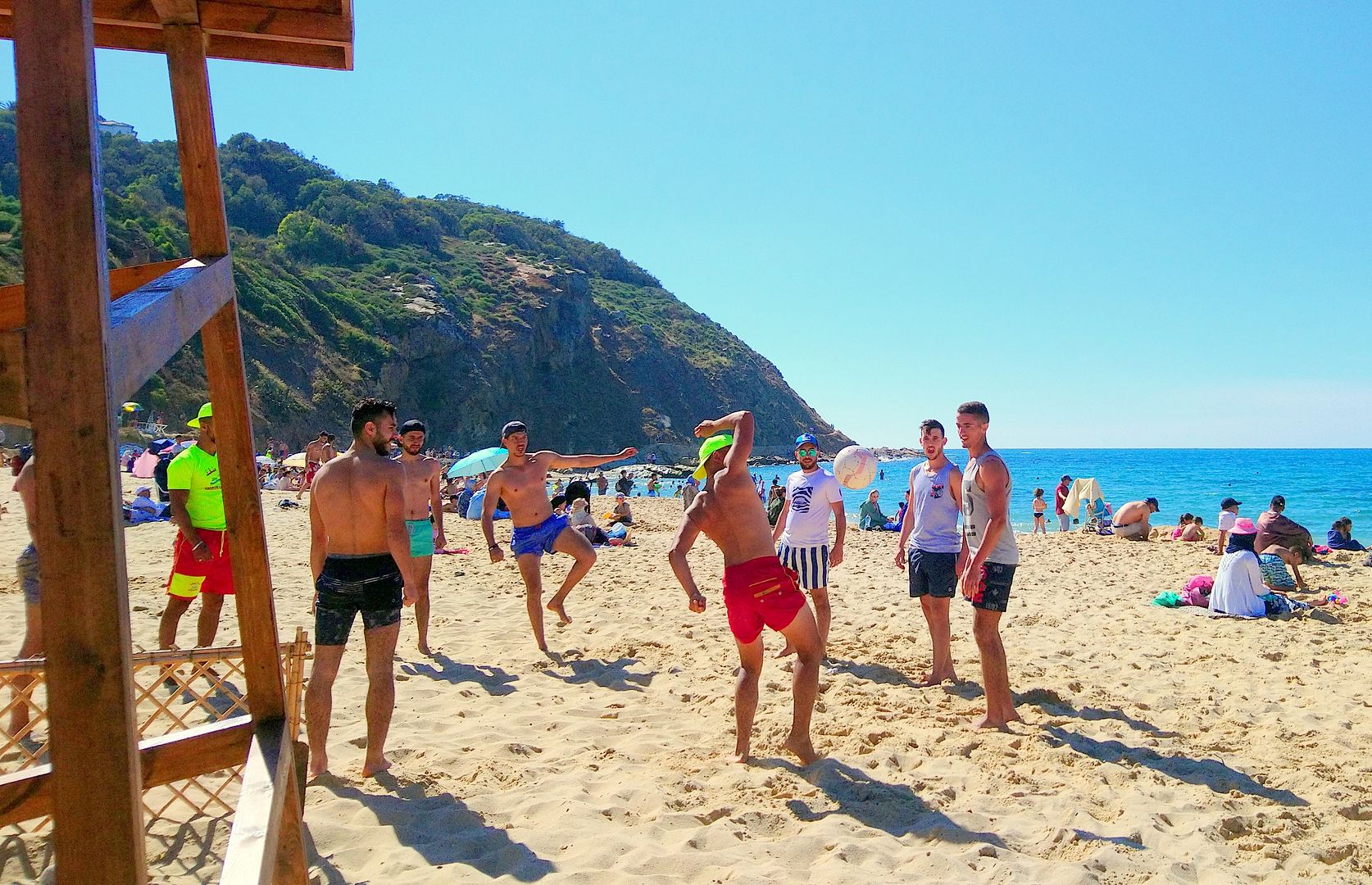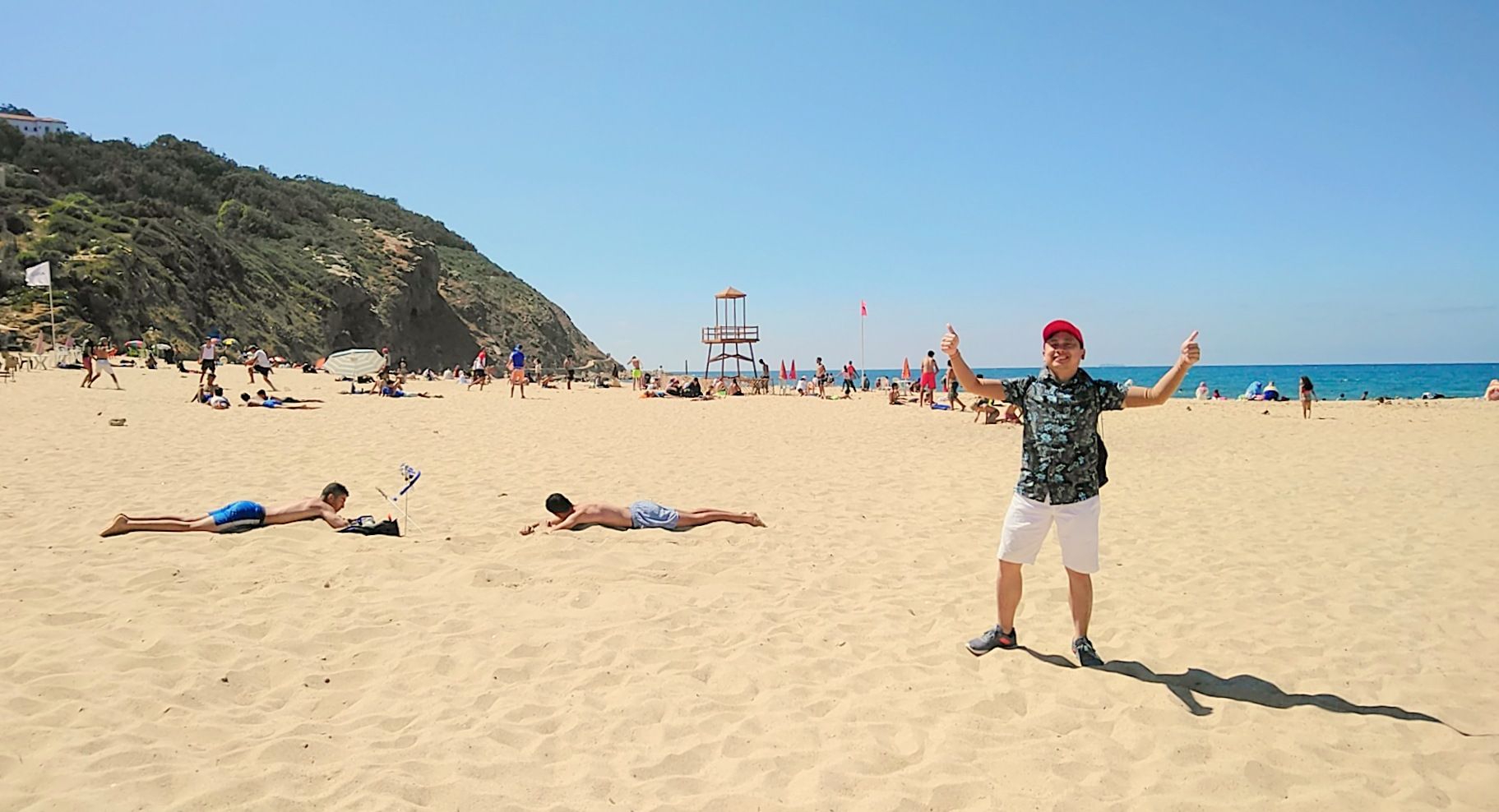 Among the four cities we visited in Morocco, Tangier was, obviously, the most Mediterranean. Laid-back, fun-loving beach vibe was a defining aspect of its personality and culture that set it apart from Atlantic-kissed Casablanca and landlocked Fes and Marrakesh.
Thank you for reading! Your support is much appreciated. Donate now: