Tangier, Morocco
June 19 – 22, 2019
The cultural heart of every Moroccan city beat in its ancienne medina (ancient city). That was why Ki and I dove head on into Tangier's old quarter by booking a stay at a boutique B&B named Bayt Alice. Bayt, we later learned, was Arabic for house and, by extension, household. Alice, however, was a decidedly Western name. We could only surmise that this was a house owned by a foreign woman. How typical of Tangier, the African city closest to Europe, not only geographically but more so culturally.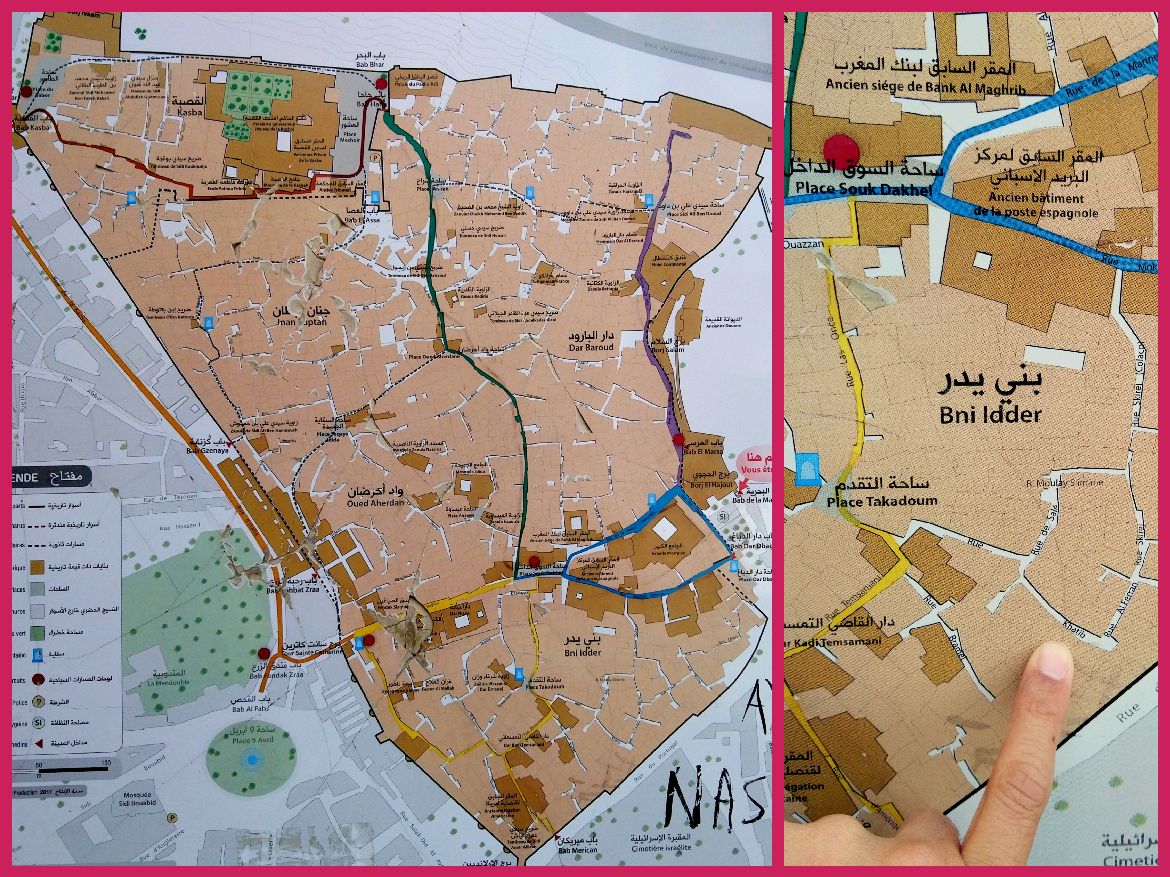 The cab could only go as far as the medina gate. Streets therein were made exclusively for pedestrian traffic. Dragging our luggage on cobblestones, we were left to our own devices in search of an address bearing only the street name and no number. The labyrinth of alleyways was uncharted territory for Google Maps. Even the vicinity map by the entrance merely showed us the general direction of Rue Khatib, the hostel's street. Bayt Alice might as well have been the proverbial needle in a haystack.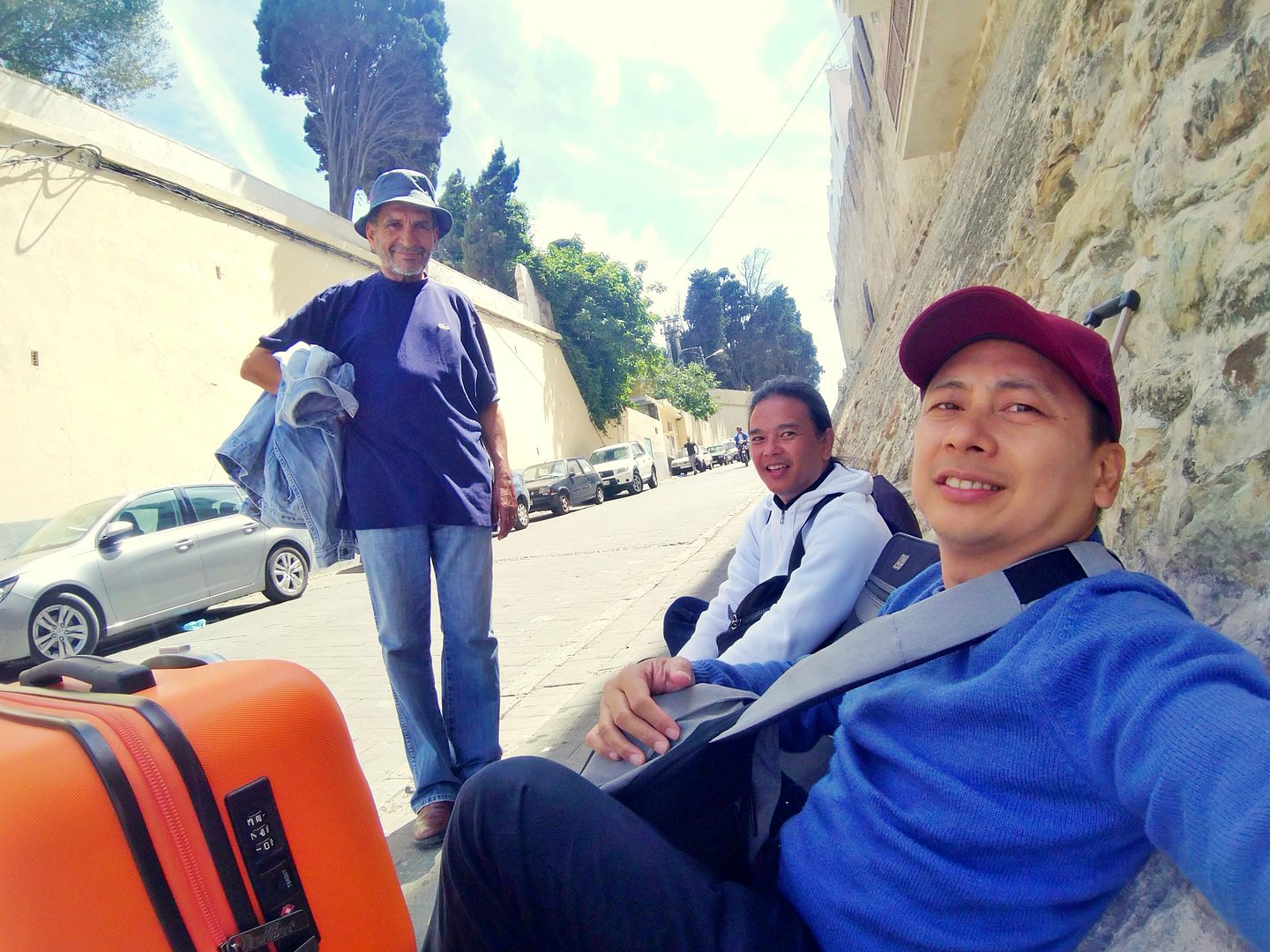 Lost and rudderless, we slumped in exhaustion and confusion at the shadow of the 15th-century fortress wall surrounding the medina. Ki squarely put the blame on me for my utter lack of navigational skills. Just then, an elderly man came strolling down Rue du Portugal. We must've looked pathetic sitting on the sidewalk with our luggage because he stopped for small talk.
His name was Ahmed and he happened to know Bayt Alice. He even knew the Frenchwoman who owned the bayt. Ki and I eyed each other; we had been warned of locals fleecing tourists in the guise of offering help.
Ahmed went out of his way and led us through alleys that generally looked identical. We turned corners more times than I could count. As Hansel and Gretel left a trail of breadcrumbs, I took photos of signs and doors to mark our way until we found ourselves at Rue Khatib, an alley even narrower than previous ones. Our unexpected guide delivered us right to the doorstep of Bayt Alice.
We were profuse with our thanks as I momentarily pressed the doorbell. Just then, Ahmed disappeared around the corner without asking for money. We were racked with guilt for doubting his sincerity. What were the odds? In the throngs of the medina, we bumped into a good Samaritan, not a con artist.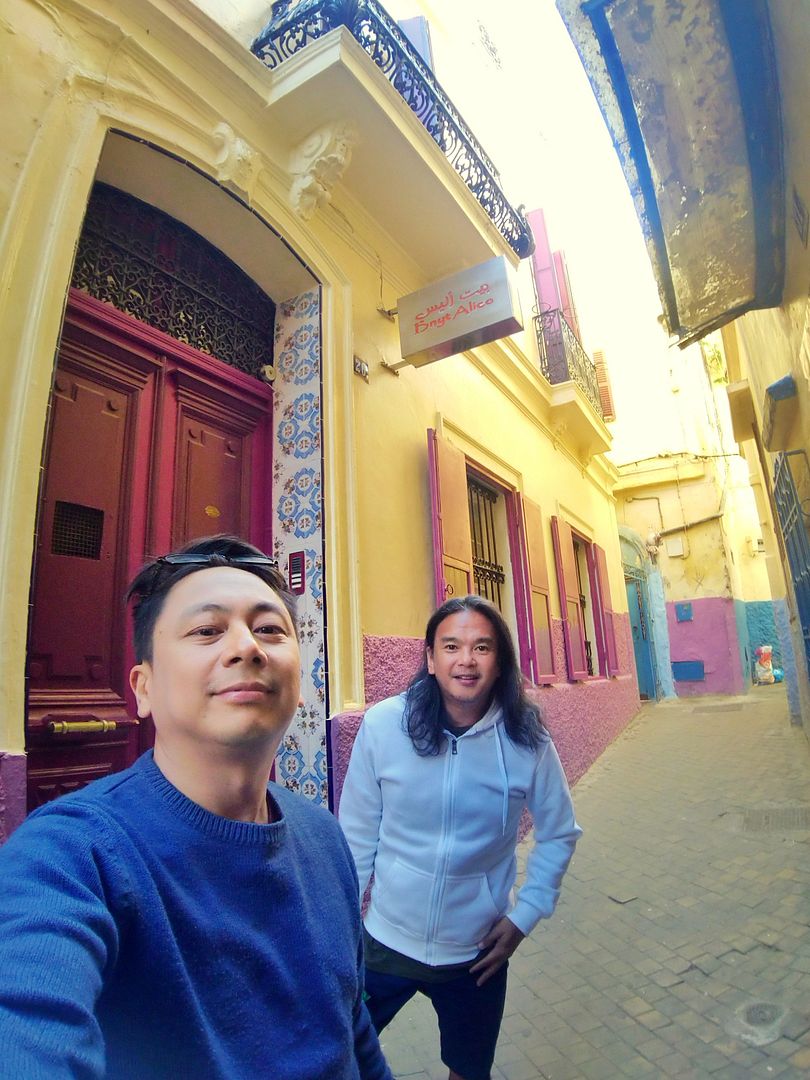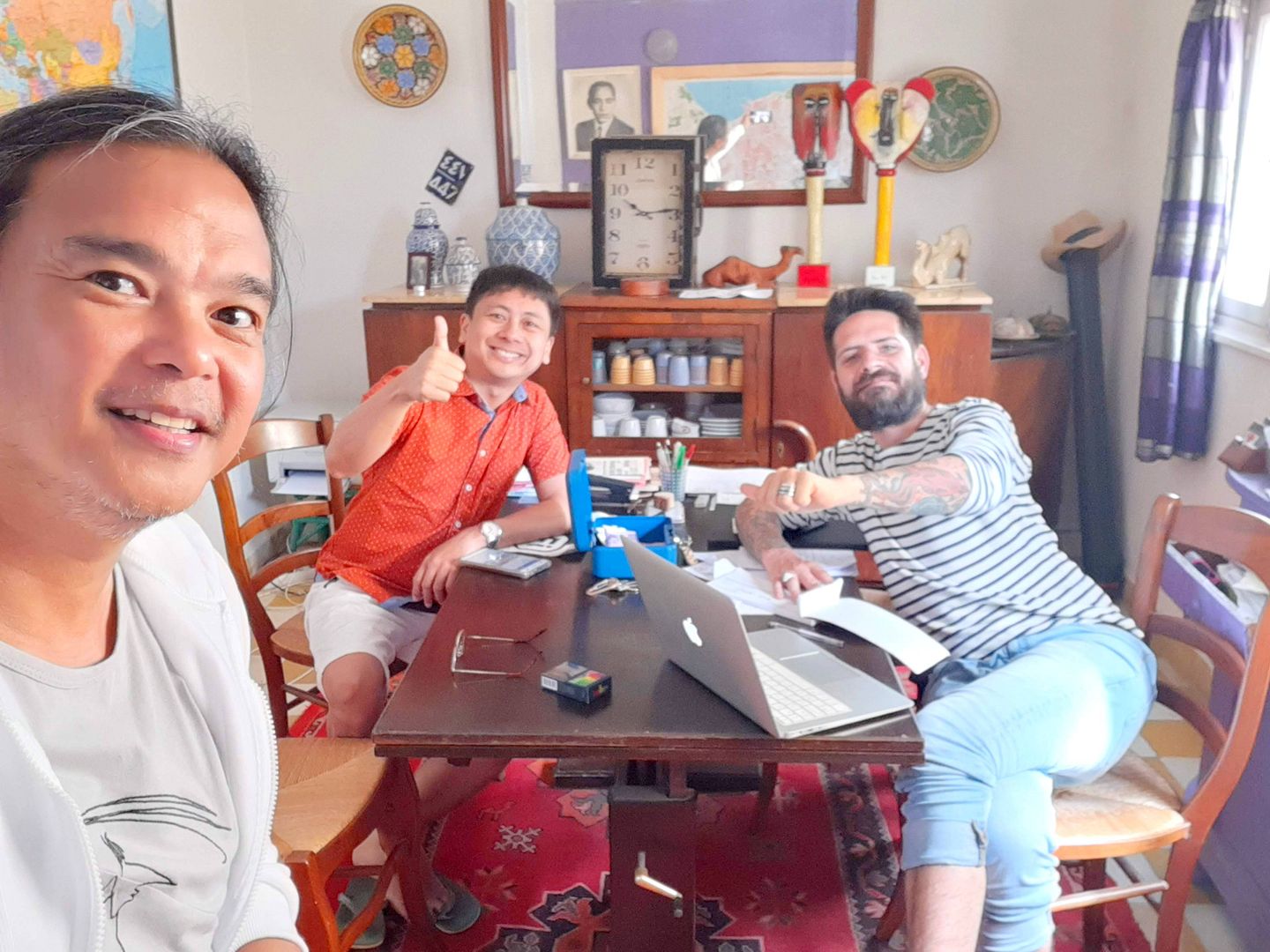 Voice confirmation sent the receptionist down to unlock the door and bid us in. Bayt Alice was a miniature Moroccan mansion. Berber and Arabic art did not merely fill the interior; it gave it atmosphere. We followed at the heels of the dark-eyed man (not in photo above) who opened the door up a winding flight of stairs. His third-floor office was a room dense with vintage decor.
As the French owner was away, he took on the task of enumerating house rules and collecting our dirhams. He pulled out a photocopied map of the medina and drew directions to places of interest on it. Just as quickly, we were shuffled to our room on the second floor. Later, Ki could not account for a few hundred dirhams, uncertain where he could have lost the amount. The receptionist never showed up again throughout our stay.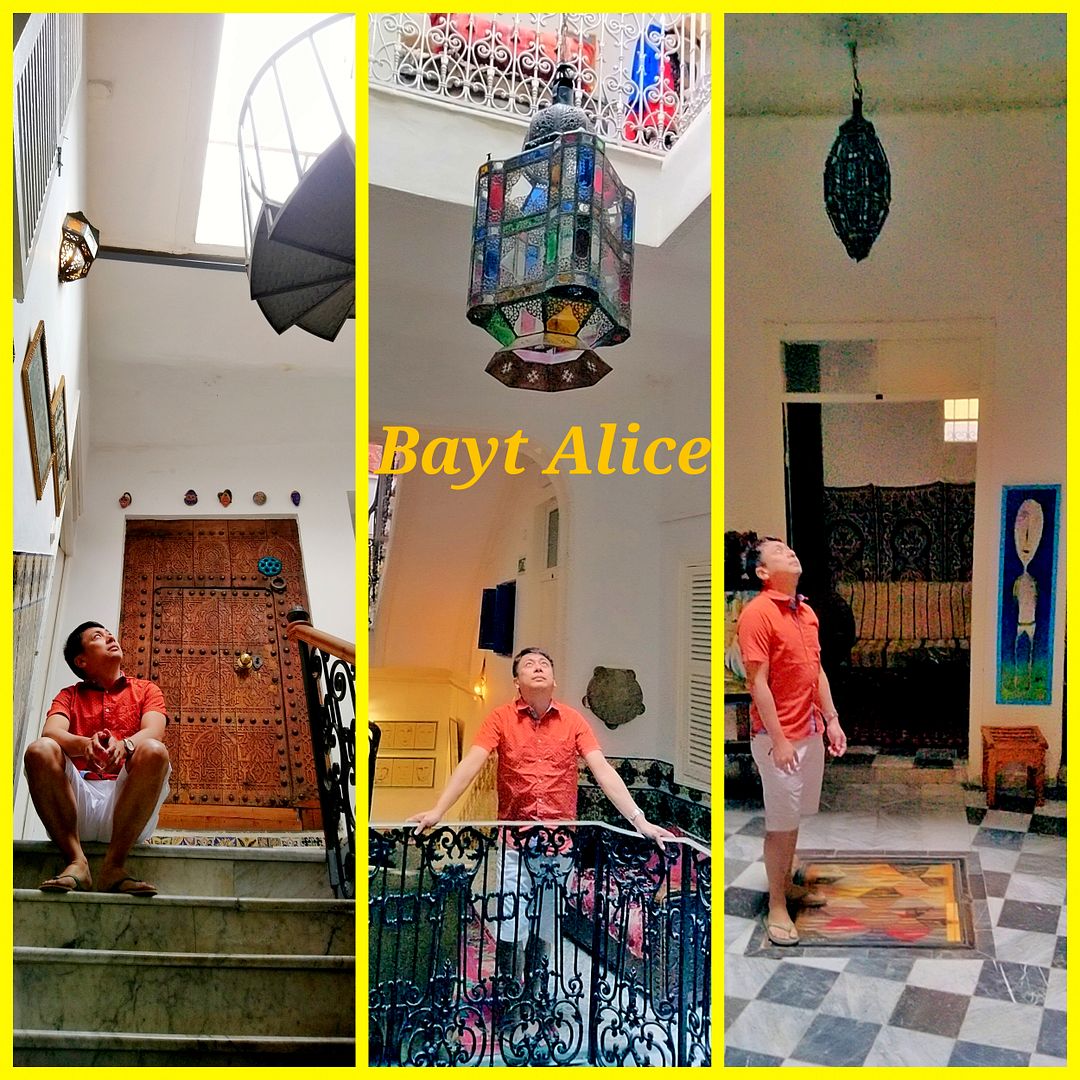 The interior of this bayt was patterned after the riad, a traditional Moroccan house with a courtyard. Most hostels, even some shops, in ancienne medina followed the riad architectural design built on Islamic values, such as family privacy. Women of the household could work and hang out in the inner garden away from the male gaze.
Space-challenged Bayt Alice lacked the luxury of a courtyard. Instead, an atrium cut through four floors of the bayt. In place of a garden fountain, a skylight let in a stream of sunshine cascading to the first-floor foyer.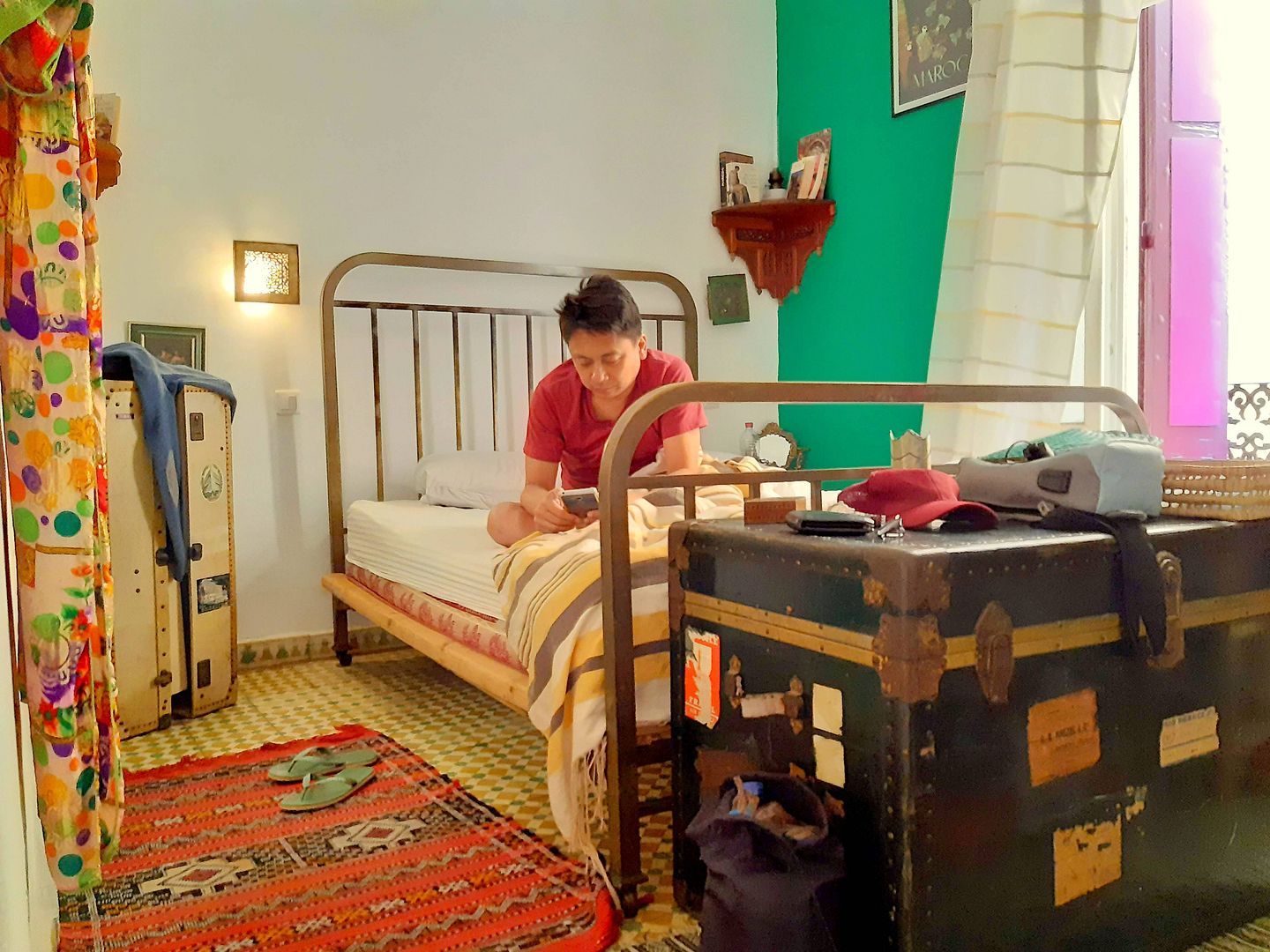 In riad style, rooms opened up to the atrium, not a hallway. The first floor had dorm rooms with a shared bathroom. Ours was private en suite on the second floor with a tiny balcony where we could watch our neighbors' children playing in the evening. Colonial and traditional effects outfitted the room: an iron bed frame, a leather chest, a portmanteau bursting with – presumably – old clothes, Berber rugs, the moldy bathroom tile work, and a colorful djellaba that I would've worn if it didn't smell of dust. It all evoked the time when American and European artists retreated to Tangier to find their Muse, except that the decor competed for space with our luggage. The office and kitchen shared the third floor with more dorm rooms.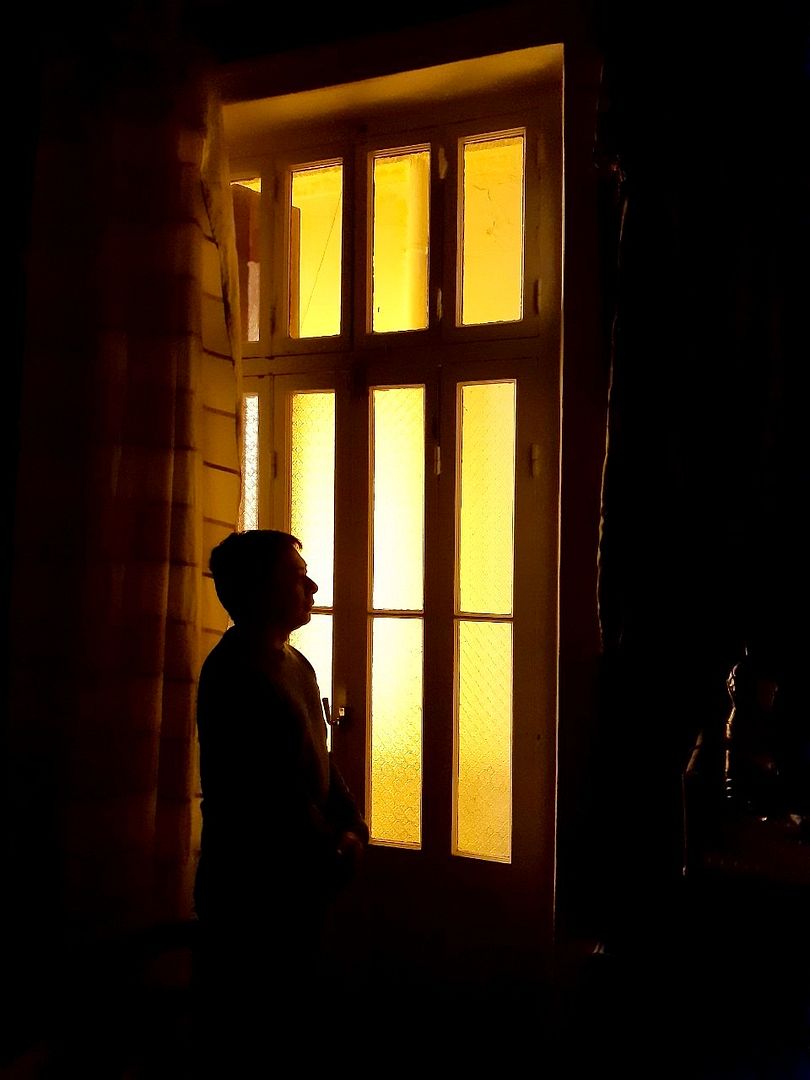 Sundown was well into the evening in June. We would close the French window to keep out daylight when we repaired to our room at 9 PM. My birthday fell on our first night. The roof deck looked as good a place as any to celebrate my half century. I waxed poetic:
Ki and I sprinted up to the roof deck to catch the sunset. Alas, the sun itself was hidden from view, but its fading light gleamed on the medina's stucco walls and the ripples on the Strait of Gibraltar beyond. The twilight sparkled before it faded to black, so should life.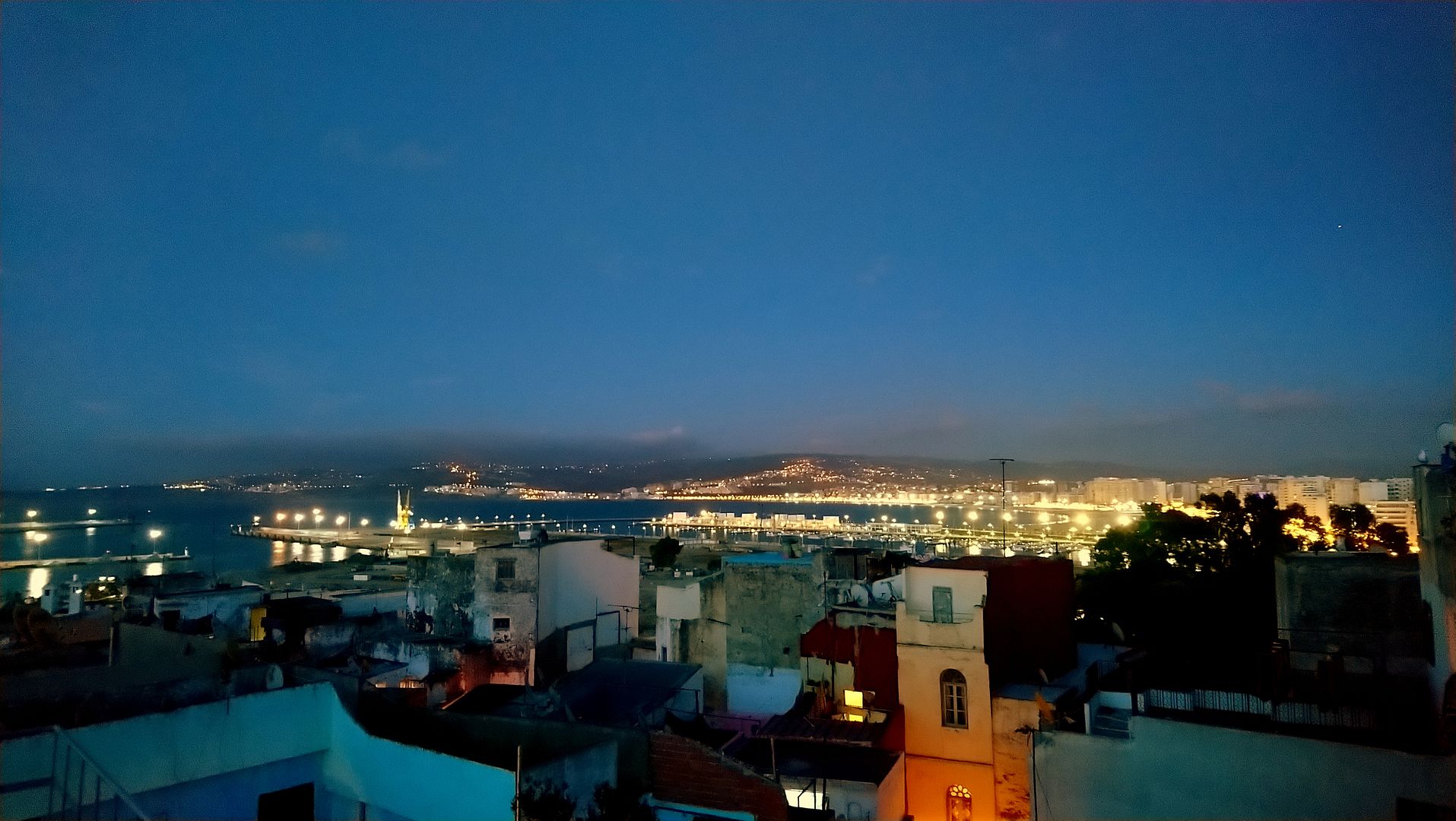 The roof deck offered a sea gull's view of the medina. While a flock of las gaviotas were swooshing and swooping overhead, the dense neighborhood was pulsating in the daily grind of life as it had for five centuries. Tangier's medina was not a gentrified heritage showcase, it was a living space for locals and migrants alike.
We spied on the dorm block next door where West or Central Africans spent the evenings doing their laundry or eating by their windows. Their chatter was then drowned out by the call to prayer blaring from a nearby mosque. The roof deck allowed us to immerse in these sights and sounds and smells of the medina from a close enough tour d'horizon.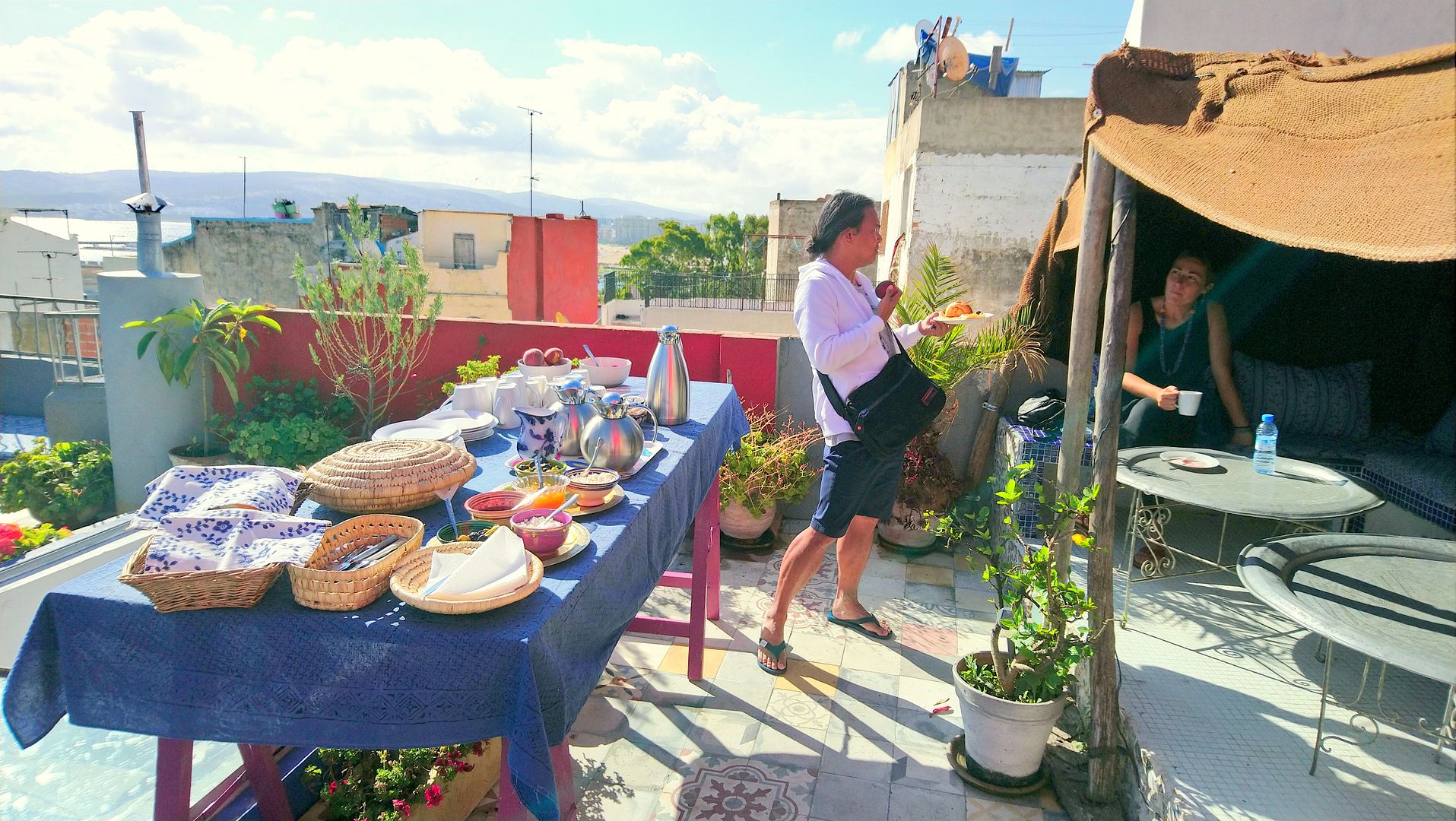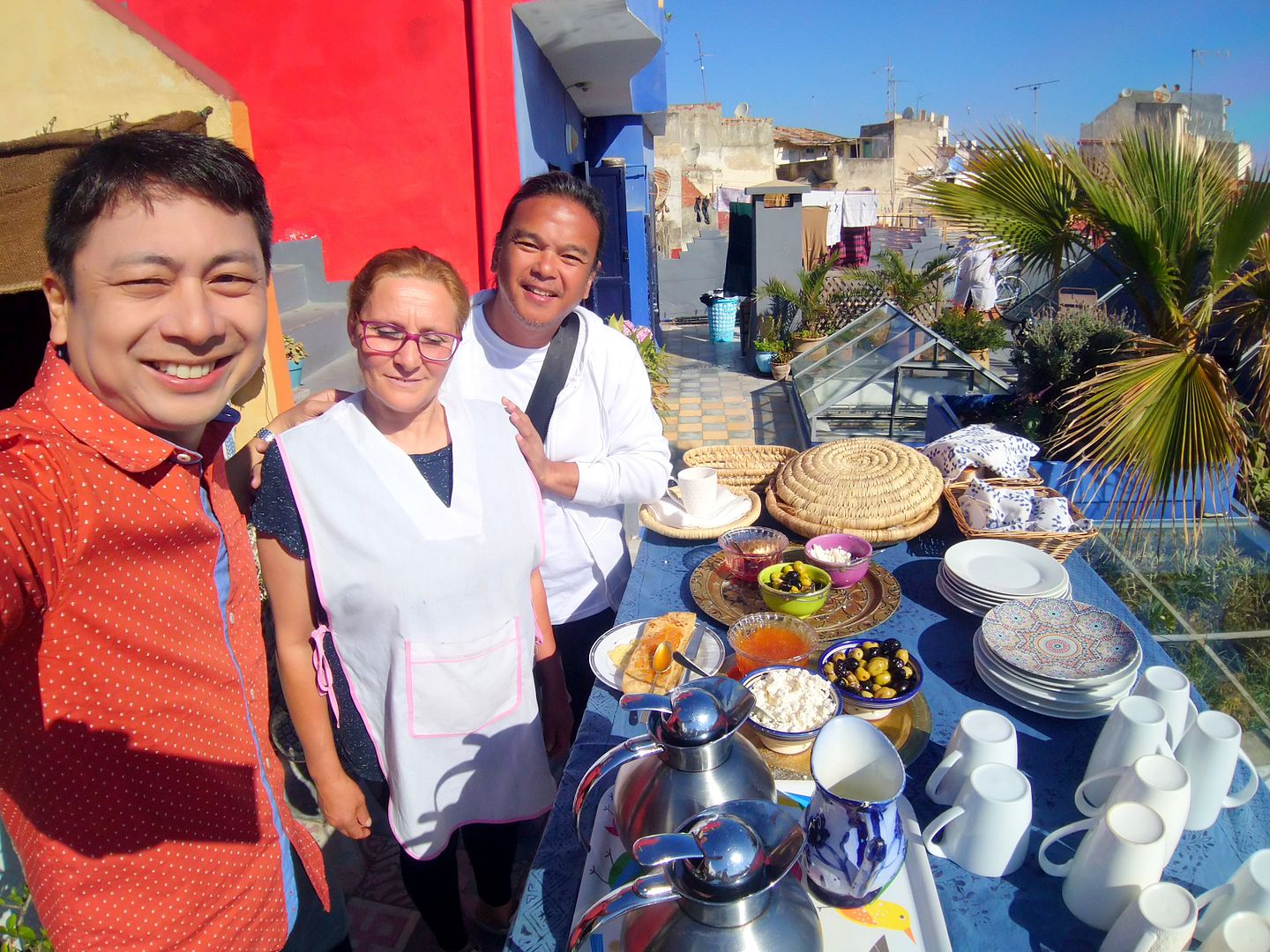 Mornings turned the roof deck into a dining space. A complimentary breakfast spread would be set up in front of a tented lounge. Nadia, the Spanish cook, prepared all-you-can-eat m'semen (Moroccan flatbread) on which we lathered clotted cream and jam. Table olives balanced the sweetness of our carbo-loading breakfast. Nadia specialized in continental and Moroccan fusion.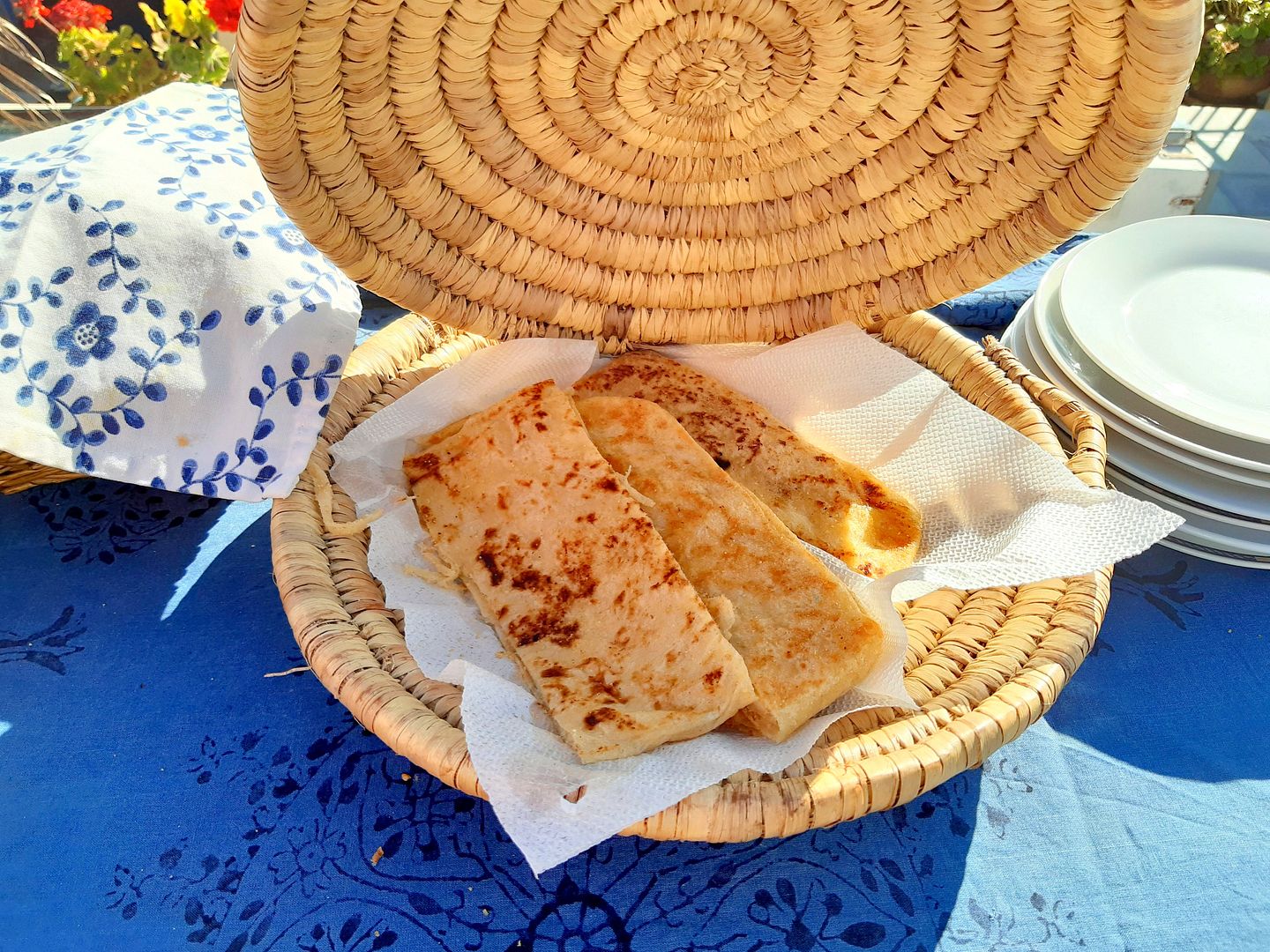 Breakfast presented the opportunity of meeting fellow travelers. The previous night, we noticed Chloe, a Frenchwoman with cropped hair, lost in her bowl of salad. The following morning, she was working the roof deck as a hostess would, chatting up a storm with the guests. She shared that she had been in Tangier for a month as a volunteer. For a humanitarian organization, we assumed, but it later dawned on us that she may have meant her breakfast duties for the bayt. Was she the acting guest relation officer for, perhaps, a discounted long-term stay?
Behind that cheery personality was a tough cookie. She claimed to have walked from Italy where she worked through South of France on to Spain and, at the final leg, she took a ferry to Tangier. As the quintessential quirky traveler we had expected to meet in a hostel, Chloe delivered and more.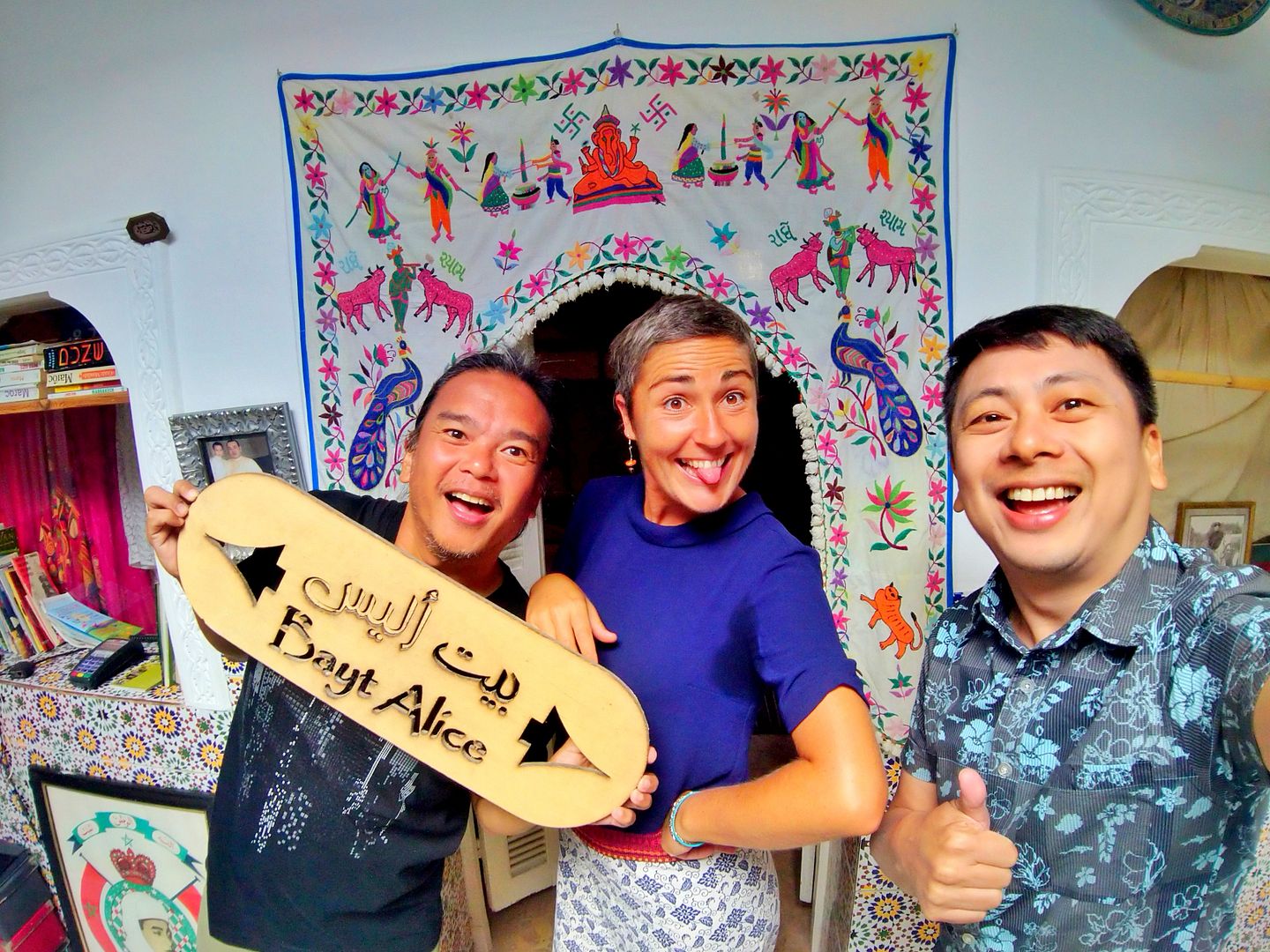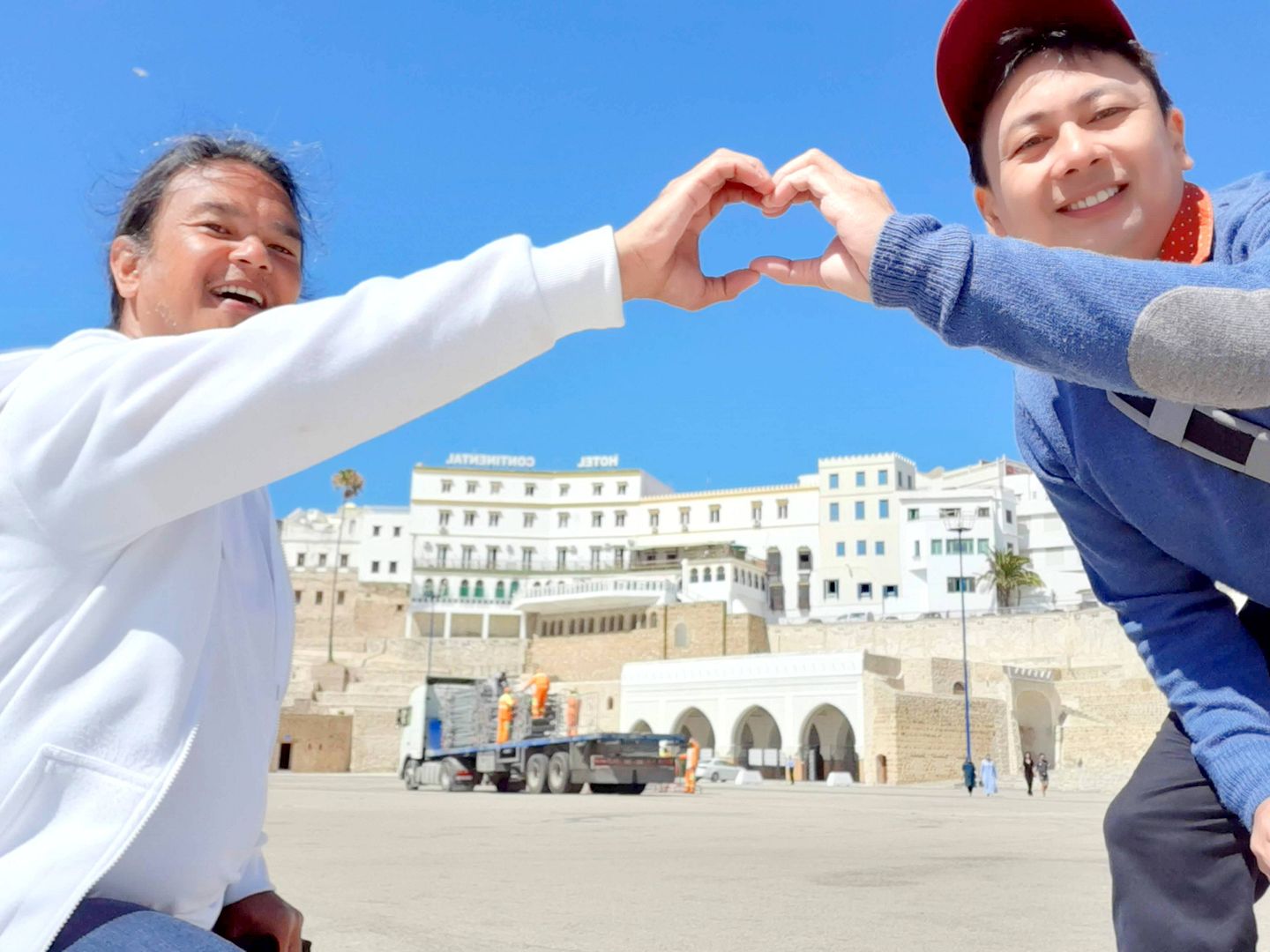 Bayt Alice was well worth the hassle in finding it deep in the maze of the medina. We had a taste of medina life, past and present, as the network of narrow alleys ebbed and flowed with merchants and mercenaries, transients and travelers for centuries. The bayt itself was a microcosm of this walled-in world. We found our little atrium in the beating heart of Tangier.
Thank you for reading! Your support is much appreciated. Donate now: