Casablanca / Tangier / Fes / Marrakesh, Morocco
June 19 / 22 / 24, 2019
She had WTF written all over her face. Then a suppressed smile lit her eyes. I could see her in my peripheral vision as she was observing Ki pressing his phone on the glass window to take videos of passing landscapes. The observed noticed the observer. She grinned at having been found out. This scene played out in all but one of our train rides around Morocco. Local commuters blind to their daily view were incredulous at a tourist's child-like amazement. Travel writer Robert Louis Stevenson put it best: "There are no foreign lands. It is the traveler only who is foreign."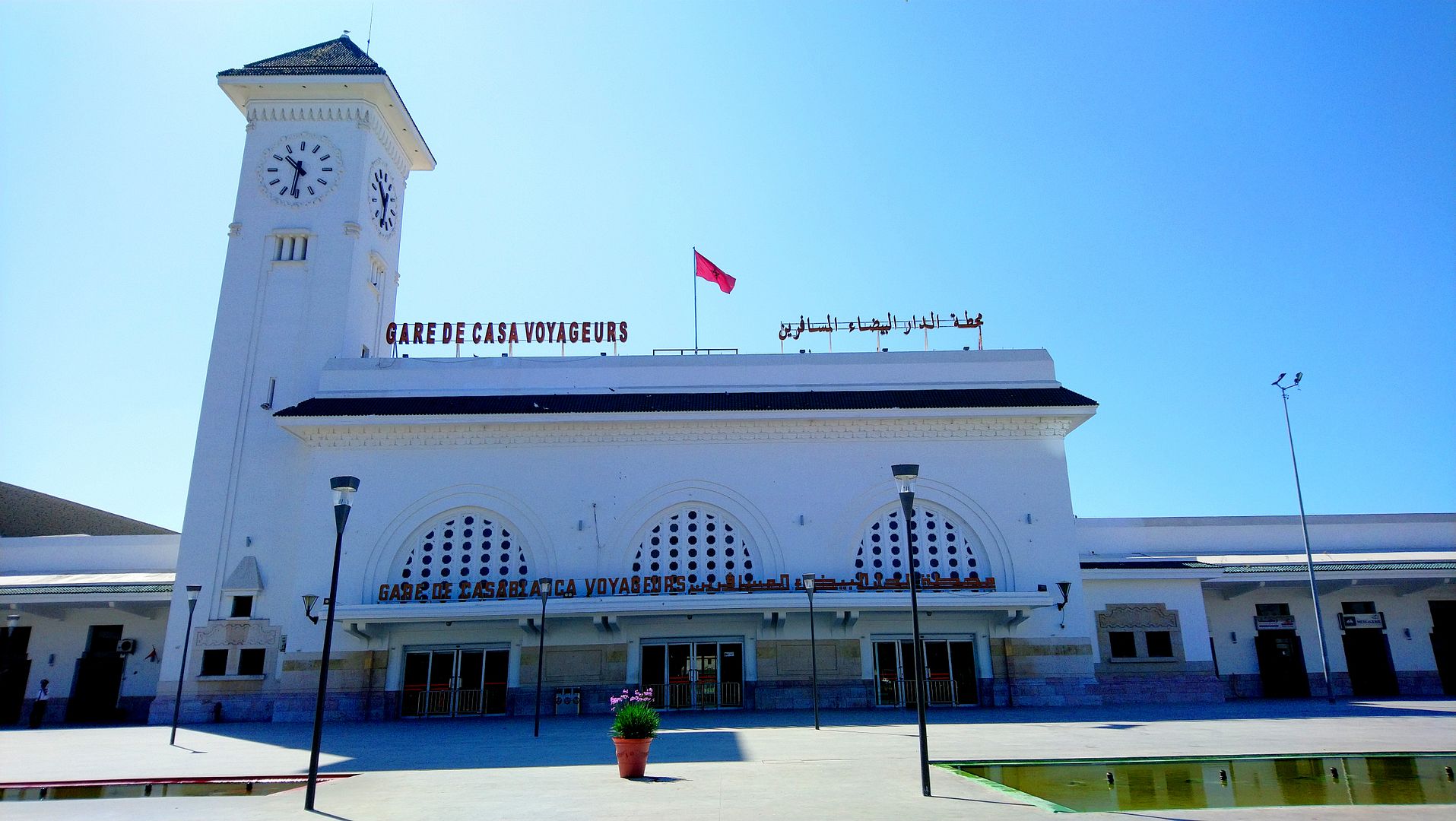 Four cardinal points corresponding to Morocco's regional divisions were connected by rail, each dominated by a major city, to wit: Casablanca (west), Tangier (north), Fes (east), and Marrakesh (south). On a whim, Ki and I decided to string all the cities in our two-week itinerary. The country, after all, boasted of Africa's fastest train inaugurated just a year before. We found the high-speed and regular train service, both run by government-owned operator ONCF, to be generally reliable, convenient, and affordable.
Train schedules were usually round-the-clock. There was no need to hurry in the morning to catch a train. Our urban trek continued on our departure and arrival days as we would walk to and from train stations. Tickets could be bought at the station. It allowed us elbow room in planning – or not – our itinerary. We traveled a day at a time. Our decision to spend an extra day in Tangier, a city we had fallen in love with, was spontaneous rather than scheduled.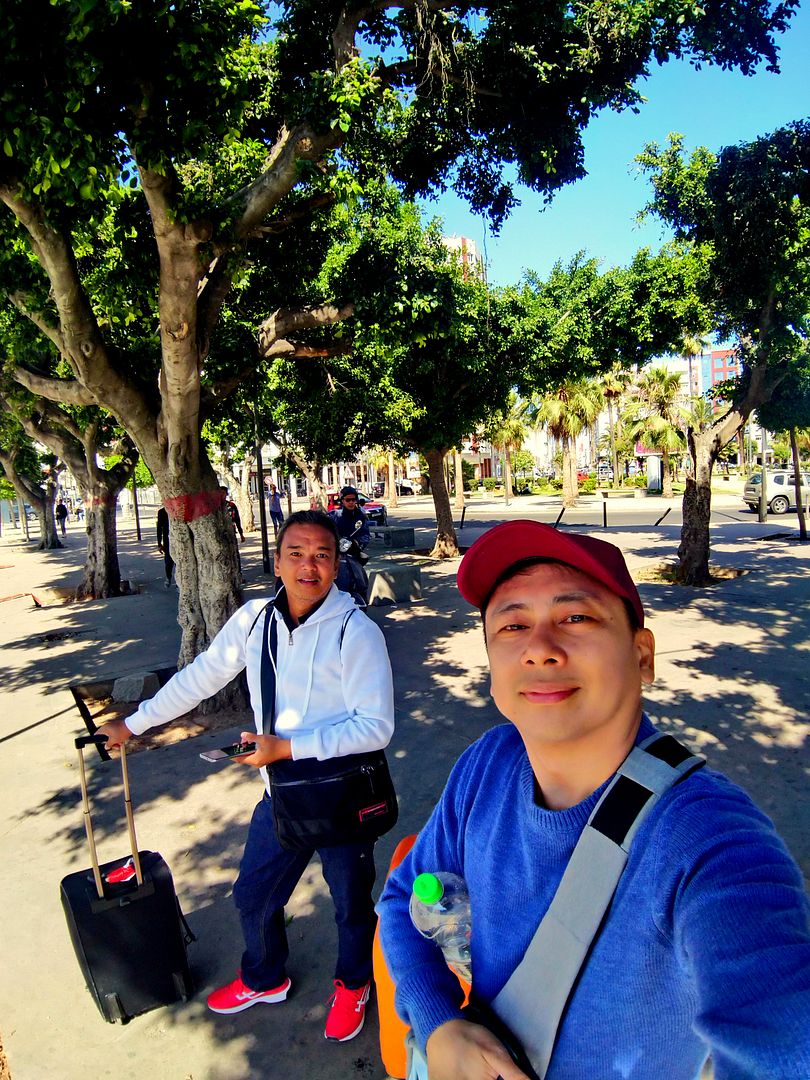 Gare de Casa-Voyageurs
Each railway station had a distinct look that reflected their city's personality. Gare de Casa-Voyageurs, as did Casablanca, had two faces. The 1920s colonial terminal stood beside the modern annex where we bought tickets and barely waited for boarding time. The hotel concierge had assured us that online reservation was not necessary. He was right. A train to Tangier departed every hour from 6 AM to 9 PM.
Casablanca to Tangier (travel time approx. 2 hours)
High-speed train Al-Boraq halved the original travel time between Casablanca and Tangier. We settled on our designated seats and the coach filled up in no time. The lady purser passing by as we were taking selfies gamely posed with us, surprisingly uncharacteristic of camera-shy Moroccans, hence our big smiles. We were off to a good start.
The dining coach was surprisingly sleeker than the rest of the train, though food choices were limited to chips and bottled beverage. As this was my birthday trip, I celebrated my half-century by toasting with our cans of Pepsi and a Spanish cheer: arriba, abajo, al centro, y pa'dentro! It was in keeping with the former Spanish Morocco to which Tangier used to belong.
An Emirati man approached us and asked about our abanicos (woven Philippine fans). His female companion wanted a photo with it, perhaps attracted by the striking colors. Ki had brought them for the African heat, but they became an ingenious way of introducing our country.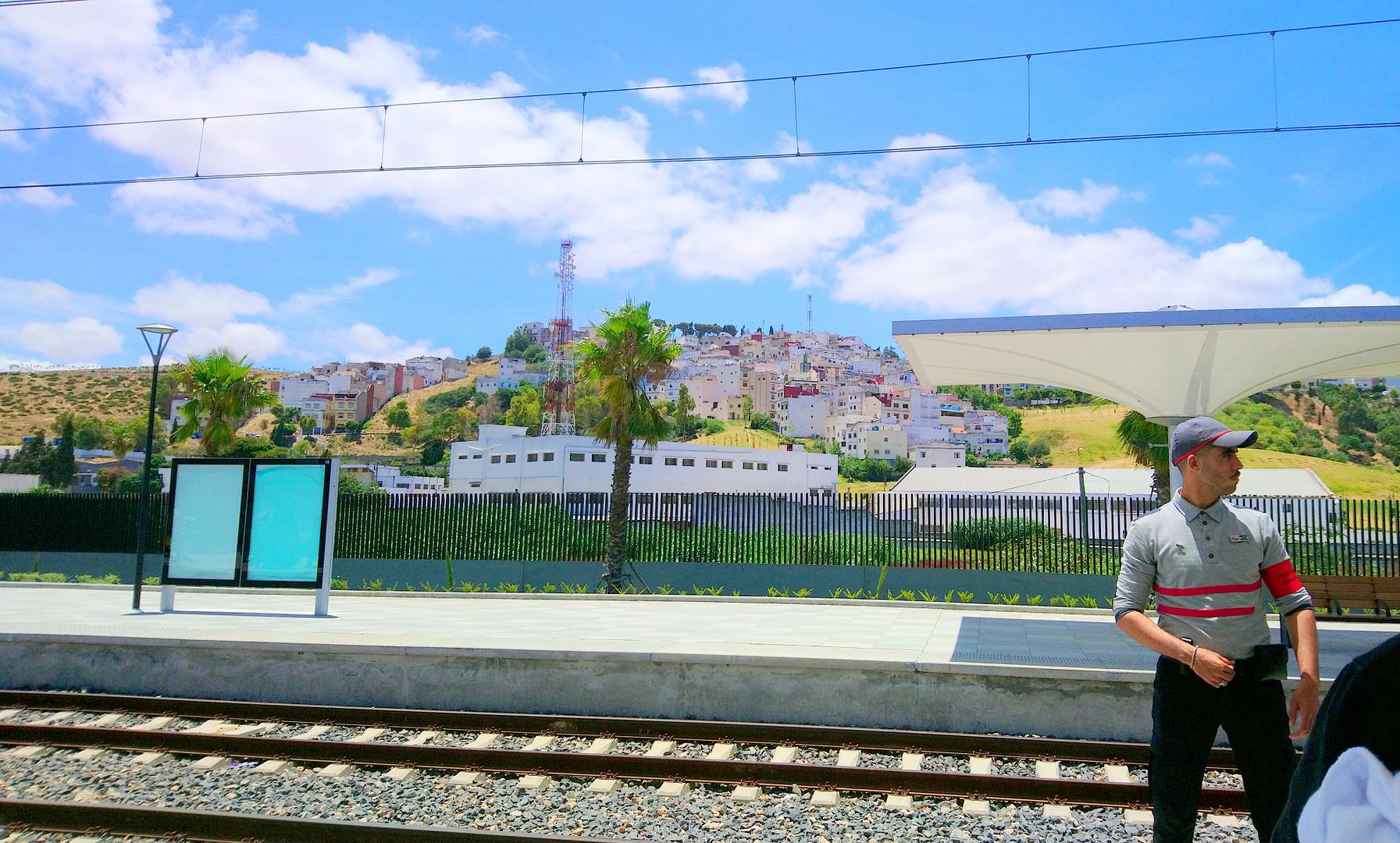 Al-Boraq pulled into Tangier Railway Station half an hour delayed. Midway through, a suspected suicide on the tracks ground the train to a halt. What a sobering reminder of the fragility of the life I was celebrating.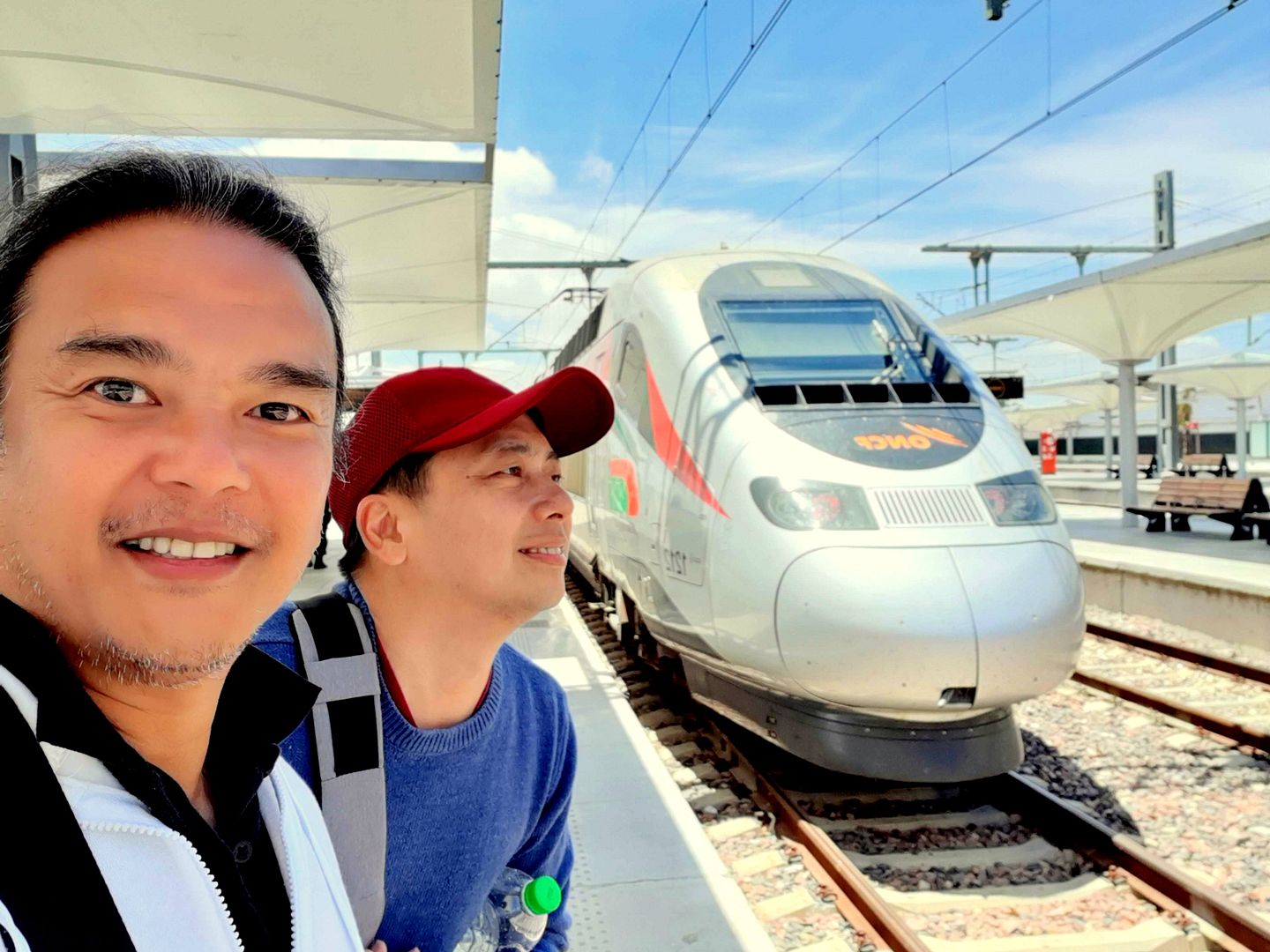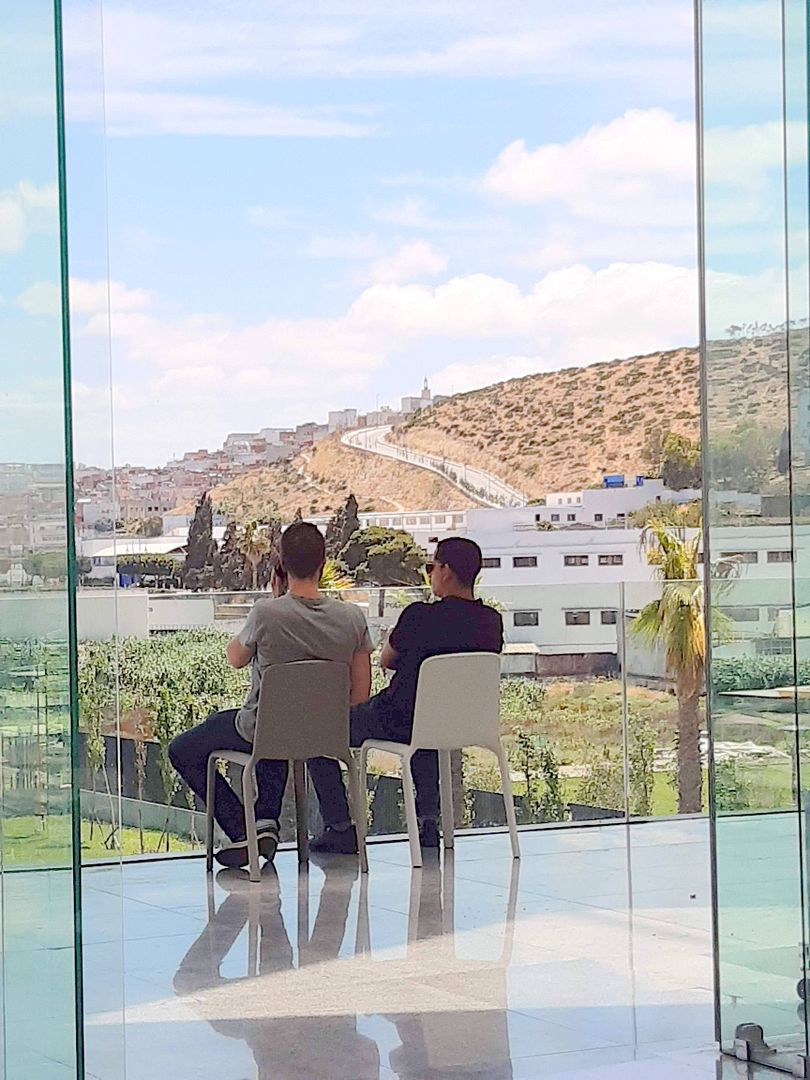 Gare de Tanger-Ville
The terminal and streamlined open-air multi-track platforms of Tangier Railway Station were built in 2003. Clearly, this was how Morocco put its best foot forward as the gateway to North Africa. The station was our first taste of this newly-developed city and came with a reality-vs-expectation moment. Tangier of my imagination was a bohemian heritage town that showed its age. What greeted us was a modern gentrified city.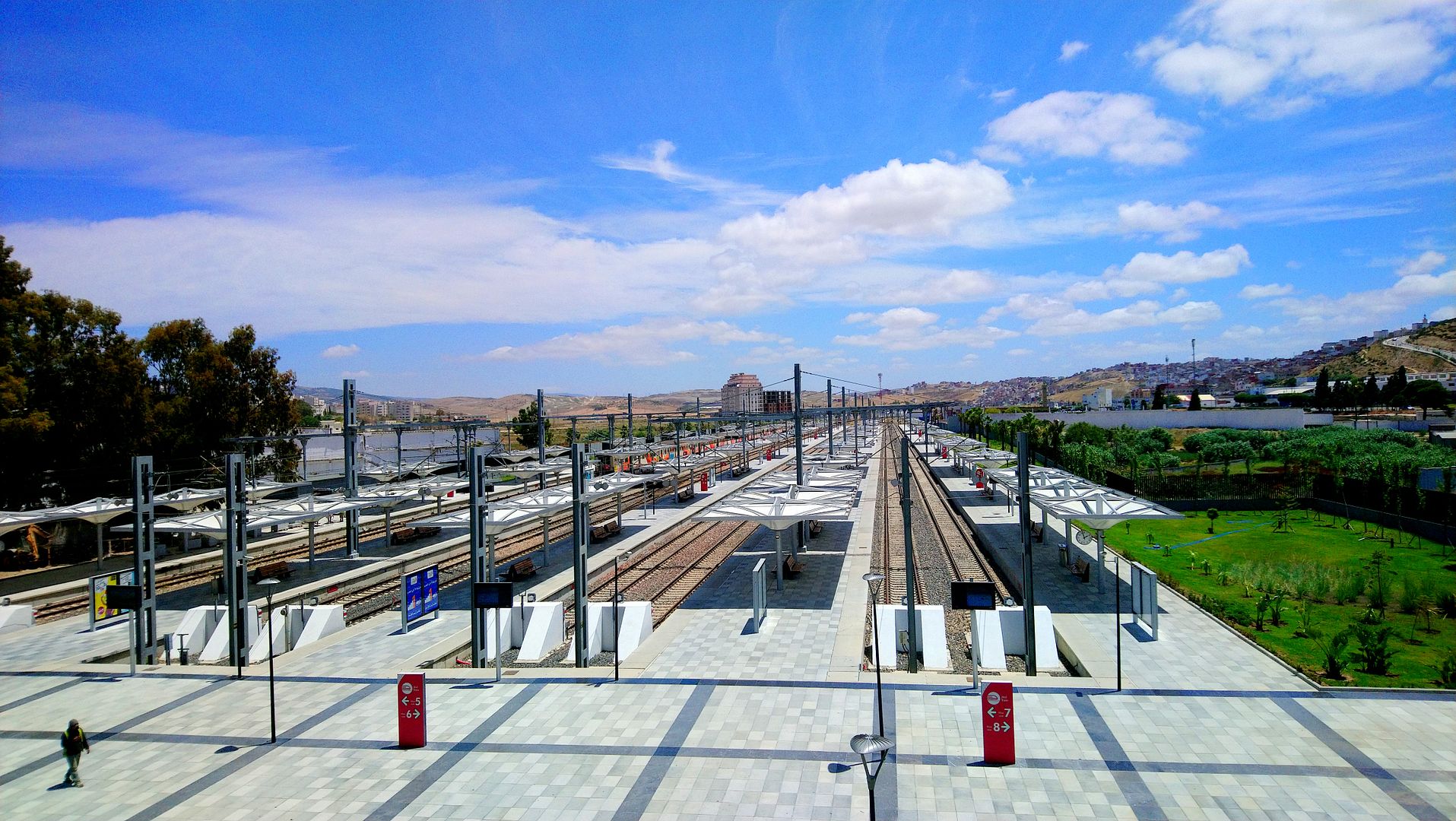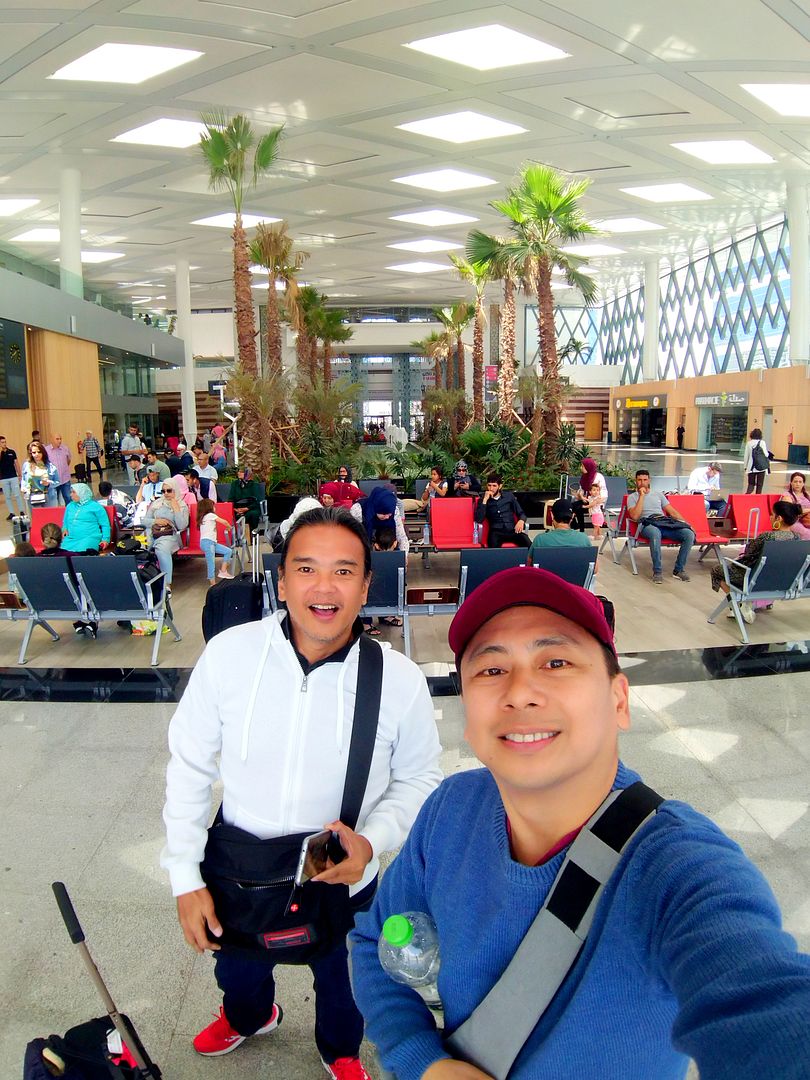 This indoor oasis of palm trees in the terminal hall was far from the Beat Generation's exotic Tangier, but who was complaining? Up at the mezzanine, we hungrily gobbled up our McDonald's cheeseburgers and joined Moroccan men looking out to train tracks on terrasse panoramique (terrace with a view). Hilly slopes draped with stucco villages in the distance looked like a life-size painting, a Manuel Baldemor in particular. We had a spectacular view to go with our fast food.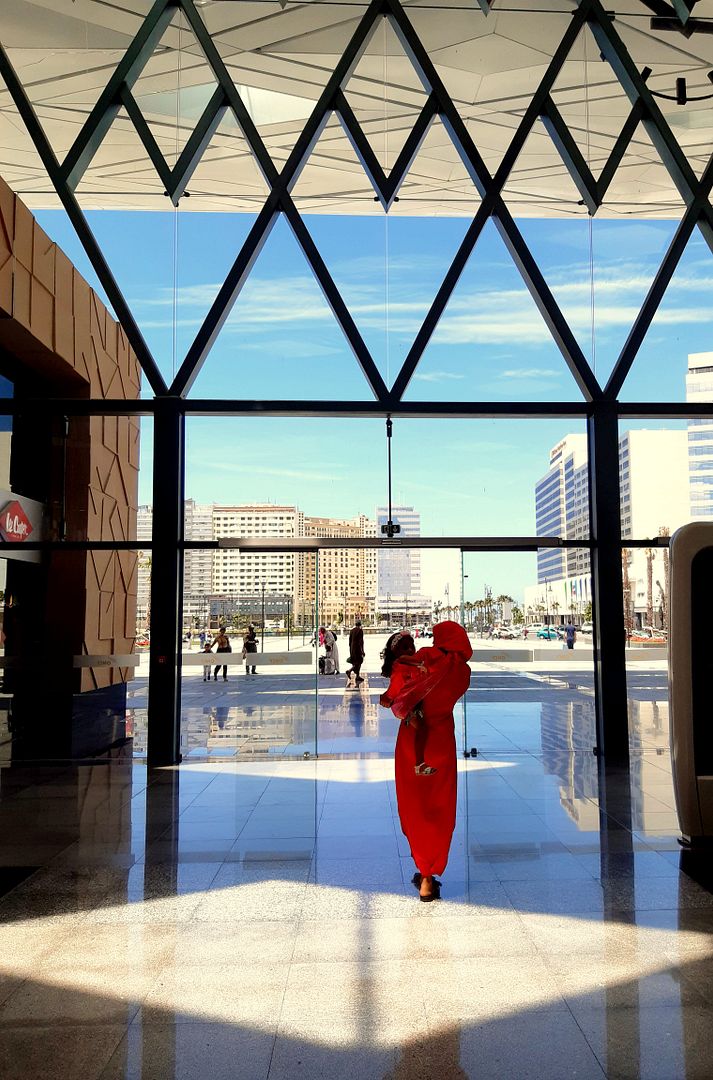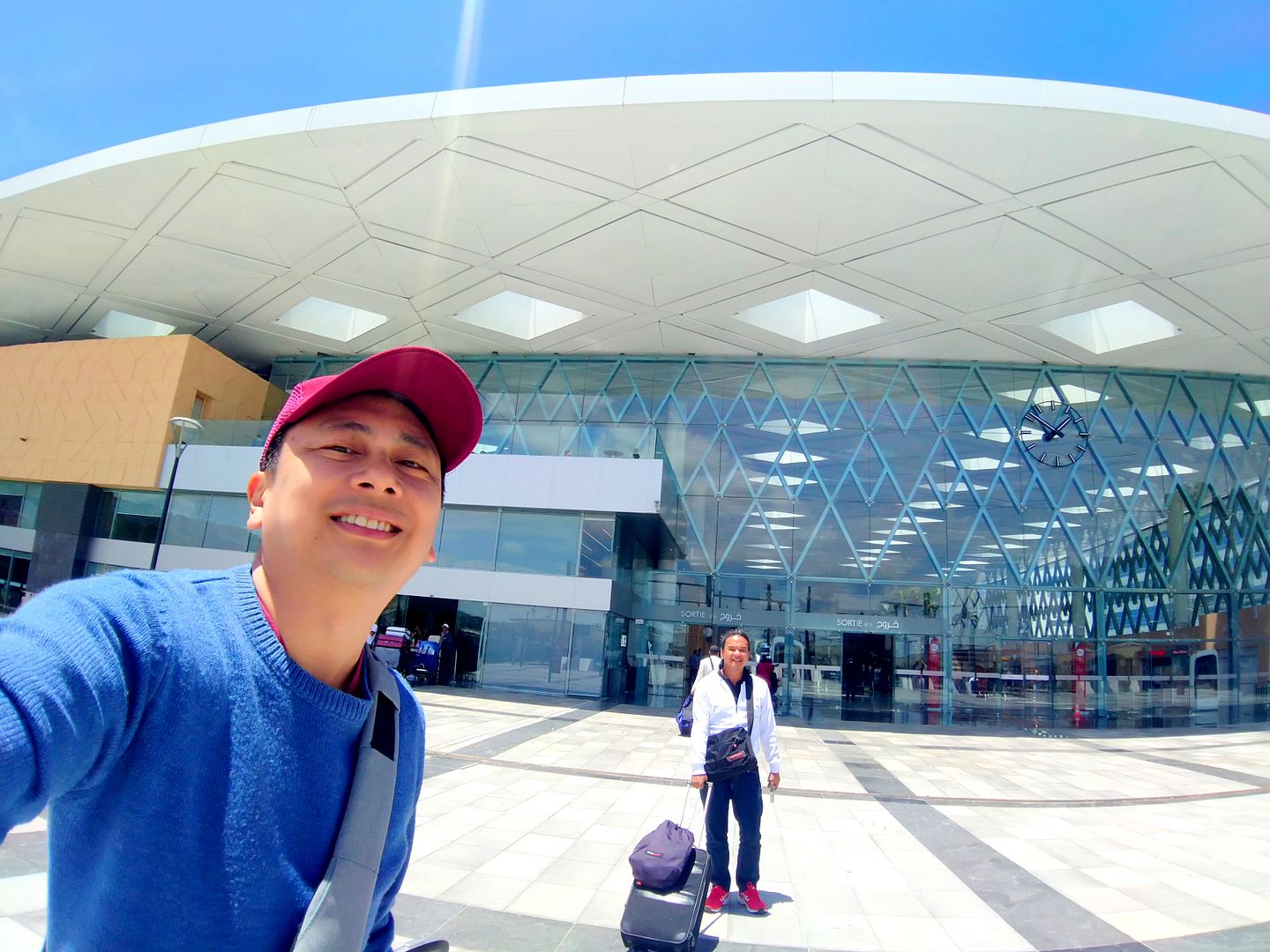 A wide paved plaza welcomed us to sunny and breezy Tangier, a foretaste of the city's Mediterranean climes. Big hotel chains across the street beckoned newly-arrived travelers emerging from the terminal. Tangier we found had been spruced up for tourism. Our traditional B&B was located across town though. We flagged down a cab to take us to the old quarter.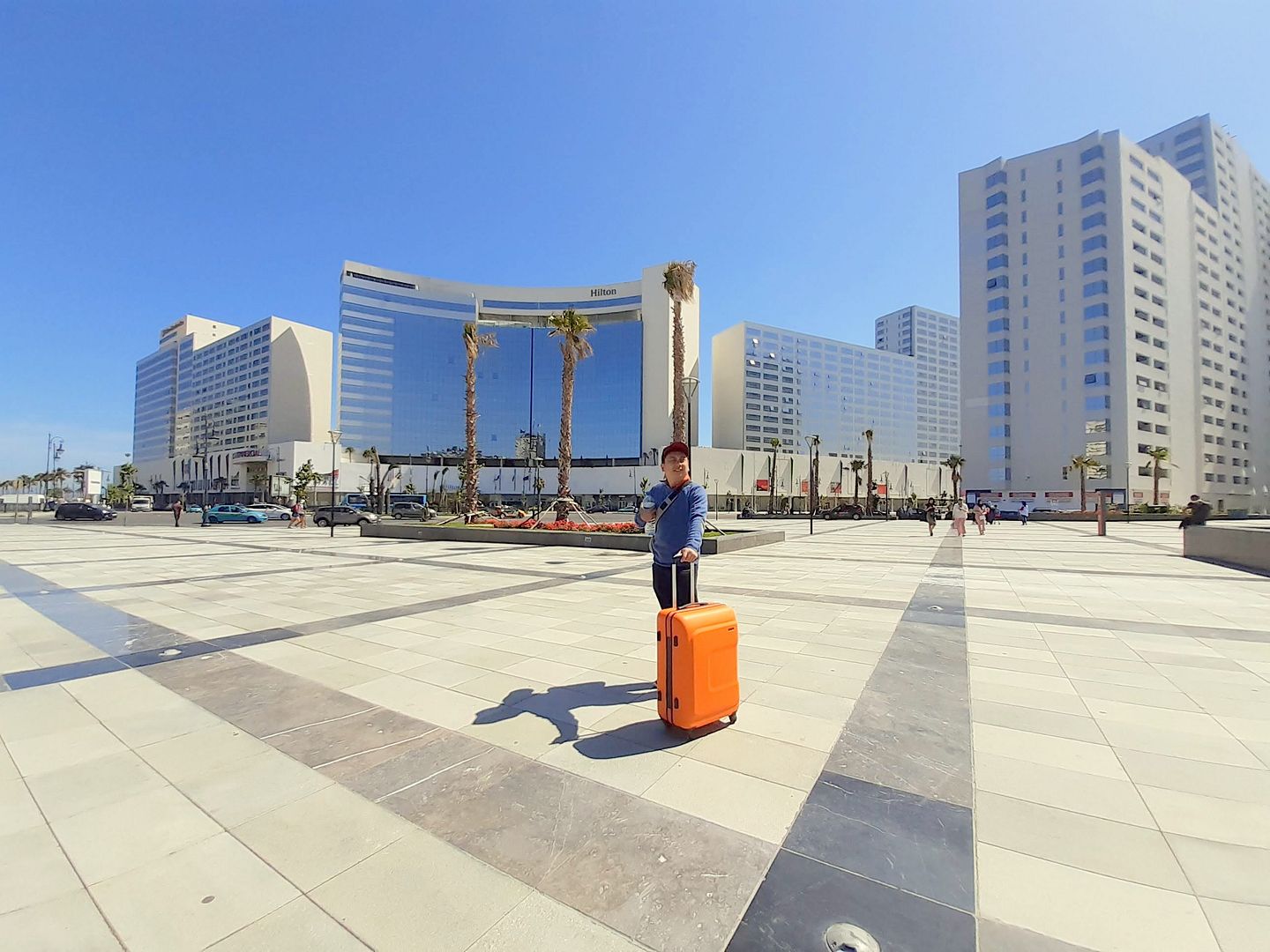 Tangier to Fes via Kenitra (travel time approx. 5 hours)
High-speed trains only plied the Casablanca-Tangier route; we were dropped off halfway at Kenitra where we transferred to an old compartment train to Fes. Each cabin sat six passengers. Three fellow travelers were already seated when we got in. Ki confirmed our seat number with a bearded young man, and he promptly pointed us down the corridor. We gave zero f***ks and went in anyway only to find a fair-skinned woman occupying our window seat. She feigned language barrier; we pointed at our numbered tickets and she moved to an empty seat. We found that local commuters were not sticklers for designated seats, perhaps a leftover habit from the free seating of old trains.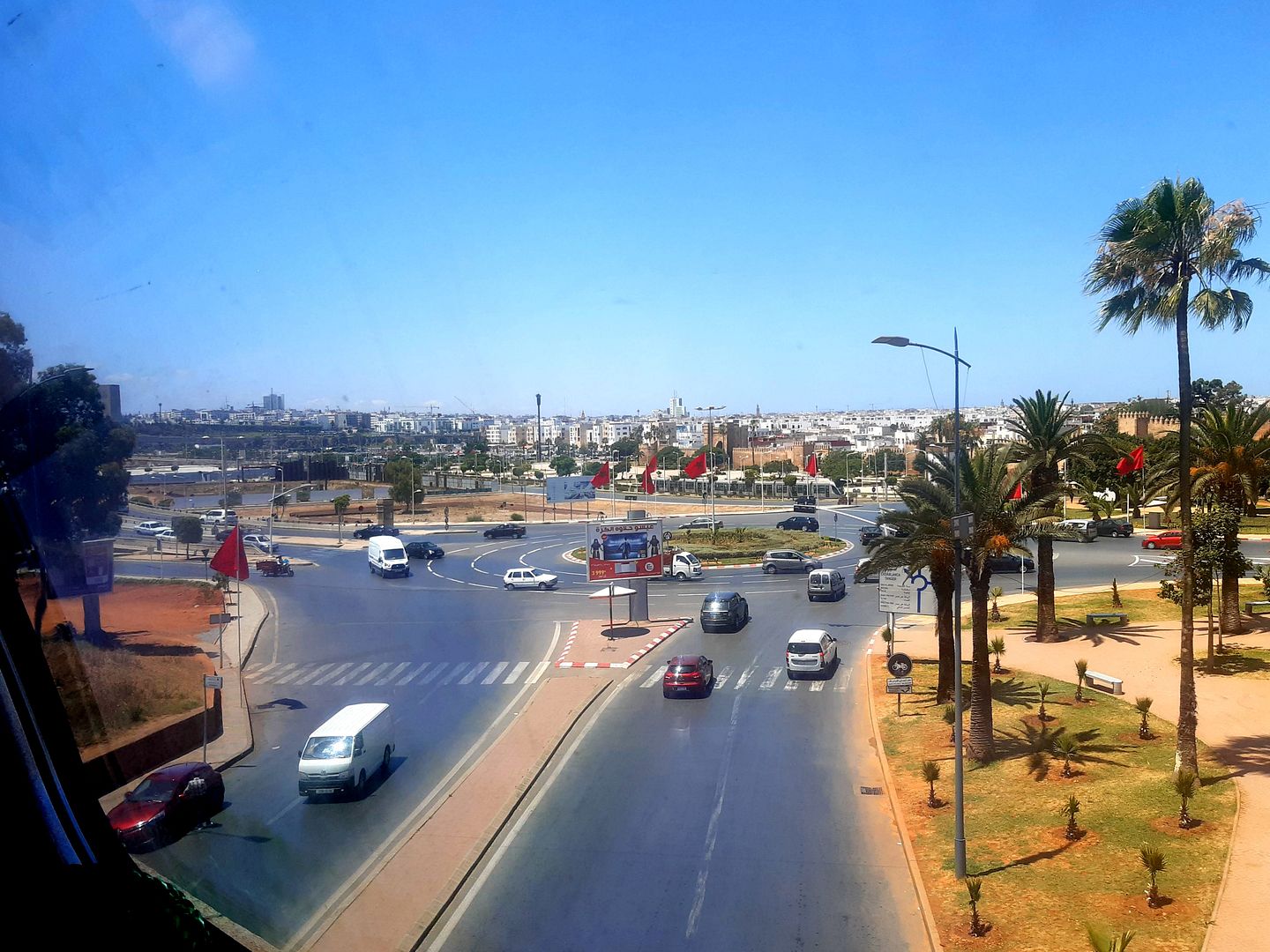 The other passenger was a black girl, perhaps in her late teens or early 20s. Her fine features and winsome smile evoked the charm and sweetness of Leila Lopes, the Angolan Miss Universe. I couldn't help telling her that if she were in my country, she could be a model and earn gazillions. She smiled shyly like she did when I caught her looking at video-documenting Ki with utter fascination.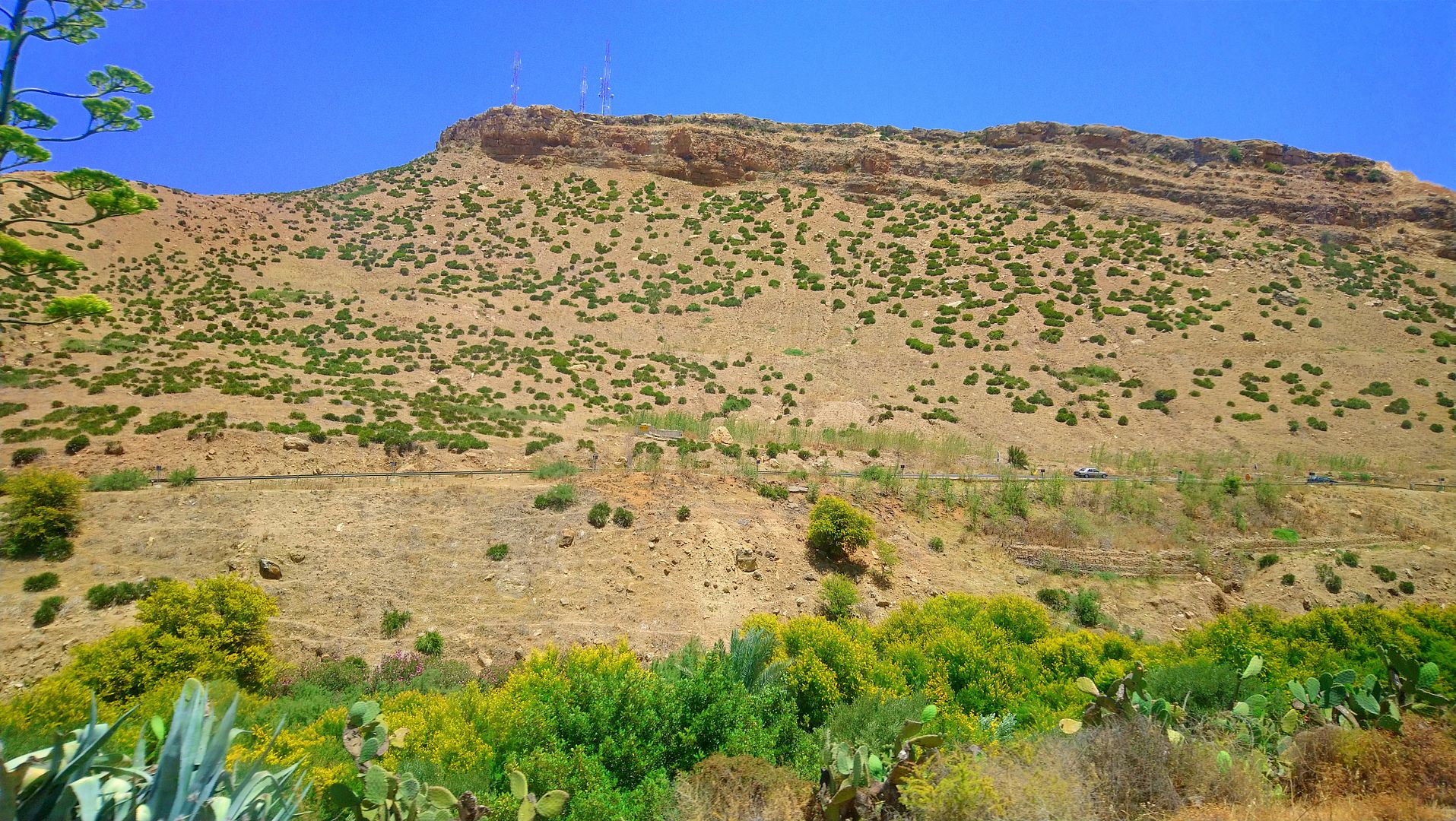 The seat-grabbing woman got off at Meknes. In her place sat a Berber man with George Clooney's rugged good looks. And Clooney's gift of gab. He struck small talk and, before long, the conversation took a turn for the awkward. Moroccan Clooney was relentless in pushing for his friend's car rental and tour. Such persistence could only mean commission. Miss Universe and Bearded Boy sat quietly as spectators of the ongoing battle of wills. Sorry, not sorry to Moroccan Clooney. We never waved the white flag, just wove a white lie – that we had booked a tour with our hotel.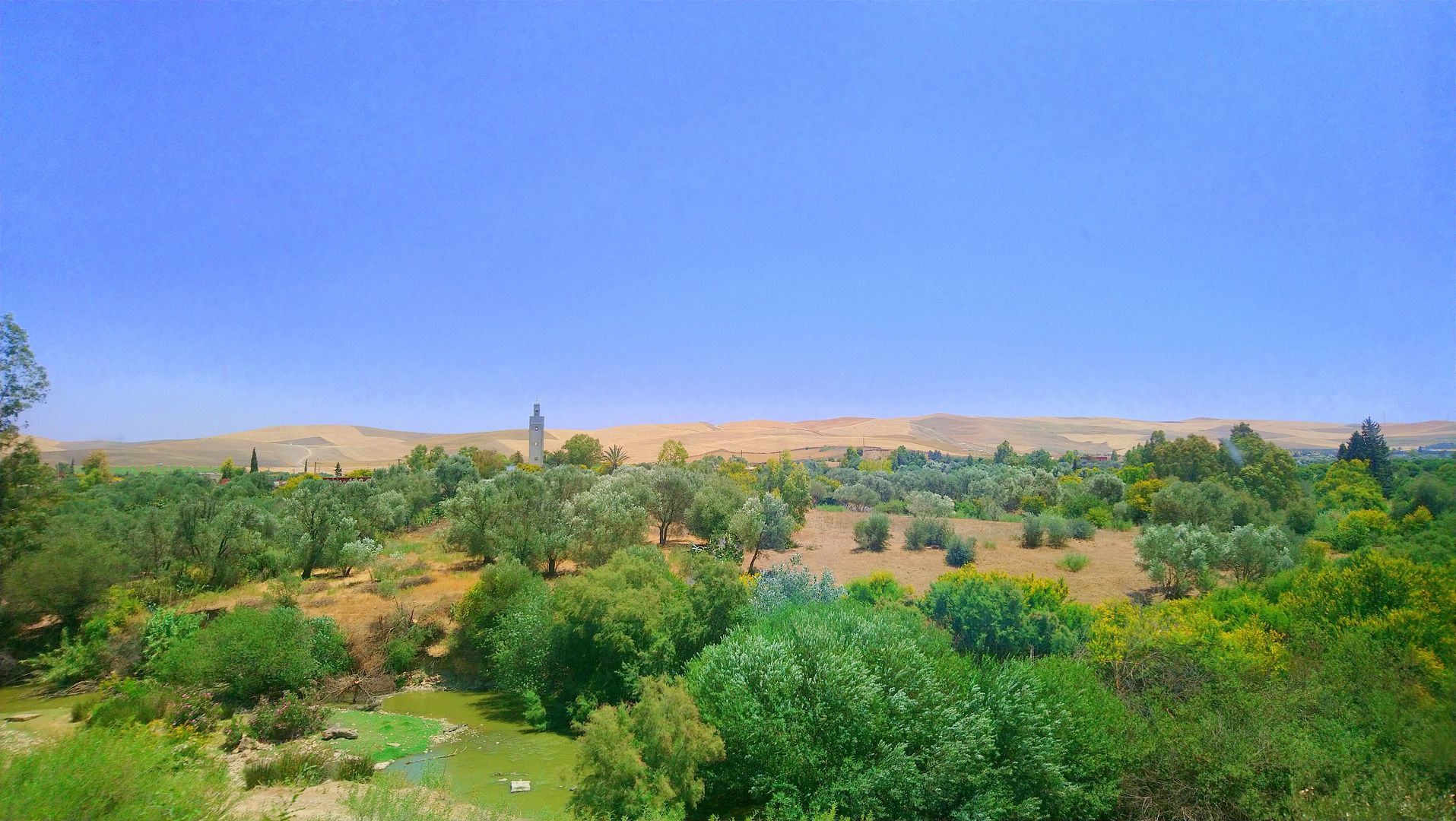 I felt like a literary character in a novel set in North Africa at a time when touts and scammers plied their trade on trains. Apparently, literary was reality. The experience put some color to a trip that was otherwise as drab and monotonous as the dusty brown outside the window. Not that the view was unremarkable. Ki and I oohed and aahed at the arid expanse broken by patches of olive orchards and strange-looking crops.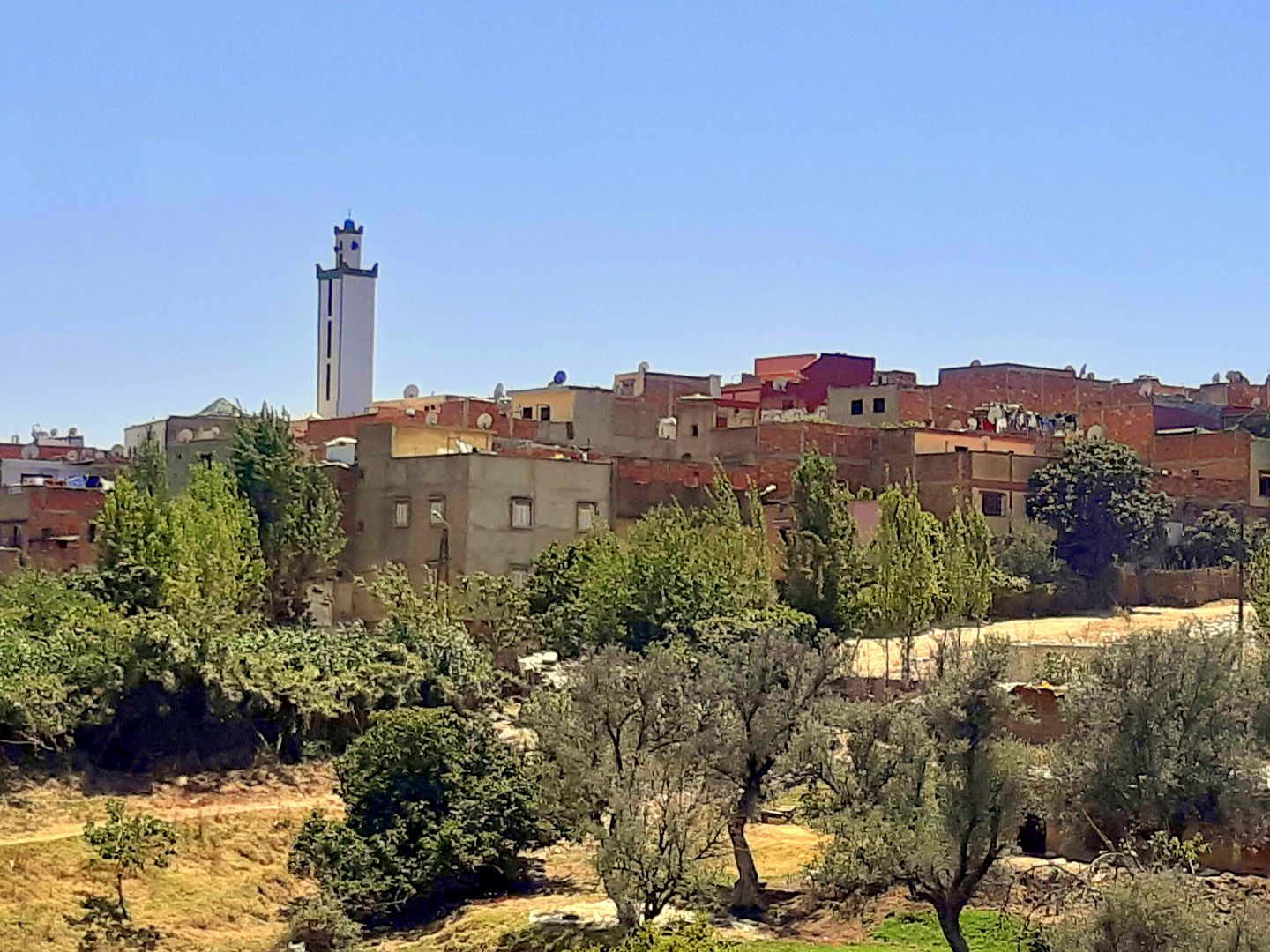 Gare de Fes-Ville
Fes Railway Station was truly a gateway to this less progressive but more traditional city. It was rebuilt to look like a medina gate with that typically Moorish keyhole arch. We fled the train, luggage in tow, in an attempt to lose Moroccan Clooney among disembarking passengers. A bank was still open at 5 PM; we did our foreign exchange in the nick of time. To Ki's shock (in millennial parlance, he was shookt), Moroccan Clooney emerged from the crowd while I took a leak in the stinky rest room. The formerly literary scene had turned cinematic. He made his last call before we lost him for good.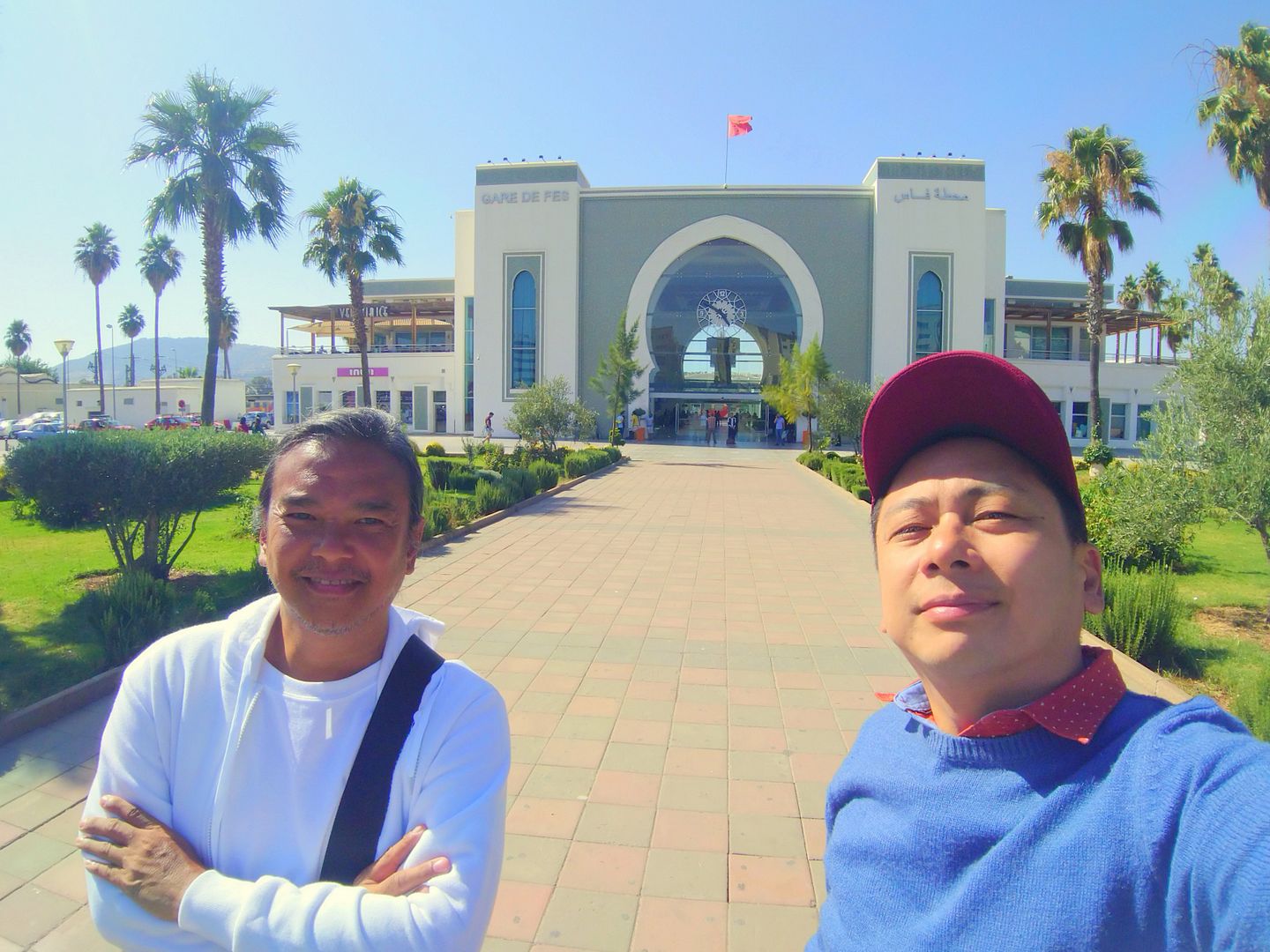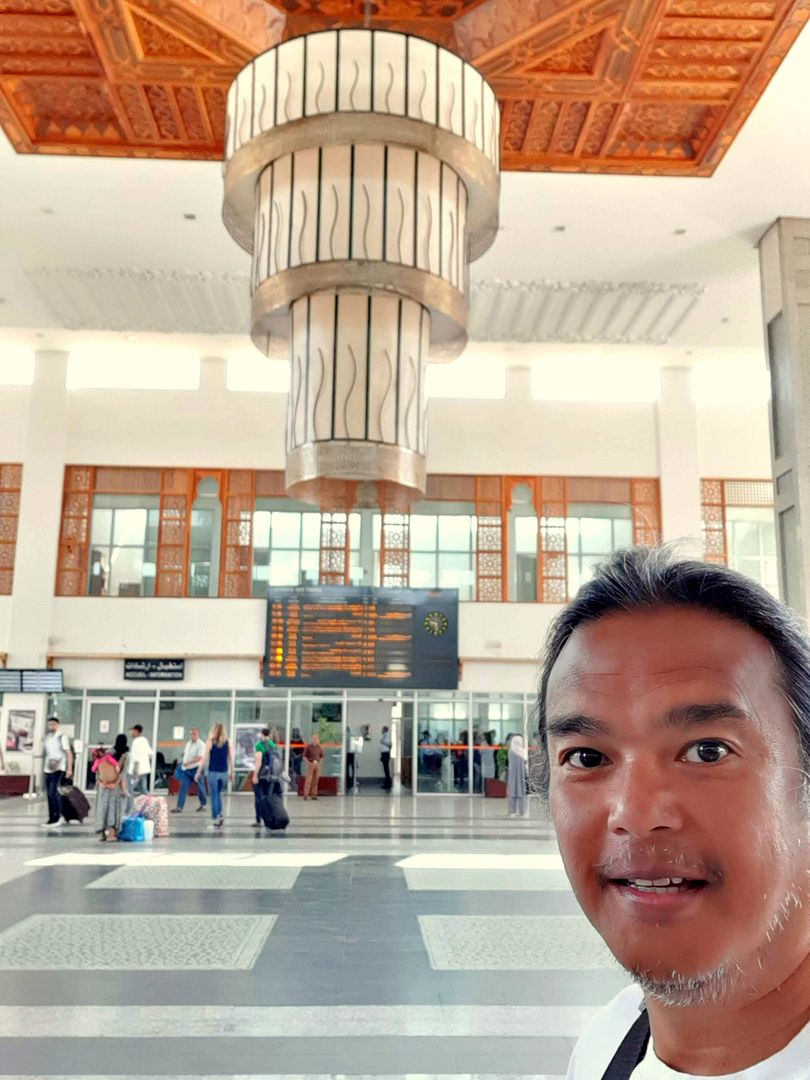 We picked up pace as we crossed the cobbled parking lot, occasionally glancing back to check if we were followed, to our hotel beside the station. Moroccan Clooney had made himself out to be a good Samaritan. Ki believed it was, in fact, his job to board trains in search of tourists to intercept. Competition must have been tough.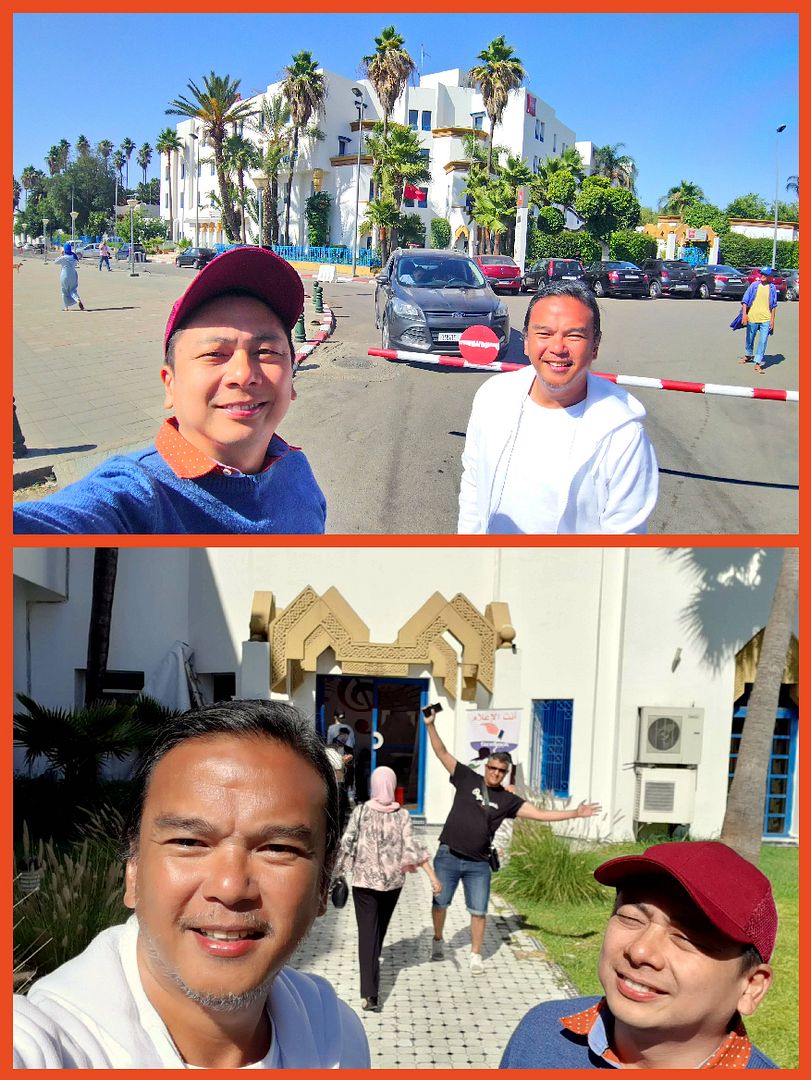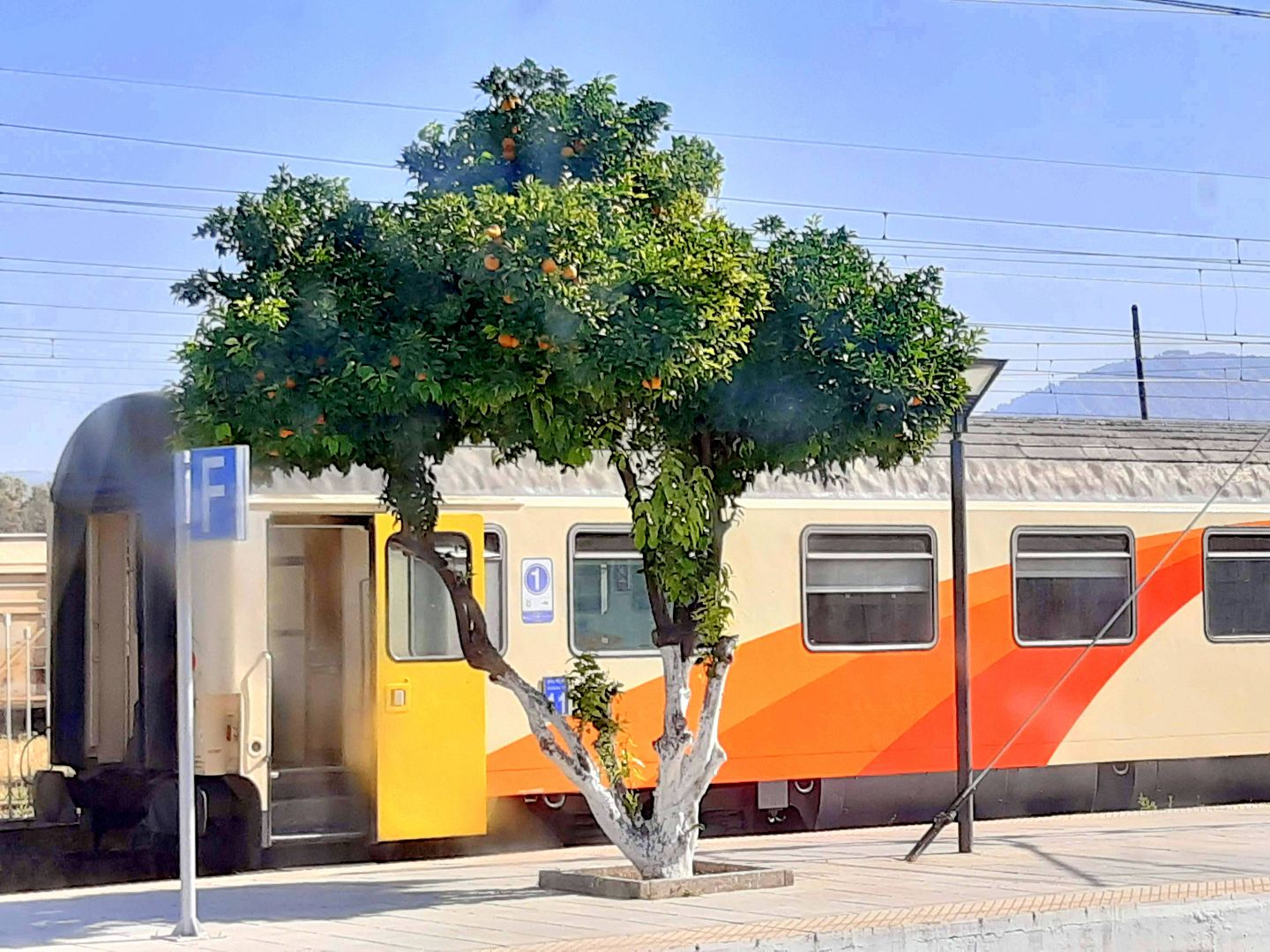 Fes to Marrakesh (travel time approx. 5 hours)
A similar compartment train took us to Marrakesh. This time, we shared our space with just one woman with a regally chiseled face, a dead ringer for Philippine actress Cherie Gil. Moments after departure, her female friend joined in for a chat. Ki, once again, busied himself with documenting landscapes with his phone. Moroccan Cherie was as fascinated as Miss Universe in the previous train. How did we know? Though speaking Moroccan Arabic, she would say the word "photo" while glancing at Ki.
We didn't mind having an audience. The view was spectacular to our eyes, even more so than in previous train rides. Traveling further down south was approaching the outer fringes of Moroccan Sahara. Vegetation was more sparse and the land redder. We might as well had been crossing Mars, not Morocco.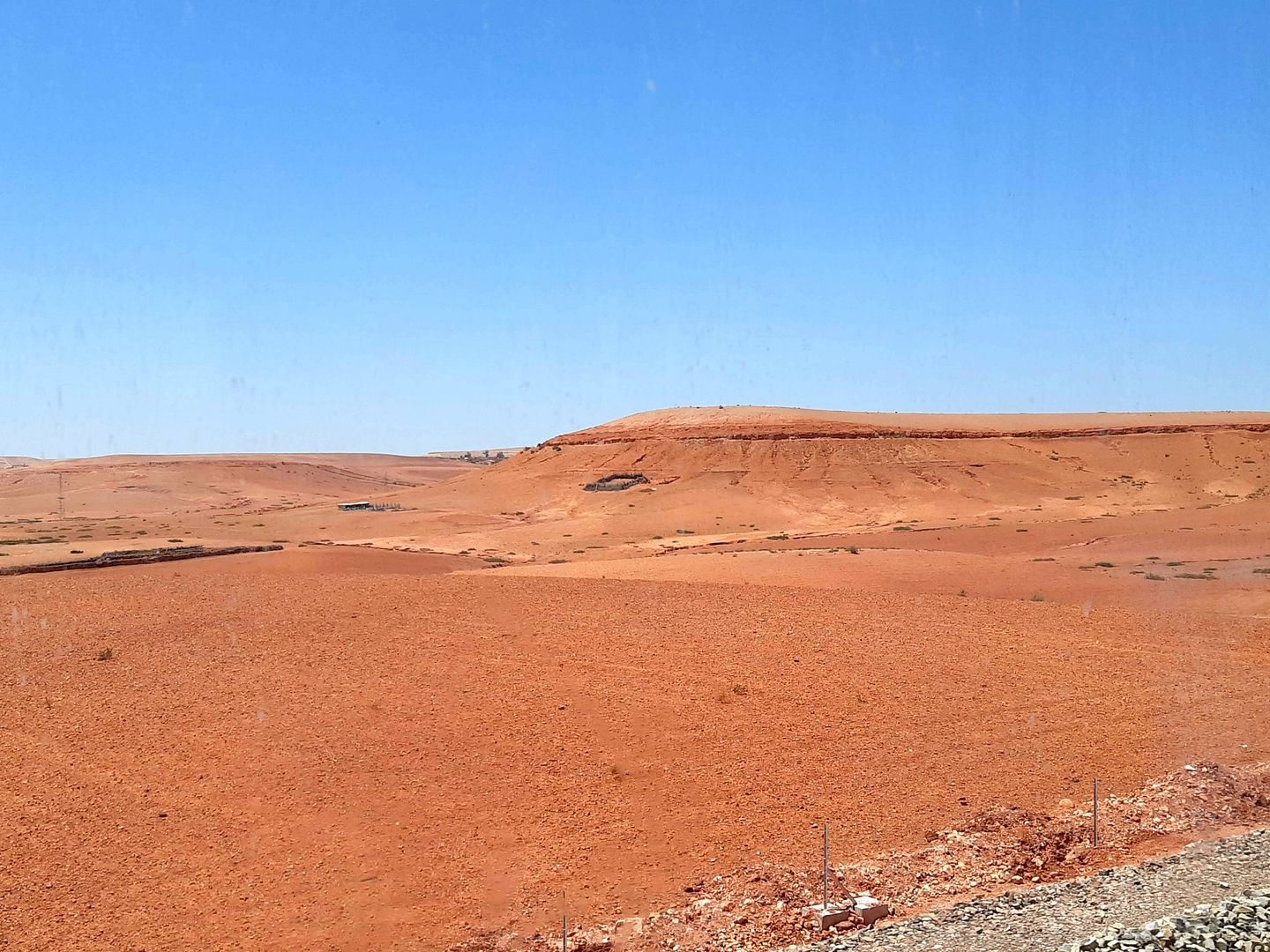 All was well until Moroccan Cherie's hijab-clad friend let one rip. We didn't hear it, but we certainly smelled the unmistakably stinky gas. Guilty as hell, the woman bolted the cabin leaving her friend to deal with the embarrassment.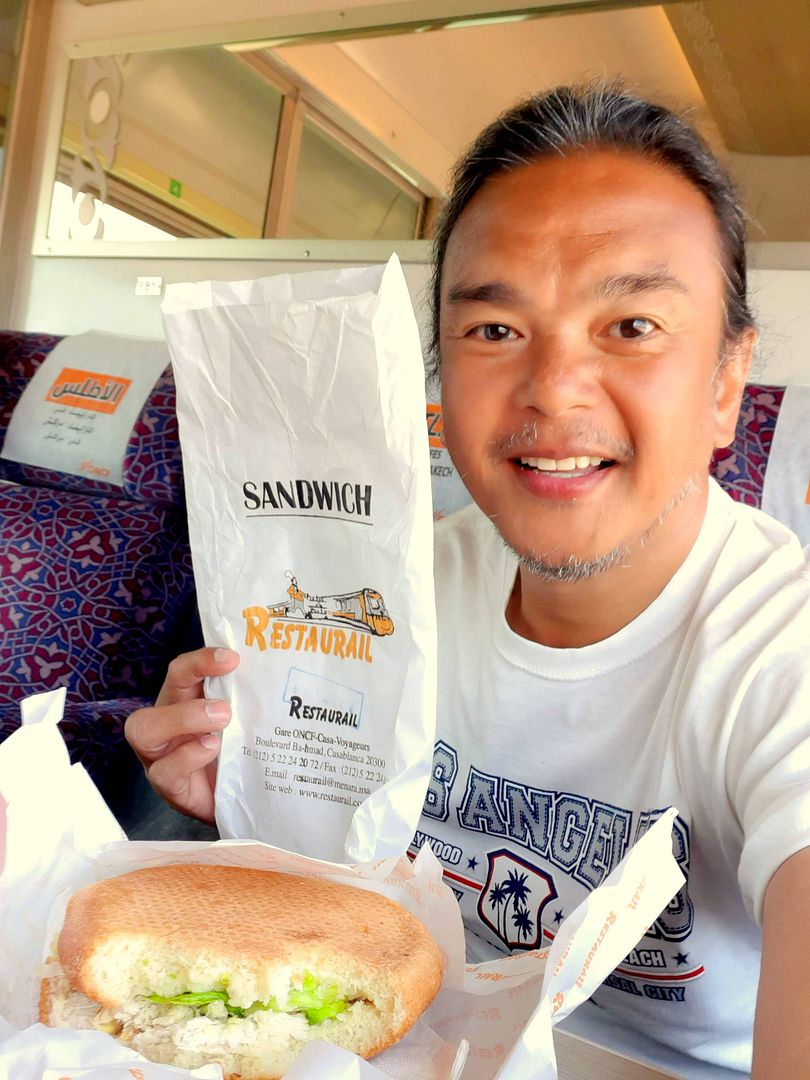 If it was any consolation, her anal accident didn't happen during our meal break. Unlike Al-Boraq's dining coach, a steward worked the corridor vending snacks and beverage from a food cart. Chicken burger and Coke were filling enough to tide us over the five-hour trip.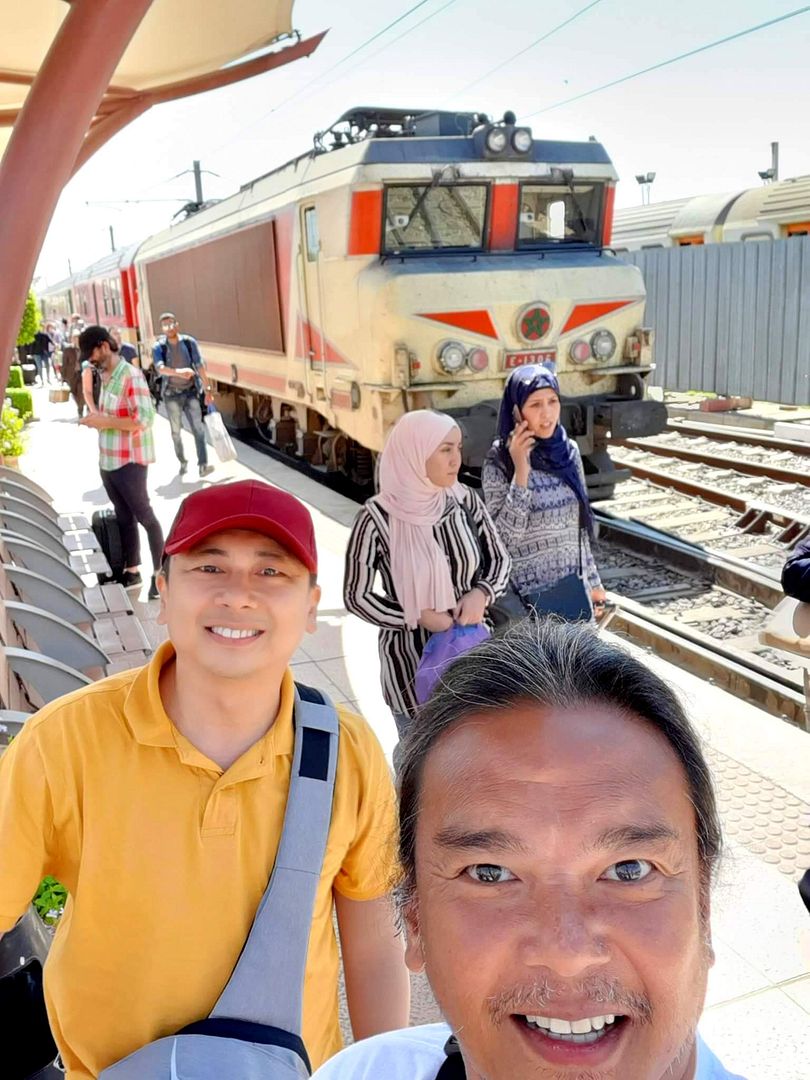 Gare de Marrakech
Marrakesh Railway Station was as red as its city. Date palms, clamshell canopies, and that distinctive keyhole arch were generally Moroccan, but the browns and reds were distinctly Marrakesh. The color scheme, we would later see, painted the entire city.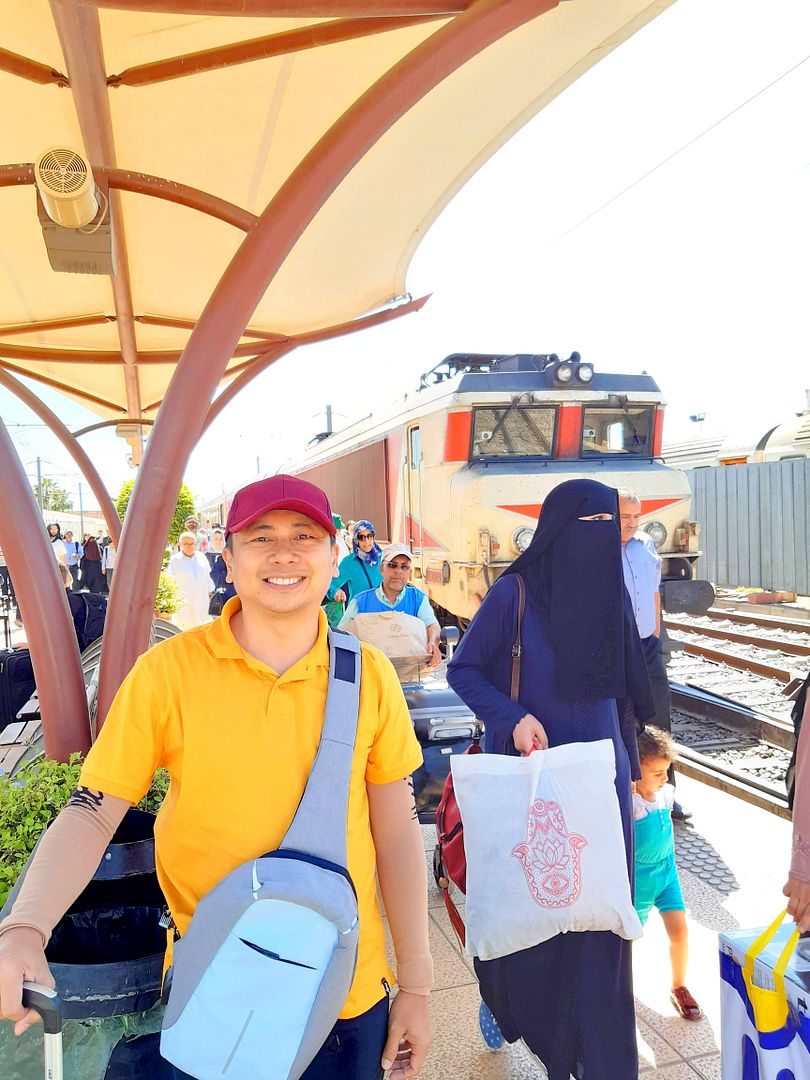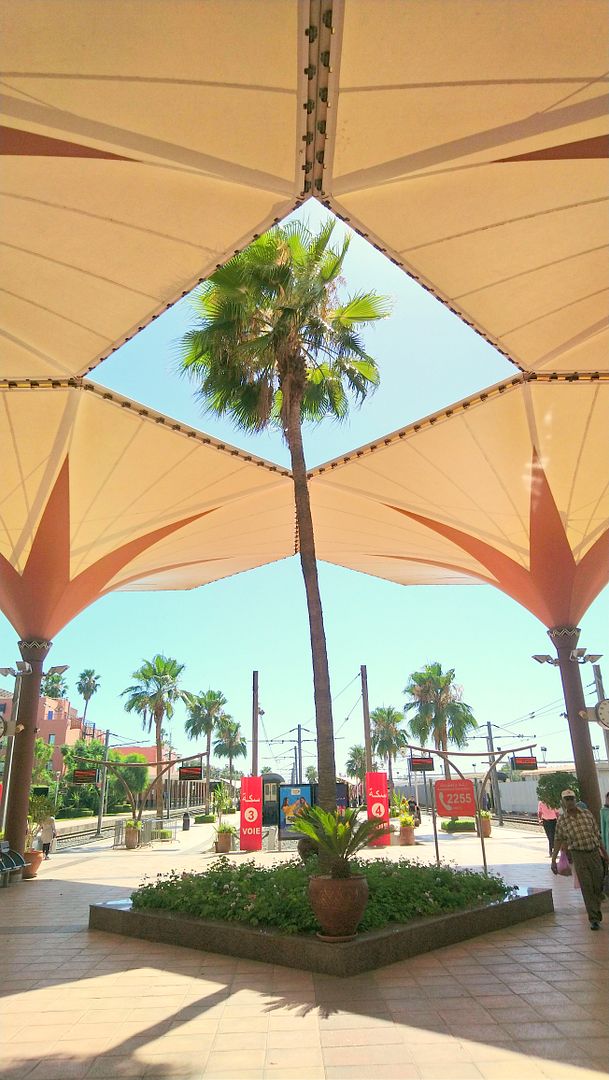 Our Moroccan cross-country train trip gave us a front-seat, ground-level view of remote landscapes beyond towns and highways. It introduced us to the country with as much intimacy as two weeks would allow. While the views kept our eyes peeled on the window for every fascinating detail, the diverse characters within our shared compartment did so too. People, not panorama, told our tales on the train.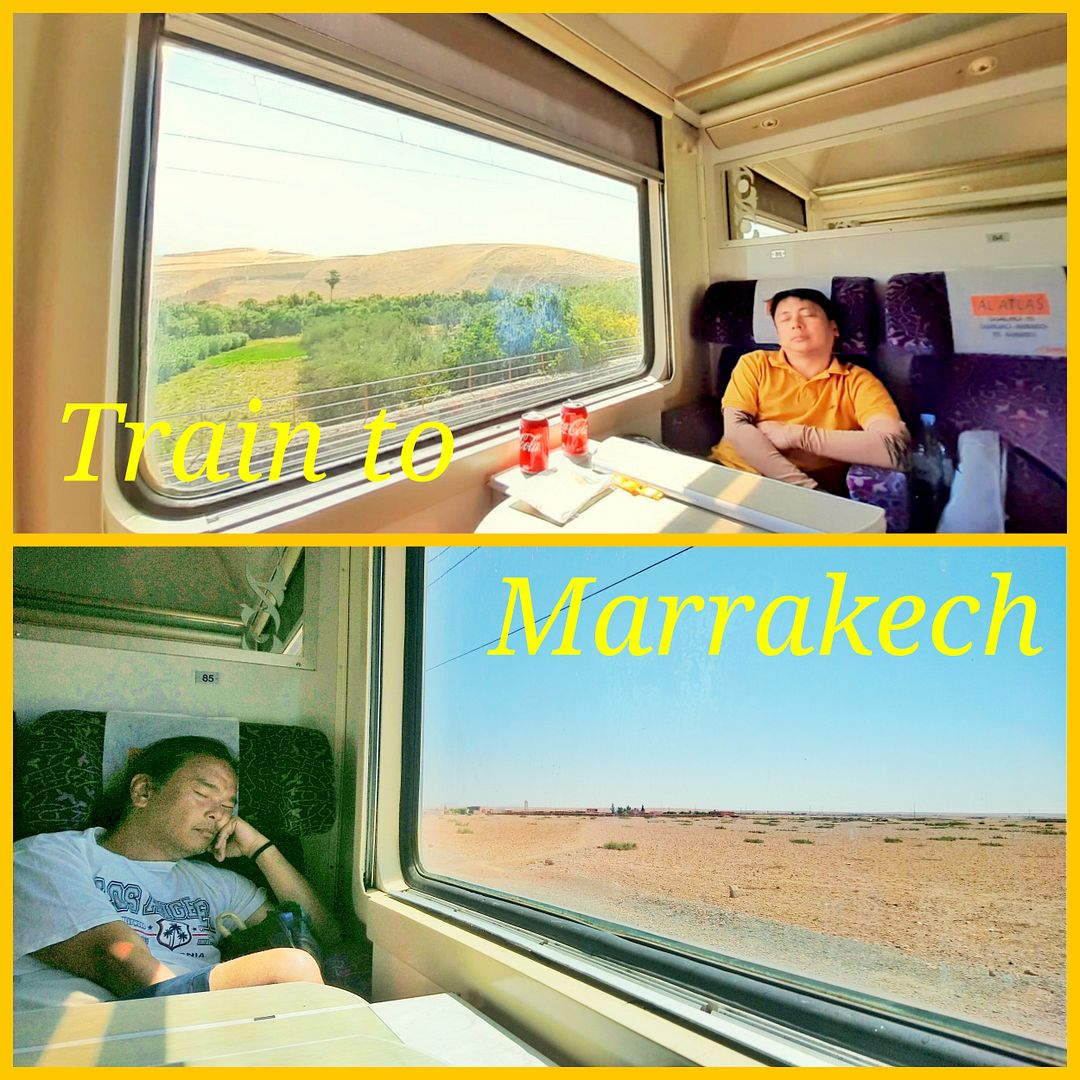 Thank you for reading! Your support is much appreciated. Donate now: