Kengkou Village, Taoyuan, Taiwan
January 1, 2020
Superstition had it that whatever you did on New Year's Day predicted how the next 364 days would go. Nothing could be farther than the truth. The first day of 2020 was our last day in Taiwan and, as it turned out, on the road. Unbeknownst to us, a new coronavirus strain was starting to make the rounds in Wuhan, China. In just a couple of months, global travel would completely be paralyzed and then altered by the new normal.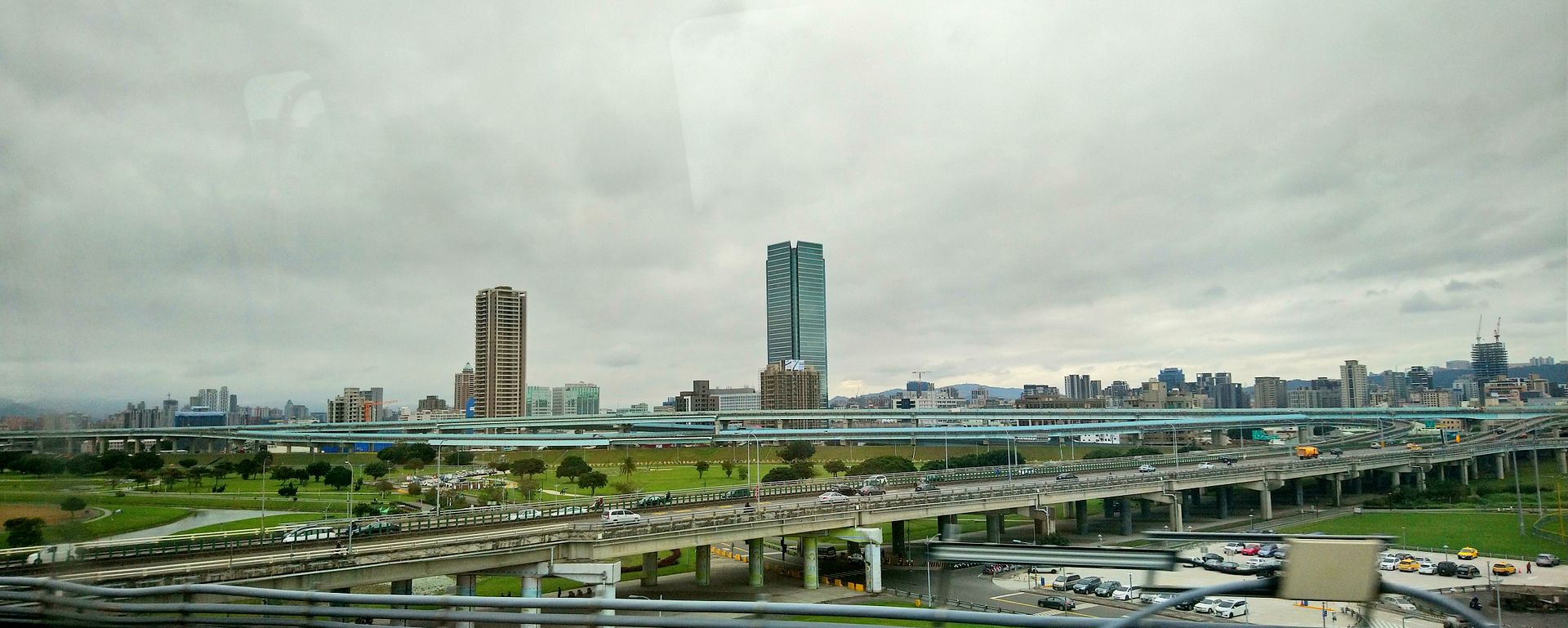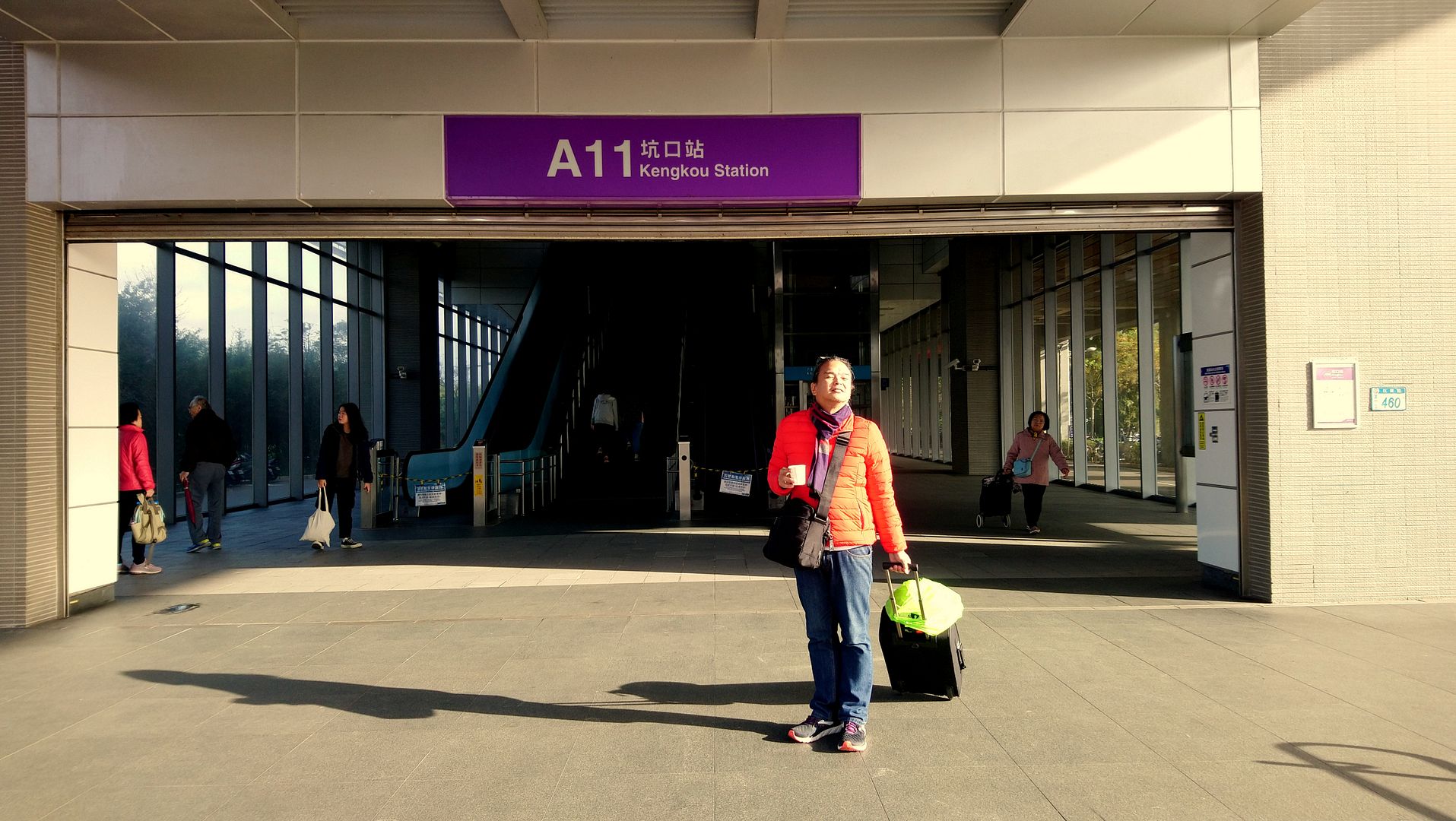 Ki and I were wrapping up a cross-country trip through Taiwan. An entire day lay before us prior to our midnight return flight to Manila. On a whim, we picked a stop along the Taoyuan Airport MRT line and got off at Kengkou Station just next to the airport. A wide and deserted platform and ticket lobby greeted us. We asked the staff for restaurant recommendations in the vicinity. She replied as a matter of fact: "There are no restaurants around here." I was hungry and crestfallen.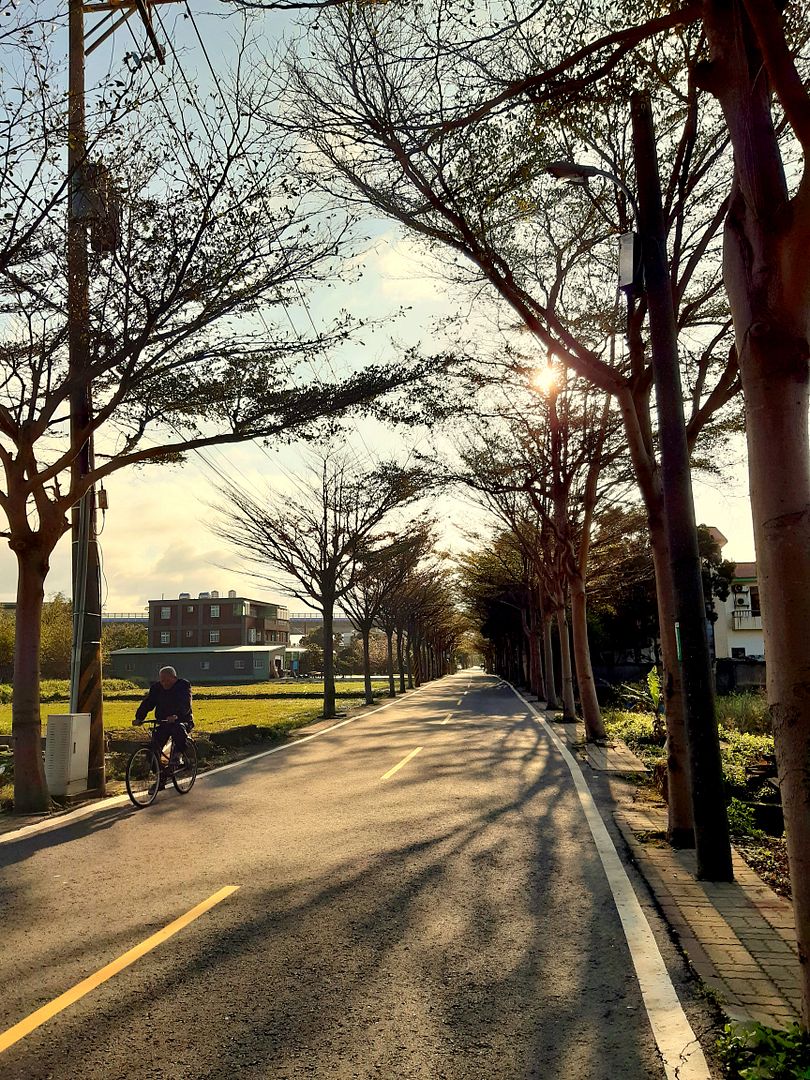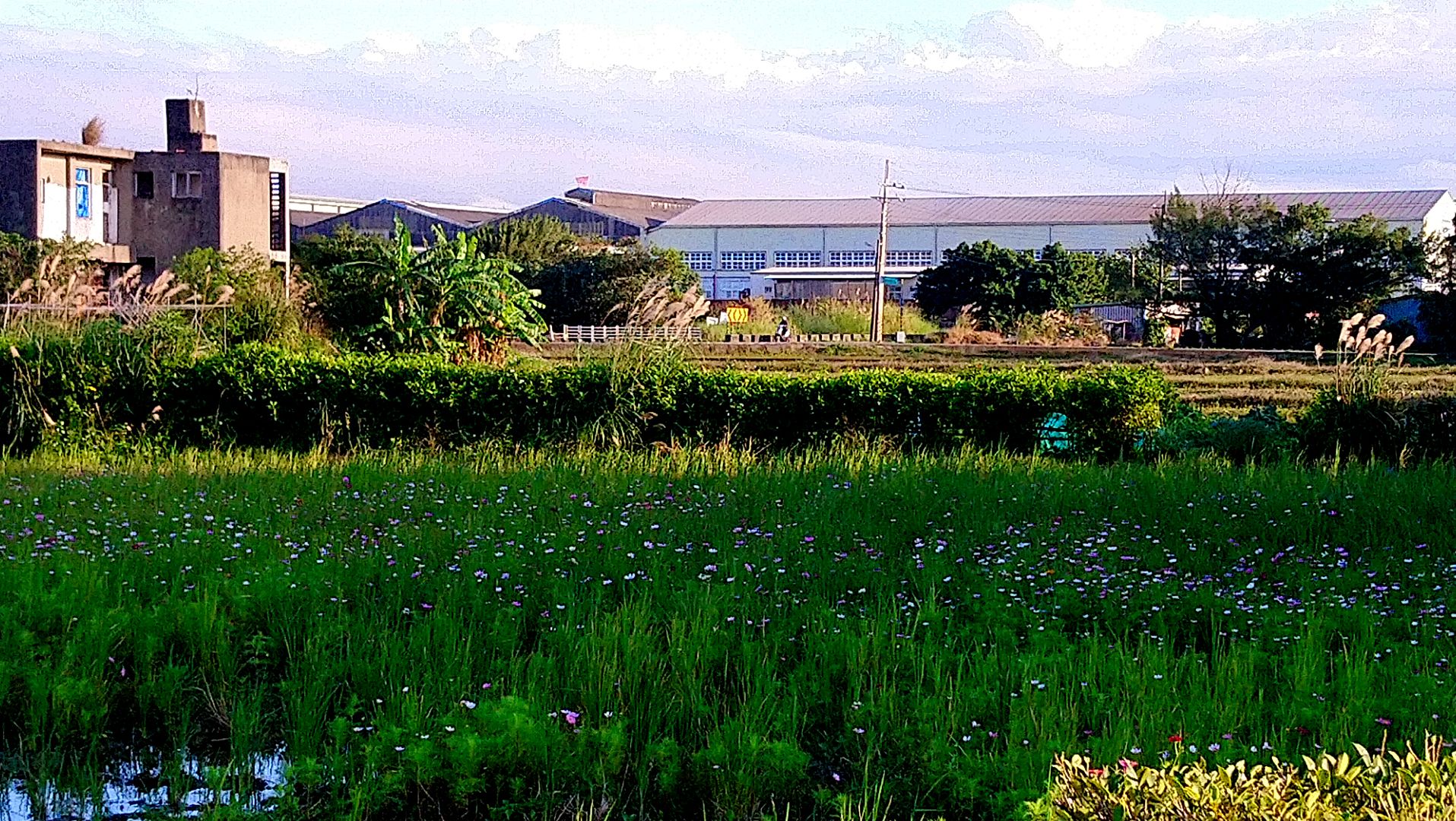 We stubbornly set off in search of a convenience store, at least, luggage in tow on the sidewalk-less stretch of Kengguo Road. Occasionally, a car or truck zipped past as we froze by the road's edge. Rice fields and distant factories marked the neighborhood as both agricultural and industrial, far from being a tourist spot.
Kengkou was a paradox – a quaint and quiet village in the shadow of passing planes. In the lull between the roar of airliners taking off, only birds stirred in the fields foraging for worms and insects. Low-rise apartment buildings and wooden houses looked abandoned in the quiet afternoon. Human activity picked up as we approached Haishan Road. We chanced into Hi-Life Convenience Store and, finally, carbo-loaded on rice balls and soda.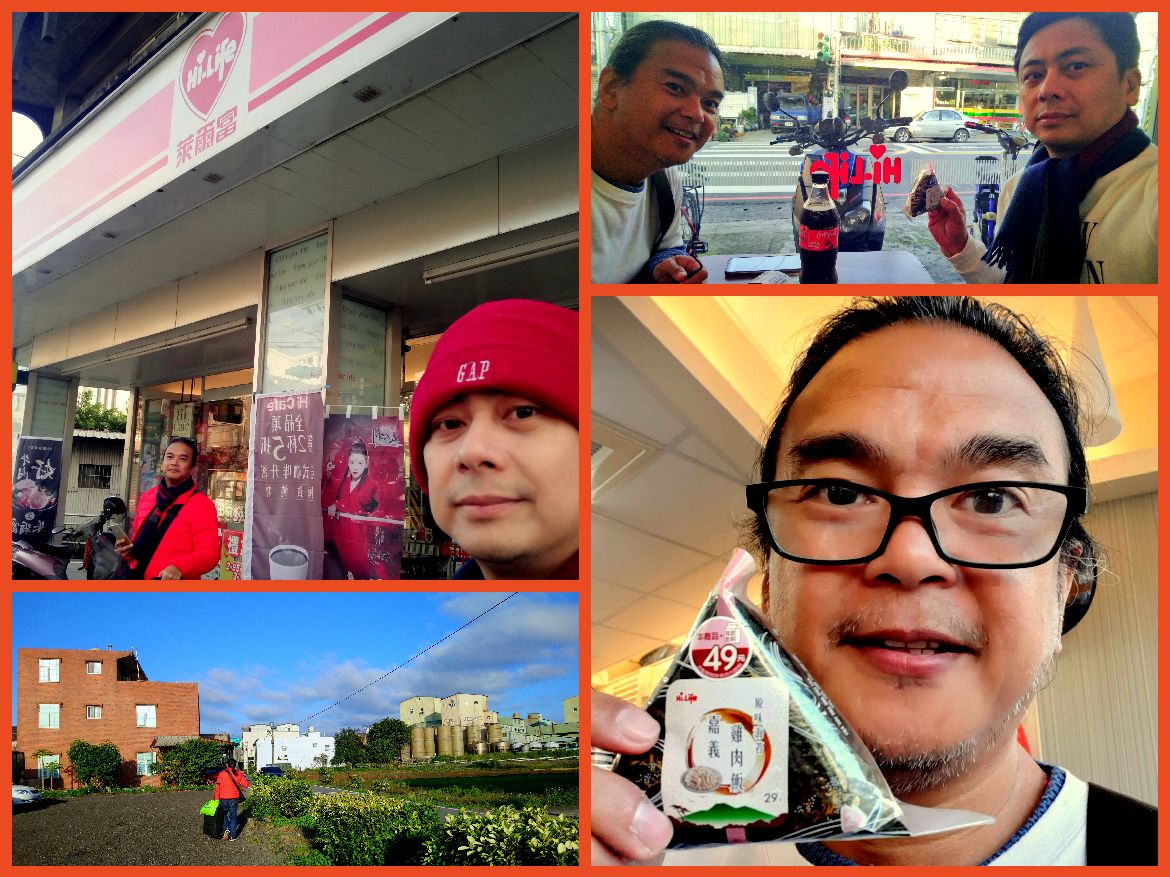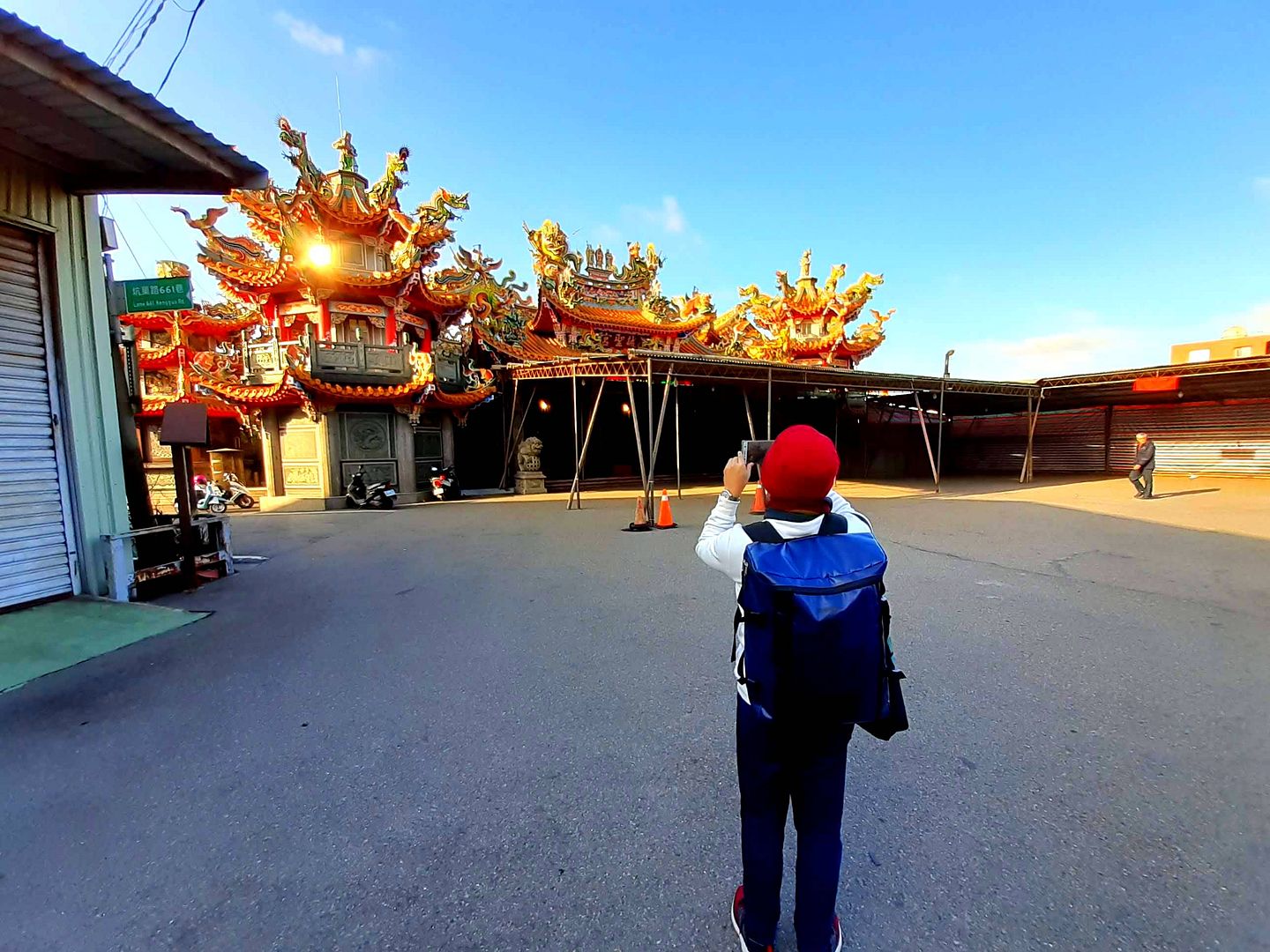 Sufficiently sugar-powered, we made our way back to the station. A fork on the road, though, led us to Chengsheng Temple, a neighborhood place of worship that appeared small and nondescript without a towering pagoda. The makeshift canopy propped out front was rather unsightly, but intricately-carved mythical creatures perched on upturned awnings drew us in.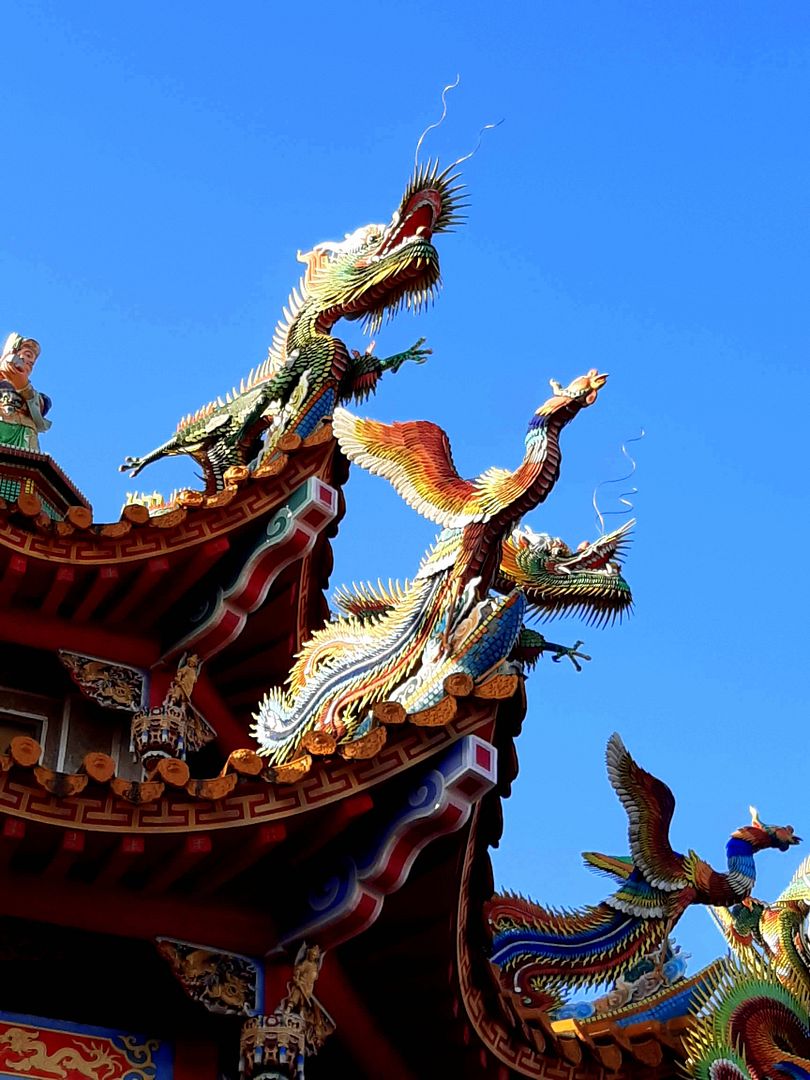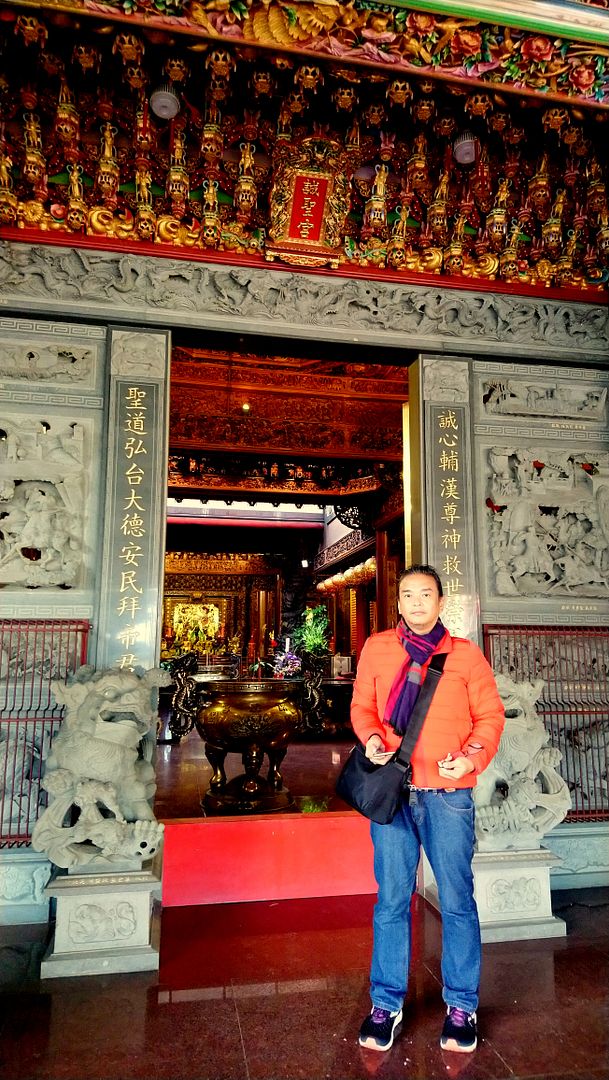 Chengsheng may not have figured in tourist brochures, but it was not any less legit as any famous ones in Kaohsiung we visited a week prior. For one, its long history went back more than a century, although it clearly had work done recently. A digital ticker tape above the door took the traditional temple to the present. The dense population of grotesque, fierce-looking stone and wooden deities was, perhaps, inspired by the God of War to which the temple was dedicated. Even at the entrance, incense and images perked up our senses.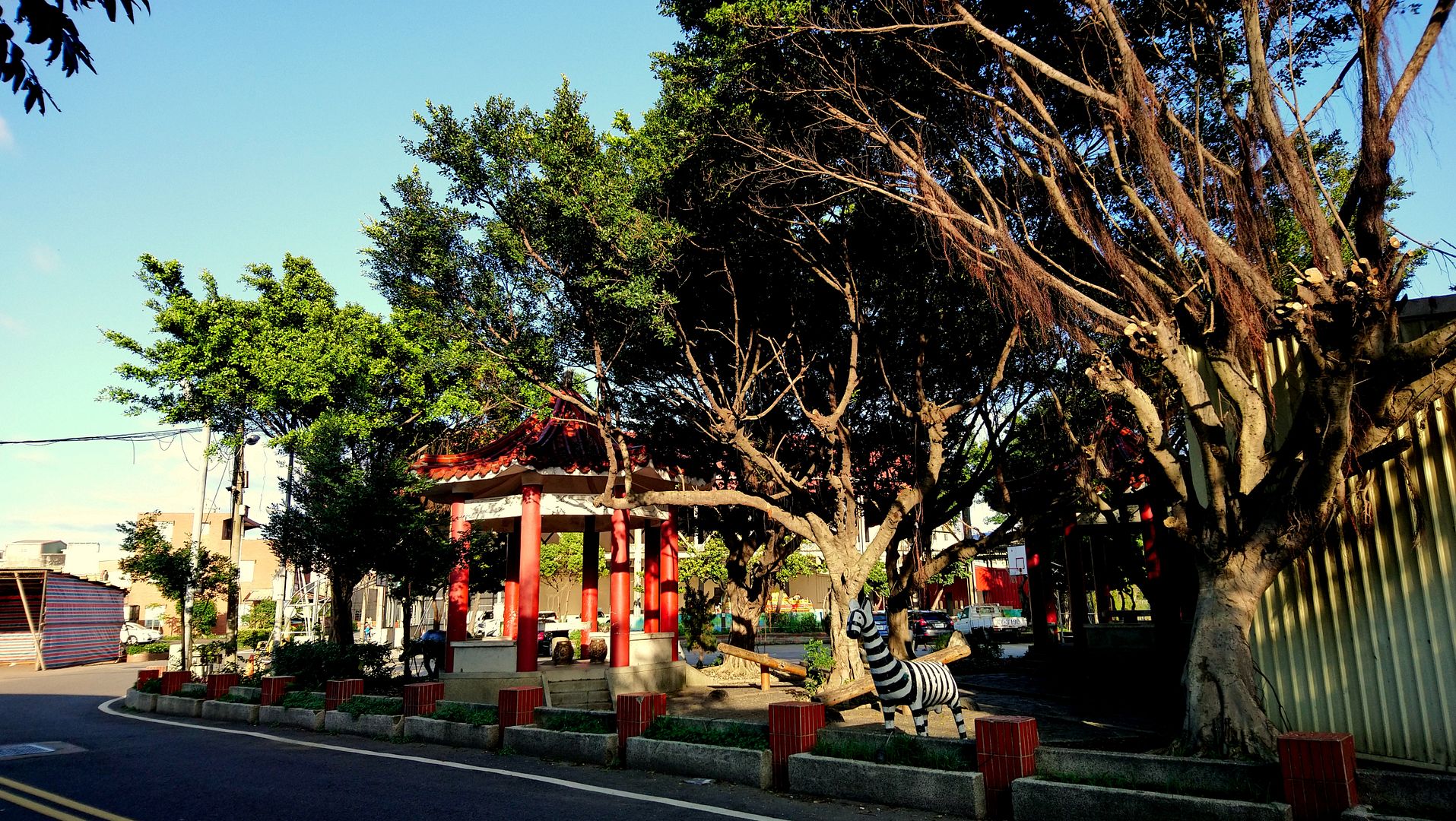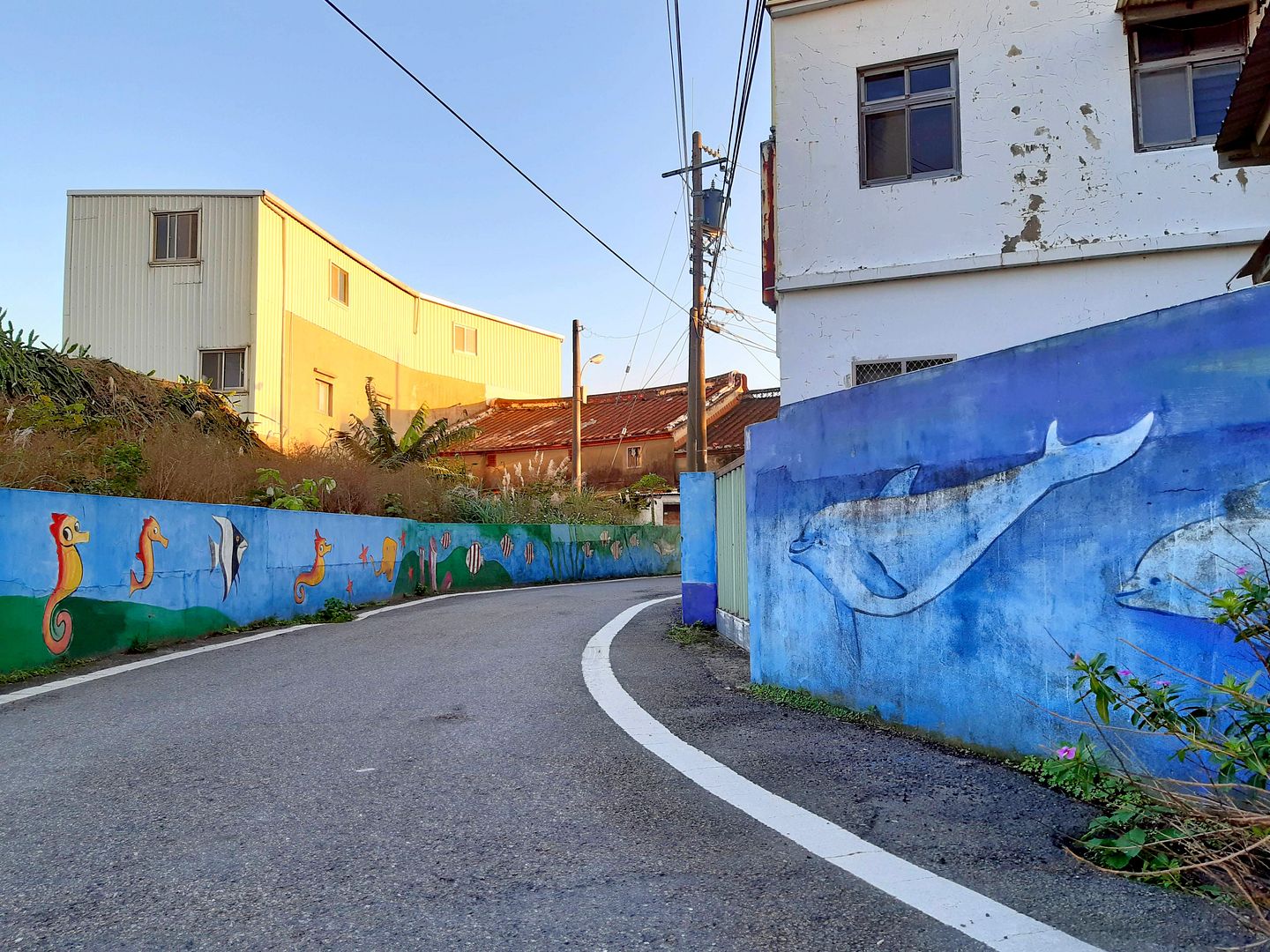 A vicinity map directed us further down the road to a village of painted houses appropriately called Kengkou Community Painted Village, the one thing that put Kengkou on the map, or specifically Google Maps. I posted our serendipitous find on Facebook:
The new year has come & with it new journeys. And so I conclude last year's peregrinations with a slow, laid-back stroll through an agricultural village near Taoyuan International Airport. We got off a random stop along the MRT line & discovered Kengkou where houses are painted with murals of rustic scenes (carabao plowing the field in one, like in the Philippines), children's fancies (dinos & cartoon characters), & typical Chinese images.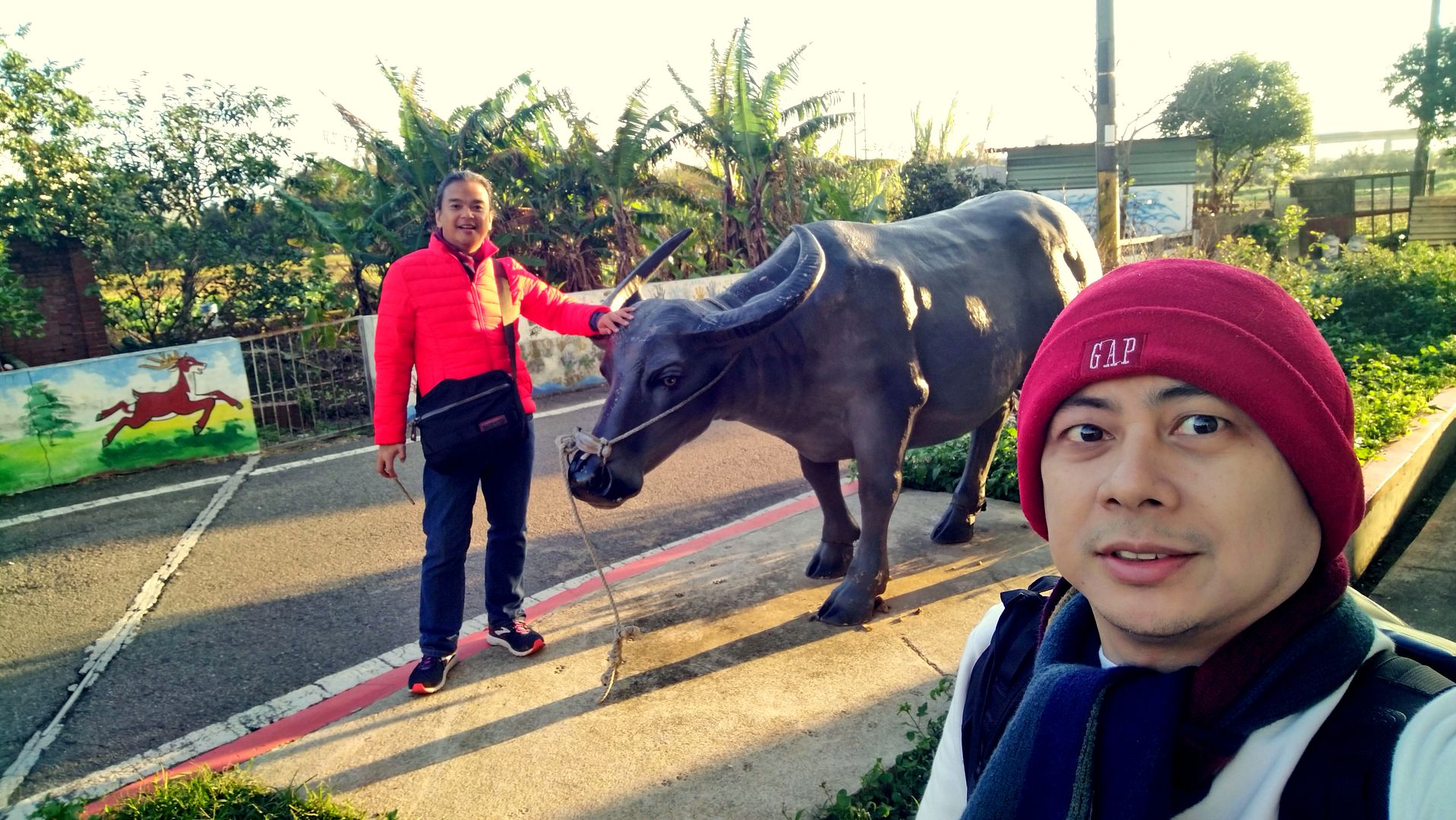 Why and when such village-wide aesthetic was imposed were left to our imagination as there was no one to ask. Residents either did not go out or were not home. No fees were collected and no business had been set up. I wondered how this community art project generated income. Perhaps it was all for art's sake, a commendable reason in itself.
The murals, we found, could be divided into themes. The first was the depiction of this farming community before modern technology. Water buffalo-pulled plow, ox-driven cart, and free range chickens were painted to scale on a wall and around windows. A life-size statue of a carabao, our national animal back home, was, perhaps, an homage to this beast of burden now rendered obsolete by farming machines.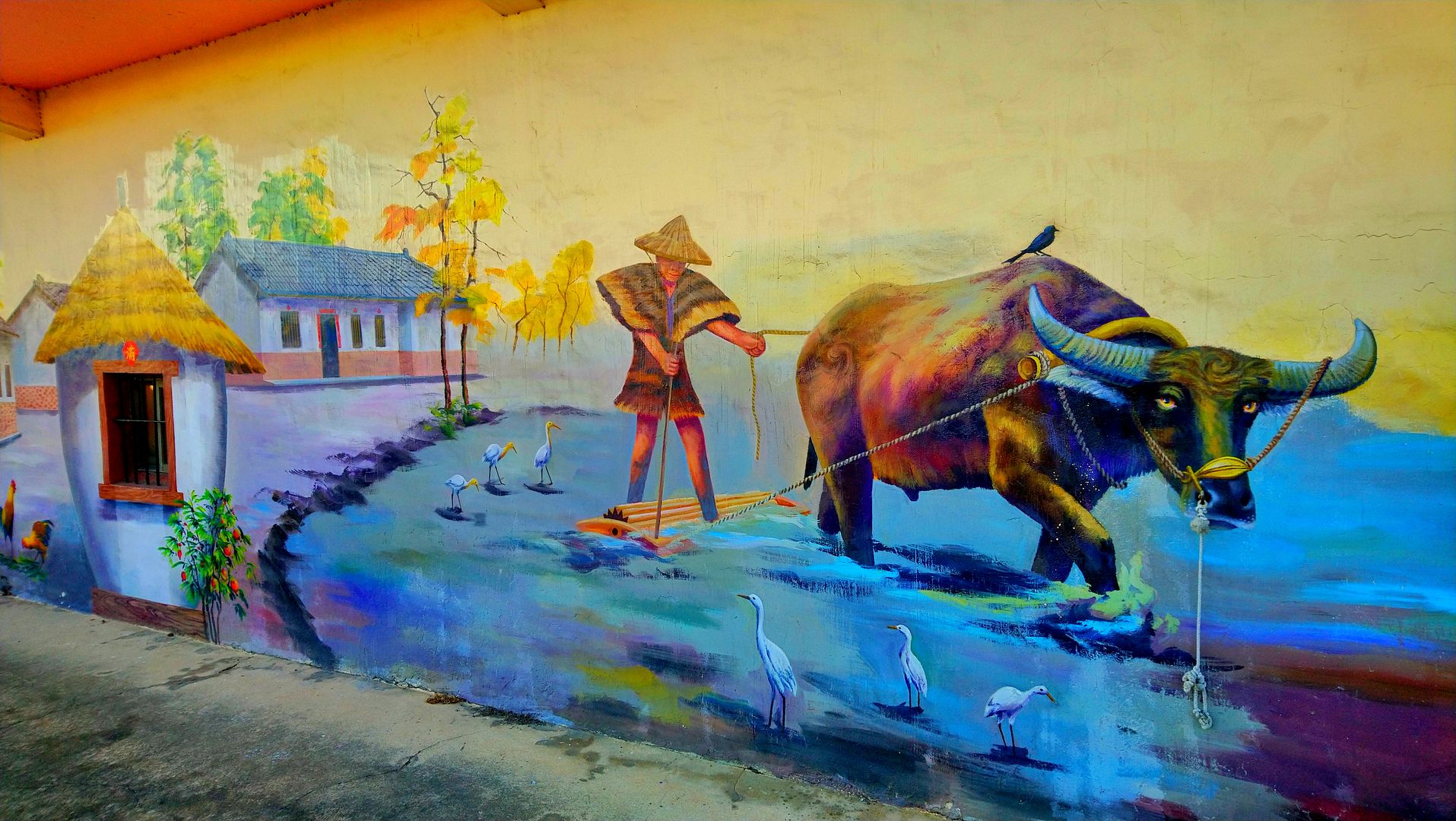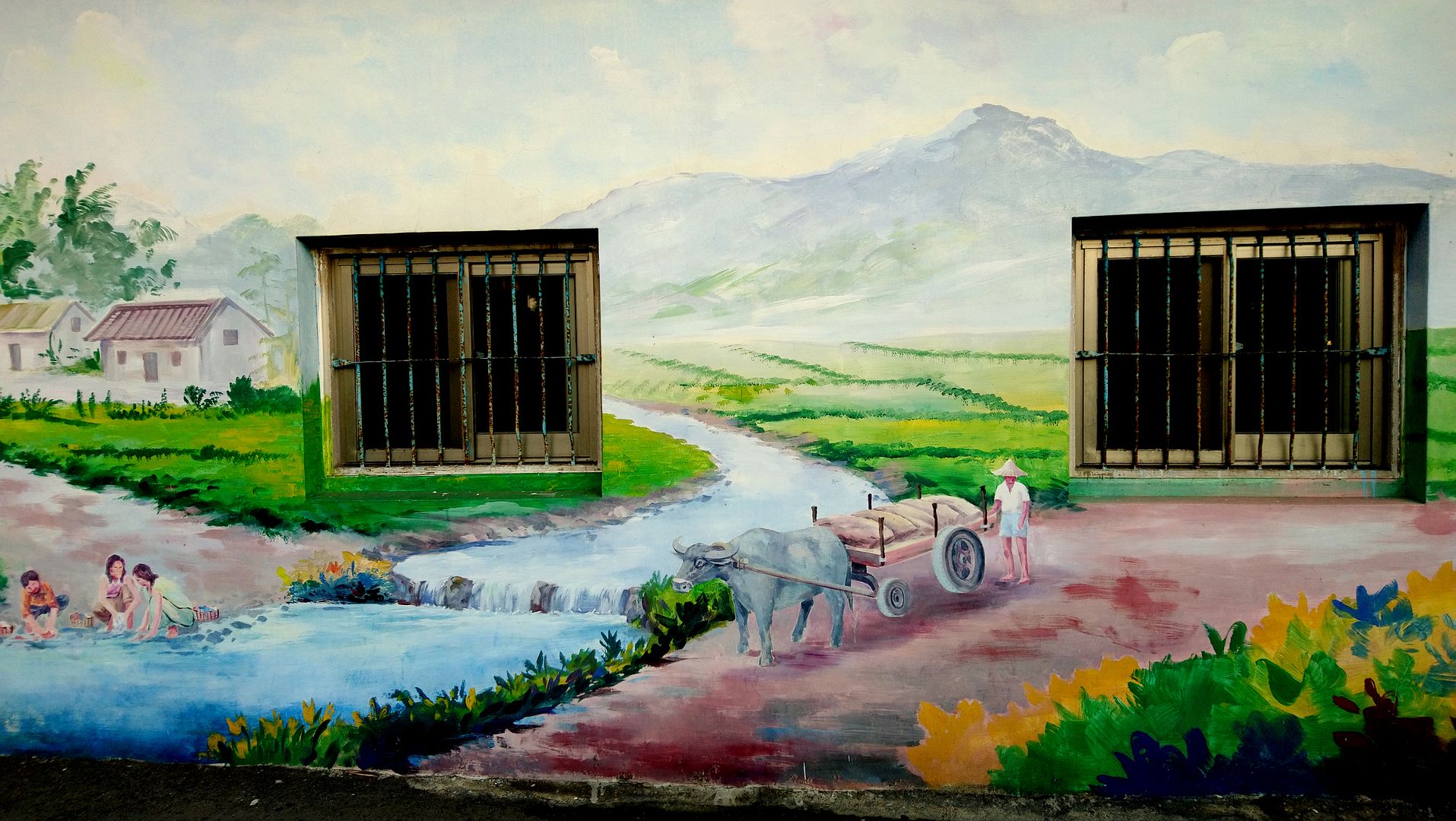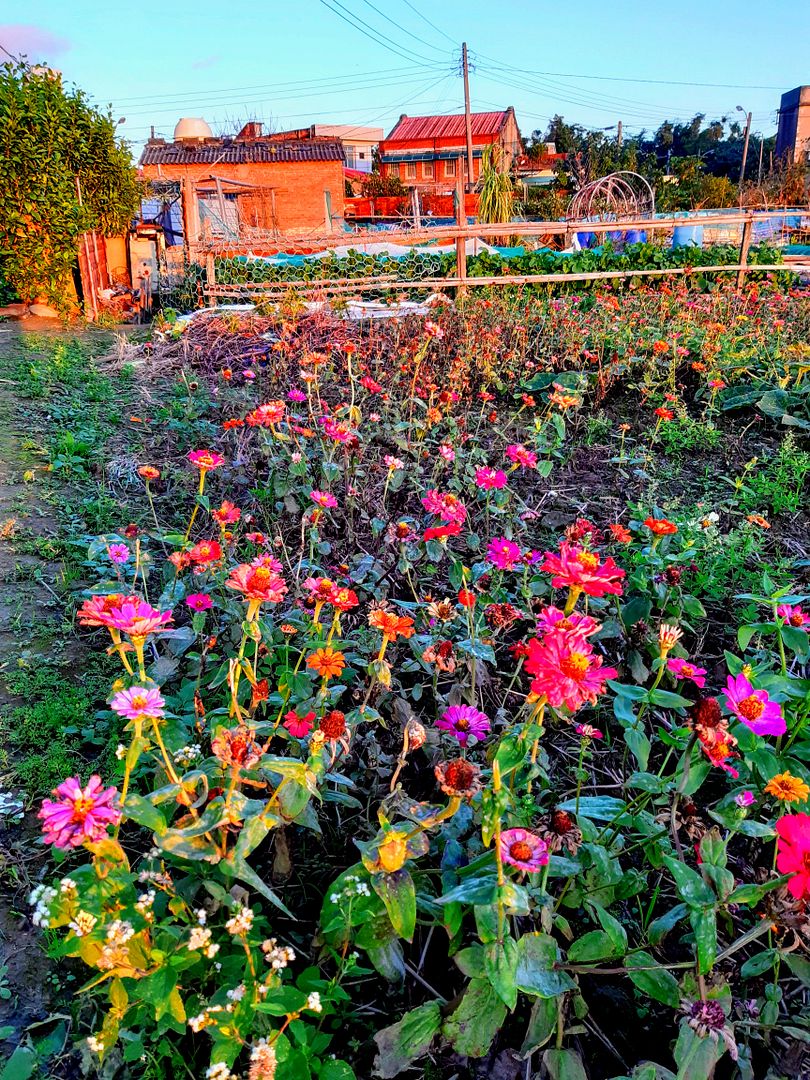 The flight of fancy that was the panda statue across the street segued to the children's section. Disney characters, random children at play, even the Minions were all represented. True enough, a female visitor pushing a pram appeared round the corner. The baby was too young to appreciate the murals, though. Later, they were taking photos in front of a painting of two dinosaurs about to devour each other.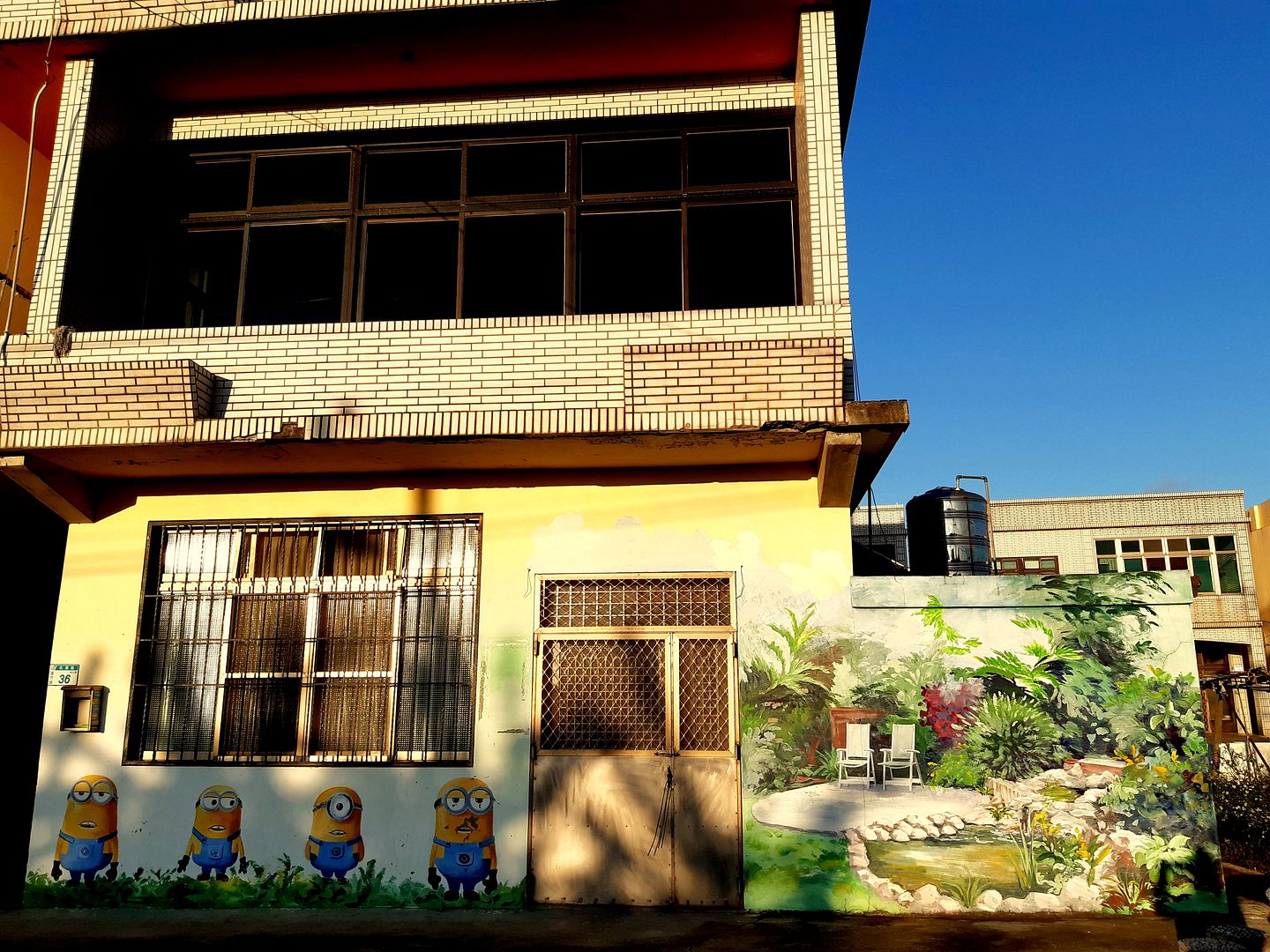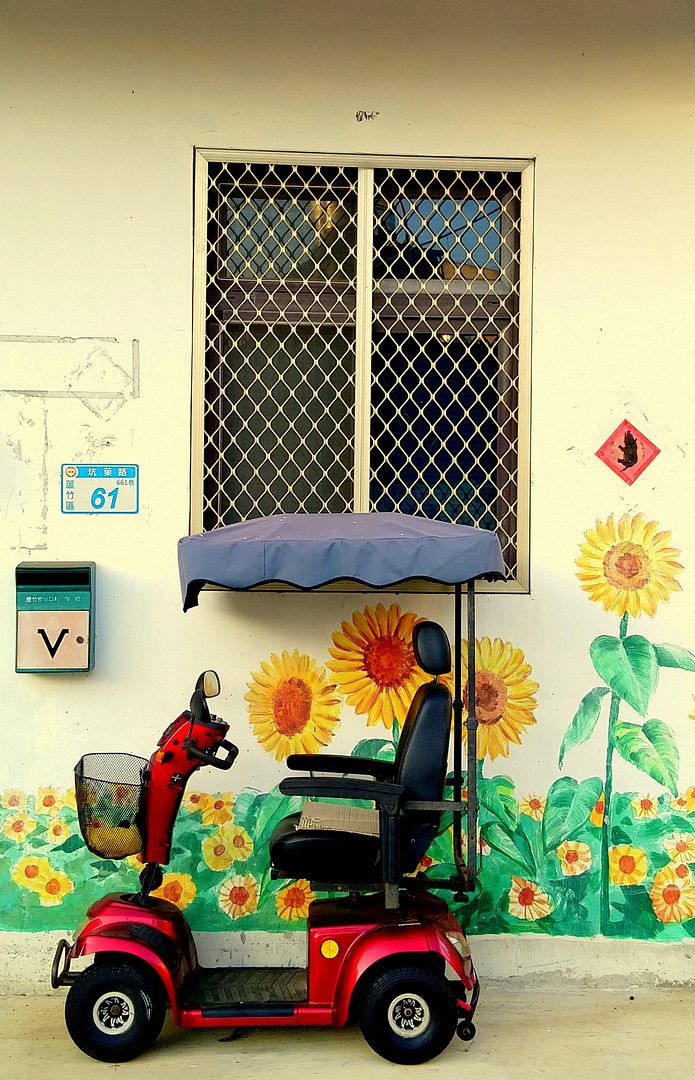 The final theme was traditional Taiwanese home life. My favorite was a kitchen scene strategically painted over an outdoor sink of some random brick house. In my country, we called this part of the house the "dirty kitchen" where fish was scaled and meat sliced before cooking. The mural told a typical Chinese story of old: the lady of the house giving dagger looks to her (presumably) daughter-in-law preparing soup in the kitchen. I had serious doubts that this story ended well.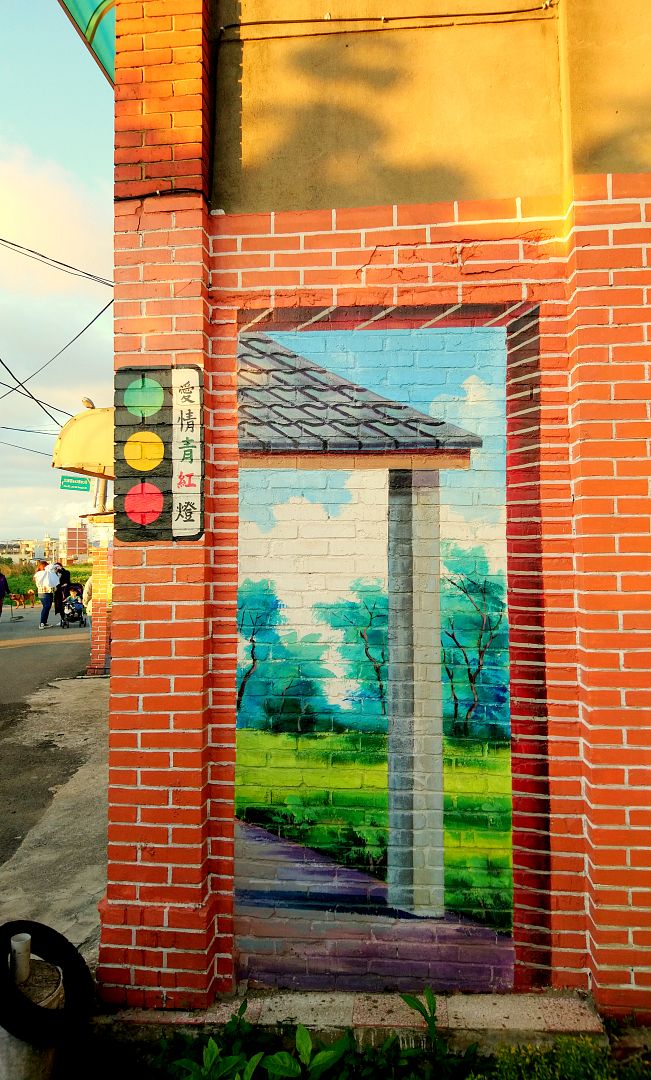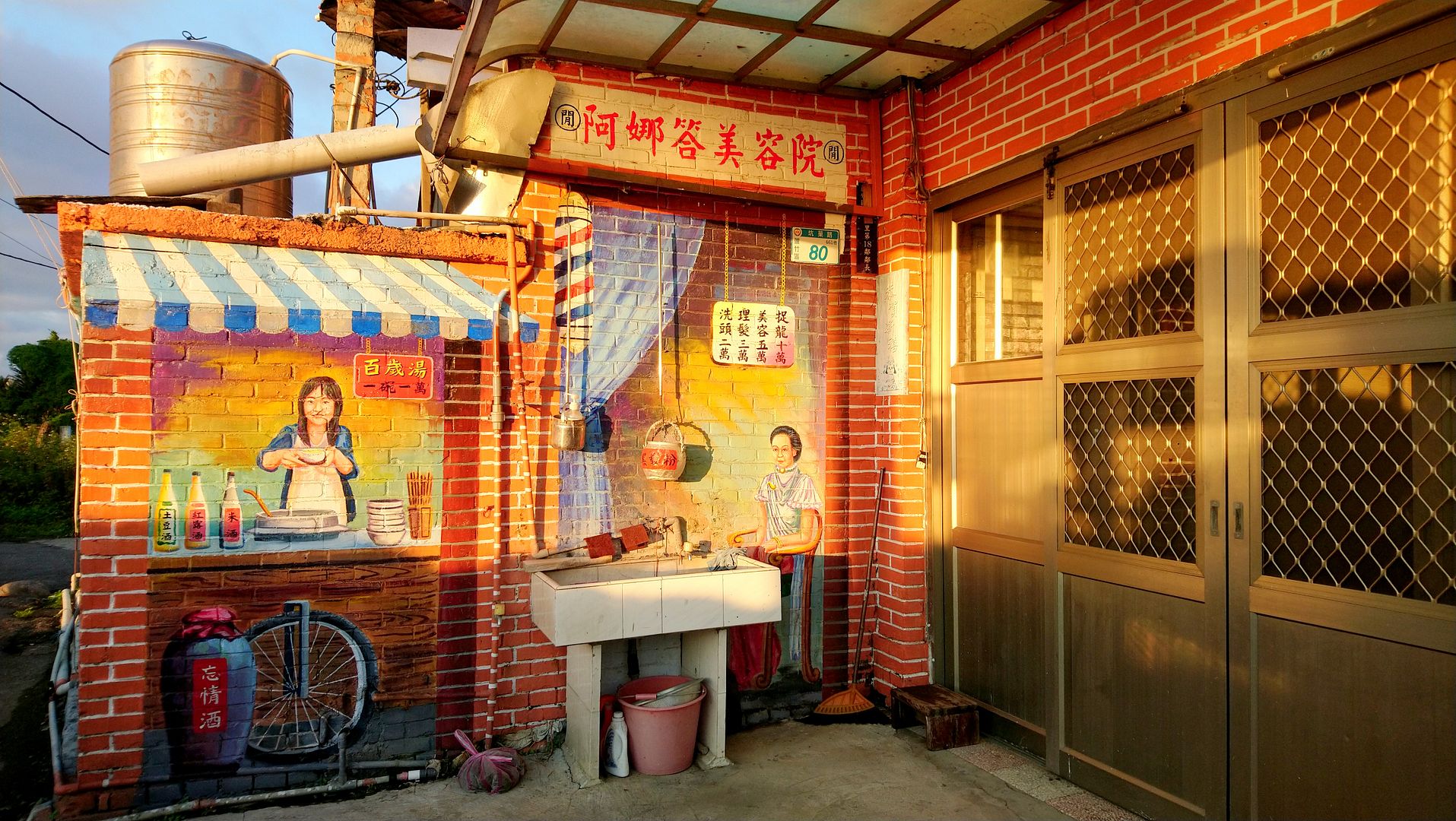 In half an hour, we had walked through the village and momentarily immersed in the slow-paced, old-fashioned rural life in Taiwan. It was almost sunset and, finally, a few residents emerged. A woman was dismantling the clothesline, a man in the distance was leading his livestock back to rest, a dog was basking in the last rays of the sun, a child sprang round the corner with an electronic game in hand. Work and rest blended without contradiction, both in an unhurried pace.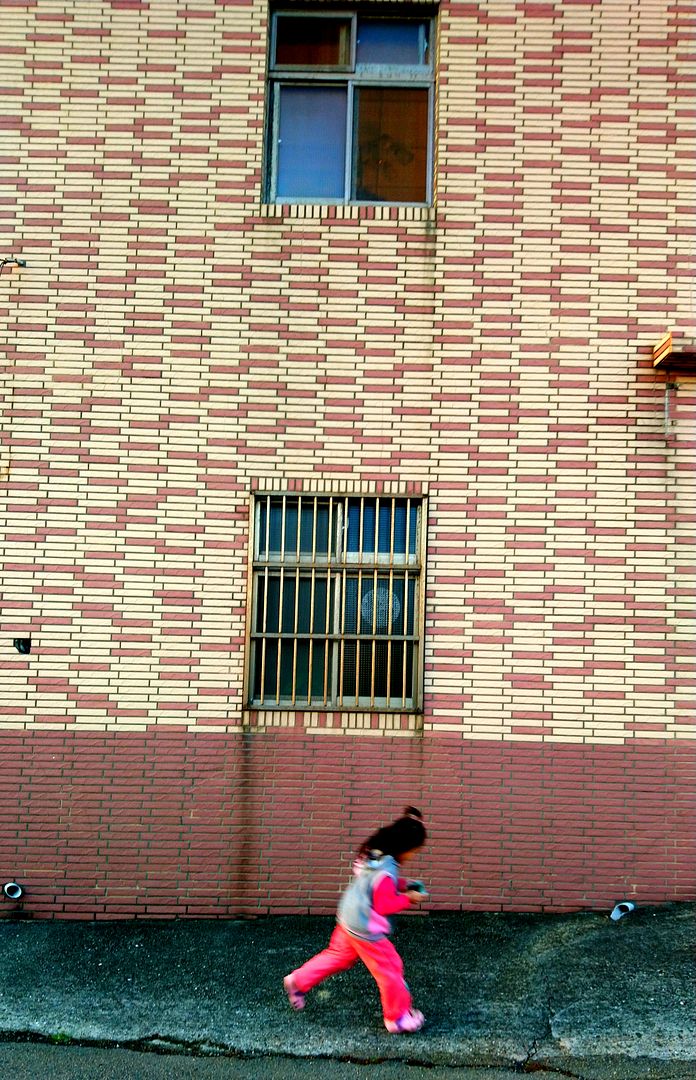 Still, all was quiet except for airliners roaring overhead every three minutes as if saying, "Back to earth, rural trekkers." It reminded us that we had a flight to catch. We marched back to Kengkou Station before darkness caught up with us.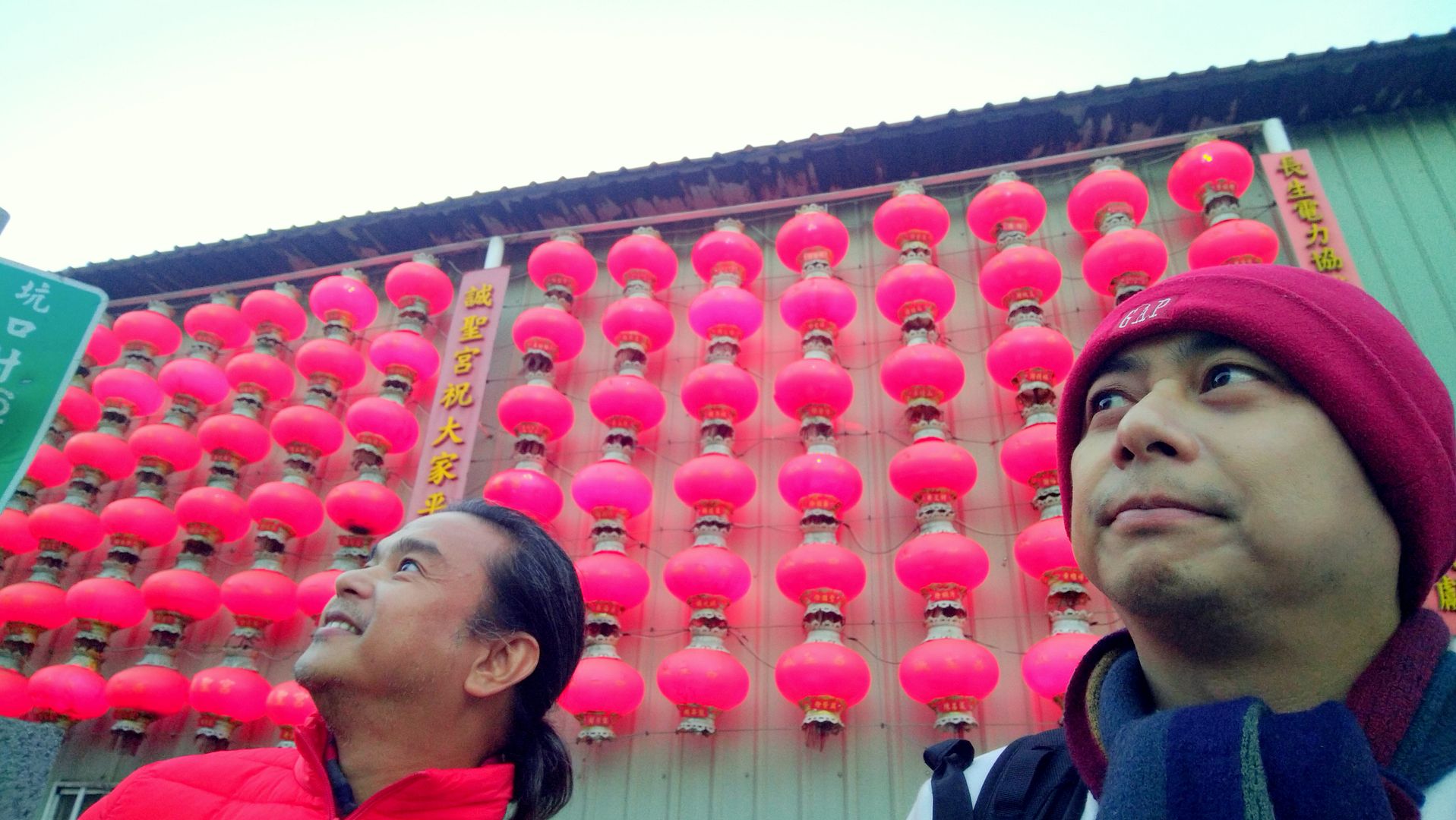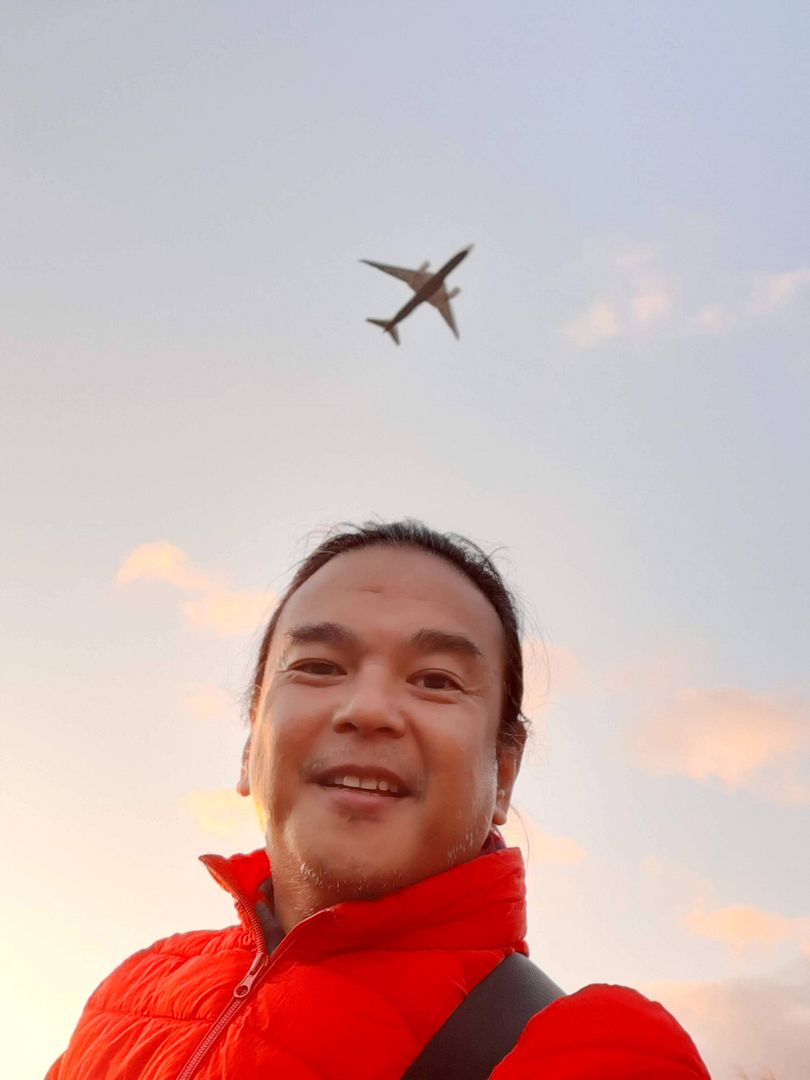 We had maximized our last day in Taiwan with this spontaneous stop, a kaleidoscopic glimpse of rural Taiwan, both in colorful depiction and unfiltered reality. After the explosive New Year's celebration at Taipei 101 hours before, we welcomed this subtle send-off at Kengkou.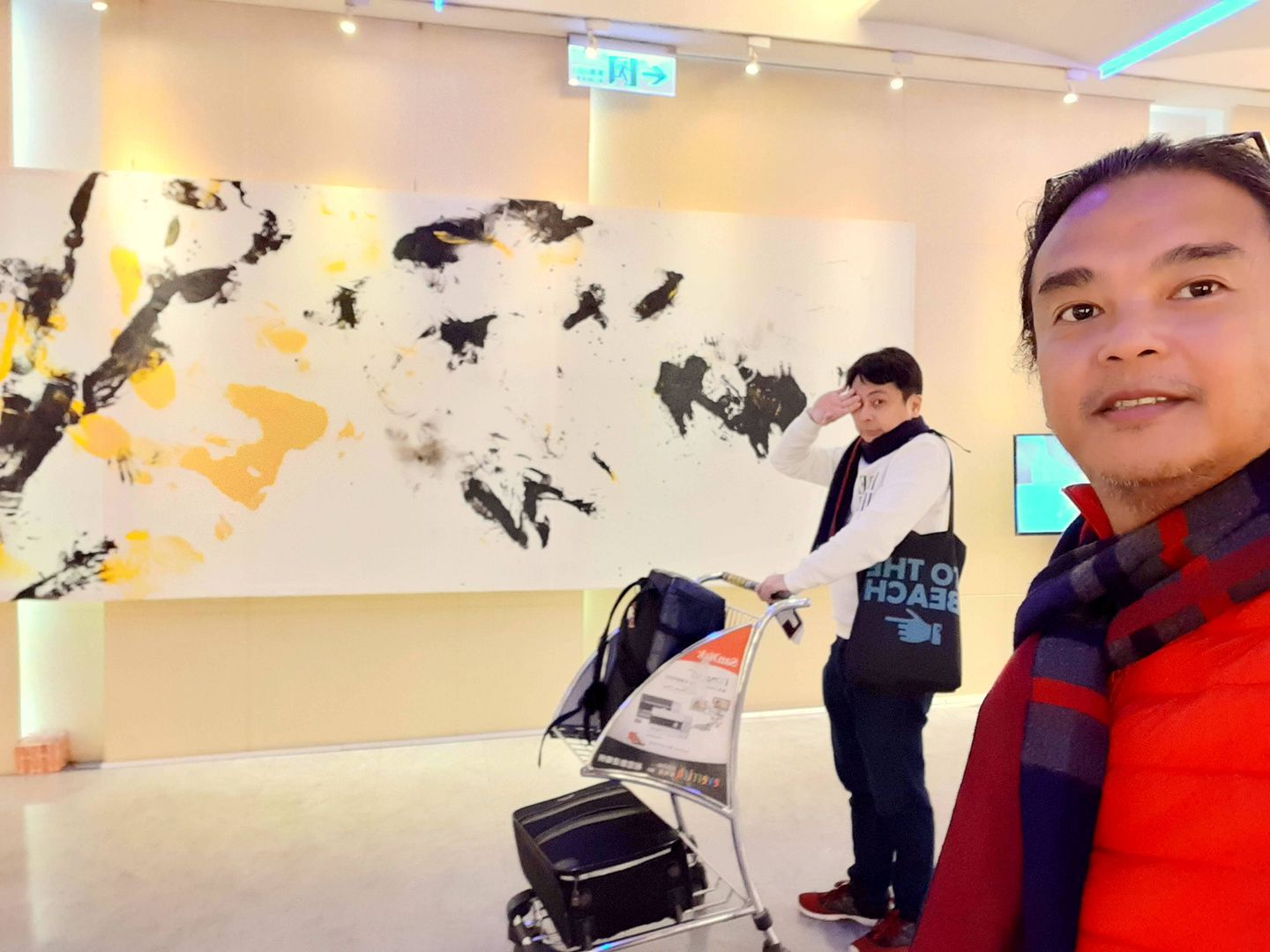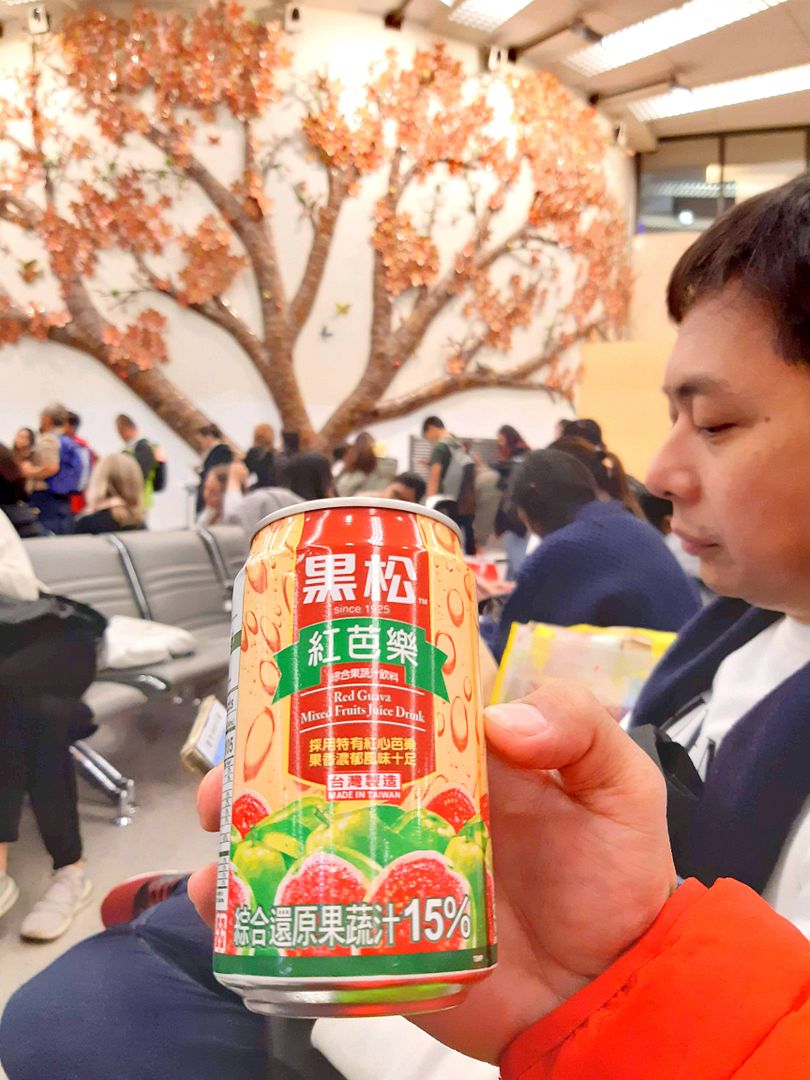 Postscript: We came across another artwork, this time hanging at Taoyuan International Airport. Mixed-media artist Chang Chien-Hao called his mural One Layer of Memories. It uncannily represented what would be our, and perhaps everybody's, 2020 – only a fragmented pastiche of travel memories as we all stayed home.
Ki and I were oblivious that Taiwanese airport authorities were already on high alert for cases of the novel coronavirus and that an unprecedented global lockdown was in the offing. We never imagined we would be boarding our last flight for 2020, and it was just January 1st.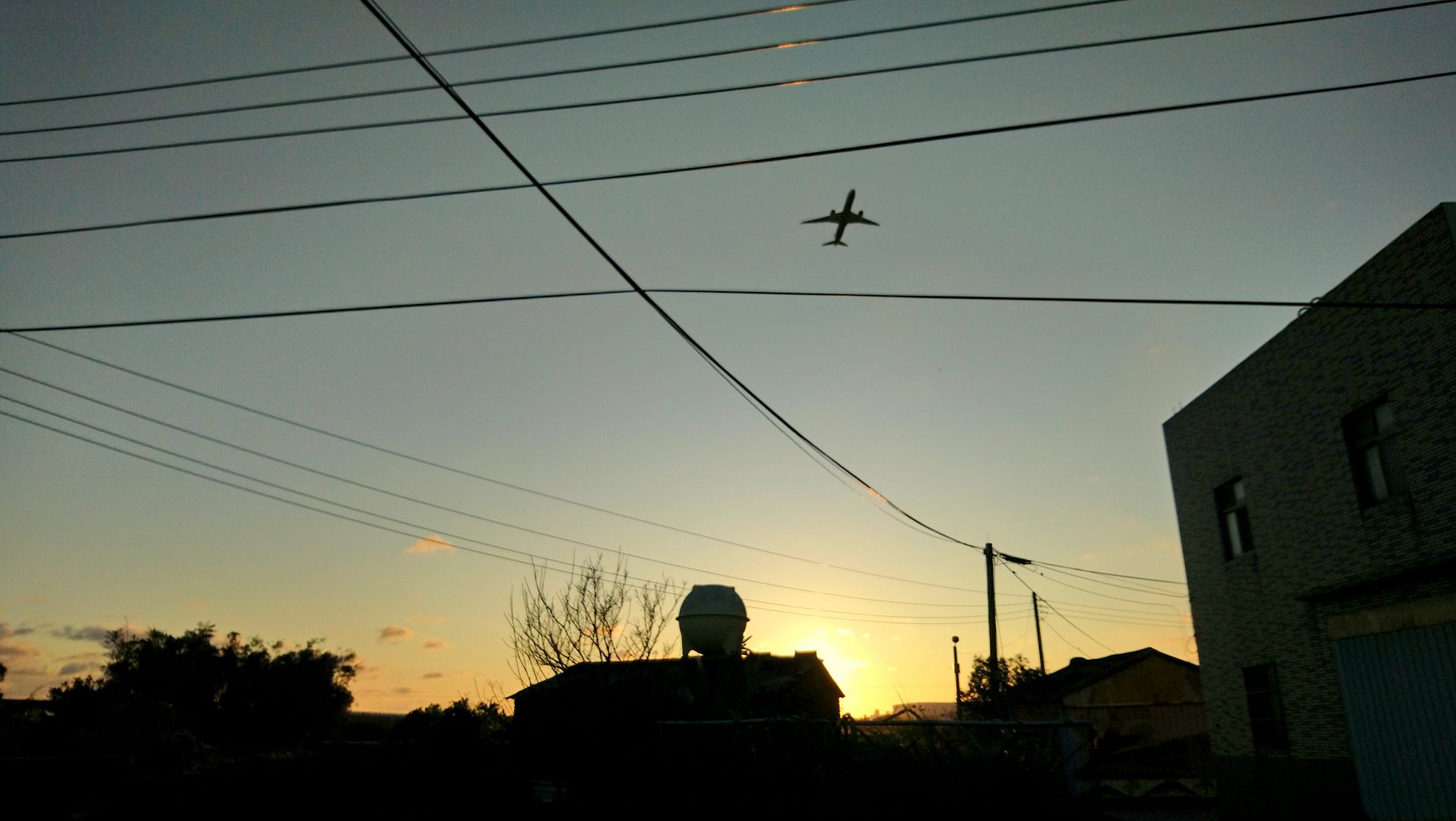 Thank you for reading! Your support is much appreciated. Donate now: