Cebu City, the Philippines
October 18 – 21, 2019
Only when I threw plans and itineraries to the wind did I make our real-time discoveries. It paid that Ki, an honorary Cebuano by virtue of his affinity to the city, led the way around Cebu. We spent three days urban trekking in both old and new sides of town.
My Cebu immersion started from the get-go. Following the steps of traveling locals, we hopped on a bus from the airport to the city. With only a backpack each, it was no sweat despite the standing-room-only ride for P50 to SM City Cebu where we made our bus transfer to another mall we had not been to yet.
SM Seaside City Cebu
Perhaps this was Cebu's answer to Manila's SM Mall of Asia. Impossibly blue views of Cebu Strait made it the most scenic SM mall, never mind that a Cebu-based Irish vlogger dismissed it as "OK but not amazing." For one, it was never part of a mall's job description to be amazing. We only came for lunch, but we got blues and greens and a lot of sunshine at the Roof Top Garden. For a chain of shoebox malls, that smashed expectations. The vibe up there felt more like space-advocating Ayala than space-averse SM.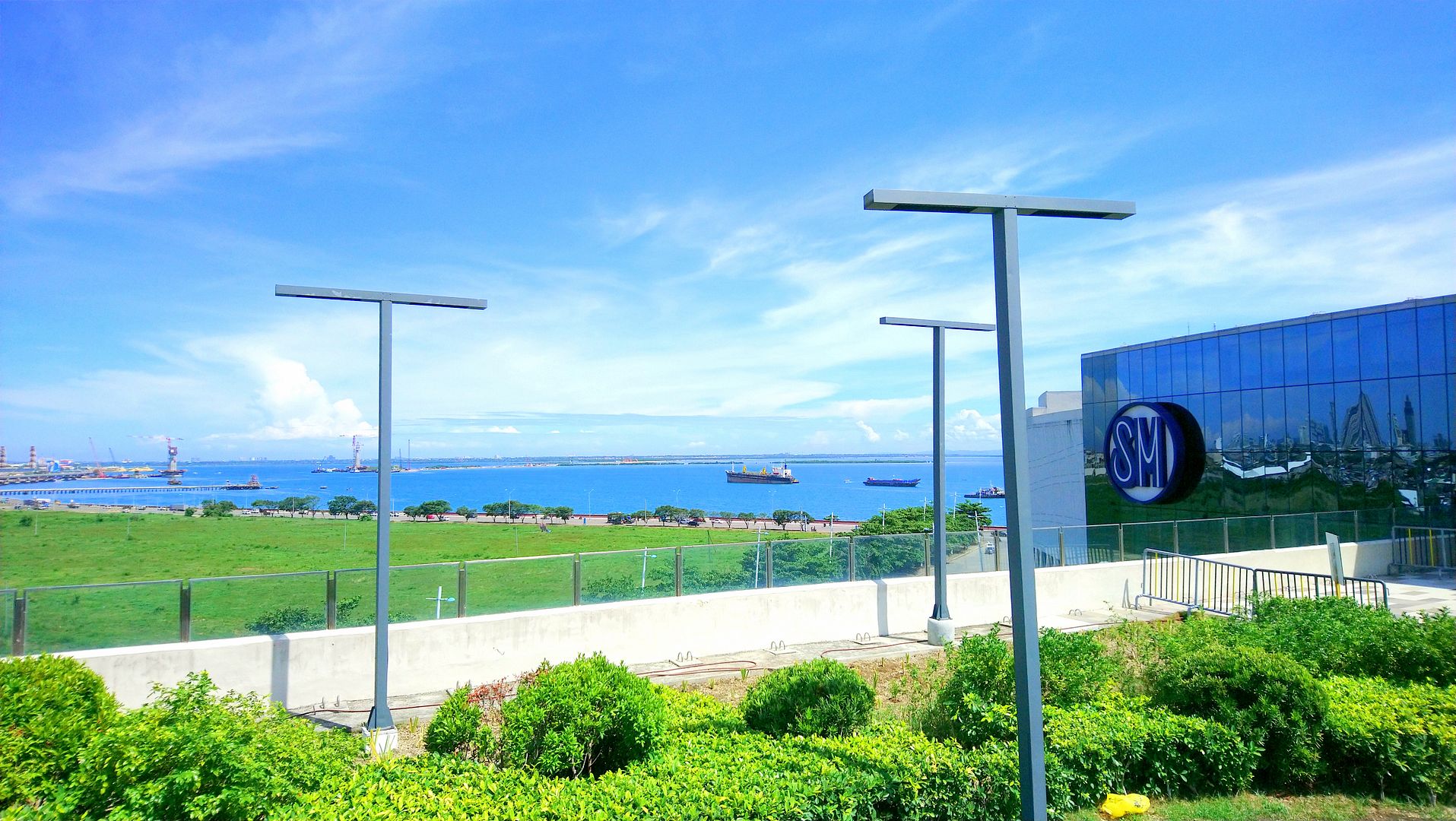 We went for cheap-but-filling fare at Island Grill. Ki 'grammed our lunch, thus captioned:
Breaded fried offal, swine brain, rubbery porkchop with steamed rice wrapped in coconut leaves. Mountain Dew to wash down the recycled oil taste. P142 total for both of us.
Fuente Pension House
Even without making reservations, we got a room at Ki's go-to accommodations in Cebu. Not only did the Fuente Osmeña area hold fond memories for him, it was also centrally located. We could go off any which way and feel we were halfway to where we would end up. On top of that, the affordable tariff included breakfast at the roof deck overlooking the downtown and distant mountains. To Ki, the view was very Cebu.
A plus point for me was its proximity to Shamrock Pasalubong Center. It had always been the source of my late mother's favorite Cebu nutty treat: masareal. The bustling vicinity called for a bit of exploration on foot. Our nocturnal hunt for a coffee-and-cake fix led us to Abaca Baking Company at a condo development on the gentrified side of the 'hood. We had a quiet night life around our little pension house.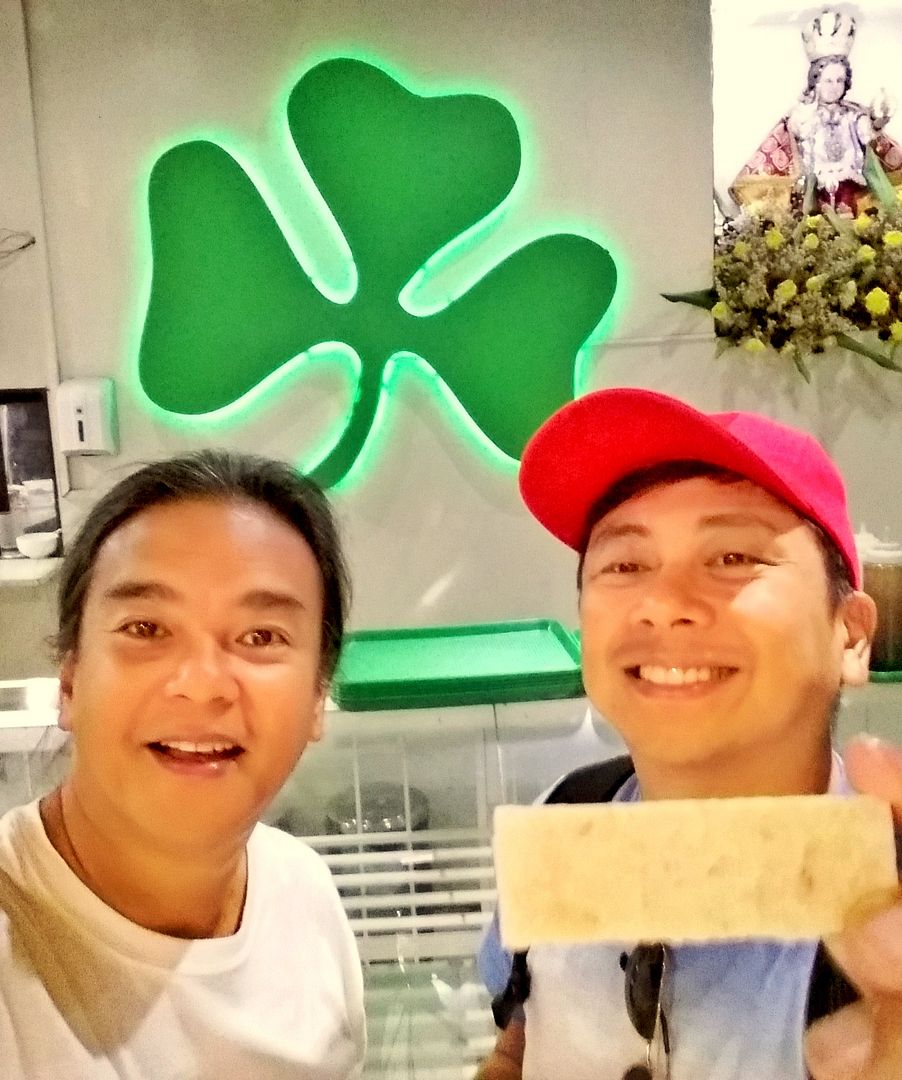 At the bus stop the next morning, we chanced on a small air-conditioned bus. We hopped on, as we were wont to do, and got to where Ki intended to go: the original downtown of Cebu City.
Colon Street
The oldest national road in the country certainly looked its age. I didn't know the street was established around the time of Columbus after whom it was named. The imposing Art Deco buildings around it, though still in use, were left to rot and the street itself was littered with trash. While I valued the idea of maintaining the vitality of historical places without overdevelopment, I was appalled at the lack of minimum maintenance of Colon. My thought bubble: "It could've been quaint, but it ain't."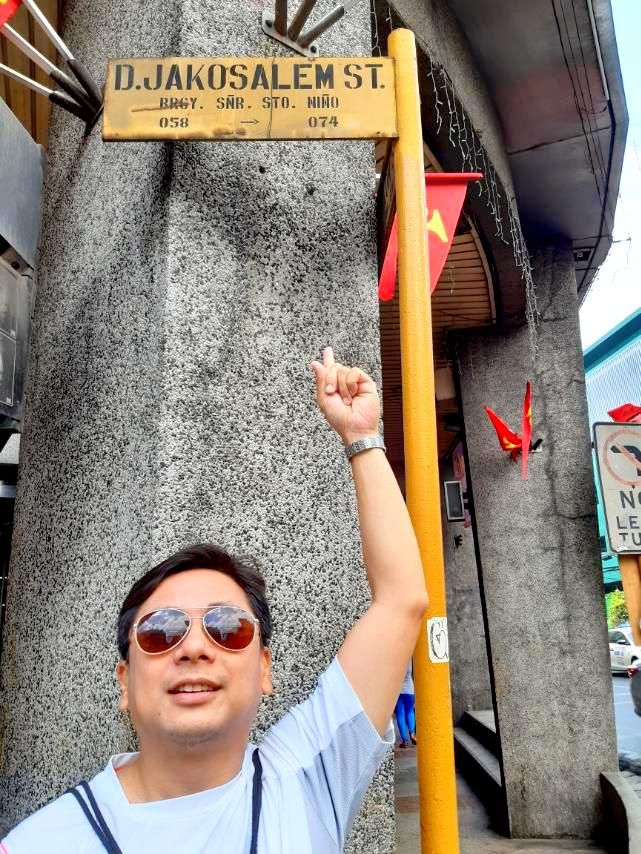 From Jerusalem to Jakosalem – that was how far I had come in just a couple of weeks. That city in Israel was steeped in biblical history as was this street in Cebu in Bisaya history.
JRG Halad Museum
Turning a corner from Colon, we found a museum we had not heard of. We were there, so why not? The male receptionist didn't seem too happy to receive visitors on a lazy Saturday morning.
The museum, founded by former Cebuano congressman Jose R. Gullas, showcased Visayan musical heritage and cultural traditions. The visit achieved personal resonance to Ki as he came face to face with the piano of composer Wenceslao "Ben" Zubiri, aka Iyo Karpo, who wrote the Cebuano cultural anthem, Matud Nila. The artist was married to a relative of his.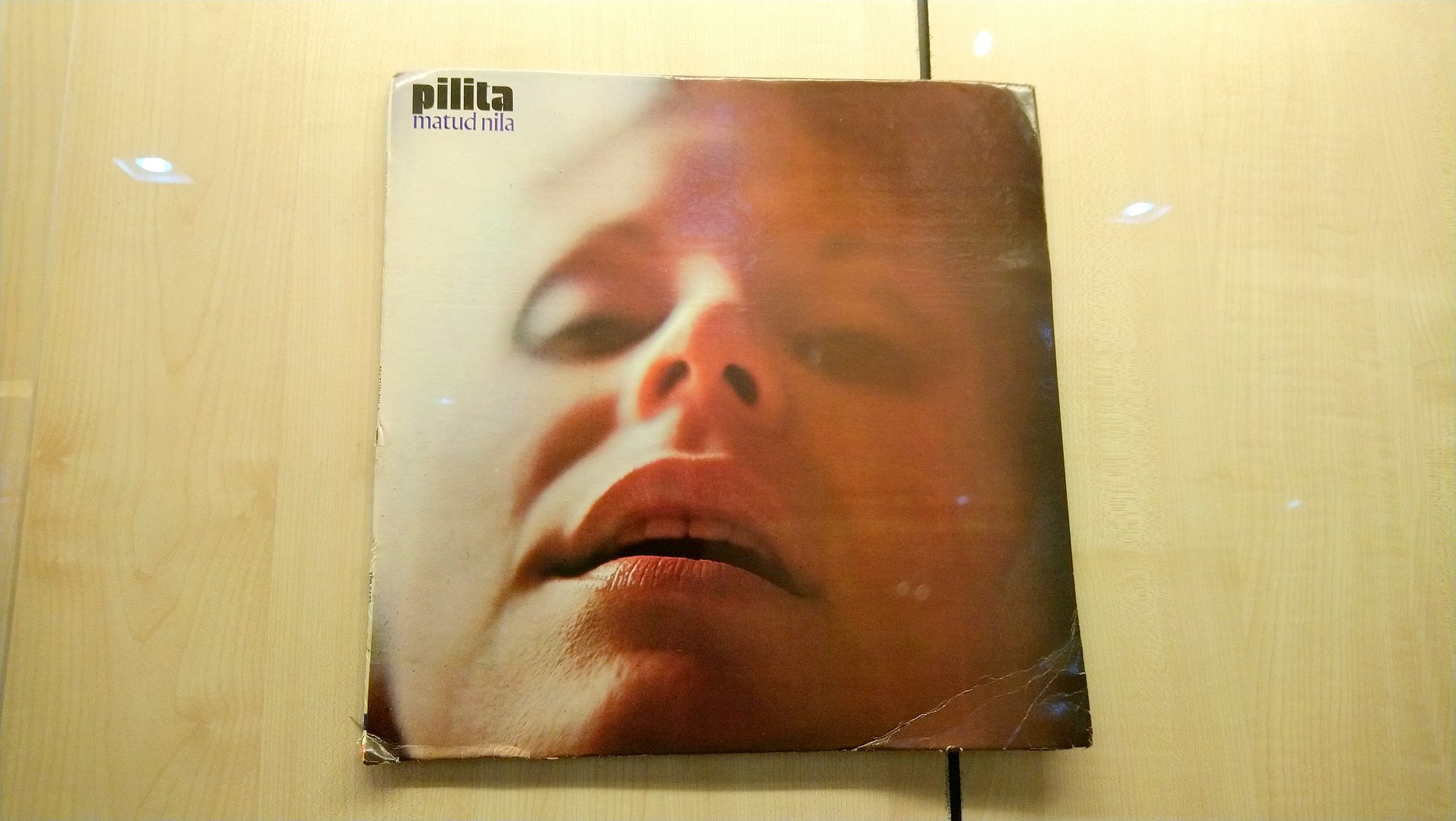 For a full immersive experience, Ki played Matud Nila and Rosas Pandan both sung by musical icon Pilita Corrales, no less, on his phone as we went around looking at memorabilia ranging from the composers' original sheet music to the singers' vintage vinyl records.
Magellan's Cross
The museum detour was a welcome respite from the heat, but we soon found ourselves walking a few more blocks to this famous historical landmark. The original centuries-old Magellan's Cross, if it existed at all, was said to be encased in this varnished replica. Prayer peddlers swarmed the chapel that housed the historic cross. The deal was a kind of prayer for rent. For a fee, women dressed in yellow t-shirt and long maroon skirt would dance and chant for your supplications.
One prayer peddler was a transwoman. She brought to mind ancient Filipino shamans called babaylan. They were usually feminized men long before gender fluidity was a thing. Or perhaps it had always been. Neither Catholic nor superstitious, I didn't take her up on her offer. Atheist Ki, though, waxed poetic:
Your prayers

never get answered

You pay her instead

to pray for you.

Donned in yellow and maroon,

she dances and sings

to please God who's turned

His deaf ear

on you.

Perhaps, He will listen to her.

She has done this

for a long time.

She is an expert,

so to speak.

Otherwise,

why even run

to her?

But it is always

the same song and

dance.

Day in, day out

Hasn't He gotten bored?

Maybe, maybe not.

You hope

your prayers

will not

remain

unanswered.

If all else fail

As expected

you will change

your mind,

and change

your prayer.

But we know

somebody's

prayer

is answered.

Hers.

You are

after all

her buena mano

on this humid day.

Not bad

considering her

day started only after

midday.

She would have started

earlier, only

if she did not have

chores to finish.

Richmond Absin Butalid
Basilica del Santo Niño de Cebú
Considered the oldest church in the country, it was partially damaged by the 2013 Bohol earthquake. It had since risen from that devastation. Ki had this to say:
We will die believing in lies, because we grew up hearing fairy tales… Even if you're a non-believer, enter any old church in Cebu. Sit and just let time pass. Appreciate every stone and corals. Hear the past in it deafing [sic] silence or the cacophony of people's murmurs. Our ancestors built these churches with their sweat and blood. It is palpable history still standing.
Fort San Pedro
We braved the beating sun some more to reach Cebu's version of Intramuros in Manila. My first visit was marked by mild disappointment at its size. It was, by the looks of it, a tenth of Intramuros which I had also thought to be too small. There was not much to see other than minor exhibits. It was more a venue for events than a tourist site.
The next day involved more walking in the sun saved by a bit of respite in a mall.
Ayala Center Cebu
As Cebu's answer to Makati's Greenbelt, the mall delivered in combining open spaces and shopping-slash-dining. All was well except for the off-putting sewage leak stinking up an entire wing. We lunched at the Food Court and shared a table with a Chinese couple, fresh off the boat, who spoke neither English nor Tagalog/Cebuano. It was our chance to practice our ni hao and xiexie. We even got to squeeze in an enthusiastic zai jian before we parted.
A jeepney ride took us to another first visit for me.
Cebu I.T. Park
Despite the heat, pounding the pavement here was a walk in the park (they did justice to the name) as we explored tree-lined streets. For a business district, the vibe was so laid-back. Then we realized it was Sunday. We had the luxury of introspection that even a row of advertising boards for Air Asia had Ki thinking of his late mother on her birth anniversary and waxing nostalgic:
We flew in and out of Cebu via AirAsia. Maybe it is just the timing. But their prices seems to be always the lowest. I like also that you go to terminal 4, the old domestic airport. Old places such as this bring back lots of memories. Elnora took her last flight to Dumaguete here in 2005.
Lunch was served at Boy Zugba, a chain Ki had heard from a Bisaya influencer we both followed. Service was superb as the staff attended to us as if we were influencers ourselves. Ki 'grammed in a good word:
Restaurant manager John Ian Vocales makes sure customers are happy. He will soon open the first Ilo-Ilo branch. From "lami gyud" to "namid guid." I'm glad I follow @davaoconyo where I learned about this resto.
Dessert was at 10 Dove Street Confectionery. Service was even more superb: strong Wi-Fi connection and the staff was willing to spoon-feed me gelato. It was so over-the-top I had to document it with a photo; otherwise, it didn't happen.
SM City Cebu
Despite eating like a king, and being served like one, I fell ill from dehydration. I joked that I survived the deserts of Sinai just a few weeks before only to be taken down by the Cebu sun. I was wasted and I wasted the rest of the afternoon sleeping off my raging migraine at the pension house. I was well enough the next day to make the trip back home, but not before we could have a taste of Cebu's famous lechon de leche (roasted piglet) at Zubuchon in SM City Cebu.
The trip was not a sightseeing one – it was to attend a birthday party and visit one particularly adorable boy – but of all the times I had been to Cebu, I felt this was the only time I came to really see Cebu through the eyes of her honorary son.
Thank you for reading! Your support is much appreciated. Donate now: