Marrakesh (Marrakech), Morocco
June 25 and 28, 2019
For many years, I have found an inexhaustible source of inspiration in the Majorelle garden and have often dreamed of its unique colours.

Yves Saint Laurent
We came to see a garden, but we found love. Perhaps Morocco's arid landscapes sandwiched between rocky Mediterranean and sandy Sahara engendered an appreciation for lush greeneries among its people. Even their traditional house, the riad, opened up to a central courtyard usually vitalized with foliage and fountain. Marrakesh, known as "the red city" for its ochre sandstone, also went by the moniker "the garden city." It had thrived as an oasis of sorts for centuries.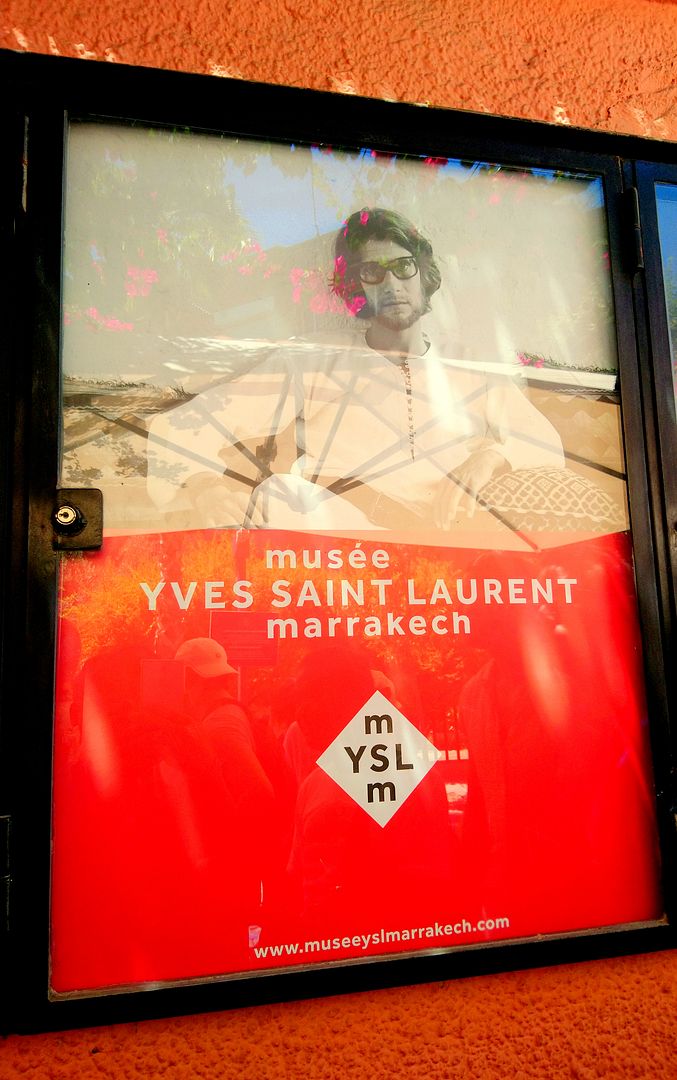 Ki and I spent our first morning at the only place I knew in Marrakesh: Jardin Majorelle. I credited this find to a posh and fashionable friend – a most credible source – who posted it on Facebook before my visit. The botanical garden's association with fashion icon Yves Saint Laurent was its claim to fame. So close was this connection, in fact, that the designer's ashes were scattered in this landscaped Eden. Contained within pink creeper-covered walls was an enchanting world of exotic plants and trees, esoteric art and memories. The iconic garden, almost a hectare of 300 plant species, and the decidedly 1920s Moorish Art Deco buildings therein took 40 years in the making by French artist Jacques Majorelle.
Past the ticket booth, a tiled courtyard fountain – turned off during our visit, though – greeted all visitors. The water feature was far from a grand entrance. Instead, it conveyed intimacy as if we had been invited to a private home. A few steps on, we found ourselves in the shadow of stately fan palms. The taller Mexican variety stood proudly with a thicker crown while the shorter European spread out their fans more widely and warmly. The palm grove promised a refreshing respite from the sweat-drenched walk we took from our hotel.
The icon of arid landscapes had to be the cactus. Species across the pond were transplanted to share the same habitat with their local cousins. Apparently, Morocco had the same dryness and sunshine as Mexico and the rest of sub-tropical Americas where most exhibited succulents came from. The variety among cacti was astounding especially when seen side by side. Some towered over us like slender fingers reaching for the sun. Others carpeted the ground with stubby trunks densely packed with prickles. A rare one was gnarled as if writhing in agony. Many were the flowering kind as well; alas, none were in bloom that time of year.
How did this manicured botanical garden come to be? The present arboretum traced back its beginnings to 1980. Yves Saint Laurent and his longtime companion Pierre Bergé infused new life into the neglected property set for demolition. The couple made a home out of the villa of Jacques Majorelle, the previous owner, and renamed it Villa Oasis.
In 1966, Yves Saint Laurent and I arrived in Marrakech for the first time. Nine days later, we purchased a house in the medina, "Dar El Hanch". We soon discovered the city, especially the Majorelle Garden. At the time, most of the visitors were young students who would pay an entrance fee of one dirham. We went there every day, then every evening. A few years later, we acquired a house just beside this charming and poetic place. We then learned that it was going to be sold and turned into a hotel. So we bought it.

Pierre Bergé
When I discovered Marrakech later in life, it came as an enormous shock. Especially its colours. The city opened my eyes to colour.

Yves Saint Laurent
For an established fashion designer to claim to have rediscovered colors in Morocco was testament to the intensity of their tints and tones. Moroccan paints possessed the objects they colored and jumped out of them. It was no different in Jardin Majorelle. This boldest blue in contrast with sun-lit yellow struck us at first sight of Villa Oasis. In the 1930s, bleu Majorelle (Majorelle blue) was named after and patented by Majorelle who painted the studio façade and other decors around the garden with his arresting signature shade. He was first acquainted with the vivid tiles and fabric in Berber houses and realized the colors evoked the deep passion of both his French heritage and embraced Moroccan culture.
Whether it was a case of a Westerner capitalizing on an indigenous culture or merely taking it to the global stage was moot and academic. The garden's cachet was further cemented when YSL entered the scene. What was important was that it did not feel like any garden other than a decidedly Moroccan one.
Much to our surprise, we soon found ourselves transported back to the tropics. Wild banana from Southeast Asia was grown at the far end of the garden. It felt quite funny to see a plant so common in our country to be considered exotic in another. It certainly earned its place in the exhibition. Banana, after all, had been cultivated by humans for about 10,000 years, making it one of the first crops. A thicket of Chinese bamboos completed the tropical vibe. Two varieties – the green and the golden – provided thick cover from the severe North African sun. The promenade at this point was palpably much cooler and more refreshing than anywhere in the garden.
This garden is a momentous task, to which I give myself entirely. It will take my last years from me and I will fall, exhausted, under its branches, after having given it all my love.

Jacques Majorelle
Almost a century had passed since Majorelle founded this elegant enclave of nature and art, but his spirit pervaded the garden as much as YSL's. The colors of Morocco captivated the artist enough to decide to relocate his wife, his life, his art. The artist was an avid plant collector and gardener as well. The botanical souvenirs he had amassed from all his globetrotting found a new home in the garden. The artist merged his eye for composition and his heart for plants to create his magical masterpiece. These qualities turned the garden into a living painting, his "most beautiful work," as he lovingly proclaimed, which he opened to the public in 1947. Sadly, after his death from a car accident in 1962, the garden was abandoned for almost two decades until haute couture's power couple fell in love with it.
We were seduced by this oasis where the colors of Matisse were mixed with those of nature.

Pierre Bergé
We retreated indoors for a change at the Love Gallery of Musée Yves Saint Laurent de Marrakech (mYSLm) exhibiting the designer's artworks beyond fashion. His personally designed greeting cards for family and friends imbued a good measure of intimacy to the collection. For someone who was unfamiliar with his work in fashion, I was, instead, acquainted with him through his framed art pieces. Ki and I decided to skip the recently inaugurated Berber Museum, which required additional fee. We went for free over a fee.
At Jardin Majorelle Bookstore, two titles – and their cover photos – caught my eye: All About Yves by Catherine Ormen and Letters to Yves by Pierre Bergé. This was arguably the most apropos place to purchase books to learn about the life of the legendary fashion designer. Unwieldy hard covers, alas, neither had a place in my suitcase nor in my compact condo unit. A quote from Letters to Yves earned a place in my heart though:
The morning in Paris was so youthful and beautiful when we met! You were engaged in your first battle. That day you found fame and glory and they never left you. How could I have imagined that fifty years later we would once again be facing one another, and that I would be saying farewell for the last time? This is the last time I speak to you; the last time I'm able to do so. Your ashes will soon join the memorial that awaits you in the gardens of Marrakech.

Pierre Bergé
It made perfect sense that the temporary refuge of YSL away from the limelight became his final resting place in 2008. This time, Jardin Majorelle was not left abandoned. Pierre carried on with a foundation named after them. A stone monument was erected in their memory; Pierre's name was added upon his death in 2017. The street in front of the garden was renamed Rue Yves Saint Laurent in 2010. The lives and loves of Jacques Majorelle, YSL, and Pierre Bergé crossed in Jardin Majorelle. Theirs was a love that tended and watered a garden oasis to thrive and bloom in the red, dry dust of Marrakesh. It was a love that had become a legacy.
Fashions fade, style is eternal.

Yves Saint Laurent
When we flew out of Morocco a few days later, I glimpsed Majorelle blue one last time from the plane window. I committed the memory to words on Facebook:
As the plane took off, the sky turned into a deep color similar to Majorelle blue – a Moroccan shade used in walls & clothing. What an appropriate farewell from Morocco, a country as intense & profound as the sheltering sky.
Thank you for reading! Your support is much appreciated. Donate now: