Delft, South Holland, the Netherlands
June 10, 2019
It was a unanimous vote by our party of four. I polled our host, Paulo, about his favorite cities in the Netherlands. Leiden and Delft shared the honor. My sister seconded the motion. I went for "all of the above," throwing in Wijk bij Duurstede to comprise my trio of favorite Dutch cities. All three flexed their heritage of waterways. But what major Dutch city didn't? This city, though, grew out of the mound formed by canal digging in 1100. The name Delft was derived from the word "delve" or, in Dutch, delven.
Paulo pulled into a huge parking building conveniently located at the fringes of the original town. The city wasted neither time nor space in showcasing its iconic product. I was surprised to see a display of antique Delftware in the least ornamental of buildings. Was this a garage or a museum? In Delft, there was no such distinction. Soon, we were waltzing into the living museum that was Oude Delft, the street named after the city's oldest canal. Both canal and street were on the same level and flanked by centuries-old mansions collectively declared a national monument.
Water management was essential in the Rhine delta and canals were central to city life in these parts, previously as defense and for transportation, these days mostly for tourism. We walked past a canal cruise loaded with tourists as a horse-drawn carriage driven by a girl guide in period OOTD strutted past us. Visitors notwithstanding, the tree-lined waterway was as peaceful and placid as the overall city vibe. All I had to look out for were the occasional bikers pedaling along cobbled streets and picturesque stone arch bridges. Cases in point: Heilige Geestbrug (the Holy Ghost Bridge) and Jeronymusbrug held up quite nicely as Gram spots.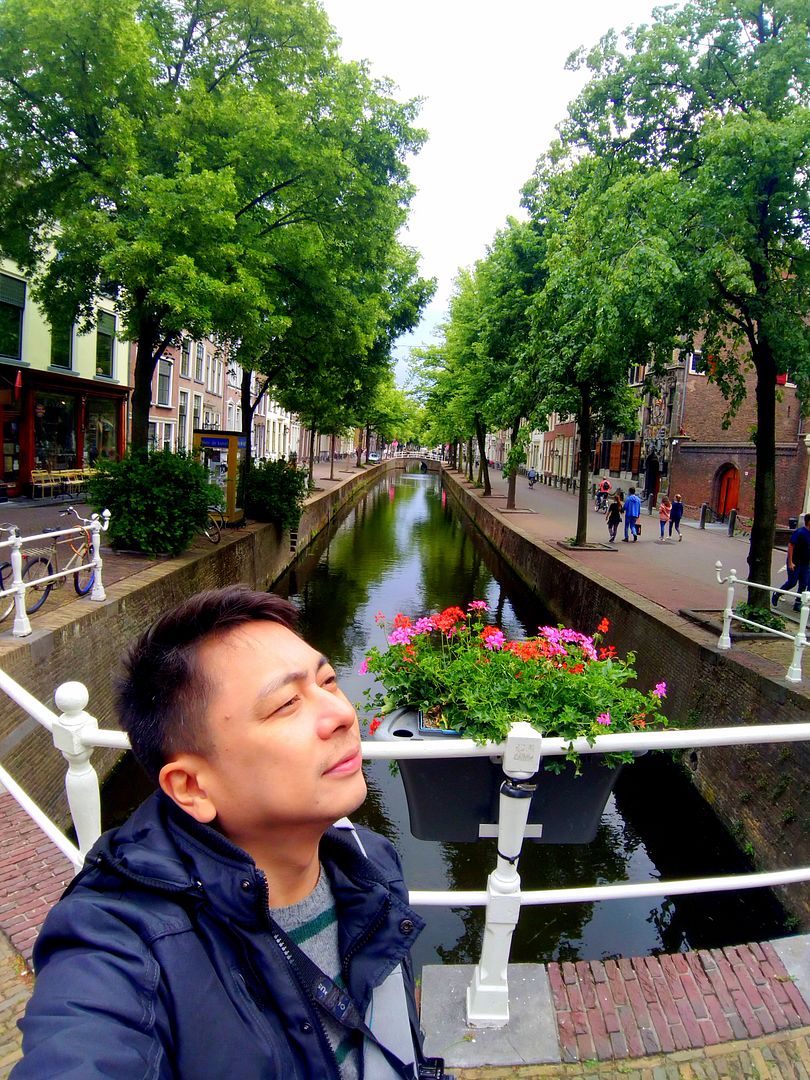 The canal street led us to the Oude Kerk (Old Church) known for its leaning bell tower. This structural issue had dogged many Dutch houses for ages and, uniquely, this church spire. How else could it be after standing for seven centuries on a filled-in marshland? The two-meter tilt threatened to topple the tower over at one point, but it had since been stabilized. This architectural quirk came to be known as Scheve Jan (Leaning John), the symbol of Delft.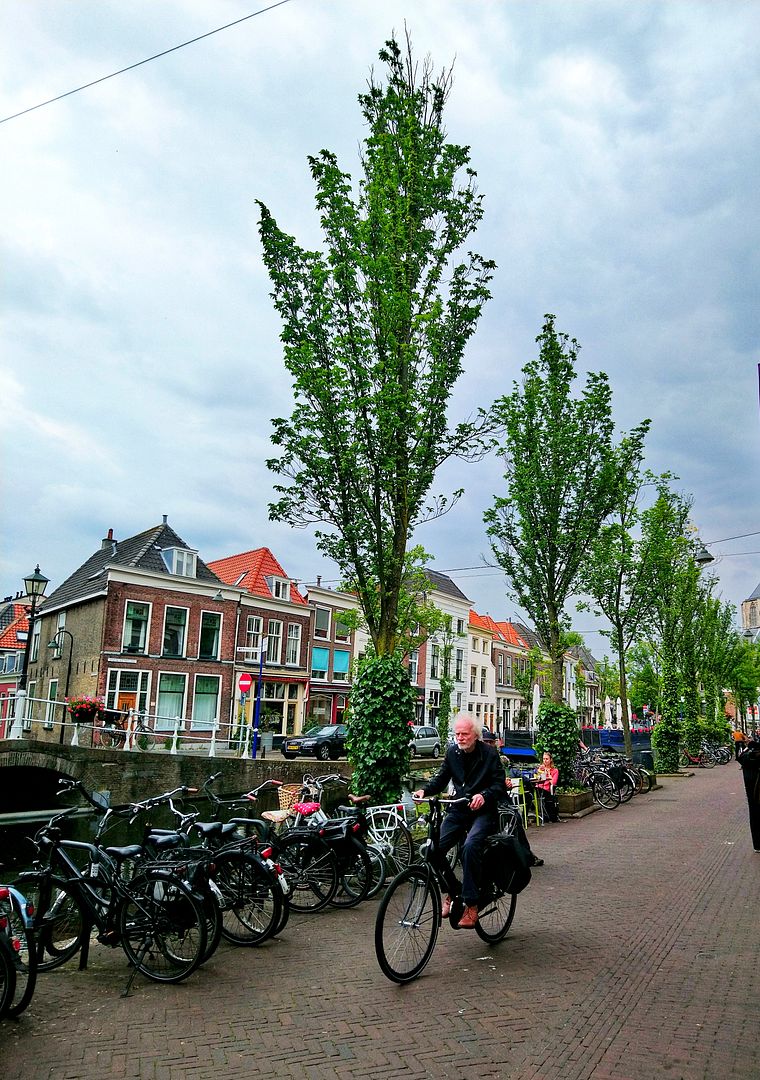 Tracing yet another quaint canal, Vrouwjuttenland, we first fixed our gaze at the majestic spire of the Nieuwe Kerk (New Church) poking out of a row of gables. The tower, erected as recently as 1875, dominated the Markt, one of Europe's largest market squares. The vertical tower and the horizontal expanse proved to be a dramatic contrast. We came on a Monday, not so much a manic one as the market was held every Thursday. Still, boutiques and souvenir shops around the square did daily business.
The statue of Renaissance man Hugo Grotius, fondly called Hugo de Groot, stood by the church. Google credited him for two concepts that would change global societies: human rights and international law. I had to visit his hometown to know him. The stately Renaissance building called Stadhuis (City Hall) stood across the square. It rivaled Leiden's for grandiosity, but Delft's had the advantage of perspective from the open expanse of the Markt. The full glory of the New Church and the City Hall bookended the empty square. If this were in my country, this space would have been filled with ugly concrete obstructions. My thought bubble went, "Be like Delft."
A visit to Delft would never be complete without seeing – and buying – the famous Delftware. I first heard of it in Japan on the other side of the globe. A myth that inspired the horror film character named Sadako involved the smashing of precious Delftware – Dutch pottery hand-painted in blue, hence Delft Blue. I didn't realize then that it was from Holland. As usual, I had to come to the actual city to know. In a plot twist of sorts, Delft Blue was a cheaper imitation of Chinese porcelain. This reputation didn't stop this cottage industry from achieving global fame in the 17th century. In an uncharacteristic turn, I indulged myself with a souvenir. I chose a Delft Blue cheeseboard from Madame Blue, a small shop stocked with a wide array of traditionally hand-painted ceramics, to complement the Dutch serrated knife I got from my late mother.
My sister practically lost her mind shopping. We, men, left her to her own devices and hung out at Restaurant and Eetcafé De Waag. Waag, Paulo explained, meant scales because the place used to be where fish were weighed before they were sold at the Markt. We dined at the ground level eetcafé, a casual dining place not to be confused with the more formal restaurant upstairs. I had a sumptuous serving of tosti brie & gekarameliseerde ui & walnoot (grilled sandwich with brie and caramelized onion and walnuts).
For the first time, I wished my sister would take her sweet time shopping. I had barely scratched the surface of this heritage city. Soon, we were crossing yet another stone bridge, the Warmoesbrug, with yet another bike left leaning on the railing, practically begging for a Gram shot. Of course, I was happy to oblige. But I was less than happy dragging my feet back to the garage. If I went by the name alone, Delft was worth delving into more deeply than just a day trip.
Thank you for reading! Your support is much appreciated. Donate now: